2019 Draft legacies: Witt, Halladay, Hoffman, etc.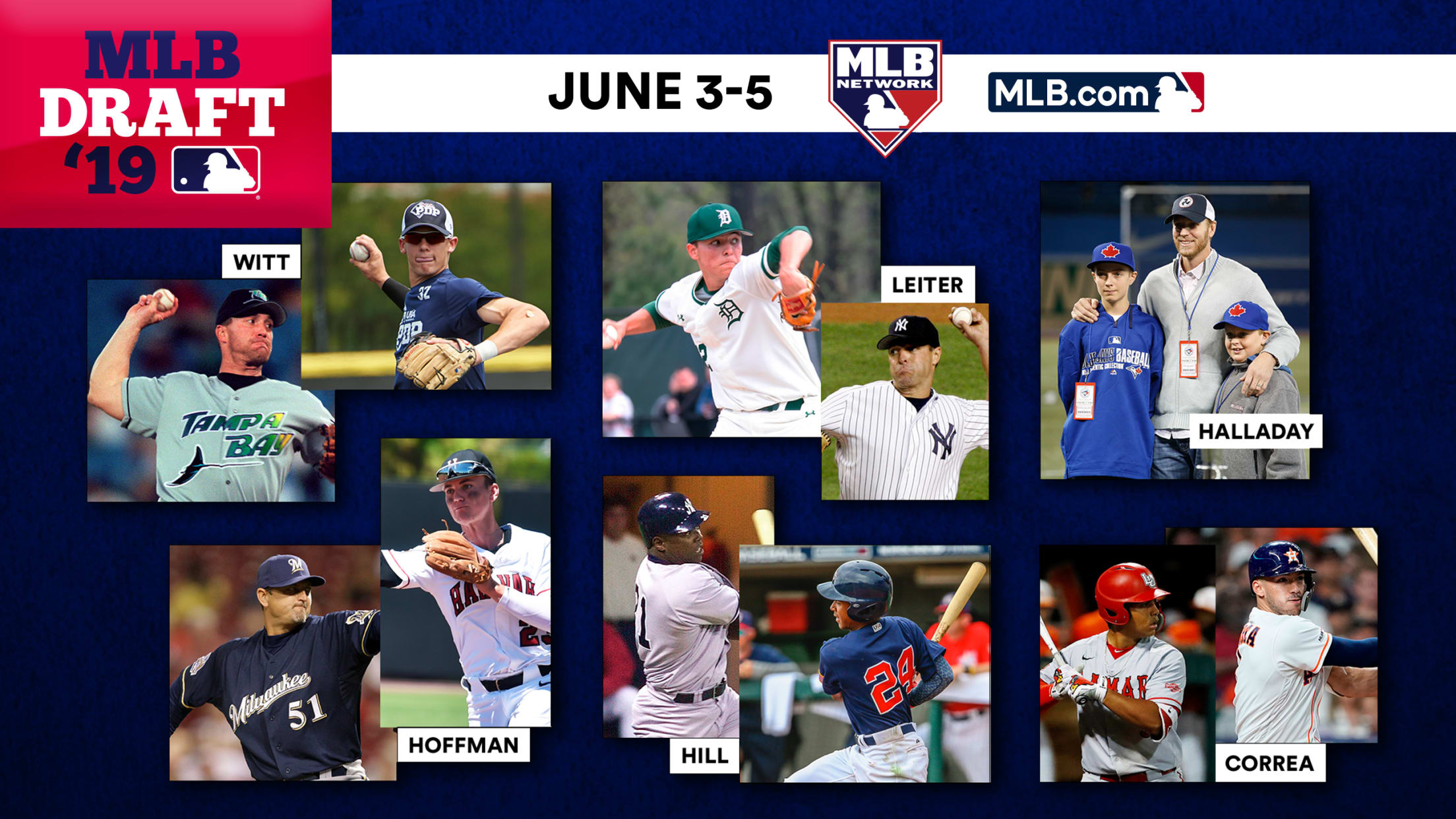 From Barry Bonds and Ken Griffey Jr. to Vladimir Guerrero Jr. and Fernando Tatis Jr., Major League Baseball has a strong history of legacy players carving their own paths to the pros. It starts in the Draft. Take the Blue Jays, for example, who've made a habit of drafting sons
From Barry Bonds and Ken Griffey Jr. to Vladimir Guerrero Jr. and Fernando Tatis Jr., Major League Baseball has a strong history of legacy players carving their own paths to the pros.
It starts in the Draft. Take the Blue Jays, for example, who've made a habit of drafting sons of former big league stars. Just this Thursday, they became the first team to have two sons of Hall of Famers playing together, when they called up Cavan Biggio to join Vlad Jr. on the roster.
With any luck, this year's Draft will produce more of the same. Here are some notable names to watch for in June -- prospects with family connections in MLB and beyond.
IN MLB PIPELINE'S TOP 100
Player: Bobby Witt Jr., SS/RHP, Colleyville Heritage HS (No. 2 Draft prospect)
Relative: Bobby Witt (Father -- 16 MLB seasons)
Bobby Witt was drafted third overall by the Rangers in 1985 (right after B.J. Surhoff and Will Clark… and right before Barry Larkin and Barry Bonds). His son, a potential five-tool shortstop could go even higher. Witt Sr. was a pitcher for seven different teams in his career, winning 142 games and a World Series title with the D-backs in 2001.
Player: Hunter Bishop, OF, Arizona State (No. 7 Draft prospect)
Relative: Braden Bishop (Brother -- Mariners OF)
Hunter's older brother Braden (25), a Mariners rookie who's rated the team's No. 11 prospect, is a speedy defensive outfielder. Hunter (20) is pretty fast, too, but he also has the big-time power to make him a Top 10 Draft prospect (22 home runs for the Sun Devils this season).
Player: Logan Davidson, SS, Clemson (No. 24 Draft prospect)
Relative: Mark Davidson (Father -- 6 MLB seasons)
Both Logan, a switch-hitting shortstop with a solid all-around game, and his father Mark played for Clemson. Mark went on to play for the Twins and Astros from 1986-91 and was on Minnesota's 1987 World Series-winning team.
Player: Jack Leiter, RHP, Delbarton (N.J.) HS (No. 30 Draft prospect)
Relative: Al Leiter (Father -- 10 MLB seasons)
Like his father, Jack is a pitcher; unlike his father, he's a righty. Al pitched nearly two decades in the Majors from 1987-2005. He went 162-132 with a 3.80 lifetime ERA and 1,974 strikeouts, was an All-Star for the Marlins in 1996 and the Mets in 2000 and won two World Series, with the Blue Jays in 1993 and the Marlins in '97. Jack's cousin, Mark Leiter Jr., and uncle, Mark Sr. (Al's brother) are also both big league pitchers.
Player: Matthew Lugo, SS, Carlos Beltran Baseball Academy (No. 36 Draft prospect)
Relative: Carlos Beltran (Uncle -- 20 MLB seasons)
The 18-year-old Lugo is a bat-first shortstop out of his uncle's Puerto Rico academy. That uncle just so happens to be one of the best players of his generation. Beltran was a nine-time All-Star, two-time Silver Slugger, three-time Gold Glover, the 1999 AL Rookie of the Year and a 2017 World Series champion. Beltran had 2,725 career hits, hit 435 home runs and stole 312 bases.
Player: Dominic Fletcher, OF, Arkansas (No. 92 Draft prospect)
Relative: David Fletcher (Brother -- Angels INF)
The 20-year-old Fletcher is an excellent defensive center fielder who was also the Razorbacks' best hitter in the 2018 College World Series. His brother David has become a valuable utilityman for the Angels and has been one of baseball's hardest hitters to strike out this year.
Player: Christian Cairo, SS, Calvary Christian (Fla.) HS (No. 99 Draft prospect)
Relative: Miguel Cairo (Father -- 17 MLB seasons)
Cairo is a middle infielder like his father. Miguel had a long career as a second baseman and utility player, playing for nine different teams from 1996-2012 -- including the inaugural Devil Rays in 1998 -- while recording double-digit steals seven times.
Player: Glenallen Hill Jr., SS, Santa Cruz (Calif.) HS (No. 100 Draft prospect)
Relative: Glenallen Hill (Father -- 13 MLB seasons)
Glenallen Jr. is a toolsy switch-hitting 18-year-old who can hit for power from both sides of the plate and steal bases. His father, an outfielder and designated hitter, played for seven teams in a big league career spanning from 1989-2001 and won a World Series with the 2000 Yankees. He's now the manager of the Rockies' Triple-A affiliate, the Albuquerque Isotopes.
MAJOR LEAGUE LEGACIES
Player: Braden Halladay, RHP, Calvary Christian (Fla.) HS
Relative: Roy Halladay (Father -- Hall of Fame pitcher)
You might remember the emotional moment when a 17-year-old Braden took the mound for the Canadian Junior National Team against the Blue Jays, his late father's longtime team. Now he's in the MLB Draft, almost 25 years after Toronto made Doc their first-round pick in 1995. That was the start of a 16-year career that included Cy Young Awards in both leagues and a perfect game and postseason no-hitter for the Phillies.
Player: Quinn Hoffman, 2B, Harvard
Relative: Trevor Hoffman (Father -- Hall of Fame closer)
Another son of a Hall of Famer, Quinn's dad is the iconic Padres closer, who finished his 18-year career with 601 saves and led San Diego to the NL pennant in 1998. Quinn is a .268 hitter in 72 collegiate games with the Crimson.
Player: Trei Cruz, SS, Rice
Relative: Jose Cruz Jr. (Father -- 12 MLB seasons); Jose Cruz (Grandfather -- 2-time All-Star)
Trei Cruz has a long baseball lineage. Both his father and grandfather played long MLB careers. Jose Cruz Jr., Trei's father, played 12 seasons from 1997-2008, chiefly with the Blue Jays, and hit 204 career home runs. The first Jose Cruz, Trei's grandfather, was a two-time All-Star and Silver Slugger in a 19-year career from 1970-88 spent mostly with the Astros. Trei hit .305 with nine home runs for the Owls this season.
Player: Branden Fryman, SS, Samford
Relative: Travis Fryman (Father -- 5-time All-Star)
Branden hit .326 with four home runs as the Samford shortstop this season. His dad played a little shortstop, too, but he was mostly a third baseman in the big leagues. Travis was a five-time All-Star, hit 223 home runs and picked up a Silver Slugger and Gold Glove Award in his 13-year career with the Tigers and Indians.
Player: Mason Greer, 2B, Colleyville Heritage (Texas) HS
Relative: Rusty Greer (Father -- 9 MLB seasons)
Mason grew up in Texas, where his dad played nine seasons for the Rangers from 1994-2002, but as an Auburn commit he could be headed to play college ball in Alabama, where his dad grew up. Rusty, was a career .305 hitter with Texas and hit 119 homers in the big leagues.
Fun fact: Mason Greer and Bobby Witt Jr. are high school teammates at Colleyville Heritage. Their fathers were MLB teammates with the Rangers from 1995-98.
Player: Bo Weiss, RHP, Tampa
Relative: Walt Weiss (Father -- 14 MLB seasons)
Bo followed his father to UNC, where Walt played before the A's drafted him in the first round, 11th overall, in 1985 -- although Bo has since transferred to Tampa, where he went 2-1 with a 5.40 ERA and 16 strikeouts in six outings this season. Walt played 14 MLB seasons as a shortstop -- winning the AL Rookie of the Year Award in 1988 and a World Series ring in '89 while making one All-Star team in 1998 -- and also managed the Rockies from 2013-16.
Player: Grayson Byrd, 3B, Clemson
Relative: Paul Byrd (Father -- 14 MLB seasons)
Grayson has been drafted once before, by the Braves in the 39th round in 2014. He opted to transfer from LSU to Clemson instead, and his senior season was his best -- he hit .315 with 15 home runs for the Tigers. His father was also drafted twice, by the Reds in the 13th round out of high school in 1988 and by the Indians in the fourth round out of LSU in '91, before going on to win 109 games in the Majors from 1995-2009 while making one All-Star team.
Player: Garrett Bevacqua, 3B, La Costa Canyon (Calif.) HS
Relative: Kurt Bevacqua (Father -- 15 MLB seasons)
Garrett's dad was a pinch-hitter extraordinaire for 15 big league seasons with six different teams from 1971-85. Bevacqua's career highlight was the 1984 World Series with the Padres -- San Diego fell to the juggernaut Tigers, but a 37-year-old Bevacqua hit .412 with a pair of homers.
Player: Grant McCray, OF, Lakewood Ranch (Fla.) HS
Relative: Rodney McCray (Father -- Former MLB outfielder)
Grant McCray, a Florida State commit, is a speedy outfielder like his dad. Rodney spent a decade in pro ball, including parts of three Major League seasons with the White Sox and Mets, where he collected three big league hits. But his claim to fame: McCray was responsible for an early-1990s viral video highlight while a White Sox Minor League outfielder. On May 27, 1991, McCray made a running catch at the wall and then crashed clean through the outfield fence -- a play that's now even featured in a blooper reel at the Hall of Fame.
RELATIVES IN THE GAME
Player: Dante Baldelli, CF, Boston College
Relative: Rocco Baldelli (Brother -- Twins manager)
The Twins made 37-year-old Rocco MLB's youngest manager this season after a seven-season playing career as an outfielder from 2003-10, spent mostly with the Devil Rays. And Baldelli has Minnesota red-hot and at the top of the AL Central in his first season at the helm. Dante, who's 16 years Rocco's junior, hit .220 with a pair of homers for the Eagles this season.
Player: JC Correa, SS, Lamar
Relative: Carlos Correa (Brother -- Astros SS)
Carlos has become a huge part of the Astros' homegrown core of stars since Houston drafted him No. 1 overall in 2012. The Astros actually drafted JC, also a shortstop, in the 33rd round last year (plus Alex Bregman's little brother, A.J.) before he returned to Lamar. This season he hit .332 with 10 homers for the Cardinals.
Player: Andre Duplantier, RHP/SS, Summer Creek (Texas) HS
Relative: Jon Duplantier (Cousin -- D-backs RHP)
Duplantier's cousin Jon was a third-round Draft pick by the D-backs in 2016 and ascended the prospect rankings up to Arizona's No. 2 and MLB's No. 67 overall prospect this season. The 24-year-old made his MLB debut on April 1 and has a 2.25 ERA and one save in five relief appearances.
Player: Jonah Dipoto, RHP, University of California San Diego
Relative: Jerry Dipoto (Father -- Mariners GM)
Jonah, the son of wheeling-and-dealing Mariners general manager Jerry, is a senior reliever at UCSD. He went 3-2 with two saves, a 4.54 ERA and 24 strikeouts in 17 games this season.
Player: Joe Baran, LHP, East Stroudsburg
Relative: Joe Maddon (Cousin -- Cubs manager)
Baran, whose dad is Maddon's first cousin, was drafted last year by the Brewers but ended up back in college at East Stroudsburg, where he went 3-1 with a 2.67 ERA and 25 strikeouts in seven outings this season.
Player: Jaren Shelby, OF, Kentucky
Relative: Josh Harrison (Cousin -- Tigers INF)
Shelby, a junior outfielder for the Wildcats who hit .273 with six home runs and 13 stolen bases this season, is cousins with the two-time All-Star Harrison, who's in his first season with Detroit after eight with the Pirates. Shelby is also the son of former MLB outfielder John Shelby, who played 11 seasons and won World Series with the Orioles in 1983 and the Dodgers in '88.
Player: Nick Sogard, SS, Loyola Marymount
Relative: Eric Sogard (Cousin -- Blue Jays INF)
Nick is a middle infielder like his cousin Eric, who's in his ninth big league season and off to a pretty good start for Toronto. He hit .313 with 27 steals for Loyola Marymount this season. Nick's also the nephew of former Major Leaguers Steve and Dave Sax.
Player: Ty Madrigal, LHP, Saint Mary's College
Relative: Nick Madrigal (Brother -- White Sox prospect)
Ty is twin brothers with Nick, who was the fourth overall pick in last year's Draft by the White Sox. Nick is now at Class A Advanced Winston-Salem and ranked Chicago's No. 5 prospect.
Player: Ben Anderson, RHP, Binghamton
Relative: Ian Anderson (Brother -- Braves prospect)
Ben and Ian are twin brothers. Ian, a 21-year-old righty drafted third overall by Atlanta in 2016, is now in Double-A and ranked the Braves' No. 3 prospect, MLB's No. 31 overall prospect and the ninth-best right-handed pitching prospect. Ben, who was also drafted in 2016 by the Blue Jays in the 26th round, went to Binghamton instead and has gone 9-4 with a 2.76 ERA and 108 strikeouts in 15 games as a junior this season.
Ben and Ian were batterymates at Shenendehowa High School in New York -- Ben used to be a catcher -- where they played with Kevin Huerter, now an NBA shooting guard with the Atlanta Hawks.
Player: Jaxx Groshans, C/1B, Kansas
Relative:: Jordan Groshans (Brother -- Blue Jays prospect)
Jaxx's brother Jordan was the Blue Jays' first-round Draft pick last year (12th overall) and currently ranks as the team's No. 5 prospect and MLB's No. 94 prospect.
NON-BASEBALL CONNECTIONS
Player: Scotty Bradley, 1B, Indiana
Relative: Bob Bradley (Uncle -- USMNT coach); Michael Bradley (Cousin -- USMNT midfielder)
OK, so there's also a baseball connection here -- Scotty's father, Scott, was an MLB catcher. But the Bradley family is best known for soccer. Uncle Bob was the manager of the U.S. men's national soccer team from 2006-11 (among many other coaching stints). Cousin Michael has played for the USMNT since 2006 and is the captain of Major League Soccer's Toronto FC.
Player: Blake Sabol, C/OF, USC
Relative: Troy Polamalu (Second cousin -- Steelers safety)
Sabol followed Polamalu to Southern California -- Polamalu was an All-American for the Trojans before starring for the Steelers in a 12-year NFL career that included eight Pro Bowls, four All-Pro teams, a Defensive Player of the Year Award and two Super Bowl championships.
Player: Oraj Anu, OF, Wallace-Dothan CC
Relative: Oralee Fowler (Mother -- Olympian track athlete)
Anu's mother was an Olympic sprinter for the Bahamas, who competed in the women's 4x100 meter relay in the 1984 Summer Olympics in Los Angeles.
Player: Alex McFarlane, RHP, Habersham Central (Ga.) HS
Relative: Tami Noel (Mother -- Olympic taekwondo athlete)
McFarlane's mother competed in taekwondo for the US Virgin Islands in the 1988 Summer Olympics in Seoul, the first time taekwondo was featured in the Olympic program.
Player: Mason Janvrin, OF, Central Missouri State
Relative: Kip Janvrin (Father -- Olympic decathlete)
Janvrin's father was a U.S. decathlete who competed in the 2000 Summer Olympics in Sydney, won the 2001 USA Outdoor Track & Field Championships and won gold in the decathlon at the 1995 Pan American Games. He now coaches track at Central Missouri State, where Mason plays baseball.
Player: John Bissonette, SS, Baylor
Relative: Matt Bissonette (Father -- Musician)
Bissonette's father Matt is Elton John's bass player. He's also played bass with Ringo Starr, ELO and David Lee Roth. Matt's brother Gregg is also a drummer who played with David Lee Roth and more.
OTHER NAMES TO NOTE
Player: Zeb Adreon, RF, Iowa
Relative: Chelsea Thomas (Cousin -- U.S. Women's National Baseball Team)
Player: Carter Aldrete, 2B, Arizona State
Relative: Mike Aldrete (Uncle -- 10 MLB seasons with 7 teams)
Player: Jonathan Allen, CF, San Francisco
Relative: Don Landrum (Grandfather -- 8 MLB seasons with 4 teams)
Player: Peyton Battenfield, RHP, Oklahoma State
Relative: Blake Battenfield (Brother -- RHP in White Sox organization)
Player: Dante Biasi, LHP, Penn State
Relative: Sal Biasi (Brother -- RHP in Brewers organization)
Player: Gianluca Dalatri, RHP, North Carolina
Relative: Rich Dalatri (Father -- Brooklyn Nets strength and conditioning coach)
Player: Luke Eldred, RHP, Dallas Baptist
Relative: Cal Eldred (Father -- 14 MLB seasons); C.J. Eldred (Brother -- RHP in Royals organization)
Player: Jensen Elliott, RHP, Oklahoma State
Relative: Jake Elliott (Brother -- RHP in White Sox organization)
Player: Duke Ellis, OF, Texas
Relative: Robert Ellis (Father -- 4 MLB seasons)
Player: Sal Gozzo, SS, Tulane
Relative: Mauro Gozzo (Father -- 6 MLB seasons)
Player: Gunner Halter, SS, Mississippi State
Relative: Shane Halter (Father -- 8 MLB seasons)
Player:: Bryce Jarvis, RHP/INF, Duke
Relative: Kevin Jarvis (Father -- 12 MLB seasons)
Player: Jordan Jones, RHP, Washington
Relative: Taylor Jones (Brother -- 1B in Astros organization)
Player: Sammy Siani, OF, William Penn Charter School
Relative: Mike Siani (Brother -- Reds No. 7 prospect)
Player: Eli Wilson, C, Minnesota
Relative: Dan (Father -- Former Mariners catcher, 14 MLB seasons)
Player: Riley Wilson, LHP, Virginia
Relative: Tyler Wilson (Brother -- 3 MLB seasons)