2019 MLB Futures Game scouting reports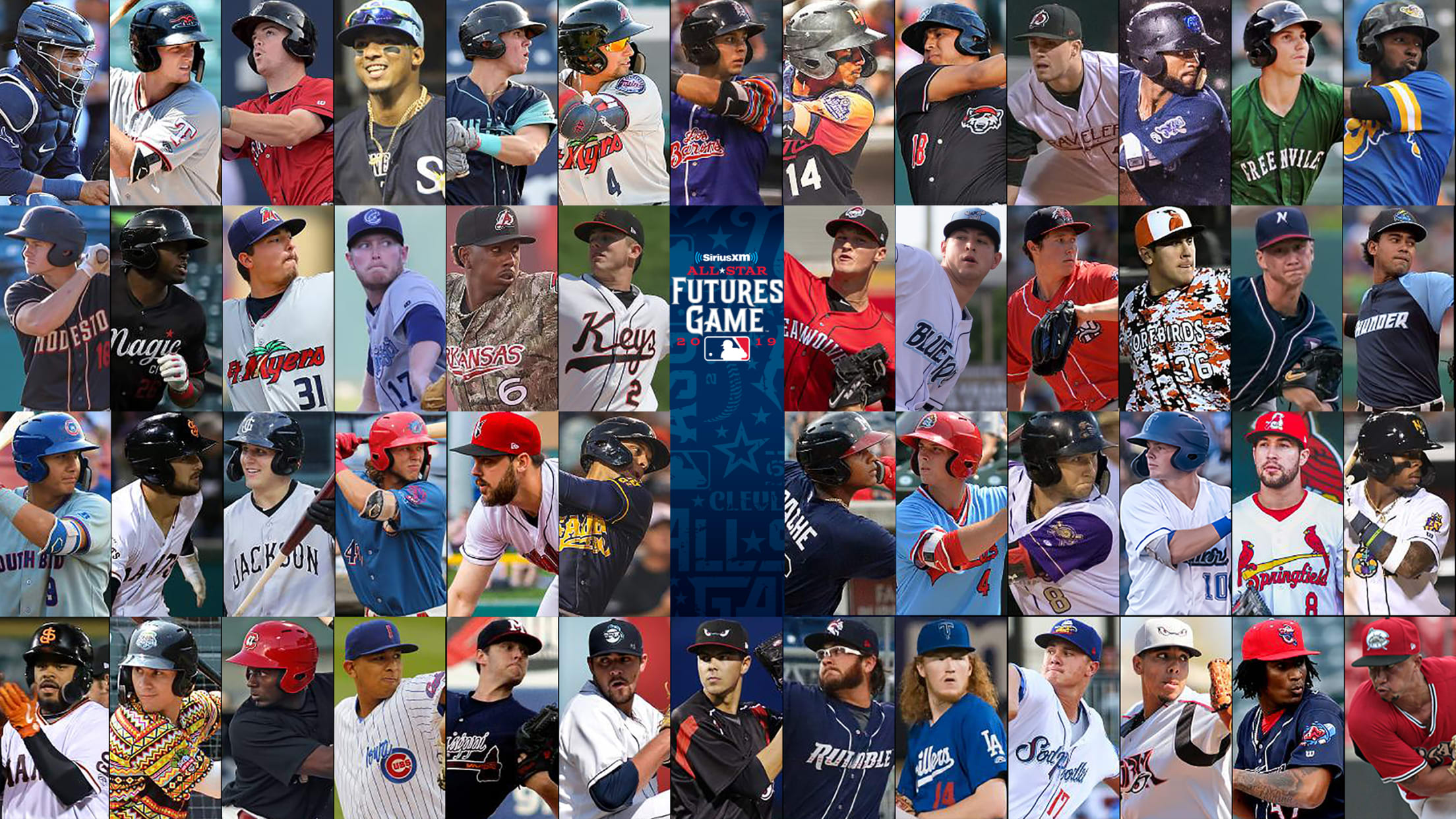 Thirty-six of MLB Pipeline's Top 100 prospects are set to take the stage tonight in the 21st annual SiriusXM All-Star Futures Game at Progressive Field in Cleveland. • Futures Game: Tonight at 7 p.m. ET on MLB Network and MLB.com The prospects showcase -- which serves as a sneak preview
Thirty-six of MLB Pipeline's Top 100 prospects are set to take the stage tonight in the 21st annual SiriusXM All-Star Futures Game at Progressive Field in Cleveland.
• Futures Game: Tonight at 7 p.m. ET on MLB Network and MLB.com
The prospects showcase -- which serves as a sneak preview of future All-Stars, Cy Young Award winners and Gold Glovers -- has always featured loads of talent. This year is no different as four of the top five prospects in all of baseball will compete in the event.
This year's game will also have some added intrigue because, for the first time ever, it will pit the American League vs. the National League rather than the United States vs. the World.
MLB Network will exclusively televise and MLB.com will live stream the Futures Game at 7 p.m. ET. Greg Amsinger, Harold Reynolds and Jim Callis will call the action, with Heidi Watney providing reporting from both dugouts. The game also will be available to SiriusXM subscribers.
Below are snapshots for each of the 50 players, with links to scouting reports, statistics and video on MLB Pipeline's Prospect Watch.
American League pitchers:
Jordan Balazovic, RHP, Fort Myers Miracle (A+) - Twins No. 5, MLB No. 100: Balazovic, a 2016 fifth-round pick, spent his first two summers in the Rookie-level Gulf Coast League, but leapt up to full-season ball in 2018 and has already been promoted to Fort Myers this season. The 20-year-old throws a mid-90s fastball with good sinking action, a changeup that has improved but still needs work and a slider. Overall Balazovic has pitched to a 2.48 ERA this season and has amassed 87 strikeouts through 61 2/3 innings across two levels. More »
Kris Bubic, LHP, Wilmington Blue Rocks (A+) - Royals No. 8: One of five pitchers the Royals drafted with their first five picks last year, the lefty out of Stanford has a highly effective fastball-changeup combo that, coupled with his unorthodox delivery, prevents hitters from picking up either pitch. He occasionally mixes in a curveball, but it still needs polishing. Bubic posted a 4.03 ERA and 1.50 WHIP in rookie ball last year, then dominated in nine starts at Class A Lexington (2.08 ERA, 0.88 WHIP, 75 K, 47.2 IP) to start this season before being promoted to Class A Advanced Wilmington on May 21. He's a consistent strike-thrower who profiles as a future No. 4 starter. Bubic replaced Rays two-way phenom Brendan McKay, who was promoted on June 29. More »
J.B. Bukauskas, RHP, Corpus Christi Hooks (AA) - Astros No. 5, MLB No. 98: Bukauskas, a 2017 first-round pick, got off to a slow start in 2019, but has turned things around as he continues to adjust to the advanced competition at the Double-A level. After posting a 12.75 ERA in four April outings, Bukauskas dropped that mark to 4.33 in May and 3.93 in June entering play Thursday. The 22-year-old North Carolina product struggles a bit with his command at times, but has a solid fastball-slider combination that he's used to rack up 69 strikeouts in 57 1/3 innings this season. More »
Justin Dunn, RHP, Arkansas Travelers (AA) - Mariners No. 2, MLB No. 67: Dunn, one of two Futures Games participants (Kelenic) the Mariners received from the Mets as part of the Edwin Diaz-Robinson Cano trade over the offseason, is putting up solid numbers in the Texas League. The 23-year-old, a 2016 first-round pick, has solid stuff -- a fastball that sits in the 93-95 mph range, slider, curveball and changeup -- but his command hasn't always been consistent. More »
Deivi Garcia, RHP, Trenton Thunder (AA) - Yankees No. 4: Garcia, whom the Yankees signed for $200,000 out of the Dominican in 2015, has been dominant this season. The 20-year-old began the season with Tampa, but was promoted to Trenton after he struck out 33 in 17 2/3 innings over four starts. Pitching at the Double-A level certainly hasn't hampered Garcia's ability to rack up strikeouts as he's fanned 76 over 47 innings, including 24 over 11 innings in his last two starts. Garcia, whose best pitch is his curveball, flirted with a no-hit bid on June 18 as he fired six innings and yielded one hit and then followed that up in his most recent start as he threw the first five innings of a combined no-hitter on June 24. More »
Deivi Garcia's 15 strikeouts!🔥🔥
VIDEO: pic.twitter.com/ryDa7WIXgq

— Trenton Thunder (@TrentonThunder) June 19, 2019
DL Hall, LHP, Frederick Keys (A+) - Orioles No. 3, MLB No. 66: Hall, 20, features a plus fastball and a curveball and change that are both above average and flash plus at times. The lefty, a 2017 first rounder, has been managed carefully early in his career and while that may slow down his path to the Majors, it hasn't impacted his effectiveness. Hall never exceeded 90 pitches in a start last season, his full-season debut, but still pitched to a 2.10 ERA and struck out 100 over 94 1/3 innings. Hall did issue 42 walks, but the Orioles feel he could develop above-average command. More »
Matt Manning, RHP, Erie SeaWolves (AA) - Tigers No. 2, MLB No. 32: Manning, a 2016 first-round pick, saw his stock take off in 2018 and he's carried that momentum into the current season. The 21-year-old pitched across three levels and led all Tigers Minor Leaguers with 154 strikeouts last season and has already fanned 98 through 81 2/3 innings this year. While Manning made two starts with Erie late last season, the 2019 campaign is his first extended taste of Double-A ball and he's adjusted well, pitching to a 2.53 ERA through 14 starts. Manning sits in the low-90s with his fastball and also features a power curve that has the chance to develop into a plus pitch. More »
Nate Pearson, RHP, New Hampshire Fisher Cats (AA) - Blue Jays No. 2, MLB No. 41: Watch Pearson pitch and it's hard not to notice his fastball. The 22-year-old possesses the best fastball-slider combo in the Blue Jays system and his fastball consistently hits triple digits. Pearson hit 102 mph in a heavily scouted bullpen session prior to the 2017 Draft, where the Blue Jays took him 28th overall, and also hit 104 mph during the first inning of last year's Fall Stars Game. While Pearson impressed in his 2017 pro debut, he threw just 1 2/3 innings in 2018 before taking a line drive off the forearm that ended his season. Pearson has thrown well in 2019, posting a 1.89 ERA and 66 strikeouts over 47 2/3 innings, but is once again on the injured list. More »
Grayson Rodriguez, RHP, Delmarva Shorebirds (A) - Orioles No. 1, MLB No. 53: Featuring a plus fastball, a slider and curveball, Rodriguez took a big step forward as a high school senior and vaulted himself up to the 11th overall pick of the 2018 Draft. The 19-year-old threw just 19 1/3 innings in his professional debut, but struck out 20 and posted a 1.40 ERA. The strong debut led to optimism for 2019 and so far, Rodriguez has delivered. Rodriguez has made 11 starts with the Shorebirds, pitched to a 2.21 ERA and struck out 78, while walking just 15, over 57 innings. More »
Brady Singer, RHP, Northwest Arkansas Naturals (AA) - Royals No. 1, MLB No. 45: Singer, the 18th overall pick from last year's Draft, didn't pitch professionally last year as the Royals wanted to manage his workload after the college season, but he's shown a plus fastball-slider combo as he's worked his way up to Double-A this season. Singer began the year with Class A Advanced Wilmington and went 5-2 with a 1.87 ERA through 10 starts before he was bumped up to Northwest Arkansas. More »
American League catchers:
Ronaldo Hernandez, C, Charlotte Stone Crabs (A+) - Rays No. 7, MLB No. 80: Hernandez came up as an infielder, but the Rays converted him to a catcher shortly after signing him for $225,000 in 2014. The 21-year-old has developed into a solid catcher and has plus arm strength. Hernandez still needs to develop other aspects of his defensive game, but that will come with more reps as he's still relatively new to the position. Offensively, Hernandez has the ability to hit for both average and power and after spending his first three summers in Rookie ball, the catcher hit .284 with 21 homers over 109 games last year in his full-season debut. Hernandez moved up to Charlotte this season and has hit .271 with five homers through 53 games. More »
Sam Huff, C, Down East Wood Ducks (A+) - Rangers No. 21: Huff, a seventh-round pick from the 2016 Draft, has been one of the bigger standouts over the first half of the Minor League season. The 21-year-old has one of the highest ceilings in the Rangers' farm system and has really started to put his tools on display this year. After hitting .241 with 18 homers over 118 games in 2018, Huff exploded to hit .295 with 20 homers over two levels and 71 games to begin the 2019 campaign. More »
Jake Rogers, C, Toledo Mud Hens (AAA) - Tigers No. 12: Rogers' defense is certainly his strength, and his receiving and framing abilities, along with his plus arm, will eventually carry him to the Majors, but he's also made strides offensively this season. The 24-year-old, whom the Tigers acquired in 2017 as part of the Justin Verlander trade, struggled against advanced competition in 2018 and hit just .219 in his first taste of Double-A. However, Rogers made the necessary adjustments and after hitting .302 through 28 games with Erie to begin the year, the catcher was bumped up to Toledo. More »
American League infielders:
Wander Franco, SS, Charlotte Stone Crabs (A+) - Rays No. 1, MLB No. 1: Franco is the No. 1 prospect in all of baseball and proving it on a nightly basis. The 18-year-old switch hitter has already been promoted to the Class A Advanced level and made the transition look easy through two games as he went 5-for-7 at the plate. Prior to the promotion, Franco hit .318 through 62 games with Class A Bowling Green and showed an ability to impact the baseball from both sides of the plate. The Rays signed Franco for $3.8 million out of the Dominican Republic in 2017 and he burst onto the scene last year, winning the Appalachian League's MVP Award at 17 years old. More »
Nolan Jones, 3B, Lynchburg Hillcats (A+) - Indians No. 2, MLB No. 43: While there are still some questions about his defense, Jones' ability to hit is readily apparent. The 21-year-old has an impressive feel at the plate and is able to work counts and use the entire field. Jones is a .290 career hitter through 283 games and is hitting .293 through 69 games in the current campaign. More »
Royce Lewis, SS, Fort Myers Miracle (A+) - Twins No. 1, MLB No. 7: The 2017 No. 1 overall pick is having a bit of a down year offensively, but it is important to remember that he's still just 20 years old. Not only does Lewis have an impressive skill set and the ability to develop into an All-Star, his instincts and maturity also stand out. Lewis hit .292/.352/.451 in his first full season. More »
Nick Madrigal, 2B, Birmingham Barons (AA) - White Sox No. 4, MLB No. 39: Madrigal was the best hitter in college baseball leading up to last year's Draft and he's simply kept hitting after the White Sox grabbed him with the fourth overall pick. The 22-year-old has a chance to develop into a Gold Glove Award winner at second base, but it's his advanced approach and ability to hit line drives all over the field that truly stands out. Madrigal hit .303 over 43 games last summer in his professional debut and is hitting .302 through 66 games this season, including a .391 mark through his first 17 games at the Double-A level. More »
Jorge Mateo, SS, Las Vegas Aviators (AAA) - A's No. 8: The A's acquired Mateo from the Yankees in 2017 and although that year was a solid showing, the shortstop struggled in 2018 -- his first season both with the A's and at the Triple-A level. However, Mateo appears to have put those struggles behind him and is having the best year of his career in 2019. It is important to note that the Pacific Coast League (which Mateo also played in during the 2018 season where he hit .230) is notoriously hitter-friendly, but Mateo's numbers still jump off the page. Through 74 games the 24-year-old is hitting .316, has set a career high with 58 RBIs and matched his career high with 12 homers. More »
Isaac Paredes, INF, Erie SeaWolves (AA) - Tigers No. 4, MLB No. 83: Paredes signed with the Cubs for $500,000 in 2015 and was then traded to the Tigers at the 2017 Trade Deadline. The 20-year-old stands out more for his consistency than any elite tools, but he does have an advanced approach at the plate and an above-average arm defensively. Paredes is hitting .258 through 69 games this season and has spent time at both third base (41 games) and shortstop (21) games. He also spent 24 games at second base in 2018. More »
Evan White, 1B, Arkansas Travelers (AA) - Mariners No. 5, MLB No. 81: White is often regarded as the best defensive first baseman in the Minors and while that's true, simply focusing on that distracts from the value he provides in the batter's box. The 23-year-old, a 2017 first-round pick out of Kentucky, ended the first half of the Texas League season with a 22-game hitting streak intact and was hitting .298/.361/.480 with nine homers through 50 games. White features an advanced approach at the plate and has the ability to consistently make hard contact. More »
American League outfielders:
Jo Adell, OF, Mobile BayBears (AA) - Angels No. 1, MLB No. 4: Adell sustained concurrent hamstring and ankle injuries during Spring Training that kept him out until late May, but even in a small sample size, the 20-year-old has shown why he's one of the best prospects in baseball. The Angels' 2017 first-round pick began the year with six games for Class A Advanced Inland Empire -- a rehab assignment of sorts -- before joining Mobile, where he has done nothing but hit. In 18 games for the BayBears, Adell is slashing .379/.453/.652 with three homers and 10 RBIs. This will also be Adell's second consecutive Futures Game appearance. More »
Jarren Duran, OF, Portland Sea Dogs (AA) - Red Sox No. 9: A 2018 seventh-round Draft pick, Duran is certainly opening eyes during his first full season and has already hit his way up to Double-A. The 22-year-old Long Beach State product has always had plus-plus speed, but his power has been a pleasant surprise. Duran got off to an incredibly fast start this season and hit .387/.456/.543 through 50 games with Class A Advanced Salem. However, since his promotion to Portland, Duran has slumped a bit and hit .192 through his first 20 games. More »
Daniel Johnson, OF, Columbus Clippers (AAA) - Indians No. 22: Johnson, whom the Indians acquired via an offseason trade with the Nationals, introduced himself to the Indians and their fans with a strong display during Spring Training. The 23-year-old outfielder gets overly aggressive at the plate at times, but does offer fans plenty to be excited about. Johnson has above-average power and has homered 13 times in 68 games this season, and is also a plus runner, having swiped 22 bags in each of the past two seasons. However, his best tool is his arm, which grades out as a 70 on the 20-80 scouting scale. More »
Jarred Kelenic, OF, Modesto Nuts (A+) - Mariners No. 1, MLB No. 24: The Mariners' prized return from the Mets as part of the Edwin Diaz-Robinson Cano trade, Kelenic has shown why he was worthy of being selected sixth overall in last year's Draft. The 19-year-old was considered one of the best hitters in the Draft class and has proven it with a .296/.375/.558 slash line across two levels and 64 games. More »
Luis Robert, OF, Birmingham Barons (AA) - White Sox No. 1, MLB No. 5: Robert is finally healthy and it's easy to see why he was so coveted on the international market. The White Sox signed Robert for $26 million in 2017, but injuries hampered his first two seasons and he didn't get much of a chance to show what he's truly capable of doing on the field. Well, that opportunity has presented itself in 2019 and the 21-year-old is taking advantage. Robert, a potential five-tool star, began the season with Class A Advanced Kannapolis, where he hit .453/.512/.920 across 19 games before he was promoted to Birmingham, where he was hitting .312 entering play Thursday. More »
#WhiteSox No. 2 prospect Luis Robert absolutely CRUSHED this 🚀.
453 feet ... that is if you're convinced the ball has landed.

Here's how all @WhiteSox prospects have performed today: https://t.co/Ou6GPiBTFJ pic.twitter.com/ptjuQPvIQS

— MLB Pipeline (@MLBPipeline) June 3, 2019
National League pitchers:
Adbert Alzolay, RHP, Iowa Cubs (AAA) - Cubs No. 4: Alzolay didn't sign out of Venezuela until he was 18 in 2012 and it was five years later, in 2017, when he started to break out. A lat injury cost him much of the 2018 season, and a chance to contribute in Chicago, but the right-hander with a plus fastball and curve crossed that off his bucket list this year. More »
Ian Anderson, RHP, Mississippi Braves (AA) - Braves No. 3, MLB No. 26: The No. 3 overall pick in the 2016 Draft, Anderson has moved pretty quickly given that he was a high school pitcher from the Northeast. The 21-year-old has three at least above-average pitches and he is currently leading the Double-A Southern League in strikeouts. More »
Ben Bowden, RHP, Albuquerque Isotopes (AAA) - Rockies No. 16: Taken as a quick-to-the-big leagues college reliever out of Vanderbilt in the second round of the 2016 Draft, Bowden's progress was stopped when he missed the 2017 season with a bulging disc. He's more than put that in his rear-view mirror as he still leads the Double-A Eastern League with 20 saves even though he got promoted to Triple-A a week ago. He's used three pitches to keep hitters to a .111 batting average. More »
MacKenzie Gore, LHP, Lake Elsinore Storm (A+) - Padres No. 1, MLB No. 3: The top left-handed pitching prospect in the game, Gore has made the typically hitting-friendly California League look silly this year with a 1.12 ERA and a .138 BAA. The No. 3 pick in the 2017 Draft has gotten back to using his impressive four-pitch mix to strike out 12.6 per nine innings, while walking just 2.1. More »
Anthony Kay, LHP, Syracuse Mets (AAA) - Mets No. 3, MLB No. 95: The lefty out of UConn signed for below pick value as a first-rounder in 2016 when an elbow injury was discovered that required Tommy John surgery. He looked good in his pro debut in 2018 and that has continued this year as his feel for pitching and three above-average offerings have helped him pitch his way from Double- to Triple-A. More »
Dustin May, RHP, Oklahoma City Dodgers (AAA) - Dodgers No. 3, MLB No. 51: The 6-foot-6 right-hander just got bumped up to Triple-A, leaving the Texas League in second place in strikeouts and sixth in ERA. May's fastball, curve and cutter are all at least above-average and he misses bats as well as gets a ton of groundball outs with his two-seamer. More »
Adrian Morejon, LHP, Amarillo Sod Poodles (AA) - Padres No. 4, MLB No. 49: The Cuban lefty missed time this year with back and shoulder issues and has been brought back slowly in shorter stints on the mound. At his best, he has a plus fastball and curve, as well as an above-average changeup, all of which he can throw for strikes. More »
Luis Patino, RHP, Lake Elsinore Storm (A+) - Padres No. 3, MLB No. 40: Pitching with MacKenzie Gore in the Lake Elsinore rotation, Patino has held California League hitters to a .196 BAA and has struck out 11.1 per nine (albeit with 4.3 BB/9). The teenager uses a potent four-pitch mix, with his fastball and slider leading the way, to keep hitters uncomfortable. More »
Sixto Sanchez, RHP, Jacksonville Jumbo Shrimp (AA) - Marlins No. 1, MLB No. 22: The key prospect going to the Marlins in the J.T. Realmuto trade, Sanchez has had a little trouble staying healthy, missing a lot of time last year with elbow inflammation and not making his Marlins organization debut until May this year. But now that he's back, he's showing what the fuss is about, with a 44/7 K/BB ratio since he got to Double-A, using his fastball-curve-changeup mix to get swings and misses and elicit weak contact on the ground. More »
Devin Williams, RHP, Biloxi Shuckers (AA) - Brewers NR: A move to the bullpen this year has helped this former second-round pick (2013). His stuff has ticked up in shorter stints, helping him strike out 12.2 per nine, while the command issues that plagued him as a starter are not as big of an issue coming out of the 'pen. More »
National League catchers:
Miguel Amaya, C, Myrtle Beach Pelicans (A+) -- Cubs No. 2, MLB No. 76: Amaya has moved quickly since signing for $1.25 million out of Panama in 2015, reaching low Class A and playing in his first Futures Game last year at age 19. He has a plus arm and advanced receiving skills for his age, and while he's still a work in progress offensively, he has a disciplined approach and promising raw power. More »
Joey Bart, C, San Jose Giants (A+) -- Giants No. 1, MLB No. 19: The No. 2 overall pick in the 2018 Draft, Bart has easy plus power and arm strength. He improved as a hitter and receiver throughout his college career at Georgia Tech and could be solid in both of those areas as well. More »
Daulton Varsho, C, Jackson Generals (AA) -- D-backs No. 4: The son of a former big leaguer (Gary Varsho) and the namesake of another (Darren Daulton), Varsho is extremely athletic for his position. The 2017 supplemental second-rounder from Wisconsin-Milwaukee has solid speed and hitting ability to match, though his defense still needs refinement. More »
National League infielders:
Alec Bohm, 3B, Reading Fightin Phils (AA) -- Phillies No. 1, MLB No. 38: The Phillies believe Bohm was the best hitter in the 2018 Draft, where they selected him No. 3 overall from Wichita State, and he has shown why this season after an injury-plagued debut. He hits for average and power while drawing a healthy amount of walks, and Philadelphia also is encouraged by his defensive progress. More »
Will Craig, 1B, Indianapolis Indians (AAA) -- Pirates No. 12: One of the more accomplished hitters in the 2016 Draft, Craig starred at Wake Forest before the Pirates made him a first-round pick, but he homered just eight times in 186 games in his first two seasons as a pro. A more aggressive approach has resulted in 36 homers in 205 contests the last two years, though he's blocked in Pittsburgh by Josh Bell. More »
Isan Diaz, 2B, New Orleans Baby Cakes (AAA) -- Marlins No. 6: A 2014 Diamondbacks second-rounder as a Massachusetts high schooler, Diaz moved to the Brewers in a deal for Jean Segura and then to the Marlins in a trade for Christian Yelich. An aggressive hitter who possesses more pop than most second basemen, he could have average or better tools across the board. More »
Nolan Gorman, 3B, Palm Beach Cardinals (A+) -- Cardinals No. 1, MLB No. 30: The best power prospect in the 2018 Draft, Gorman became the first player born in the 2000s ever selected when the Cardinals got him with the No. 19 pick. The Arizona prep product already has slugged his way to Class A Advanced at age 19 with 28 homers in 136 pro games and could become a lefty-hitting version of Kris Bryant. More »
Carter Kieboom, SS/2B, Fresno Grizzlies (AAA) -- Nationals No. 1, MLB No. 21: Kieboom's game is similar to Alex Bregman's, and he made an immediate big league impact by homering in two of his first three games with the Nationals in April. A Georgia high schooler taken in the first round of the 2016 Draft, he's an advanced hitter with solid power and the ability to play anywhere in the infield. More »
Gavin Lux, SS, Tulsa Drillers (AA) -- Dodgers No. 2, MLB No. 31: After leading all Minor League shortstops in all three slash categories (.324/.399/.514) in a breakout 2018, Lux is posting similar numbers as a 21-year-old in Double-A. Drafted in the first round in 2016 out of a Wisconsin high school, he combines 20-20 potential with advanced instincts. More »
National League outfielders
Dylan Carlson, OF, Springfield Cardinals (AA) -- Cardinals No. 2, MLB No. 88: Part of a talent-rich program at Elk Grove (Calif.) High -- where he played with AL Futures Gamer Nick Madrigal -- Carlson was a first-round choice (33rd overall) in 2016. A switch-hitter capable of hitting for power and average from both sides of the plate, he also has good instincts on the bases and a strong right-field arm. More »
Monte Harrison, OF, New Orleans Baby Cakes (AAA) -- Marlins No. 3, MLB No. 85: Like fellow NL Futures Gamer Isan Diaz, Harrison was part of the package the Brewers gave up to land Christian Yelich from the Marlins. He passed on a football scholarship to play wide receiver at Nebraska to sign for $1.8 million as a second-rounder out of a Missouri high school in 2014, and few players can match his combination of raw power, speed and arm strength. Limited by a lingering right wrist injury, Harrison will miss the game and head to Miami to be evaluated by a hand specialist. More »
Cristian Pache, OF, Mississippi Braves (AA) -- Braves No. 1, MLB No. 14: Signed out of the Dominican Republic for $1.4 million in 2015, Pache has three double-plus tools in his speed, arm and center-field defense. Considered the best defensive outfielder in the Minors, he also is a solid hitter with underrated power. More »
Heliot Ramos, OF, San Jose Giants (A+) -- Giants No. 2, MLB No. 56: A Puerto Rico high school product, Ramos went 19th overall in the 2017 Draft thanks to his combination of solid to plus power and speed. He's having more success at the plate with a more disciplined approach this year, and his offensive upside will allow him to profile as a regular whether he stays in center field or moves over to right. More »
Alek Thomas, OF, Kane County Cougars (A) - D-backs No. 7: The son of White Sox director of strength and conditioning coach Allen Thomas, Alek grew up around baseball and has looked very comfortable in low Class A at age 19. A second-round choice as an Illinois high schooler a year ago, he's a precocious hitter with developing power and plus speed and center-field defense. More »
Taylor Trammell, OF, Chattanooga Lookouts (AA) -- Reds No. 1, MLB No. 27: Trammell won MVP honors at the 2018 Futures Game, where he showcased one of the more impressive toolsets in the Minors. A 2016 supplemental first-rounder who was Georgia's Class A football offensive player of the year after rushing for 2,479 yards and 36 touchdowns the previous fall, he could have at least solid tools across the board with the exception of his arm. More »