Watch top Draft prospects at USA Baseball's NHSI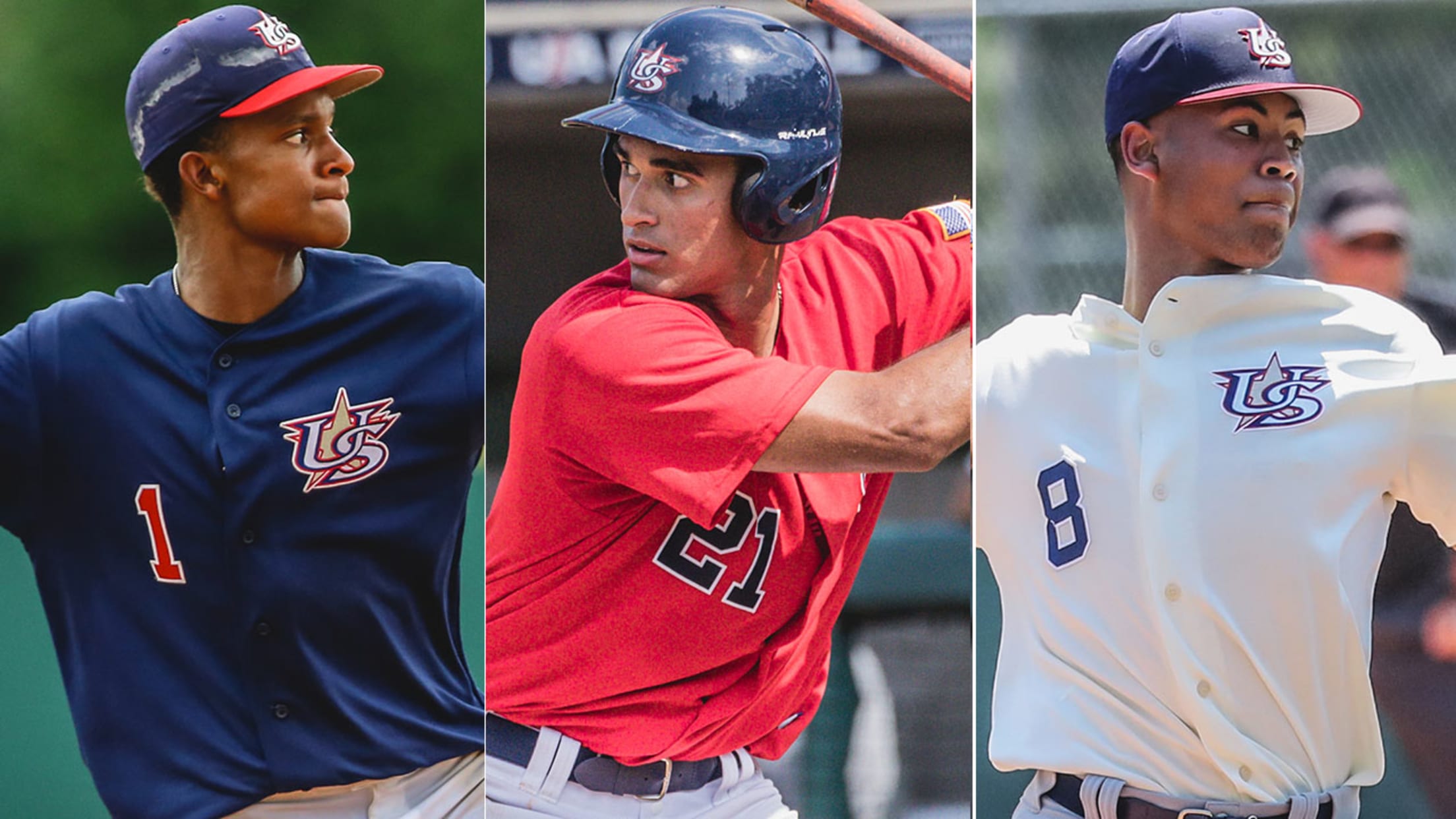 The eighth edition of the National High School Invitational, hosted by USA Baseball at the National Training Complex in Cary, N.C., could provide the first three-time winner in the history of the event. Orange Lutheran (California) has won the previous two NHSI titles and is back for more, hoping to
The eighth edition of the National High School Invitational, hosted by USA Baseball at the National Training Complex in Cary, N.C., could provide the first three-time winner in the history of the event. Orange Lutheran (California) has won the previous two NHSI titles and is back for more, hoping to once again be the last team standing in this four-day, single-elimination tournament featuring the top high school programs in the country that brings scores of scouts to the area each year.
"No team's ever done it, so it's exciting we'll have the opportunity," Orange Lutheran coach Eric Borba said. "Having the target on our back, it gives our kids another level of excitement and another chip to try and get. We know the teams are as strong as ever."
• Top 10 Draft prospects at NHSI | Top players in NHSI history
NHSI 2019
There are 10 states represented in this year's 16-team field, led by four teams from California. In addition to Orange Lutheran, which is back for a fifth time, 2016 NHSI winners Huntington Beach and two-time runner-up Harvard-Westlake are back for another run. Those schools are joined by La Mirada High School, which is making its first appearance.
Florida has three schools participating, Hagerty High School, IMG Academy and Monsignor Pace High School, while Georgia has two representatives: Blessed Trinity Catholic High School and South Forsyth High School.
The rest of the field is made up of schools from Arizona (Corona del Sol), Illinois (Marist High School), Missouri (Christian Brothers College High School), Nevada (Desert Oasis High School), New Jersey (Delbarton School) and Tennessee (Hendersonville High School). All six of these schools are making their NHSI debuts.
Orange Lutheran is returning 17 players from last year's championship-winning squad. The Lancers are 11-4 in their previous four NHSI appearances and have won nine in a row.
"The chance to play against the best year in and year out is something these kids will take with them for a lifetime," Borba said. "We know how difficult it is to win four games in a row against that level of competition."
Broadcast schedule (all times Eastern)
The following games can be watched live on MLB.com and USABaseball.com.
Wednesday, April 3
2:30 p.m.: Orange Lutheran vs. South Forsyth
5 p.m.: La Mirada vs. IMG Academy
Thursday, April 4 (Live stream)
1:00 p.m.: Semifinal
4:00 p.m.: Consolation - Delbarton (N.J.) vs. South Forsyth (Ga.)
7:00 p.m.: Semifinal
Saturday, April 6 (Live stream)
6 p.m.: Championship
The 2019 championship game will be played under the Coleman Field lights for the first time, and USA Baseball is hosting its first-ever NHSI Championship Festival, beginning at 4:30 p.m. at the National Training Complex. Prior to the first pitch of the title game, family-friendly activities -- including a baseball skills competition, games and music -- will be available for fans on the front lawn, in addition to a food-truck rodeo featuring six of the Triangle's most popular vendors.
Top 10 Draft prospects
As always, the rosters have a ton of Draft talent, with potential 2019 first-rounders set to compete with their teams. Here are the Top 10 most talented players in the '19 class:
1. CJ Abrams, SS, Blessed Trinity Catholic HS (Roswell, Ga.)
2. Riley Greene, OF, Hagerty HS (Oviedo, Fla.)
3. Brennan Malone, RHP, IMG Academy (Bradenton, Fla.)
4. Jack Leiter, RHP, Delbarton School (Morristown, N.J.)
5. Rece Hinds, 3B, IMG Academy (Bradenton, Fla.)
6. Kendall Williams, RHP, IMG Academy (Bradenton, Fla.)
7. Anthony Volpe, SS, Delbarton School (Morristown, N.J.)
8. Hayden Mullins, LHP, Hendersonville (Tenn.) HS
9. Josh Rivera, 3B, IMG Academy (Bradenton, Fla.)
10. Garrett Frechette, OF, Orange (Calif.) Lutheran HS
Top 2020 Prospects
1. Pete Crow-Armstrong, OF, Harvard-Westlake School (Studio City, Calif.)
2. Jared Jones, RHP, La Mirada (Calif.) HS
3. Victor Mederos, RHP, Monsignor Pace HS (Miami Gardens, Fla.)
4. Drew Bowser, SS, Harvard-Westlake School (Studio City, Calif.)
5. Max Rajcic, SS/2B, Orange (Calif.) Lutheran HS
USA Baseball ties
This isn't the first trip to the National Training Complex for many of this year's participants. Seven players in this year's tournament played on USA Baseball's 18U National Team, which won gold at the Pan-American Championships in Panama last fall. The top four from the list of 2019 Draft prospects above -- Abrams, Greene, Malone and Leiter -- all played, as did Volpe. Class of 2020 standouts Crow-Armstrong and Rajcic were also on that 18U squad.
Volpe and Crow-Armstrong have represented Team USA at three different age levels, while Morales is a two-time USA Baseball participant.
NHSI history
Six of the past seven NHSI champions have come from California, with Orange Lutheran and Mater Dei the only repeat winners.
2012 -- Mater Dei (Calif.)
2013 -- Mater Dei (Calif.)
2014 -- The First Academy (Fla.)
2015 -- San Clemente (Calif.)
2016 -- Huntington Beach (Calif.)
2017 -- Orange Lutheran (Calif.)
2018 -- Orange Lutheran (Calif.)
Several former participants have gone on to be high Draft picks and even reach the big leagues. Ryan McMahon was on both of those Mater Dei championship teams and is now a big leaguer with the Colorado Rockies. Cardinals right-hander Jack Flaherty played a big part in getting Harvard-Westlake to two championship games, with Braves' lefty Max Fried joining him on one of those teams. Cody Bellinger, Joey Gallo and Austin Meadows all played in the event. Matt Olson is a two-time NHSI participant.
"It was crazy, we'd go across the country to play these other teams and we end up in the championship game against Mater Dei, who is an hour south of us," Flaherty said. "It was one of those crazy things where you've got two Southern California teams out there at the very end of it. But it was always fun. Occasionally you run into guys you may know just from playing against them. It makes it interesting.
"We came out on the wrong side two straight years, lost to Mater Dei two straight years, but they were some of the best memories I've ever had."
There's a direct pipeline from the NHSI to the early rounds of the Draft. Just last year Cole Winn, Matt Liberatore, Jordyn Adams, Nolan Gorman, Brice Turang and Triston Casas went from representing their schools in Cary to becoming first-round selections in June. Over the past seven years, there have been 25 first-rounders who had participated in the NHSI the spring before the Draft (including Kolby Allard and Lucas Giolito, who were hurt when their high school team competed), with three more going on to be comp round selections.