Here's every team's new Top 30 Prospects list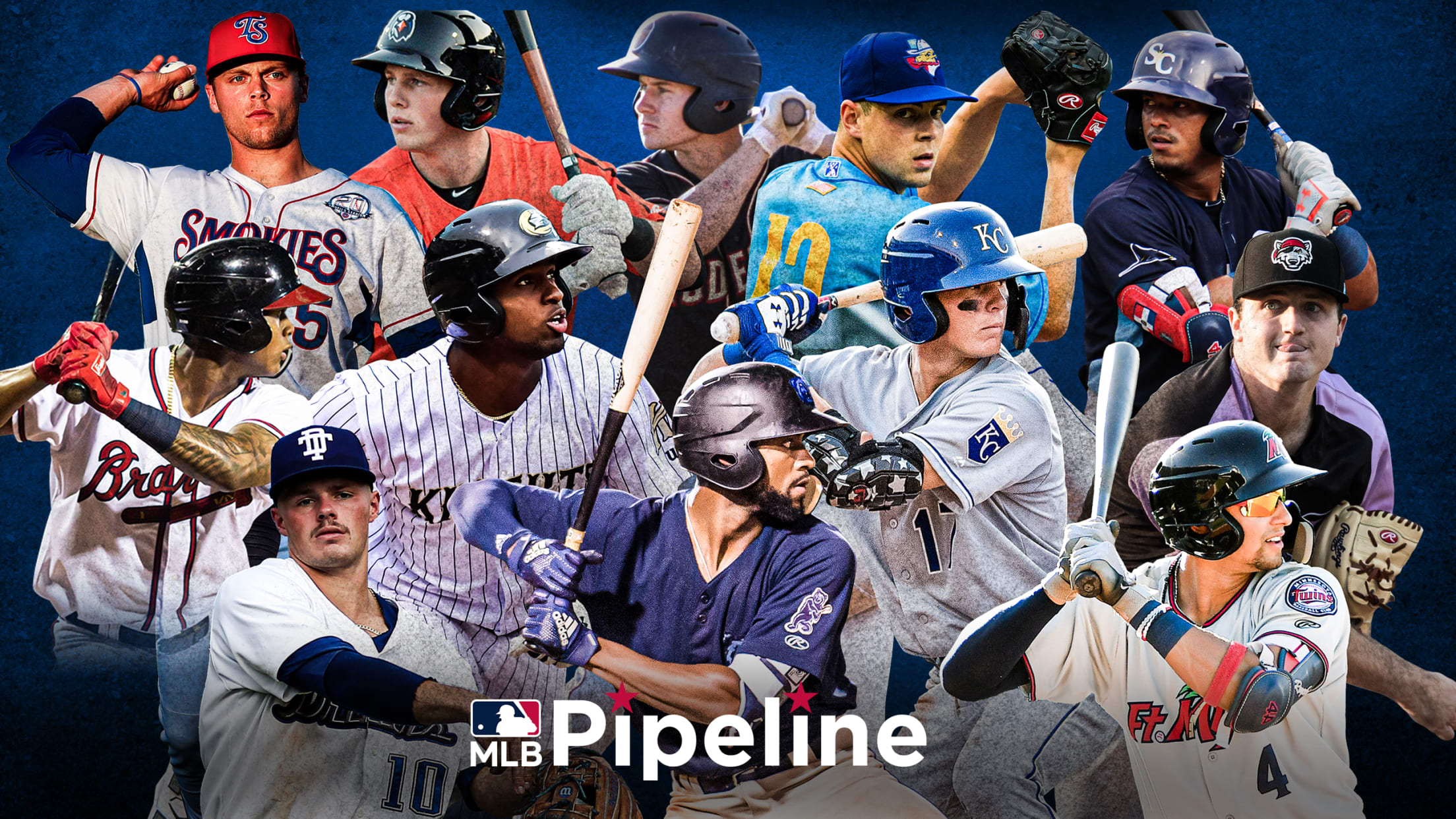 Every year at this time, MLB Pipeline does a complete overhaul of all of its rankings, from the Top 100 to the Top 10 by position to every team's Top 30 list. All of those lists have been completely re-ranked to incorporate performance as well as to include 2019 draftees
Every year at this time, MLB Pipeline does a complete overhaul of all of its rankings, from the Top 100 to the Top 10 by position to every team's Top 30 list. All of those lists have been completely re-ranked to incorporate performance as well as to include 2019 draftees and 2019-20 international signees for the first time. Every list has been updated to reflect the flurry of Trade Deadline activity as well.
The new Top 100 will be analyzed on an MLB Network special, airing on Saturday at 6 p.m. ET. Greg Amsinger will host and will be joined by MLB Network analysts Harold Reynolds and Dan O'Dowd, as well as MLB Pipeline's Jonathan Mayo. The hour-long show will do a deeper dive into the Top 50 of the list.
In addition, MLB Pipeline will use these new lists to inform an updated Top 15 farm systems rankings next week. Before finding out if your favorite team lands on that list, dig into the snapshot of all 30 organizations' revamped top 30 lists below.
(Editor's note: Prospect Points are determined by assigning a numerical value to each spot in the Top 100, giving 100 points to No. 1, 99 points to No. 2, and so on. A team's total is calculated by adding the values assigned to each of its Top 100 prospects.)
AMERICAN LEAGUE EAST
Blue Jays - Top 100: 3 | Prospect Points: 208 (11th in MLB)
No. 1: Bo Bichette, SS (MLB No. 8)
Biggest jump: Gabriel Moreno, C (21 to 9)
Biggest drop: Anthony Alford, OF (11 to 21)
Biggest Deadline addition/subtraction: Anthony Kay, LHP, from Mets
The graduation of Vlad Jr. cost Toronto some star power atop its Top 30 list, but the organization's collection of impactful young arms (Nate Pearson, Alek Manoah) and up-the-middle prospects, a group led by recent callup Bo Bichette, should allow them to come out on the right side of their current roster turnover. Top 30 Prospects list »
Orioles - Top 100: 4 | Prospect Points: 217 (10th)
No. 1: Adley Rutschman, C (MLB No. 6)
Biggest jump: Michael Baumann, RHP (27 to 9)
Biggest drop: Jean Carlos Encarnacion, 3B (13 to 29)
Biggest Deadline addition/subtraction: Noelberth Romero, SS, from Red Sox
The addition of Rutschman, the 2019 No. 1 overall pick, gives Baltimore some star power at the top of its list to go along with a crop of on-the-rise pitching prospects who could begin to fill out Baltimore's starting rotation in 2020 and beyond. Top 30 Prospects list »
Rays - Top 100: 6 | Prospect Points: 334 (3rd)
No. 1: Wander Franco, SS (MLB No. 1)
Biggest jump: Joe Ryan, RHP (NR to 16)
Biggest drop: Lucius Fox, SS (10 to 20)
Biggest Deadline addition/subtraction: Jesus Sanchez, OF, to Marlins
Any farm system featuring phenom Wander Franco is automatically in very good shape. But the Rays have so much more than that, boasting a mix of big league-ready prospects (Brendan McKay, Nate Lowe) and an increasingly deep crop of younger prospects -- especially pitching prospects -- who could be main cogs in the organization's long-term plans. Top 30 Prospects list »
Red Sox - Top 100: 1 | Prospect Points: 11 (30th)
No. 1: Triston Casas, 1B/3B (MLB No. 90)
Biggest jump: Thad Ward, RHP (NR to 9)
Biggest drop: Alex Scherff, RHP (21 to NR)
Biggest Deadline addition/subtraction: Noelberth Romero, SS to BAL
Graduations and trades have thinned out the Red Sox system -- not that anyone in Boston is complaining after a 2018 World Series championship -- but they're rebuilding depth with strong Drafts and international signings in recent years. Top 30 Prospects list »
Yankees - Top 100: 3 | Prospect Points: 98 (20th)
No. 1: Deivi Garcia, RHP (MLB No. 66)
Biggest jump: Yoendrys Gomez, RHP (27 to 8)
Biggest drop: Matt Sauer, RHP (17 to NR)
Biggest Deadline addition/subtraction: Joe Harvey, RHP to COL
The Yankees have relied heavily on the international market, which is where they've found their three best prospects (including July signee Jasson Dominguez, who has a crazy ceiling) and six of their top 10. Top 30 Prospects list »
AMERICAN LEAGUE CENTRAL
Indians - Top 100: 3 | Prospect Points: 97 (21st)
No. 1: Nolan Jones, 3B (MLB No. 40)
Biggest jump: James Karinchak, RHP (30 to 21)
Biggest drop: Nick Sandlin, RHP (17 to 30)
Biggest Deadline addition/subtraction: Logan Allen, LHP from SD
The Indians have a farm system on the rise, with many of their best prospects just getting started at the lower levels of the Minors and incredible depth in sweet-swinging middle infielders. Top 30 Prospects list »
Royals - Top 100: 3 | Prospect Points: 162 (16th)
No. 1: Bobby Witt Jr., SS (MLB No. 9)
Biggest jump: Jonathan Bowlan, RHP (30 to 16)
Biggest drop: Scott Blewett, RHP (15 to NR)
Biggest Deadline addition/subtraction: Kevin Merrell, SS, from OAK
The big 2018 Draft haul of college pitching has been as good as advertised, with all four of the arms -- Brady Singer, Daniel Lynch, Jackson Kowar and Kris Bubic -- all in the top six, with the addition of 2019 No. 2 overall pick Bobby Witt Jr. giving the system an elite-level position player at the top. Top 30 Prospects list »
Tigers - Top 100: 3 | Prospect Points: 223 (9th)
No. 1: Casey Mize, RHP (MLB No. 2)
Biggest jump: Tarik Skubal, LHP (20 to 4)
Biggest drop: Logan Shore, RHP (16 to NR)
Biggest Deadline addition/subtraction: Joey Wentz, LHP, from Braves
The Tigers boast perhaps the best rotation in the Minors right now, with Casey Mize, Matt Manning, Tarik Skubal, Alex Faedo and Joey Wentz all pitching for Double-A Erie, and there's a lot to like in the organization's crop of teenage positional players -- a group headlined by 2019 No. 5 overall pick Riley Greene. Top 30 Prospects list »
Twins - Top 100: 5 | Prospect Points: 245 (7th)
No. 1: Royce Lewis, SS (MLB No. 7)
Biggest jump: Jordan Balazovic, RHP (20 to 4)
Biggest drop: Zack Littell, RHP (21 to NR)
Biggest Deadline addition/subtraction: Lewin Diaz, 1B, to MIA
While both have had uneven 2019 seasons, Royce Lewis and Alex Kirilloff still give the Twins the best prospect duo (No. 7 and 16) in all of baseball. The pitching combo of Brusdar Graterol and Jordan Balazovic, while not quite as elite, isn't too far behind. Top 30 Prospects list »
White Sox - Top 100: 5 | Prospect Points: 391 (2nd)
No. 1: Luis Robert, OF (MLB No. 5)
Biggest jump: Jonathan Stiever, RHP (27 to 8)
Biggest drop: Laz Rivera, SS (17 to NR)
Biggest Deadline addition/subtraction: Joe Jarneski, RHP from TEX
The White Sox system is one of the most top-heavy in baseball, with five of the game's 43 best prospects (and more Prospects points than anyone but the Padres) and unremarkable depth behind them. Top 30 Prospects list »
AMERICAN LEAGUE WEST
A's - Top 100: 3 | Prospect Points: 193 (12th)
No. 1: Jesus Luzardo, LHP (MLB No. 19)
Biggest jump: Nick Allen, SS (15 to 6)
Biggest drop: Tyler Ramirez, OF (20 to NR)
Biggest Deadline addition/subtraction: Jameson Hannah, OF to CIN
If they can continue to come back healthy, the lefty combination of Jesus Luzardo (lat strain) and A.J. Puk (now pitching following TJ surgery) makes the top of this list very intriguing. On the offensive side of things, the swing-and-miss tendencies of outfielders Austin Beck and Lazaro Armenteros are concerning. Top 30 Prospects list »
Angels - Top 100: 1 | Prospect Points: 97 (22nd)
No. 1: Jo Adell, OF (MLB No. 4)
Biggest jump: Hector Yan, LHP (NR to 19)
Biggest drop: Michael Hermosillo, OF (17 to 28)
Biggest Deadline addition/subtraction: Raider Uceta, OF to HOU
The Angels continue to be very athletic and toolsy at the top of their list, led by Jo Adell, but also including outfielders like Brandon Marsh and Jordyn Adams. Kyren Paris, a 2019 draftee, and 2017 international signee D'Shawn Knowles, round out the Top 10 with more high ceiling position players, though they are still very far away. Top 30 Prospects list »
Astros - Top 100: 2 | Prospect Points: 172 (15th)
No. 1: Kyle Tucker, OF (MLB No. 13)
Biggest jump: Cristian Javier, RHP (NR to 10)
Biggest drop: Dean Deetz, RHP (20 to NR)
Biggest Deadline addition/subtraction: Seth Beer, 1B/OF to ARI
The Astros aren't nearly as deep as they were before putting together packages to acquire Justin Verlander, Gerrit Cole and now Zack Greinke, but they've managed to hold onto their best prospects in Tucker and right-hander Forrest Whitley. Top 30 Prospects list »
Mariners - Top 100: 5 | Prospect Points: 225 (8th)
No. 1: Jarred Kelenic, OF (MLB No. 24)
Biggest jumps: Cal Raleigh, C (13 to 7) and Jake Fraley, OF (14 to 8)
Biggest drop: Dom Thompson-Williams, OF (15 to 25)
Biggest Deadline addition/subtraction: Taylor Guilbeau, LHP from WAS
A year ago at this time, the Mariners had just one Top 100 prospect and now there are five as GM Jerry Dipoto continues to restock the system. It's hard not to be excited about the young outfield combo of Jarred Kelenic and Julio Rodriguez at the top. Top 30 Prospects list »
Rangers - Top 100: 3 | Prospect Points: 81 (24th)
No. 1: Josh Jung, 3B (MLB No. 60)
Biggest jump: Sam Huff, C (21 to 2)
Biggest drop: Julio Pablo Martinez, OF (2 to 25)
Biggest Deadline addition/subtraction: Nick Solak, 2B/OF from TB
Jung comes with a higher floor than most recent Rangers first-round picks, though it's still business as usual for an organization loaded with high-risk, high-reward prospects. Top 30 Prospects list »
NATIONAL LEAGUE EAST
Braves - Top 100: 5 | Prospect Points: 326 (4th)
No. 1 prospect: Cristian Pache, OF (MLB No. 11)
Biggest jump: Trey Harris, OF (NR to 19)
Biggest drop: Kyle Wright, RHP (2 to 4)
Biggest Deadline addition/subtraction: Joey Wentz, LHP to DET
The Braves managed to upgrade their big league bullpen without dealing away any of their Top 100 prospects, so that's a win. The very top of this Top 30 still ranks with any organization's, but it thins out pretty quickly. Top 30 Prospects list »
Marlins - Top 100: 6 | Prospect Points: 273 (5th)
No. 1: Sixto Sanchez, RHP (MLB No. 26)
Biggest jump: Jerar Encarnacion, OF (NR to 18)
Biggest drop: Victor Victor Mesa, OF (2 to 14)
Biggest Deadline addition/subtraction: Jesus Sanchez, OF from TB
The Derek Jeter regime is getting better at trading as it goes along, adding two more Top 100 Prospects (outfielder Jesus Sanchez, shortstop Jazz Chisholm) at the Deadline to bring the Marlins' total to six -- tied for second with the Rays, behind only the Padres (seven). Top 30 Prospects list »
Mets - Top 100: 3 | Prospect Points: 40 (28th)
No. 1: Ronny Mauricio, SS (MLB No. 84)
Biggest jump: Kevin Smith, LHP (NR to 11)
Biggest drop: Desmond Lindsay, OF (11 to 27)
Biggest Deadline addition/subtraction: Anthony Kay, LHP, to Blue Jays
The Mets parted with two of their top pitching prospects (Kay, Simeon Woods-Richardson) to land Marcus Stroman, but only after making a haul in the 2019 Draft by landing high-ceiling right-handers Matthew Allan (third round) and Josh Wolf (second), after taking slugging third baseman Brett Baty in the first round. Recent international signings like Mauricio and Francisco Alvarez look like future stars, too. Top 30 Prospects list »
Phillies - Top 100: 2 | Prospect Points: 73 (25th)
No. 1 prospect: Alec Bohm, 3B/1B (MLB No. 37)
Biggest jump: Deivy Grullon, C (NR to 20)
Biggest drop: Arquimedes Gamboa, SS (13 to 23)
Biggest Deadline addition/subtraction: Austin Bossart, C to NYM
The Phillies have used their rebuilt farm system to put together a contending team at the big league level, both via promotions from within and trades, even though they weren't active at the deadline. So it's a bit thinner than it has been, though the last two Drafts have brought in intriguing college bats (Alec Bohm and this year, Bryson Stott). Top 30 Prospects list »
Nationals - Top 100: 2 | Prospect Points: 100 (19th)
No. 1: Carter Kieboom, SS/2B (MLB No. 22)
Biggest jump: Ben Braymer, LHP (25 to 15)
Biggest drop: Jake Irvin, RHP (17 to NR)
Biggest Deadline addition/subtraction: Taylor Guilbeau, LHP, to Mariners
The Nationals' M.O. in recent years has been to trade prospects for big league talent (relievers, namely), and in turn it's made the team's farm system increasingly weak. However, the club has continued to do well with its early-round Draft picks and has several international signings who could become big deals in its system in the coming years. Top 30 Prospects list »
NATIONAL LEAGUE CENTRAL
Brewers - Top 100: 1 | Prospect Points: 20 (29th)
No. 1: Brice Turang, SS/2B (MLB No. 81)
Biggest jump: Trent Grisham, OF (30 to 6)
Biggest drop: Jacob Nottingham, C/1B (16 to NR)
Biggest Deadline addition/subtraction: Mauricio Dubon, SS/2B, to Giants
The Brewers' farm system isn't strong right now, but they have had a number of once-middling prospects make significant strides in 2019 -- none more so than the white-hot Trent Grisham -- all while they've continued to add high-probability big league pitchers in the Draft and up-the-middle prospects via the international market. Top 30 Prospects list »
Cubs - Top 100: 2 | Prospect Points: 61 (26th)
No. 1: Nico Hoerner, SS (MLB No. 50)
Biggest jump: Kohl Franklin, RHP (NR to 15)
Biggest drop: Keegan Thompson, RHP (10 to NR)
Biggest Deadline addition/subtraction: Paul Richan, RHP to DET
The Cubs used what was once baseball's best farm to build a World Series champion through promotions and trades, but now the system is in rebuilding mode and still hasn't produced any impact pitchers. Top 30 Prospects list »
Cardinals - Top 100: 2 | Prospect Points: 119 (17th)
No. 1: Nolan Gorman, 3B (MLB No. 31)
Biggest jump: Julio Rodriguez, C (NR to 13)
Biggest drop: Malcom Nunez, 3B (6 to 18)
Biggest Deadline addition/subtraction: Jeffry Abreu, RHP, from Dodgers
Gorman is the top prospect in the system, but Dylan Carlson, who's having a breakout season as a 20-year-old in Double-A, is surging toward the Major Leagues. The organization has had numerous pitching prospects make developmental gains in 2019, a trend that should continue next season after a pitching-heavy Draft. Top 30 Prospects list »
Pirates - Top 100: 3 | Prospect Points: 174 (14th)
No. 1: Mitch Keller, RHP (MLB No. 28)
Biggest jump: Cody Bolton, RHP (27 to 13)
Biggest drop: Conner Uselton, OF (22 to NR)
Biggest Deadline addition/subtraction: Cody Ponce, RHP from MIL
While the system has provided nice lifts to the big league club in the forms of Bryan Reynolds and Kevin Newman, top prospect Mitch Keller hasn't been able to break through and No. 2 Ke'Bryan Hayes has had an uneven season. Keep an eye on Oneil Cruz, though, as he moves up the Top 100. Top 30 Prospects list »
Reds - Top 100: 3 | Prospect Points: 94 (23rd)
No. 1: Hunter Greene, RHP (MLB No. 53)
Biggest jump: Alfredo Rodriguez, SS (29 to 18)
Biggest drop: Jimmy Herget, RHP (18 to 26)
Biggest Deadline addition/subtraction: Taylor Trammell, OF to SD
Trading away a Top 100 talent like Trammell obviously impacts a farm system, but the Reds see a wide-open NL Central and perhaps a window to climb into contention. Adding Jameson Hannah from the A's helps add some depth to a somewhat thinned-out system. Top 30 Prospects list »
NATIONAL LEAGUE WEST
D-backs -Top 100: 4 | Prospect Points: 49 (27th)
No. 1: Alek Thomas, OF (MLB No. 63)
Biggest jump: Levi Kelly, RHP (NR to 9)
Biggest drop: Jake McCarthy, OF (8 to 29)
Biggest Deadline addition/subtraction: Jazz Chisholm, SS, to Marlins
Perhaps no system has improved as much as Arizona's since the beginning of June. The organization made a haul in the Draft, landing a slew of high-ceiling young arms and high-floor college bats, before acquiring a long-term starter (Zac Gallen) from Miami as well as three of the Astros' top prospects (Seth Beer, J.B. Bukauskas and Corbin Martin) for Zack Greinke at the Trade Deadline. Top 30 Prospects list »
Dodgers - Top 100: 4 | Prospect Points: 266 (6th)
No. 1: Gavin Lux, SS/2B (MLB No. 10)
Biggest jump: Josiah Gray, RHP (18 to 5); Devin Mann, 2B/3B (NR to 18)
Biggest drop: Connor Wong, C/2B (14 to 29); Jeren Kendall, OF (16 to NR)
Biggest Deadline addition/subtraction: Niko Hulsizer, OF to TB
The Dodgers have won six straight division titles and back-to-back pennants while continuing to churn out impact talents, the latest of whom are starting catcher Will Smith, just-promoted right-hander Dustin May and Lux, who was untouchable in trade talks. Top 30 Prospects list »
Giants - Top 100: 4 | Prospect Points: 192 (13th)
No. 1: Joey Bart, C (MLB No. 21)
Biggest jump: Seth Corry, LHP (26 to 9)
Biggest drop: Heath Quinn, OF (13 to NR)
Biggest Deadline addition/subtraction: Mauricio Dubon, SS/2B from MIL
They still have work to do, but the Giants system is on the upswing thanks to premium Draft picks (Bart, outfielders Heliot Ramos and Hunter Bishop) and a revived international program (led by shortstop Marco Luciano). Top 30 Prospects list »
Padres - Top 100: 7 | Prospect Points: 408 (1st)
No. 1: MacKenzie Gore, LHP (MLB No. 3)
Biggest jump: Owen Miller, SS/2B (26 to 13)
Biggest drop: Buddy Reed, OF (17 to 29)
Biggest Deadline addition/subtraction: Taylor Trammell, OF, from Reds
The Padres have started to tap into their wealth of prospects in 2019, utilizing some to bolster their big league roster while trading others to gain even better prospects. Overall, the system is as strong as ever, possessing high-ceiling young arms (MacKenzie Gore, Luis Patiño) and countless others that have made developmental strides. Top 30 Prospects list »
Rockies - Top 100: 2 | Prospect Points: 101 (18th)
No. 1 prospect: Brendan Rodgers, INF (MLB No. 12)
Biggest jump: Tommy Doyle, RHP (NR to 21)
Biggest drop: Riley Pint, RHP (8 to 16)
Biggest Deadline addition/subtraction: Joe Harvey, RHP from NYY
Brendan Rodgers' shoulder surgery is the only reason why he still qualifies as a prospect and he's the only elite-level talent in the Rockies' Top 30. The Rockies hope an influx of advanced college talent from the 2019 Draft -- five of them made the new top 30 -- will help. Top 30 Prospects list »