1 free agent each MLB team can re-sign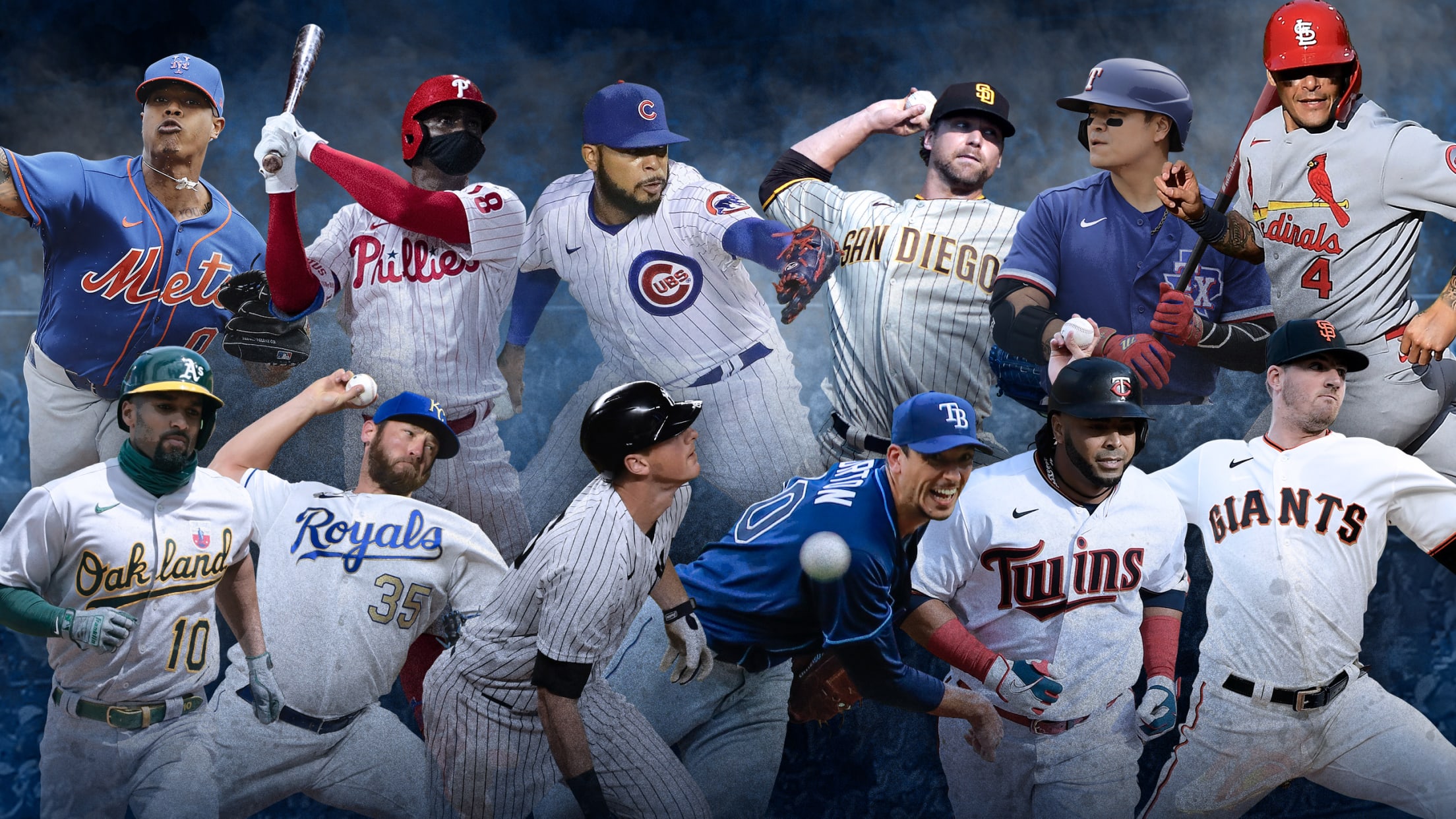 The Hot Stove will simmer all winter as free agents trade in one uniform for another, but a number of these players will decide that their best move is not to make one at all. Which players might decide to give it another run with their clubs? And which clubs
The Hot Stove will simmer all winter as free agents trade in one uniform for another, but a number of these players will decide that their best move is not to make one at all.
Which players might decide to give it another run with their clubs? And which clubs will view their free-agent players as their best options going forward? Here's a look at all 30 clubs and which incumbent could make the most sense to return for 2021.
(Note: In some cases, the choice was a player with a team option, as a number of teams either have a small number of free agents or a list of players not expected to return.)
American League East
Blue Jays: Taijuan Walker, RHP
2021 Opening Day age: 28
The Blue Jays have a half-dozen players headed for free agency, but Taijuan Walker -- who posted a 1.37 ERA in six starts for Toronto after being acquired from Seattle in late August -- seems like a natural fit. Walker was non-tendered by the D-backs last offseason and signed a one-year, $2 million pact with the Mariners, but the 28-year-old should now be in line for a multiyear deal. Matt Shoemaker could also be retained on a new contract, as the Blue Jays figure to be in the market for pitchers this offseason.
Orioles: José Iglesias, SS
2021 Opening Day age: 31
José Iglesias thrived during the shortened season, slashing .373/.400/.556 with 20 extra-base hits in 150 plate appearances. He'll be 31 in July, but his $3.5 million option is very reasonable for an everyday player, making him a trade candidate next summer if the Orioles decide to be sellers. Baltimore's only true free agents are lefty Wade LeBlanc and righty Kohl Stewart, neither of whom is expected to be back with the club.
Rays: Charlie Morton, RHP
2021 Opening Day age: 37
The Rays' only true free agent is Aaron Loup, who is unlikely to be brought back. Charlie Morton's $15 million option was declined (as was Mike Zunino's $4.5 million option), but don't count out a reunion between Morton and Tampa Bay. Morton has let it be known that he wants to stay with the Rays, so a new deal is a possibility.
Red Sox: Martin Pérez, LHP
2021 Opening Day age: 29
Jackie Bradley Jr. is Boston's lone free agent, and while the Red Sox are likely to take their shot at retaining the center fielder, it's quite possible that another team will be willing to outbid them for his services. Martín Pérez has a $6.25 million club option with a $500,000 buyout, but given the team's pitching issues (Chris Sale recovering from Tommy John surgery, Eduardo Rodriguez's uncertain health), that seems like a reasonable cost for a rotation member.
Yankees: DJ LeMahieu, 2B
2021 Opening Day age: 32
Starting pitchers Masahiro Tanaka and James Paxton are among the Yankees' free agents, but bringing back DJ LeMahieu should be the team's top priority. LeMahieu's two-year, $24 million deal turned out to be one of the great free-agent bargains of the past decade, resulting in one top-five AL MVP finish (and possibly a second this month), a batting title and the versatility to play first, second and third base. LeMahieu will have multiple suitors, but he's a perfect fit in the Bronx.
American League Central
Indians: César Hernández, 2B
2021 Opening Day age: 30
César Hernández and Sandy León are the only free agents in Cleveland, while Carlos Santana ($17.5 million), Brad Hand ($10 million), Roberto Pérez ($5.5 million) and Domingo Santana ($5 million) have club options. Austin Hedges' presence makes León's return unlikely, but the Indians love Hernández, so if they can find a number that works for both sides, he could be back for 2021. Cleveland also has a number of middle-infield prospects -- four of the club's top nine, according to MLB Pipeline -- that could take Hernández's place if he departs.
Royals: Greg Holland, RHP
2021 Opening Day age: 35
Now that Alex Gordon has announced his retirement, the Royals' only free agents are Greg Holland and Ian Kennedy. Kansas City might bring back Kennedy on a small deal now that he's completed his five-year, $70 million contract, but the Royals could really spend to re-sign Holland, who had a 1.91 ERA in 28 games, going 5-for-5 in save opportunities after closer Trevor Rosenthal was traded.
Tigers: Austin Romine, C
2021 Opening Day age: 32
Austin Romine is one of five free agents in Detroit, joined by C.J. Cron, Iván Nova, Jonathan Schoop and Jordan Zimmermann. With no catching prospects anywhere close to the Majors, Detroit could bring back Romine for a second year behind the plate. Schoop, who played well on a one-year deal in 2020, could also be a candidate to return.
Twins: Nelson Cruz, OF
2021 Opening Day age: 40
The Twins have a whopping eight free agents this offseason: Ehire Adrianza, Alex Avila, Tyler Clippard, Nelson Cruz, Marwin Gonzalez, Rich Hill, Trevor May and Jake Odorizzi. None should be as high a priority as Cruz, who has been the heart and soul of the Twins since he arrived in Minnesota in 2019. The 40-year-old Cruz remains a power threat at the plate, so retaining him on a short-term deal feels like an obvious move for the Twins.
White Sox: Leury García, IF
2021 Opening Day age: 30
Leury García's versatility -- he played second base, shortstop and right field in 2020 and has played every position other than catcher and first base during his eight-year career -- is attractive to the White Sox, who have Alex Colomé, James McCann and Jarrod Dyson heading to free agency. García's $3.5 million option makes him the most likely to return among the free agents and the players with club options; Edwin Encarnación's $12 million option will almost certainly be declined, while Gio González could see his $7 million option exercised.
Update: Chicago exercised García's option and declined the options for Encarnación and González.
American League West
Astros: Michael Brantley, OF
2021 Opening Day age: 33
Yuli Gurriel would have been the pick here, but the first baseman already agreed to a one-year extension (plus a 2022 option) with the Astros last month. George Springer is in line to land one of the biggest contracts of the offseason, and the feeling around the league is that it won't be with Houston. Michael Brantley has played well during his two years with the Astros, so retaining him if Springer leaves will be important for the club.
Angels: Andrelton Simmons, SS
2021 Opening Day age: 31
It's unlikely that the Angels will extend a qualifying offer to Andrelton Simmons, one of two free agents along with Julio Teheran. When Simmons opted out of the final five games of 2020, he thanked the Angels in a statement while saying he didn't know what the future holds. Los Angeles needs a middle infielder to pair with David Fletcher, so it could try to bring Simmons back on a short-term deal following two injury-plagued seasons.
Athletics: Marcus Semien, SS
2021 Opening Day age: 30
A year ago, Marcus Semien had completed a breakout season that saw him finish third in AL MVP voting. The idea of Oakland being able to retain him when he hit free agency seemed far-fetched, but Semien struggled in 2020, finishing the season with a .679 OPS -- more than 200 points lower than the prior year. Semien is a leader in Oakland's clubhouse, so the Athletics could certainly bring him back off a subpar season. Oakland could also make an effort to re-sign Tommy La Stella, Mark Canha and/or Liam Hendriks, though the latter has established himself as one of the top relievers in the game and could price himself out of town.
Mariners: Yoshihisa Hirano, RHP
2021 Opening Day age: 37
Kendall Graveman was our initial pick, but Seattle declined the right-hander's $3.5 million option -- then promptly brought him back with a $1.25 million, one-year deal that includes performance bonuses . Dee Strange-Gordon's $14 million option was also declined, leaving Yoshihisa Hirano as the only option. Still, the expectation is that the Mariners will not bring back the 36-year-old righty, who has not been able to replicate his strong 2018 season over the past two years.
Rangers: Shin-Soo Choo, OF
2021 Opening Day age: 38
Texas has more than a half-dozen free agents, not to mention an $18 million option on Corey Kluber that is unlikely to be exercised. It's doubtful that Jeff Mathis, Jesse Chavez or Derek Dietrich will be back, while Edinson Vólquez could retire. Shin-Soo Choo has been an extremely popular figure in Arlington, and although he wasn't as productive at age 38 this season, he can still be a useful bench player and part-time DH. Choo just completed a $130 million contract, so if he decides he wants to finish his career in Texas, he might take a discounted deal to stay with the Rangers.
National League East
Braves: Nick Markakis, OF
2021 Opening Day age: 37
The Braves have a number of key free agents including Marcell Ozuna, Mark Melancon, Shane Greene, Cole Hamels and Tyler Flowers. Nick Markakis reversed course after initially electing not to play the season, appearing in 37 games in 2020. He doesn't have the power he once possessed, but he had 15 doubles in 130 at-bats and remains an important cog in Atlanta's machine. With top prospects Cristian Pache and Drew Waters ready to make their presence felt, Markakis could return in a part-time role as the Braves transition to the two youngsters.
Marlins: Brandon Kintzler, RHP
2021 Opening Day age: 36
Starling Marte would have been the choice, but the Marlins exercised his $12.5 million 2021 option on Wednesday. The Marlins also have a club option on Brandon Kintzler ($4 million), which should be exercised as well. The team's free agents are another story; Matt Joyce, Brad Boxberger, James Hoyt, Josh A. Smith and Nick Vincent could return, though none are anything close to a certainty.
Mets: Marcus Stroman, RHP
2021 Opening Day age: 29
Yoenis Céspedes' time in New York is over, as is Jed Lowrie's after the infielder had a total of eight plate appearances during his two-year contract. Neither Michael Wacha nor Rick Porcello pitched well in 2020, making their returns unlikely. Marcus Stroman elected not to play this season, but the Mets will need to address their starting rotation, so they could make him a qualifying offer. Given the financial state of teams due to the pandemic, Stroman could take the one-year deal and try to build his value back up for a run at free agency a year from now.
Nationals: Kurt Suzuki, C
2021 Opening Day age: 37
When Ryan Zimmerman decided not to play in 2020, he indicated that he planned to play next season, so a return to Washington could certainly be in the cards. But Suzuki is wholly trusted by the Nationals' pitching staff, most notably Max Scherzer, so his return would make sense. Other free agents include Sean Doolittle, Howie Kendrick and Asdrúbal Cabrera.
Phillies: Didi Gregorius, SS
2021 Opening Day age: 31
Re-signing J.T. Realmuto might be Philadelphia's top priority this offseason, but the fact that the two sides have been unable to come to agreement on an extension doesn't bode well for his return. Didi Gregorius rolled the dice on a one-year deal in 2020, responding with a solid season that saw him hit 10 homers with 40 RBIs and an .827 OPS while playing in all 60 games. Locking him up with a multiyear deal would make sense for the Phillies. Other free agents include Jay Bruce, Tommy Hunter, Jake Arrieta and Brandon Workman.
National League Central
Brewers: Jedd Gyorko, IF
2021 Opening Day age: 32
Brett Anderson is the Brewers' lone free agent, and while his return can't be ruled out, the lack of starting pitching on this year's market means Anderson could be a popular target. Milwaukee also has two club options to consider after it declined Ben Gamel's $2.55 million option: Jedd Gyorko ($4.5 million) and Eric Sogard ($4.5 million). Gyorko had nine homers and an .838 OPS in 135 plate appearances, playing first and third base -- and even pitching a scoreless inning, to boot. Also of note: Ryan Braun's $15 million mutual option was declined by the Brewers.
Cardinals: Yadier Molina, C
2021 Opening Day age: 38
Yadier Molina's offensive production was down in 2020, but the catcher doesn't appear ready to retire at 38 and should be able to work something out with St. Louis in order to remain a Cardinal for life. The same could be said for Adam Wainwright, who posted a 3.15 ERA at 38 and could return for a 16th season with the club. Matt Wieters and Brad Miller are the club's other free agents, while the club has an option on Andrew Miller ($12 million).
Cubs: Jeremy Jeffress, RHP
2021 Opening Day age: 33
The Cubs' rotation will need to be addressed in the offseason. José Quintana and Tyler Chatwood are free agents, while Jon Lester has a $25 million mutual option. The bullpen will also require some work; Andrew Chafin, Pedro Strop and Jeremy Jeffress are all headed to free agency, but given how well Jeffress pitched in 2020 (1.54 ERA, eight saves in 22 games), he could be the reliever Chicago targets for a return. Other free agents include Cameron Maybin, Jason Kipnis, Hernán Pérez and Billy Hamilton.
Pirates: Keone Kela, RHP
2021 Opening Day age: 27
We've finally come to the first team for which the most realistic answer is "None." Keone Kela has been effective when healthy since joining the Pirates at the 2018 Trade Deadline, but he threw just 29 2/3 innings in 2019 and only two innings in 2020, dealing with injury issues in both years. If his injuries cause a depressed market, Pittsburgh could jump at the chance to bring him back. Derek Holland threw an uninspiring 40 2/3 innings this season (6.86 ERA), while Chris Archer's $11 million club option will be promptly declined.
Reds: Anthony DeSclafani, RHP
2021 Opening Day age: 30
Trevor Bauer is the best starter headed for free agency this offseason, and although the Reds would love to bring the Cy Young candidate back to Cincinnati, that seems like a longshot given how many teams are expected to pursue him. Anthony DeSclafani has been with the Reds since 2015, so although his 2020 season was the worst of his career, Cincinnati knows he's better than he showed this season. He's solid back-of-the-rotation depth who posted a sub-4.00 ERA over 166 2/3 innings in 2019. Infielder Freddy Galvis, the other free agent of note, could also be back.
National League West
D-backs: Merrill Kelly, RHP
2021 Opening Day age: 32
Jon Jay is Arizona's lone free agent, and he's not expected to return. Merrill Kelly ($4.25 million) and Stephen Vogt ($4 million) are the D-backs' only players with club options, after the team declined club options for Héctor Rondón ($4 million) and Junior Guerra ($3.5 million, though Arizona still retains him via arbitration) as well as Mike Leake's $18 million mutual option. Kelly, who pitched well before thoracic outlet surgery ended his season, should have his option exercised.
Dodgers: Justin Turner, 3B
2021 Opening Day age: 36
Despite the presence of some huge contracts, Andrew Friedman hasn't been a big spender in free agency during his time leading the Dodgers front office, choosing instead to use their farm system to fill holes. Justin Turner -- despite his COVID controversy following the club's World Series victory -- has been a huge presence for the Dodgers on and off the field during his seven years with his hometown team. Unless the Dodgers make a huge play for Francisco Lindor, they could bring Turner back to be a part-time third baseman with Edwin Ríos -- or to remain the everyday starter. Other Dodgers free agents include Enrique Hernández, Jake McGee, Joc Pederson, Blake Treinen and Alex Wood, though it's unclear which ones the club will try to retain.
Giants: Kevin Gausman, RHP
2021 Opening Day age: 30
Kevin Gausman has expressed interest in returning to San Francisco, and given that Drew Smyly and Trevor Cahill are also free agents (not to mention Jeff Samardzija, who was released in September), there will likely be a mutual desire to get something done. The Giants could also try to retain lefty reliever Tony Watson.
Padres: Trevor Rosenthal, RHP
2021 Opening Day age: 30
Kirby Yates threw just 4 1/3 innings in 2020, but Rosenthal -- who was acquired at the Trade Deadline -- fired 10 scoreless innings with four saves in his nine games for the Padres. Rosenthal, who was playing on a one-year, $2 million deal last year, should get a nice raise and return as San Diego's closer. Yates, Garrett Richards, Jason Castro and Jurickson Profar are the Padres' other free agents, while Mitch Moreland has a reasonable $3 million option that could be exercised.
Rockies: Kevin Pillar, OF
2021 Opening Day age: 31
Kevin Pillar had a solid run with the Rockies after being acquired at the Trade Deadline, posting an .801 OPS in 24 games (97 plate appearances). The Rockies had been interested in Pillar in the past, but hadn't been able to afford him. With Wade Davis, Bryan Shaw and Jake McGee off the books, the Rockies freed up about $35 million in salary. Drew Butera and Chris Owings are the only other free agents in Colorado, while the Rockies declined their half of Daniel Murphy's $12 million mutual option, which had a $6 million buyout.
Mark Feinsand, an executive reporter, originally joined MLB.com as a reporter in 2001.