30 impact callups for 2019 - 1 per team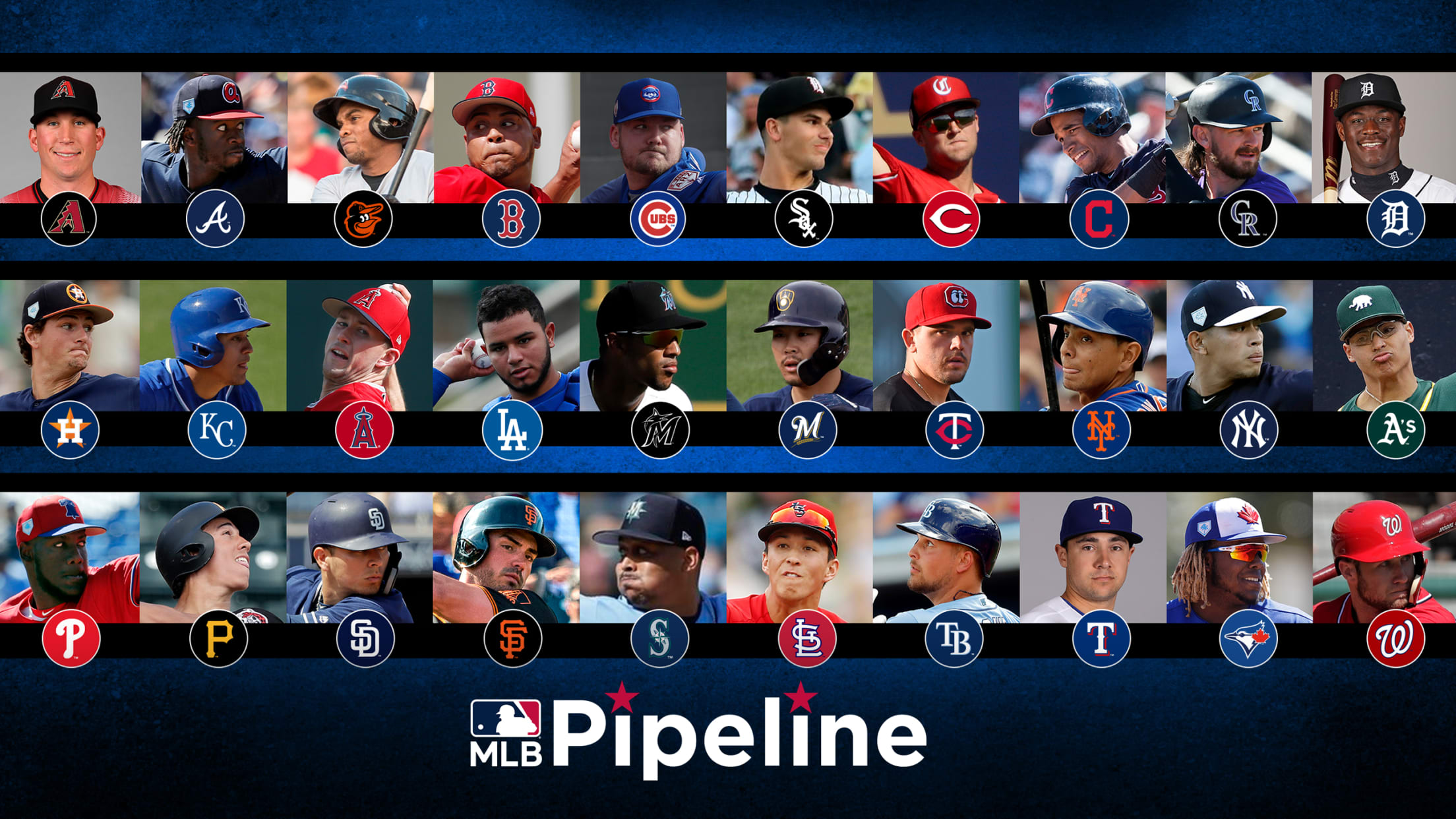 The arrival of some of baseball's top prospects was one of the major headlines on Opening Day this year, as Fernando Tatis Jr., Eloy Jimenez and Pete Alonso all made their Major League debuts. Of course, there will be even more prospects who work their way up to the big
The arrival of some of baseball's top prospects was one of the major headlines on Opening Day this year, as Fernando Tatis Jr., Eloy Jimenez and Pete Alonso all made their Major League debuts.
Of course, there will be even more prospects who work their way up to the big leagues as the season unfolds. Many of those players have impact potential and could drastically improve a team's roster, both immediately and long-term.
That's why this week MLB Pipeline is offering a look at one prospect from each team who didn't make the Opening Day roster but is poised to reach the Majors and make a meaningful contribution in 2019.
American League East
Vladimir Guerrero Jr., 3B, Blue Jays' No. 1 (MLB No. 1)
A strained left oblique ended Guerrero's chances of cracking Toronto's Opening Day roster, though he was likely ticketed for Triple-A regardless of his performance. Once he finally arrives, the 20-year-old third baseman could quickly become one of the best hitters in the game. Fans should also keep an eye on Anthony Alford (Blue Jays' No. 11), as the former Top 100 prospect had a promising spring and looks to be back on track after a rocky 2018 campaign.
Yusniel Diaz, OF, Orioles' No. 1 (No. 64 overall)
Baltimore's key acquisition in the five-prospect packaged they netted in last summer's Manny Machado trade, Diaz shows flashes of becoming a five-tool player but stands out the most for his advanced approach and natural hitting ability. Getting him to unlock his power is the next step, and the hope is that he'll make progress on that front in the Minors before his likely big league debut sometime during the second half.
Nate Lowe, 1B, Rays' No. 8
One of the top breakout prospects of 2018, Lowe produced a .330/.416/.568 line with an organizational-best 27 home runs as well as 32 doubles while ascending from Class A Advanced Charlotte to Triple-A Durham and appearing in the Futures Game along the way. With power that plays to all parts of the field, he could soon be hitting in the middle of Tampa Bay's big league lineup either as a first baseman or designated hitter.
Darwinzon Hernandez, LHP, Red Sox No. 4
Moved to the bullpen when he was promoted to Double-A late last year, Hernandez has taken quickly to the new role, showing true late-inning potential with his high-spin heater in the mid- to upper-90s and swing-and-miss slider. He posted a 0.82 ERA, .184 BAA and 12 strikeouts over 11 innings this spring (six appearances) and was among the Red Sox final cuts from camp. He's a member of Boston's 40-man roster and poised to reach the Majors early in the season.
Jonathan Loaisiga, RHP, Yankees' No. 2 (MLB No. 66)
Loasiga made the jump from Double-A to the big leagues last year and he should be ready when, not if, there's a need in New York. CC Sabathia is hurt to start the year, and Loaisiga should be the guy to take his turns for the time being. The right-hander has the stuff to succeed; it's more a question of durability.
American League Central
Oscar Mercado, OF, Indians' No. 19
Acquired last summer from the Cardinals in exchange for a pair of outfielder prospects, Mercado impressed in his first Spring Training with Cleveland, finishing with a .400/.415/.750 line and three homers in 40 at-bats. Though mostly known for his speed and defensive ability in center field, the 24-year-old also has some untapped potential at the plate that he could realize in 2019.
Nicky Lopez, SS/2B, Royals' No. 8
Watch Lopez for one day and you might not be that impressed. Watch him for a week and you can see he's a big leaguer. He hit .333 during Spring Training and he's shown the ability to play short and second well. He's also played third and the outfield in the past, the kind of super-utility type who can be plugged in wherever he's needed.
Daz Cameron, OF, Tigers' No. 5
After ascending three levels and finishing the 2018 season in Triple-A, Cameron was among the most impressive Tigers prospects in camp this spring as he hit .357 with seven extra-base hits in 16 games. He's nearly ready for the Major Leagues, and all signs point to him taking over as Detroit's center fielder in the coming year.
Lewis Thorpe, LHP, Twins' No. 8
The big arms in the Twins system, like Brusdar Graterol, are further away, but Thorpe and Steven Gonsalves can battle it out in Triple-A as pitchabilty lefties who will get the chance to help out in Minnesota. Fully healthy in 2018, the Aussie showed what he can do and has the ceiling of a mid-rotation starter, with stuff a shade better than Gonsalves'.
Dylan Cease, RHP, White Sox No. 3 (MLB No. 21)
Acquired from the Cubs with Eloy Jimenez in the July 2017 Jose Quintana trade, Cease garnered MLB Pipeline Pitcher of the Year honors last year after excelling in Double-A (1.72 ERA, 13.4 K/9 in 10 starts) and finishing fifth in the Minors in opponent average (.189) and eighth in strikeout rate (11.6 per nine innings).
American League West
Jesus Luzardo, LHP, A's No. 1 (MLB. No. 12)
If it weren't for a muscle strain in his throwing shoulder, we might have seen Luzardo in the big league rotation on Day 1. Instead, the timetable has been slowed down as he'll be out for 4-6 weeks. Once he's built back up, it shouldn't take him long to be big league ready, with a big second-half contribution a very strong possibility.
Griffin Canning, RHP, Angels' No. 2
Canning and his advanced feel for pitching allowed him to skyrocket to Triple-A in his first full season of pro ball. He did scuffle a bit at that level last year, but he should easily made the necessary adjustments. With four above-average to plus pitches and above-average command, he'll be knocking loudly on the door soon enough.
Forrest Whitley, RHP, Astros' No. 1 (MLB No. 7)
MLB Pipeline's top-ranked pitching prospect will start the season in the Minors but could be up by midseason, perhaps even earlier should an opening arise in Houston's starting rotation. With a combination of stuff -- each of his four pitches grade out as plus or better, and many consider his fastball-changeup pairing to be plus-plus -- and pitchability, Whitley is a safe bet to make an immediate impact when he arrives. Right-handers Corbin Martin (No. 5, MLB No. 80) and J.B. Bukauskas (No. 6, MLB No. 96) trail Whitley on the depth chart but are nonetheless impressive. Both hurlers boast power stuff that could help them reach the Majors as either a starter or reliever in 2019.
Justus Sheffield, LHP, Mariners' No. 1 (MLB No. 43)
While he didn't get a ton of innings this spring, Sheffield made a lasting impression in big league camp with his new organization. Part of the James Paxton return from the Yankees, the confident lefty will work to refine things in Triple-A knowing he has the chance to spend most of the 2019 season in Seattle.
Brock Burke, LHP, Rangers' No. 9
The Rangers got the Rays' 2019 Minor League Pitcher of the Year in a three-team trade that sent Jurickson Profar to the A's. Burke pitched his way to Double-A in 2018 and dominated there. His stuff has ticked upward and he looks more and more like a mid-rotation starter, one who could quickly run through the rest of the Rangers system.
National League East
Touki Toussaint, RHP, Braves' No. 6 (MLB No. 50)
The Braves have so many young pitching options to choose from to fill the rotation. Toussaint entered Spring Training with perhaps the inside track to one of the spots, but didn't pitch well enough to make the team on Opening Day. Kyle Wright and Bryse Wilson are there for now, but expect Toussaint's plus stuff to get plenty of looks in Atlanta this year.
Victor Victor Mesa, OF, Marlins' No. 2 (MLB No. 98)
Perhaps it's unfair to put a guy who has yet to play a professional inning on a list like this, but the Marlins didn't give Mesa $5.25 million to sit in the Minors. He's 22 and might not need much time before he's ready, with the ability to make consistent contact, run and really defend. He'd bring some energy to Miami once he gets there.
Andres Gimenez, SS, Mets' No. 2 (MLB No. 58)
The Venezuelan shortstop reached Double-A last year before he turned 20 and ultimately hit .277/.344/.385 over 37 games in the Eastern League. He saw a lot of time at second base in the Arizona Fall League and could be an option for the Mets this year in the event of an injury to either Amed Rosario or Robinson Cano.
Enyel De Los Santos, RHP, Phillies' No. 6
De Los Santos provides the Phillies with depth in a number of ways. He's been a starter, and performed well in that role in 2018, but he also has stuff that would play well out of the bullpen, something he did during his big league debut last year. He'll continue to start in Triple-A and wait to see what needs arise at the highest level.
Carter Kieboom, SS, Nationals' No. 2 (MLB No. 25)
One of the Nats' final non-roster cuts this spring, the 21-year-old showed that he's not far away from making an impact at the highest level, hitting .279/.353/.558 with three homers and three doubles in 25 games. Coming off of a campaign in which he homered 16 times while reaching Double-A, Kieboom appears poised to build upon that success in 2019 as he continues to surge towards the Majors.
National League Central
Keston Hiura, 2B, Brewers' No. 1 (MLB No. 20)
The 2017 first-rounder (No. 9 overall pick) raked his way up to Double-A in his first full season, finishing with a .293/.357/.464 line, 52 extra-base hits and 15 steals across two levels, then garnered MVP honors in the Arizona Fall League. And while the Brewers brought in free agent Mike Moustakas on a one-year deal to play second base, Hiura is, without question, the organization's future at the position and could be hitting in the middle of the lineup by the end of the season.
Dakota Mekkes, RHP, Cubs' No. 24
As a redshirt sophomore at Michigan State in 2016, Mekkes led NCAA Division I in hit rate (4.1 per nine innings) and strikeout rate (15.2). He has put up similarly crazy numbers in three years as a pro: 1.16 ERA, 5.3 hits and 11.6 strikeouts per nine innings. He succeeds largely on the basis of a low-90s fastball that plays way above its velocity because of his extension and deception, just the kind of different look that would fit nicely in the middle innings for the bullpen-needy Cubs.
Tommy Edman, INF, Cardinals' No. 13
The 2016 sixth-rounder hit .301 with 30 steals between Double- and Triple-A last year and tied a bow on his season with a strong turn in the Arizona Fall League. He improved his stock even more this spring as he hit .333 and tied for the team lead with 15 hits, all while bouncing between shortstop, second and third base. He has all the ingredients needed to become a productive utility player, or perhaps more, for the Cardinals in 2019.
Cole Tucker, SS, Pirates' No. 5
An argument could be made that Ke'Bryan Hayes deserves the nod, but the Pirates have more options at third in the big leagues. Erik Gonzalez is the starter, with Kevin Newman the likely sub on the 25-man roster. Neither has a ton of offensive upside and if Tucker gets off to a hot start (He hit .389 this spring), seeing him get his first crack at the big league infield later this year seems realistic.
Nick Senzel, OF/3B/2B, Reds' No. 1 (MLB. No. 6)
The ankle injury will set him back, but once he's 100 percent, the Reds likely won't hesitate to bring him up after a strong spring where he looked solid in center field. After Senzel, Vladimir Gutierrez could be a pitcher asked to pitch in (pun intended) when there's a need in Cincinnati. He'll show glimpses of three plus pitches and if he can find a level of consistency, he should get the chance to show what he can do in the big leagues soon.
National League West
Taylor Widener, RHP, D-backs' No. 3 (MLB No. 82)
Acquired last offseason in the Brandon Drury deal, Widener dominated the Double-A Southern League in his first season with the organization, leading the circuit in strikeouts (176) and WHIP (1.03) and finishing second in ERA (2.75). The 24-year-old righty was equally impressive this spring, tossing seven scoreless frames across three outings, and could be the first starter called up to fill a hole in Arizona's rotation.
Keibert Ruiz, C, Dodgers' No. 2 (MLB No. 36)
The switch-hitter is one of the best all-around catchers in the game and will continue his development in Triple-A at the start of the year. The Dodgers have Austin Barnes and veteran Russell Martin in the big leagues and it's not difficult to imagine Ruiz being better, especially offensively, than either of them by midseason.
Chris Shaw, OF, Giants' No. 11
While Shaw did struggle in his big league debut last year, his power potential is undeniable (24 homers in Triple-A in 2018). The Giants will utilize some combination of Connor Joe and Michael Reed in left field to start the year. Shaw's offensive potential outstrips either one of them by plenty.
Luis Urias, INF, Padres' No. 3 (MLB No. 23)
The Padres' decision to break camp with Fernando Tatis Jr. cost Urias a spot on the Opening Day roster, though it shouldn't be long until the 21-year-old is back in the mix given his innate feel to hit and ability to play anywhere on the infield.
Brendan Rodgers, INF, Rockies' No. 1 (MLB No. 10)
Rodgers competed for the second base job in big league camp this spring, but lost out to Ryan McMahon and Garrett Hampson. He'll bide his time in Triple-A waiting for an opportunity. His bat should have him ready soon and the fact he can play three infield positions has him poised to step in wherever that first opportunity should arise.