4 lingering questions after Tatis promotion
Padres have their shortstop, but more lineup decisions left to be made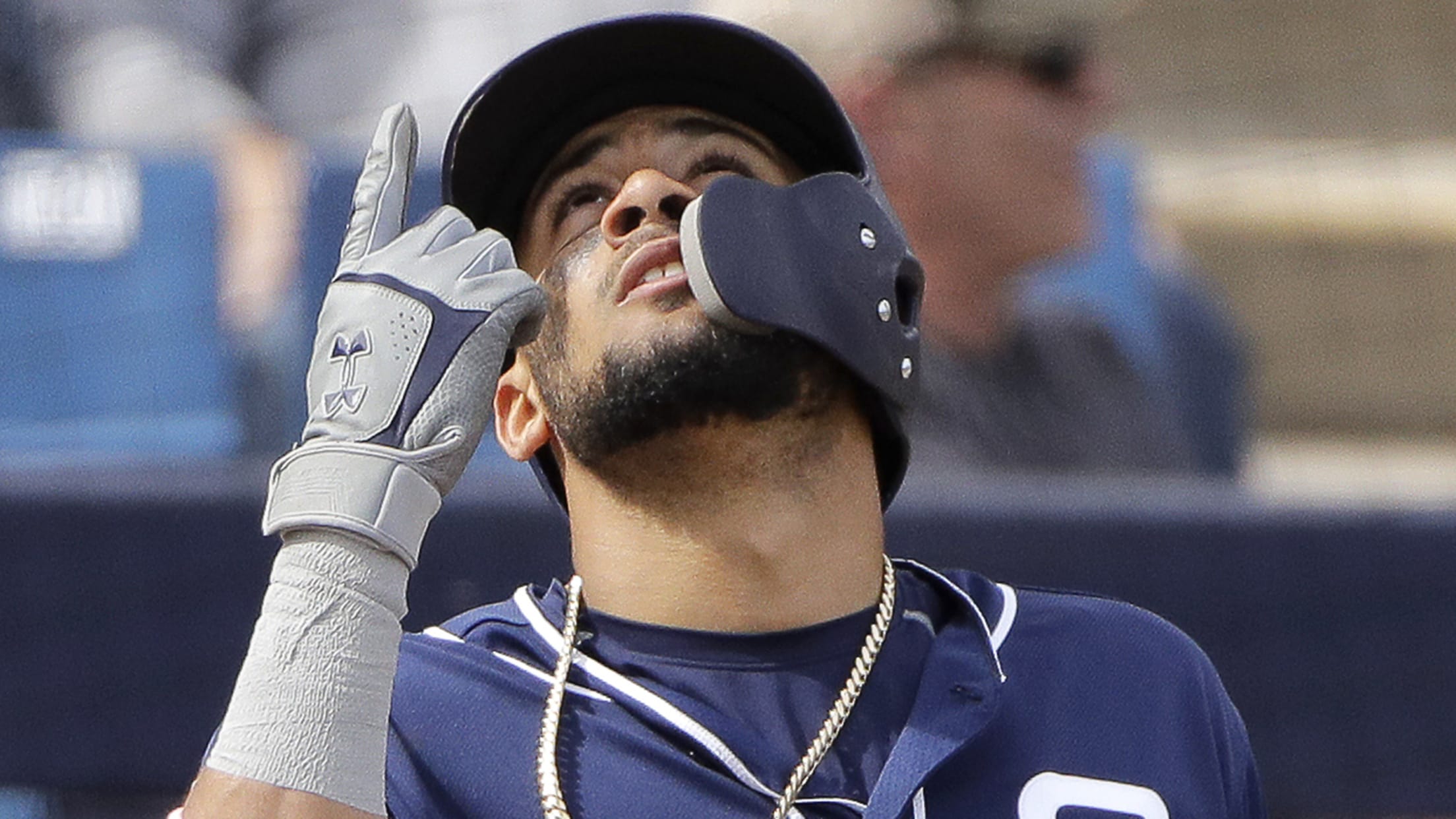 SAN DIEGO -- The Padres' decision to promote Fernando Tatis Jr. was equal parts stunning and exhilarating. Tatis, a 20-year-old shortstop with five tools, is the sport's No. 2 overall prospect per MLB Pipeline, and he'll become the youngest Padre to ever play on Opening Day when the Giants visit
SAN DIEGO -- The Padres' decision to promote Fernando Tatis Jr. was equal parts stunning and exhilarating.
Tatis, a 20-year-old shortstop with five tools, is the sport's No. 2 overall prospect per MLB Pipeline, and he'll become the youngest Padre to ever play on Opening Day when the Giants visit Petco Park on Thursday afternoon.
His pending arrival answered one important question: Who's the Padres' shortstop in 2019? It leaves a few others on the table:
Why now?
So much has been made about service time considerations that Tuesday's news qualified as a surprise. By promoting Tatis on Opening Day -- rather than April 12 -- he will be eligible to hit free agency after six seasons instead of seven. The Padres may have cost themselves a star player in 2025. But there are four important things worth remembering in that debate:
1. The most obvious is that the Padres are going for it now. They haven't made the playoffs since 2006, and they haven't put forth a winning season since '10. Having set franchise records with free-agent signings in the past two offseasons, ownership wants to win in '19. If Tatis is the best option, he's on the roster.
2. To that point, manipulating service time is forbidden by the Collective Bargaining Agreement. If Tatis were the best option, the Padres literally weren't allowed to keep him in the Minors solely to gain a year of team control in 2025.
3. Regarding Tatis and the Padres, 2025 might not even matter. If they can ink Tatis to an extension before he hits free agency, this decision will have only cost the Padres a bit of leverage in those negotiations. It might also have garnered them some good will.
4. On a macro level, the organization sees an opportunity. In an otherwise stale free-agent market, the Padres have spent big on Eric Hosmer and Manny Machado in the past two offseasons. They've promoted Chris Paddack and now Tatis -- service time be darned. They haven't gone to an arbitration hearing in general manager A.J. Preller's tenure. There's a growing sense in the league the Padres are trying as hard as they possibly can to win, and they're treating their players well in doing so. That's a worthwhile reputation to uphold.
What happens with Luis Urias?
Lost in the excitement over Tatis' arrival was some disappointing news regarding Urias, the team's No. 3 prospect. After debuting last August, Urias won't crack the Opening Day roster, and he'll begin the season at Triple-A. Many believed Urias, and not Tatis, would be the team's Opening Day shortstop, but Urias struggled this spring.
The team's long-term plans haven't changed. Urias remains the presumed second baseman of the future, alongside Tatis in the middle infield. First, he'll have to earn his way back to the big leagues, where Ian Kinsler is under contract for two seasons. If Urias rakes, he might force the Padres' hand, and Kinsler could become midseason trade bait or a bench piece.
Ultimately, Urias might be best served to open the year in Triple-A. He scuffled after his callup last season, then dealt with a hamstring injury for most of the offseason, when he would've otherwise been playing winter ball.
Where does Tatis' bat fit?
In the early stages of his career, at least, Tatis projects nicely as a top-of-the-order hitter. He's reached base at an elite clip in the Minors, and his speed and aggression would play well at the top of a lineup.
That said, it's worth remembering two things. First, there's already enough being heaped onto the 20-year-old's plate. Only three younger players in the last 42 years have started on Opening Day. Alan Trammell and Ken Griffey Jr. are Hall of Famers. Adrian Beltre will join them. There might be benefits to easing Tatis' burden.
There's also Tatis' history. He's been one of the best hitters in the Minor Leagues over the last two seasons. But he batted just .230/.313/.345 in his first month at Class A in 2017. Then he posted a .177/.231/.333 slash line in his first month at Double-A in 2018. It'd be completely fair to expect an adjustment period for Tatis in the big leagues.
With that in mind, it's safer to expect Tatis' name in the No. 6 or 7 spot over the first couple weeks.
Is there a chance the Padres extend Tatis?
Obviously the Padres think very highly of Tatis, so, yes, they'll eventually look to extend him. But there's nothing imminent regarding such a deal right now.
Still, sources indicated that the recent spate of pre-free-agency contract extensions played a role in the team's decision-making. Tatis, like so many others in recent weeks, could be inclined to re-up with San Diego before his arbitration years are up.
If and when those extension conversations arise, the Padres will enter them in good faith. Tatis could become a star, and he will have been treated like one from the start.
That doesn't necessarily mean Tatis will re-sign. Six years from now, the Padres' decision could backfire. But that's a story for another day. Tatis arrives in San Diego on Thursday, and he'll bring the hype train with him.