5 players who should be extra motivated in '19
Pressure is on for these vets to re-establish value before free agency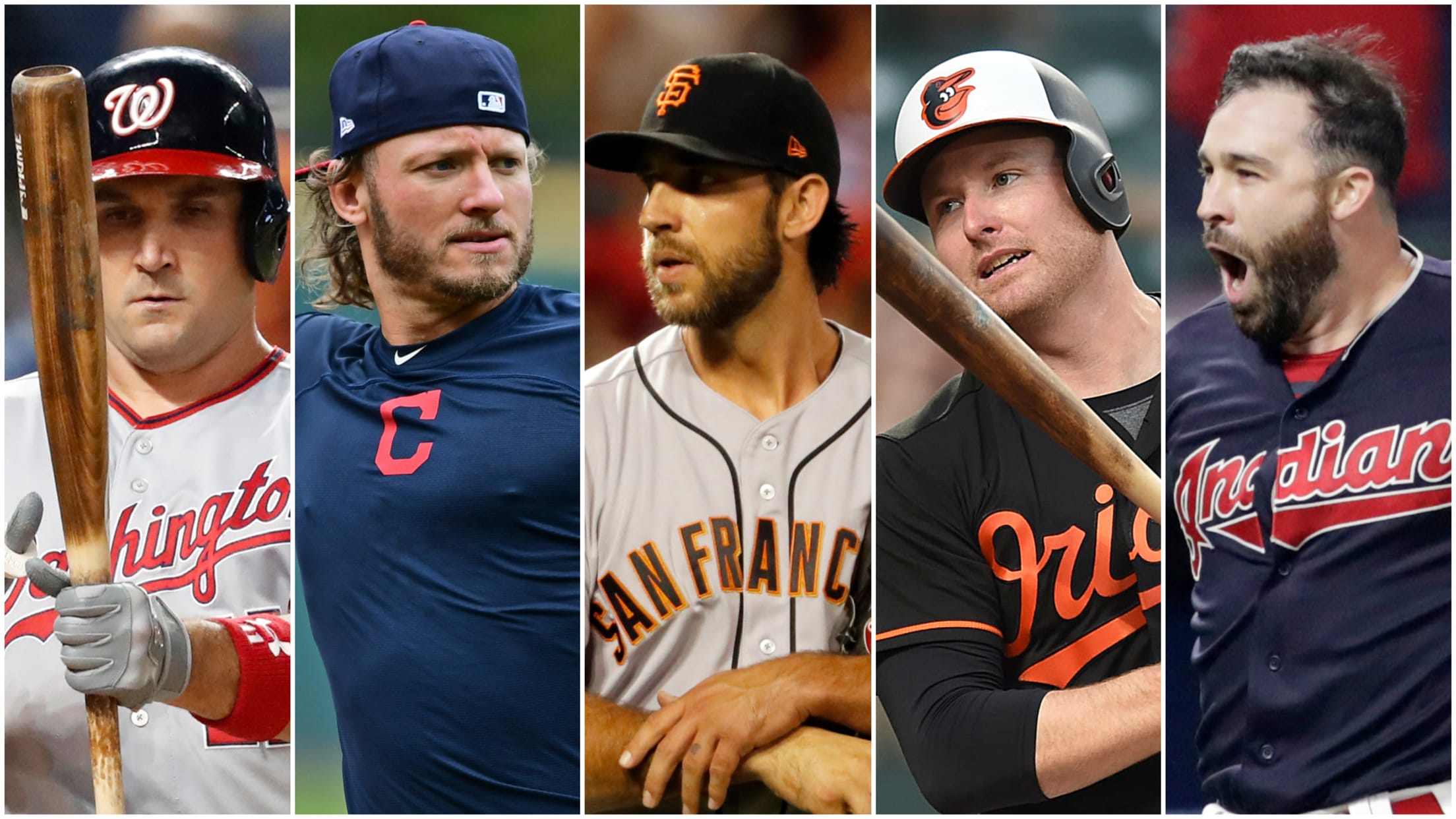 The Nationals could absolutely use Bryce Harper back in their lineup, but they could also really benefit from a healthy season from Ryan Zimmerman. And Zimmerman's Major League future might hinge on the same thing.Zimmerman is set to make $18 million this year, and then the Nationals will decide whether
The Nationals could absolutely use Bryce Harper back in their lineup, but they could also really benefit from a healthy season from Ryan Zimmerman. And Zimmerman's Major League future might hinge on the same thing.
Zimmerman is set to make $18 million this year, and then the Nationals will decide whether they want to pay him another $18 million in 2020 or buy out their longest-tenured player for $2 million. Zimmerman will turn 35 in September, and unfortunately, his injury history is inescapable. If the Nationals set Zimmerman free into today's free-agent climate, which is growing more and more unfavorable toward veteran players, he could find it difficult to sign on with another club (Zimmerman, for what it's worth, told the Washington Post last month that he'd like to finish his career as a National -- even if it means potentially taking a pay cut.)
At first glance, Zimmerman's 2018 season only raises questions about his future. He sat out most of Spring Training for self-preservation, but then started slow (.217/.280/.409) and suffered an oblique injury that sidelined him for 10 weeks. Zimmerman's .264/.337/.486 slash line at season's end was unquestionably a disappointment -- particularly after he had surprised many with a strong, healthy All-Star campaign in 2017.


If that sounds like a pretty standard profile of an aging star, you're not wrong. Fangraphs' Steamer system certainly takes that unforgiving tone, projecting more gradual decline, with Zimmerman being roughly a 1-WAR player. But there are still some factors that make it difficult to give up on him just yet. For one, Zimmerman still makes elite contact: His 52.8 percent hard-hit rate, per Statcast™, was second only to Aaron Judge among the 281 players who put 200 balls in play. Better yet, while Zimmerman has shied away from the launch-angle discussions around him, there's no question that he's found a way to elevate; he actually allocated more of his hard contact as line drives and fly balls than any other full-time hitter in the game last year. Statcast™'s quality of contact metric, xwOBA, rated Zimmerman as one of MLB's unluckiest hitters before his DL stint, and the .374 xwOBA he put up when he came back ranked among baseball's top 25.
Zimmerman himself seemed pleased with the way he bounced back down the stretch, and the optimism he showed in his discussion with MLB.com's Bill Ladson last September precedes a lot of sunny outlooks we'll hear from now until Opening Day. It's a new year, and lots of players are looking for fresh starts.

But which players, like Zimmerman, could really use a big turnaround to improve their financial futures? Ruling out players like Matt Carpenter, Anthony Rizzo and Stephen Strasburg, who will likely see their teams pick up club options for 2020, here are four other impending 2019-20 free agents who should be extra motivated this year.


Josh Donaldson, Braves
Landing a one-year deal that equaled his 2018 record arbitration salary was definitely a win for Donaldson, but now it's time for the former American League MVP to prove his calf and shoulder ailments are things of the past. The Braves have rising stars in Ronald Acuna Jr. and Ozzie Albies and their own perennial MVP candidate in Freddie Freeman, so Donaldson won't have to carry the lineup. But teams will be eager to see if the power Donaldson showed over 16 games with the Indians was for real, and whether his shoulder will still allow him to make strong throws across the diamond. Donaldson's play at third base will arguably be as important as his offense, because it would allow him to keep both leagues in play when he hits free agency again.
Madison Bumgarner, Giants
As weird as it sounds, it's still not a certainty that Bumgarner will wear orange and black on Opening Day. But the fact that the Giants' trade market for Bumgarner has been fairly quiet, by all public accounts, points to the work Bumgarner needs to do in 2019. His fastball is losing its zip and effectiveness, and he's got more mileage on him than most 29-year-old pitchers. One would never want to count out Bumgarner's competitive fire, however, and he's undoubtedly heard the critiques during his first serious stint on the trading block. A statement 2019 could help the lefty get back toward the free-agent contract many anticipated for him a few years ago.


Bumgarner isn't the only Giant with something to prove this year; the five-year, $95 million deal that Pablo Sandoval originally signed with the Red Sox expires at season's end.
Mark Trumbo, Orioles
Trumbo is another player who could be wearing a different uniform soon if the Orioles try to recoup any prospect value possible in their re-tooling phase. But Trumbo would have to show more than he did in 2018, however, after arthritis and cartilage damage under his right kneecap kept him to a disappointing .261/.313/.452 slash line across 90 games. Those numbers were actually better than Trumbo's '17 season, as the three-year, $37.5 million contract unfortunately hasn't worked out to Baltimore's liking.
Trumbo, who turns 33 next week, is unlikely to change from the low on-base, high-power slugger he's been to this point, and the free-agent market has been tough on similar players like C.J. Cron, Lucas Duda and Mike Moustakas in recent years. So, a fully healthy, 30-plus homer season will probably be essential for Trumbo to keep hopes of a multiyear deal alive next offseason.
Jason Kipnis, Indians
The Indians have reached the back end of the six-year, $52.5 million extension they gave Kipnis in 2014, and he has looked like a player in decline for the last two seasons. Kipnis was able to play 147 games after missing nearly half of 2017, but the bat (.230/.315/.389) didn't return and he rated as a below-average second baseman by defensive runs saved. Kipnis has never been a prototypical slugger, but his Statcast™ hard-hit rate has declined by about 10 percent since 2016, to the point where he's now below average. Those are hard trends to buck in an age-32 season, but that's the challenge facing Kipnis as he hopes to convince clubs to give him more than a one-year flier.