5 not-so-crazy summer trade ideas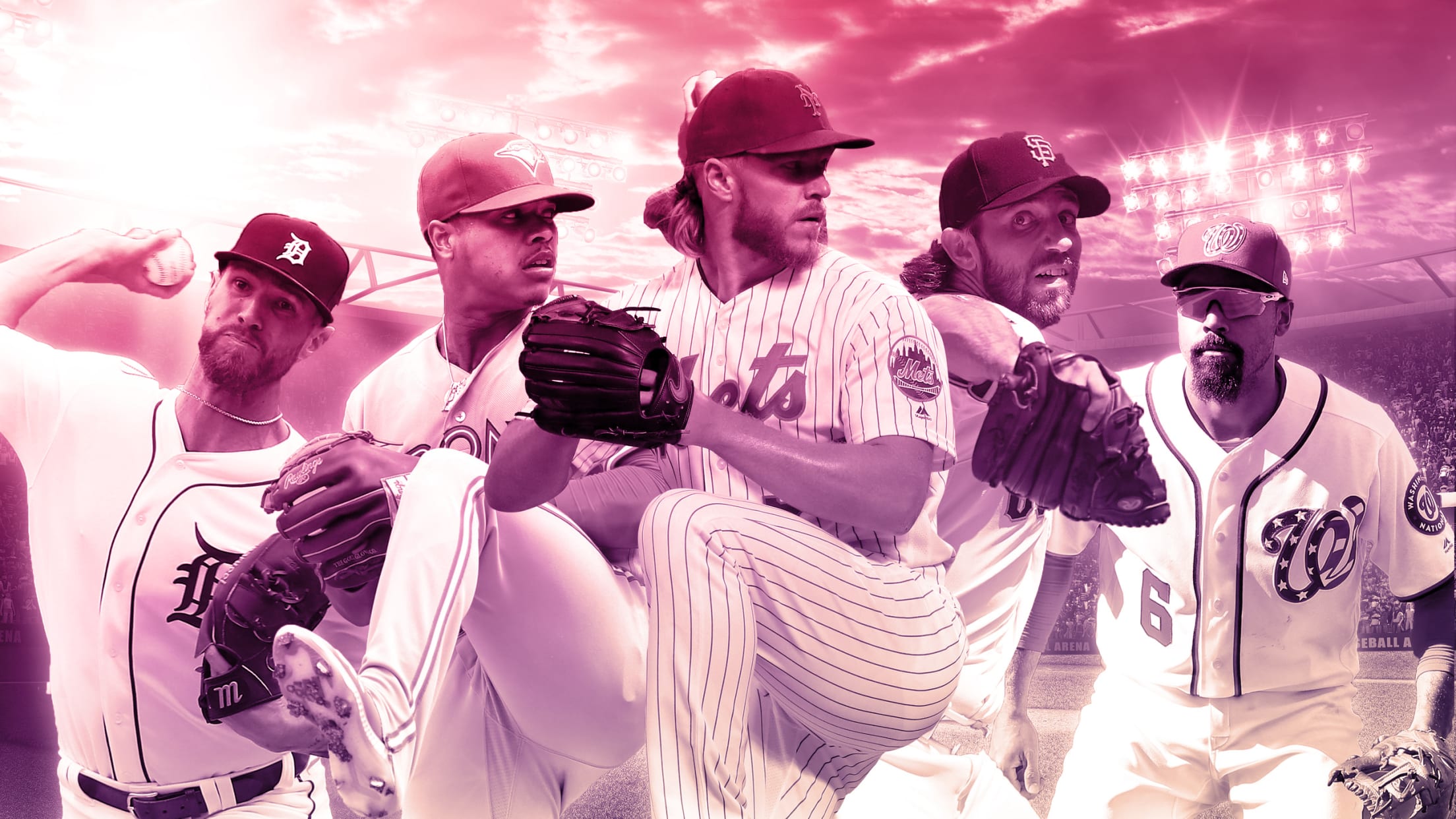 This pre-Memorial Day juncture is way too early for major baseball trade speculation. Or is it? Remember, the summer swap season has been whittled down to a single Trade Deadline this year. July 31 is the last day to make an impact acquisition. No more of those August waiver shenanigans
This pre-Memorial Day juncture is way too early for major baseball trade speculation.
Or is it?
Remember, the summer swap season has been whittled down to a single Trade Deadline this year. July 31 is the last day to make an impact acquisition. No more of those August waiver shenanigans that nobody really seemed to understand anyway.
In other words, things have the potential to get sped up a bit this year. So let's get the speculation going with some early Trade Deadline matchmaking. Here are a few fits that might make sense between now and July 31.
Marcus Stroman to the Twins
The Twins are one of the most pleasant surprises in the Majors, and their rise to the top of the American League Central standings is due in no small part to the superb pitching they've gotten from José Berríos, Jake Odorizzi and Martin Pérez in the rotation. But this club could still use another starting arm to fend off any potential second-half regression. Furthermore, given the pending free agencies of Odorizzi, Kyle Gibson and Michael Pineda, there's incentive for executive vice president/chief baseball officer Derek Falvey and general manager Thad Levine to target options under control beyond 2019.
Stroman fits the bill on both fronts. He has had a resurgent 2019, with a 2.95 ERA going into Tuesday's start against the Red Sox, and he's not eligible for free agency until after the '20 season.
The Blue Jays will likely listen to offers for Stroman and Aaron Sanchez as they try to build a young core around Vladimir Guerrero Jr., and the Twins have a deep enough farm system to get a deal done. Twins top prospects Royce Lewis and Alex Kirilloff would be awfully big asks in such a swap, but perhaps a deal fronted by right-hander Brusdar Graterol (No. 61 on MLB Pipeline's Top 100 list) would make sense for both sides.
Madison Bumgarner to the Cardinals
Bumgarner could be the biggest name moved in this Trade Deadline period, especially given his postseason pedigree. It's no secret his results have not been as strong the last couple of seasons, and his 4.21 ERA through 10 starts in 2019 isn't flattering. But his stuff has ticked up in recent starts, and his command has improved. Maybe it'll be another Justin Verlander-type situation where he gets to a new team and, with the help of a new coaching staff, rediscovers some of what he has lost.
Whatever the case, the Cardinals' entirely right-handed rotation looks as though it could use an in-season boost. As with Paul Goldschmidt, the Cards could use a Bumgarner trade as a win-now move that perhaps compels the player to stick around a while (Goldschmidt was entering his walk year but signed an extension before breaking camp with the club), and it would be fun to have some of the more accomplished starters of their era -- Bumgarner, Jon Lester, Cole Hamels and Adam Wainwright -- in the same division race.
(By the way, the Cards, like a lot of contenders, are reportedly on Bumgarner's no-trade list, but that's possibly just a vehicle for Bumgarner to extract some cash from the Giants before he agrees to a deal. And given that his performance over the last couple of seasons hasn't been great, and he'd only be a half-season rental, the prospect cost here wouldn't be that steep.)
Shane Greene to the Braves
Bumgarner gets more ink, but to me, Greene might be the more fascinating figure in the market right now because he has been remarkably good (1.42 ERA, 0.789 WHIP, 15 saves) on a Tigers team that has no incentive to keep him beyond, say, this very second right now. Relievers, after all, are volatile stocks, and the Tigers don't project to be good before Greene reaches free agency after 2020, anyway. His added year of contractual control adds to his appeal in a market in which a wealth of contenders need bullpen help.
While the Nationals are the projected contender in most need of relief help, they're currently on pace to be sellers, not buyers (and more on that in a bit). So the Braves look like the better bet. Maybe they still work out something with old pal Craig Kimbrel after the Draft passes and he's no longer tied to pick compensation, but for a club that operates on a well-defined budget, Greene, who is making just $4 million this season before his last arbitration round this winter, makes a lot of sense. The Braves have an abundance of pitching prospects in the upper levels to entice the Tigers.
Mychal Givens, Alex Colomé and Ken Giles are among the other non-rental relievers who could attract interest from teams in this market.
Anthony Rendon to the Yankees
OK, we're admittedly getting ahead of ourselves here, because the Nationals, despite a bumbling bullpen and injury troubles, have not thrown up any white flags in the National League East. As of this writing, FanGraphs still gives them a 23.8 percent chance of winning the division and a 42.4 percent chance of going to the postseason. Keep hope alive!
But if things don't turn around by midsummer, what is Washington going to do with pending free agent Rendon? The two sides have discussed an extension, but last we heard (from MLB Network insider Jon Heyman), there was a "decent-sized gap" between asking price and offer. If there's no momentum toward a deal, it's in the best interest of the Nats to explore offers for Rendon. Last year, they opted to keep Bryce Harper, only to tread water in the standings and gain only a compensation pick after the fourth round when he left in free agency. They can ill afford to make the same mistake twice.
If we do get to the point where the Nats are sellers, the Yankees might get to a point where they are third-base buyers, with Miguel Andújar now officially done for the year. It all depends on when or whether Gio Urshela comes crashing back down to earth. As explained by our own Mike Petriello, that might not happen. But if it does, then the Yankees are obvious fits for Rendon, and though they might have to begin a deal with a promising prospect such as right-handers Albert Abreu (their No. 3 prospect) or Deivi Garcia (No. 4), they wouldn't have to go this far:
I like Anthony Rendon. But if I'm the Yankees, I don't do it. @MLB pic.twitter.com/kl6F9tepI9

— Anthony Castrovince (@castrovince) May 3, 2018
Noah Syndergaard to the Padres
Remember when this was a thing last winter? It could become a thing again.
Syndergaard has pitched much better than his overall numbers (4.50 ERA, 87 ERA+) suggest. Though opponents have a .311 wOBA against him, their xwOBA, based on quality of contact, is .266, per Statcast. He's under contractual control through 2021, which would make him a major trade asset this summer, and the Mets… well, the Mets don't currently inspire much confidence that they'll be in the thick of things this summer.
So this is another "stay-tuned" situation. A deal fronted by Mackenzie Gore and Francisco Mejía could have appeal for the Padres and Mets alike. But it doesn't have to be Thor. Whichever high-impact starting arms become available this summer (Trevor Bauer, perhaps?), the Padres undoubtedly have the pieces and possibly have the incentive to get a deal done. Chris Paddack's innings limit will rear its ugly head eventually, and a stabilizing force like a Syndergaard could go a long way toward separating San Diego in what figures to be a deep NL pack.