7 trades that make perfect sense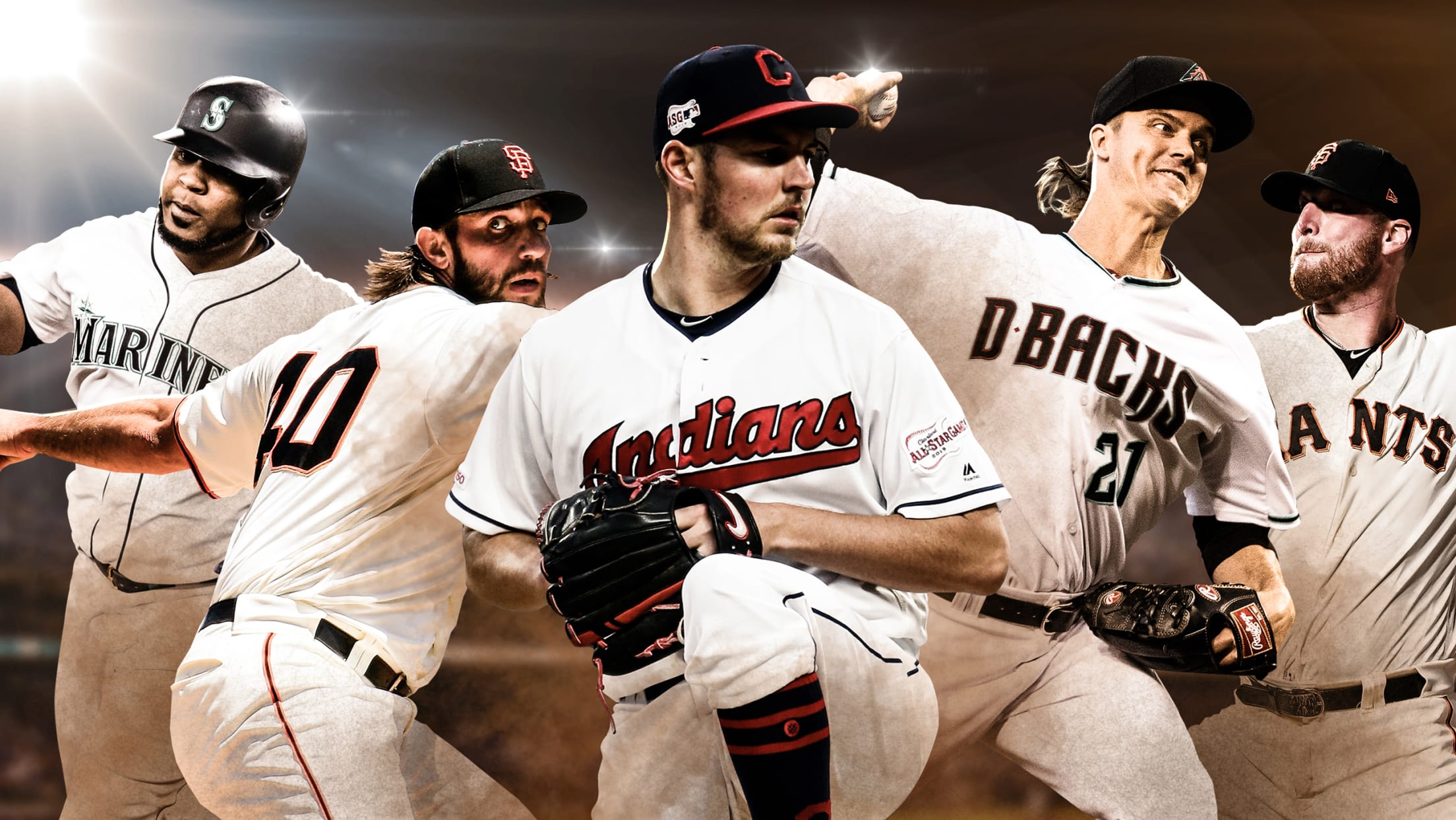 Some trades just make too much sense not to happen. Problem is, the general managers don't always recognize them, and that's why we're here to nudge things along. Things are problematic at this point, since 21 teams are still in contention -- depending on your definition of contention. Consider that
Some trades just make too much sense not to happen. Problem is, the general managers don't always recognize them, and that's why we're here to nudge things along.
Things are problematic at this point, since 21 teams are still in contention -- depending on your definition of contention. Consider that 19 of 30 teams are within two games of a playoff berth, and if they started trading away players, it might not sit well with fans.
On the other hand, remember the 2017 Twins, a cautionary tale in this area. That year, the Twins were both buyers and sellers.
Closer Brandon Kintzler was traded to the Nationals at a time when the Twins had lost 12 of 17 to fade from contention. Lefty Jaime Garcia was dealt, too, and that was especially odd since he'd been acquired only a week earlier.
And then the Twins went on a 31-18 run and made their first playoff appearance in seven years, losing to the Yankees in the American League Wild Card game. So you never know.
Anyway, 19 teams clearly have two decisions to make:
1) Are we legitimately good enough to make the playoffs? In other words, should we buy or should we sell?
2) Is simply making the playoffs a reasonable goal? Or, would it be better to take a step back and strengthen ourselves for next season?
As for those other two teams, the Nationals and Mets seem unlikely to sell no matter what the standings say as we approach the July 31 Trade Deadline.
Both teams are too invested in winning in 2019, and both apparently still believe they're good enough to make a run. Regardless, there are still plenty of impact players who could be moved in the coming weeks.
Here are seven deals that ought to happen (all prospect rankings via MLB Pipeline):
1) Trevor Bauer to Padres
He's a year away from free agency, which makes him a perfect fit for a team that's competitive this season and promises to be even better in 2020. The Padres need innings, and Bauer has averaged 28 starts and 174 innings over the last five seasons. With Carlos Carrasco now out indefinitely with a medical condition -- not to mention Corey Kluber and Mike Clevenger still on the shelf – the Indians appear to be sellers, with Bauer their biggest piece to move.
Potential trade pieces: The Padres have an elite system, especially in terms of pitching. The Indians badly need offense, especially in the outfield, and that could put Buddy Reed (No. 14 prospect) and Jeisson Rosario (No. 19) in the mix, as well as any number of San Diego's promising young arms, starting with their No. 4 prospect, righty Luis Patino. These clubs swung a deal involving Brad Hand and Francisco Mejia last summer, so we know they aren't afraid to deal with each other.
2. Madison Bumgarner to the Yankees
Perfect trades don't come along that often. This is an exception. In this one, everyone would get what they want. The Giants get a building block (or two) from a deep farm system, and the Yankees get one of the great postseason performers of this generation. Some will say Bumgarner isn't as good as he was in 2014 when he put the Giants on his shoulders and led them to a championship. That would be true. He still has more than enough to make a really good, really remarkable Yankees team even better, perhaps unbeatable. And now that Keuchel has reportedly agreed to terms with the Braves -- after rumors connected him to the Yankees -- Bumgarner to New York makes even more sense.
Potential trade pieces: The Yankees have so much Minor League depth that it's going to be a matter of exchanging names until both sides are comfortable. That should not be a sticking point. The Yankees aren't going to trade outfielder Estevan Florial (their No. 1 prospect), but righties Roansy Contreras (No. 10) and Nick Nelson (No. 11) are two names to keep an eye on.
3. Zack Greinke to Cardinals
We're going to talk about the D-backs a couple of times here. Arizona is one club that's definitely in limbo. They aren't going to catch the Dodgers for the National League West crown, and they don't seem equipped to stand out in a crowded NL Wild Card race. If they decide to sell, they could be well positioned to take a big leap next year.
Greinke could be a postseason difference-maker, but this trade is complicated because of the $35 million he's owed in 2020 and '21. He'd also have to approve a trade. Here's guessing he'll be happy to approve a deal that gets him back in the postseason. As for the money, the D-backs would have to pick up some of it, perhaps in exchange for a sweetened package of prospects.
Potential trade pieces: The Cardinals have done a tremendous job building Minor League depth, even with so much of their homegrown talent in the big leagues. The quality of the package would depend entirely on how much money the D-backs were willing to eat, with only third baseman Nolan Gorman (St. Louis' No. 1 prospect) likely untouchable.
4. Will Smith to Twins
The Twins had a great offseason and are well positioned to win the AL Central. The postseason requires a lot of bullpen depth, and now that Craig Kimbrel is off the board, expect Minnesota to trade for bullpen help in the next six weeks.
Potential trade pieces: With Smith headed toward free agency, the Giants aren't going to get one of Minnesota's top three prospects. Righty Jordan Balazovic (Minny's No. 19 prospect) is drawing nice reviews for his work in the Florida State League.
5. Edwin Encarnacion to Astros
Encarnacion is on pace for 39 home runs and would fill one of the few holes for a team that's on its way to its third division title in a row. One of the few problem areas for Houston has been first base, where the Astros are 25th in OPS and 28th in home runs. Encarnacion would be a quick fix, and given the depth of the Houston farm system, this deal should be easy to do.
Potential trade pieces: Encarnacion is owed $20 million for this year and has a 2020 club option (with a $5 million buyout) for the same amount. As with Greinke, the prospect package would depend on how much of that salary Seattle is willing to pay. They just ate a lot of money to move Jay Bruce, and Seattle GM Jerry Dipoto is always creative, so all bets are off here once you take the Astros' top three prospects (Forrest Whitley, Kyle Tucker and Yordan Alvarez) off the table.
6. Brad Hand to the Dodgers
You're probably looking at the Dodgers and thinking, "Do they really need anything?" Sure, they do. Every team needs something, and around the Trade Deadline, an impact acquisition can energize the clubhouse. Hand is about as close to unhittable as any reliever in the game (1.05 ERA), and would combine with Kenley Jansen to make the Dodgers' bullpen the NL's best. Along with Bauer, a shrewd Hand trade can really help the Indians rebuild their system.
Potential trade pieces: This one won't be simple. Yes, the Dodgers have a deep system. Yes, Hand potentially is signed through 2021 at a reasonable rate. But Dodgers president of baseball operations Andrew Friedman is extremely protective of his best young prospects. Outfielders DJ Peters (L.A.'s No. 10 prospect) and Jeren Kendall (No. 15) would make some sense. So would any of three Dodgers catching prospects, possibly Diego Cartaya (No. 9).
7. David Peralta to the A's
Depending on what day you catch the A's, they're either a team already good enough to make the playoffs again or a club that still needs two or three significant pieces. Peralta would be a nice fit, and given that he's a year from free agency, would perhaps bring back two prospects for the D-backs.
Potential trade pieces: The A's aren't going to trade top pitching prospects Jesus Lazardo or A.J. Puk. But outfielder Jameson Hannah (No. 7 prospect) or third baseman Sheldon Neuse (No. 9) might be a fit for the D-backs.