7 post-Deadline questions for contenders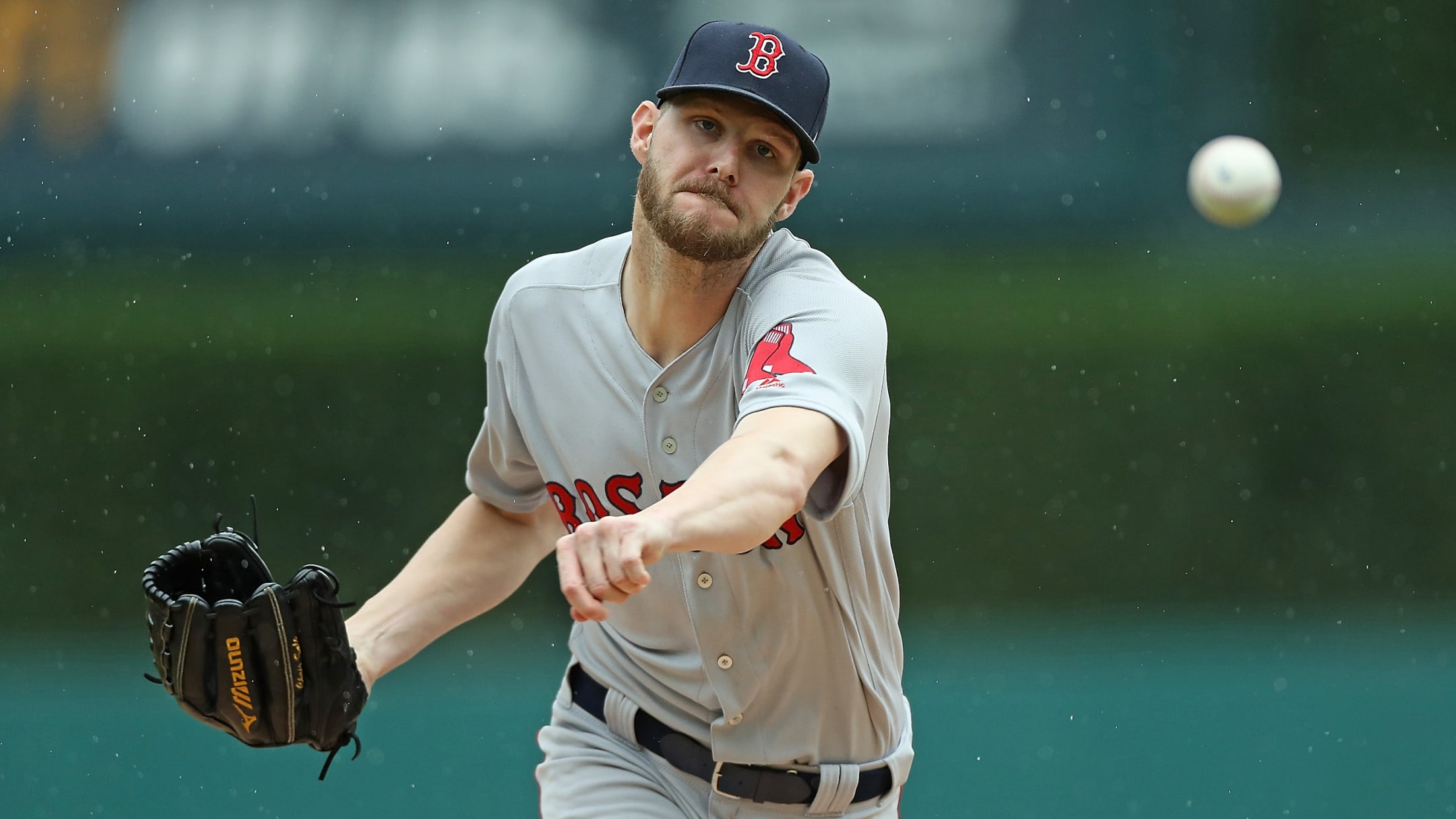 DETROIT, MI - JULY 22: Chris Sale #41 of the Boston Red Sox pitches during the first inning of the game against the Detroit Tigers at Comerica Park on July 22, 2018 in Detroit, Michigan. (Photo by Leon Halip/Getty Images) (Leon Halip/Getty Images)
For general managers of contending teams, these next few weeks might be the most nerve-wracking of the entire season. This is now-or-never for roster construction. Also, trades -- at least the kind of trades that make a real difference -- are much more difficult to make.Rosters are typically constructed during
For general managers of contending teams, these next few weeks might be the most nerve-wracking of the entire season. This is now-or-never for roster construction. Also, trades -- at least the kind of trades that make a real difference -- are much more difficult to make.
Rosters are typically constructed during three phases. First, there's the major work of the offseason. Then there are adjustments during Spring Training.
Finally, the July 31 non-waiver Trade Deadline offers one last chance to apply some finishing touches. But there's one more deadline: August 31.
That's the drop-dead final date a player can be brought from outside an organization and still be eligible for the postseason. This one is tricky because players must first clear waivers before they can be traded. For that reason, there are few bombshell trades.
One exception was last season when, minutes before the midnight deadline, Justin Verlander accepted a trade from the Tigers to the Astros. Without him, the Astros probably would not have won the World Series.
So, over the next few weeks, general managers will be carefully watching the waiver wire to see if an additional upgrade is possible. Here are seven lingering questions after last week's non-waiver Trade Deadline:
1. Will the Brewers be forced to scramble to add a starting pitcher?
Milwaukee GM David Stearns has been sorting through pitching options for weeks. In the end, he was more comfortable making two significant offensive upgrades, acquiring third baseman Mike Moustakas from the Royals and second baseman Jonathan Schoop from the Orioles.
Astute observers may notice the Crew already had a quality third baseman in Travis Shaw, who'll now some play second base as manager Craig Counsell figures out the playing time. As much as conventional wisdom wants Stearns to go get more pitching, his rotation has been solid, and the return of veteran lefty Wade Miley from the disabled list this week might be more impactful than anything he could have gotten on the trade front. The Brewers haven't given up hope that their former ace, Jimmy Nelson, who is recovering from shoulder surgery, can return in September.
2. Will the Red Sox regret not adding a reliever?
Are you kidding? If things go south, they may slip all the way down to 40 games over .500? Chris Sale's health is the only real concern the Red Sox have at the moment. If Sale's left shoulder soreness is as minor as the Red Sox hope, Boston is going to win the AL East for the third straight season and give the postseason another go.
Boston's bullpen has evolved nicely with Tyler Thornburg, Matt Barnes, Richard Hembree, Ryan Brasier and perhaps Joe Kelly forming a nice bridge to closer Craig Kimbrel.
Besides that, Red Sox president of baseball operations Dave Dombrowski significantly improved his club with the additions of Ian Kinsler, Nathan Eovaldi and Steve Pearce before the Trade Deadline.
3. Can the Athletics make the playoffs without adding another pitcher?
Why not? No team has played better over the last seven weeks, thanks to an airtight bullpen and an offense scoring nearly six runs a game. Who needs starting pitching?
Actually, the rotation has been excellent, too. Sean Manaea has emerged as the ace the A's long projected him to be, and veterans Brett Anderson, Chris Bassitt and Edwin Jackson have had nice career rebirths. The A's shopped for starting pitching, but settled for an impact reliever in Jeurys Familia.
4. Will the Dodgers be able to upgrade their bullpen?
Since that 16-26 start, the Dodgers have scored the most runs in the NL and allowed the fewest, which is a tremendous formula to take into October. They did add veteran reliever John Axford, but their more significant moves were getting a pair of power-hitting infielders: Manny Machado and James Dozier.
JT Chargois and Scott Alexander have pitched well enough to earn manager Dave Roberts' trust in helping get the baseball to closer Kenley Jansen's hands in October.
5. Did the Nationals set themselves up for a nice stretch run?
If they do make a run -- and it's not impossible -- it will be remembered as one of the strangest Trade Deadline strategies of all-time. Rather than adding players, Nationals GM Mike Rizzo shipped out relievers Shawn Kelley and Brandon Kintzler to address what he saw as clubhouse issues.
Despite everything that has happened, the Nationals are still capable of making a run to the postseason, especially if Stephen Strasburg returns and is healthy down the stretch.
6. What do the Mariners do if Felix Hernandez continues to struggle?
Hernandez has meant so much to the franchise and the city that it's almost unthinkable the Mariners could break a 17-year playoff drought without him playing a significant role. His Thursday start against the Blue Jays -- two earned runs in five innings -- was a step in the right direction. Unless GM Jerry Dipoto can acquire a pitcher -- Tyson Ross? Mike Minor? -- veteran righty Erasmo Ramirez is Seattle's best option.
7. Are the Cardinals onto something with this youth movement?
This has been a hellishly difficult season for the Cardinals and, especially, president of baseball operations John Mozeliak. When his patience was finally worn out, he did two things: He dismissed manager Mike Matheny and turned the club over to bench coach Mike Shildt. And then he decided to give the kids a shot.
Ten Cardinals are 25 or under, including four members of the rotation and two relievers. Cardinals fans are also going to get a full dose of outfielders Tyler O'Neill and Harrison Bader, who are 23 and 24, respectively.
The Cardinals began the weekend just four games out in the race for the NL's second Wild Card berth. Stay tuned.