Minter exits game with left shoulder discomfort
Lefty leaves spring debut with shoulder tightness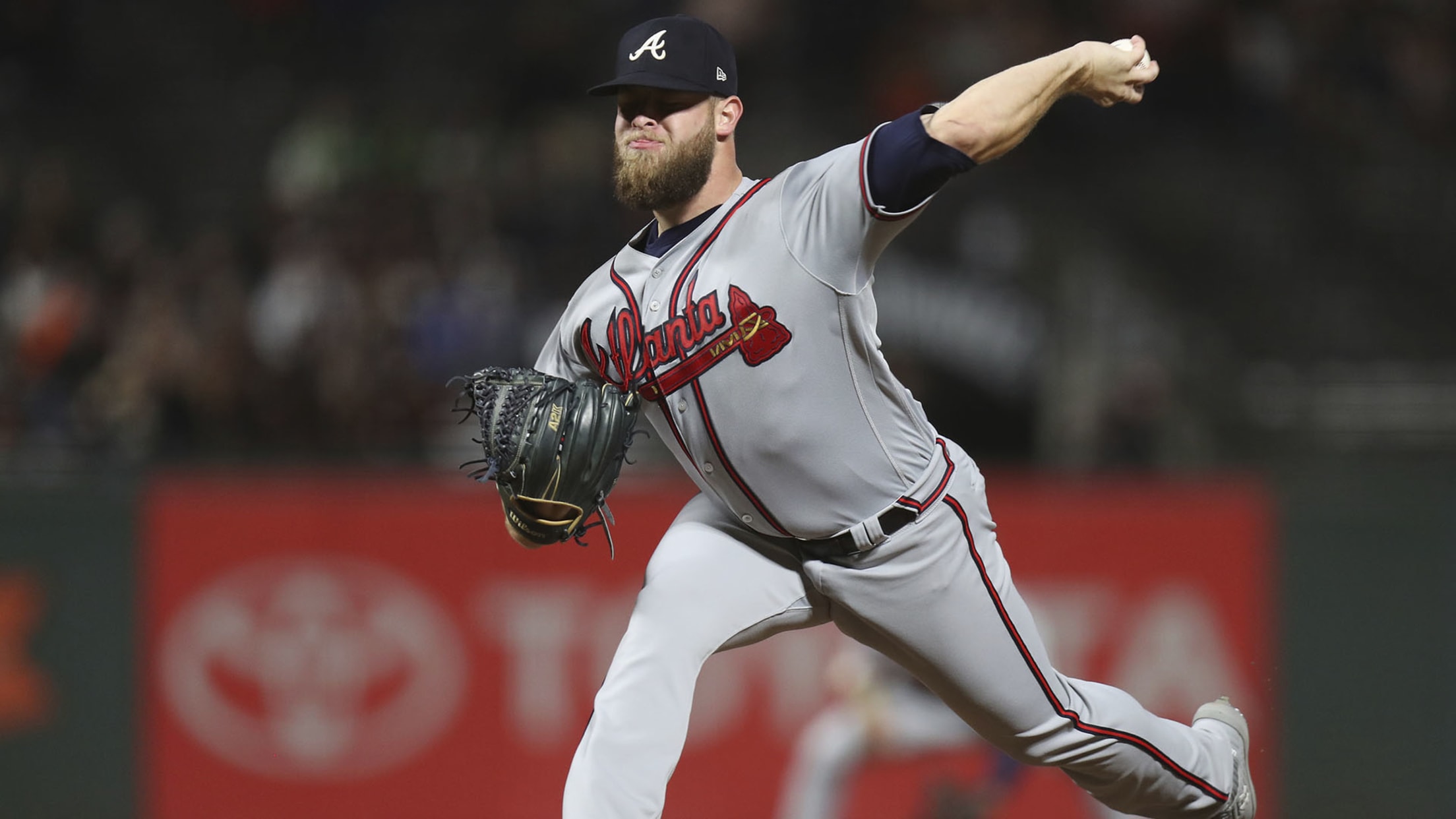 LAKE BUENA VISTA, Fla. -- As A.J. Minter walked toward the clubhouse after facing just one batter in Friday's 4-3 walk-off win over the Blue Jays, there was once again reason to wonder if Craig Kimbrel might eventually find a fit with the Braves. The Braves have long indicated they
LAKE BUENA VISTA, Fla. -- As A.J. Minter walked toward the clubhouse after facing just one batter in Friday's 4-3 walk-off win over the Blue Jays, there was once again reason to wonder if Craig Kimbrel might eventually find a fit with the Braves.
The Braves have long indicated they would be willing to enter a short-term agreement with Kimbrel. But as the accomplished free-agent closer continues to seek a long-term deal, the two parties have not yet shared any serious discussions.
The Braves might feel a greater sense of urgency as they evaluate Minter, who exited his spring debut against the Blue Jays with left shoulder discomfort. Manager Brian Snitker is hopeful his young reliever simply needs a few days to rest.
"He checked out good [after being evaluated]," Snitker said. "He told me if it was during the season, he probably could have kept pitching. I've told them I want them to be up front and not take any chances. That was smart of him to not keep going. We'll see where he's at in a couple days and go from there."
Minter didn't show any obvious sign of discomfort, nor did he put up much of a fight when he was greeted at the mound after surrendering Lourdes Guriel Jr.'s leadoff single. Snitker was comforted after he made a trip to the trainer's room to check on Minter during the game.
Head team physician Dr. Gary Lourie was already scheduled to evaluate Mike Foltynewicz's right elbow on Saturday. He'll now also evaluate Minter and Dansby Swanson, who was scratched from Friday's lineup because his surgically repaired left wrist began bothering him after batting practice.
Even if Minter is dealing with simple soreness, the fact there is uncertainty surrounding his left shoulder and Arodys Vizcaino's right shoulder creates reason for the Braves to be concerned about the closer's role. Beyond these two pitchers, the best internal option is Chad Sobotka, who has made just 14 career appearances.
So the Braves now have reason to consider an attempt to entice Kimbrel with a lucrative one- or two-year deal. The club has the financial flexibility necessary to offer the veteran closer the significant average annual value (above $15 million) it might take for Kimbrel to halt his pursuit of a long-term deal.
Kimbrel established himself as a beloved teammate while pitching for Atlanta from 2010-14. The seven-time All-Star owns the best save percentage among the 29 pitchers who have ever recorded at least 300 saves. But the increased walk rate he produced during two of the past three seasons has created concerns about a long-term agreement.
A few more days
Like Josh Donaldson, Swanson did not play Friday. While both players have plenty of time to prepare for the regular season, there may be reason to be concerned about Swanson, who was scratched from the lineup because of left wrist discomfort that developed during batting practice.
Snit said the medical staff decided to delay Donaldson's debut for a couple more days. Donaldson has not been limited in any way since arriving in camp. But given battled ailments (calf in 2017 and shoulder in 2018) the past two springs, they don't want to push him early.

— Mark Bowman (@mlbbowman) March 1, 2019
Swanson battled discomfort most of last season and had his left wrist surgically repaired in November. It's now unknown when he'll be cleared to make his spring debut.
"I think it's probably going to be sore and he's going to have some of that as he amps up the workload," Snitker said. "The biggest thing is we've got to get him in a game and get some game at-bats, so we can kind of work through all of that."
Donaldson was also scheduled to debut Friday, but the Braves chose to give him a few more days to prepare for game action. The 2015 American League Most Valuable Player Award winner has not dealt with any health-related issues since camp began. But he pushed through early Spring Training ailments before suffering a series of calf injuries during both of the past two regular seasons.
"He's doing all the work -- the agility drills, the running and all of that," Snitker said. "We've got a lot of time. We just want to make sure before we send him out there."
Up next
Ender Inciarte will be in the lineup when the Braves travel to Lakeland to play the Tigers on Saturday at 1:05 p.m. ET. Max Fried will start for Atlanta and attempt to improve his bid for a spot on the Braves Opening Day roster vs. Detroit's Jordan Zimmermann.
Mark Bowman has covered the Braves for MLB.com since 2001.