Pollock, D-backs pay visit to Walter Reed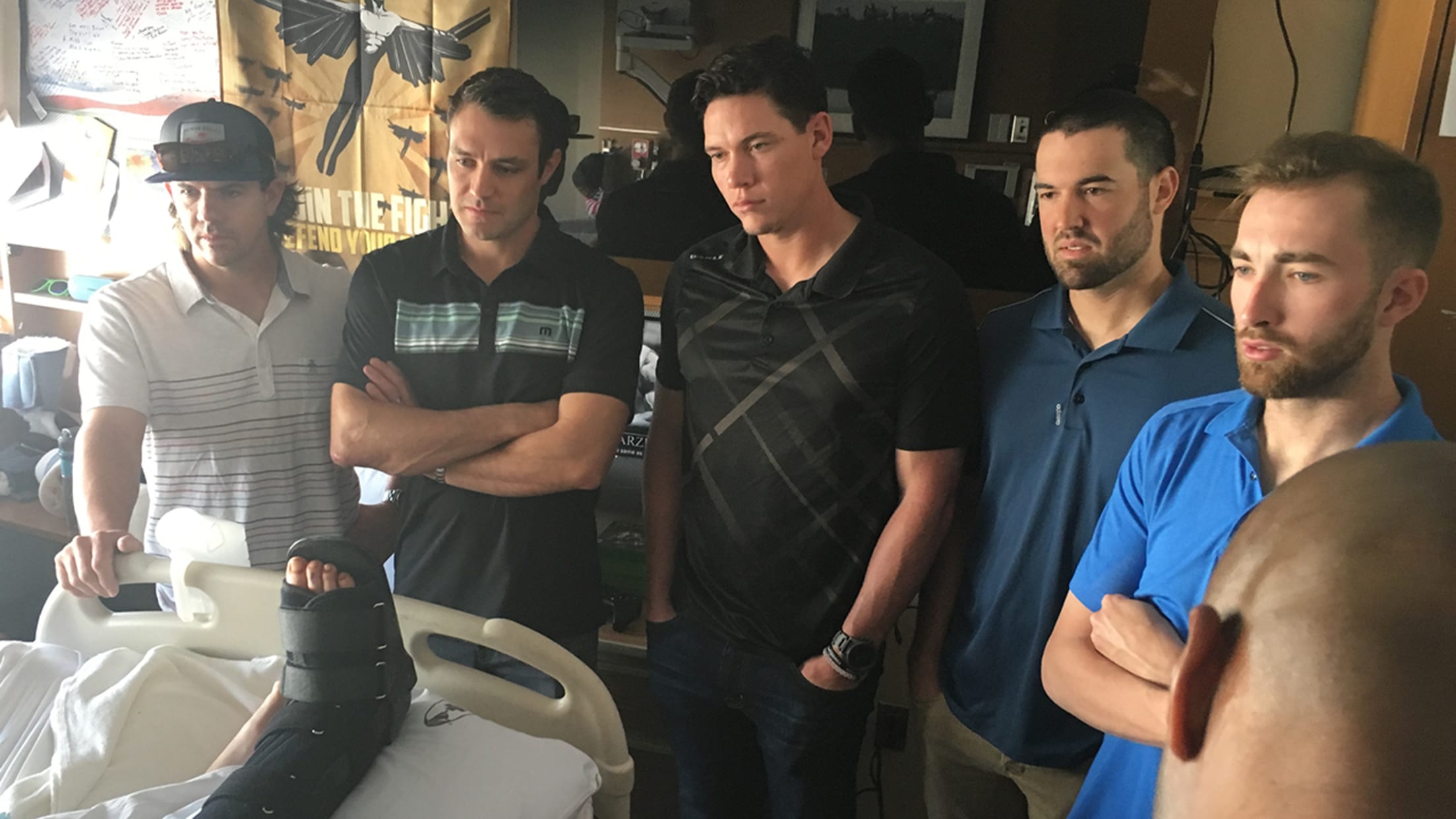 Tuffy Gosewisch, A.J. Pollock, Peter O'Brien, Robbie Ray and Steve Hathaway visit with a patient. (Josh Rawitch / Arizona Diamondbacks)
BETHESDA, Md. -- Less than 48 hours before Opening Day, A.J. Pollock's season took a turn for the worse, as a broken elbow and subsequent strained groin have limited him to just 12 games this season.But as Pollock and several teammates and coaches wandered the halls of Walter Reed National
BETHESDA, Md. -- Less than 48 hours before Opening Day, A.J. Pollock's season took a turn for the worse, as a broken elbow and subsequent strained groin have limited him to just 12 games this season.
But as Pollock and several teammates and coaches wandered the halls of Walter Reed National Military Medical Center on Tuesday morning, the reality hit home of what a real rehabilitation process looks like.
"I'm definitely going to take away from the visit just the mindset of all the guys going through some pretty serious stuff," said Pollock. "They seem very focused and driven on their recovery process, and they didn't feel sorry for themselves."
Pollock was joined by Chip Hale, Glenn Sherlock, Reggie Sanders, Robbie Ray, Tuffy Gosewisch, Peter O'Brien and Steve Hathaway in what has become an annual tradition for the team when it visits Washington, D.C. They visited with several patients who have recently returned from active duty with injuries and others who are still recovering from dozens of surgeries over many years.
The players were particularly struck by a sign on one of the walls from a patient that instructed visitors not to enter each room with sympathy. The poster explained that these soldiers were injured doing what they love -- serving their country -- and in every instance, were looking forward to returning to their unit after recovery.
"It was very humbling," said Gosewisch. "It was just great to be able to meet some of the people that are out there fighting for our country. We really appreciate what they do for us. They allow us to play baseball for a living, and to go thank them for that was a great experience."
In most instances, the injured solider was accompanied by a spouse, significant other or parent who is also dealing with the realities and aftermath of war.
"For me, the most powerful thing was the families and the way their spirit was alive through the situation that their loved one was going through," said Sanders. "I think from a healing perspective, families and loved ones are very critical in the process."
For rookie Hathaway, the families also left a lasting impression.
"Some of them are even younger than I am, and they definitely are braver than I am," said the 26-year-old left-hander. "It was really cool to see the support of their families who are out there staying in that tiny room with them, 24-7. The support and love they have means a lot, and to see that and know that they have someone with them at all times is awesome and I thanked them for that."
For Hale, it was a powerful experience that he won't soon forget.
"I felt like seeing and talking to the wounded soldiers is so important, while realizing they are the true heroes and what they do and how they've sacrificed allows us to be free and pursue these dreams as players and coaches," said Hale. "It puts everything into perspective, how lucky we are."