What could happen in NL Central at Deadline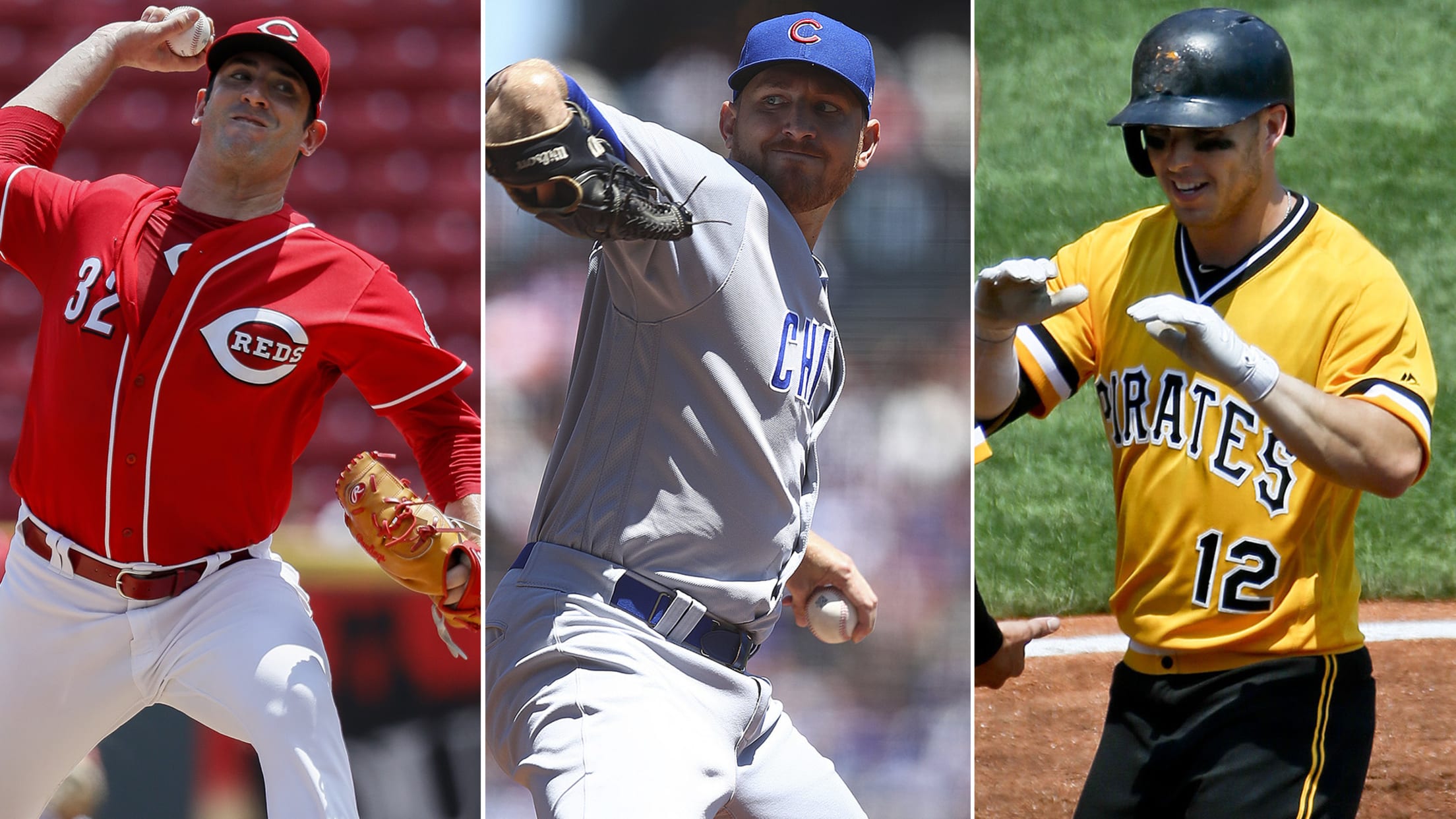 The All-Star Game has come and gone, and the non-waiver Trade Deadline is less than two weeks away. Until July 31, much of the talk in baseball will be focused around buyers and sellers, blockbuster moves and small deals and an endless buzz of trade rumors.The National League Central might
The All-Star Game has come and gone, and the non-waiver Trade Deadline is less than two weeks away. Until July 31, much of the talk in baseball will be focused around buyers and sellers, blockbuster moves and small deals and an endless buzz of trade rumors.
The National League Central might be one of the most intriguing divisions over the next 12 days. The Cubs have climbed back into first place, and they have by far the NL's best run differential. After an aggressive offseason, the Brewers' recent skid has given them more reason to make another big splash. The Cardinals ousted manager Mike Matheny, but will they shake up their roster?
The Pirates are in a different place than they were two weeks ago, now standing within one game of .500 and 5 1/2 games back in the race for the second NL Wild Card spot. The Reds are 40-38 under interim manager Jim Riggleman, so perhaps they'll be more inclined to hang on to players previously presumed to be trade candidates.
This week, MLB.com spoke with scouts and executives to see what they think will happen in the NL Central.
CUBS
What they need to do: The Cubs will look for rotation depth, an NL executive suggested, especially if they don't think Yu Darvish is close to helping them. An NL scout noted the Cubs need more consistency from their rotation, so they should pursue a starter. That lines up with what Cubs general manager Jed Hoyer recently said about the Cubs' search for pitching. With no other glaring needs, an NL executive said, they'll likely be in the market for another back-end bullpen arm.
What they can get: The Cubs don't have a particularly strong system, one NL official pointed out, so they may not be in position to make a big move. An NL scout said their Major League depth theoretically frees them up to move someone like Ian Happ or Mike Montgomery, who might start for another club, if they wanted to pursue a bigger acquisition. They don't have a representative on MLB Pipeline's Top 100 Prospects list, and they moved their best trade chips to get Albertin Chapman (2016) and Jose Quintana ('17).
BREWERS
What they need to do: One NL executive said the Brewers need pitching, both in their rotation and bullpen, along with help in the middle infield. The executive expected Milwaukee to pursue a contractually controllable starting pitcher and at least one infield upgrade. The Brewers have been relying on Tyler Saladino, Jonathan Villar, Brad Miller and Hernan Perez up the middle. An NL scout took it a step further, saying the Brewers "must" get a starter and prioritize that over a shortstop.
What they can get: An NL official said the Brewers had the necessary pieces to acquire All-Star shortstop Manny Machado, who was dealt to the Dodgers on Wednesday, even if they didn't complete the trade. The fact that they pursued Machado, the consensus top player available before the Trade Deadline, puts them in play for just about anyone. One NL scout said the Crew has the prospects and depth in their farm system to get a "high-end starter." They've also been linked to infielders Whit Merrifield, James Dozier and Eduardo Escobar, among others, and a number of starters, including rental lefty J.A. Happ.
CARDINALS
What they need to do: Cardinals president of baseball operations John Mozeliak recently said the club's next move was "TBD," so their direction is unclear. The Cards have underperformed, leading one NL scout to say they simply need their roster to play better. The scout said their hitters and starters are good enough to win, but they lack depth in the bullpen. Their biggest concern, the scout said, remains in the dugout following Matheny's dismissal.
What they can get: Bullpen help is never in short supply this time of year, so one scout suggested they look to "the usual suspect teams" to shore up their relief corps. The Mets, Orioles, White Sox, Marlins, Blue Jays and Padres, among others, should have veteran relief help available. Lefty relievers like Zach Duke (a former Cardinal), Luis Avilan and Jake Diekman may be of some appeal.
PIRATES
What they need to do: Some in the industry believe the Pirates might be better off taking part in a multi-year rebuild, but the Bucs have said they intend to be competitive this year, and next. In that case, an NL executive said, they can't trade core players like Starling Marte and Jameson Taillon. One NL scout figured that predicament, along with their recent surge, will lead them to wait until closer to July 31 to take any action. If they're still toward the back of the Wild Card race, the scout said, they won't be "big-time buyers." If they've fallen completely out of the mix, they can move veterans, then use the rest of the season to evaluate their young talent -- including prospects like Austin Meadows, Kevin Newman, Kevin Kramer and Clay Holmes -- and determine who they can build around going forward.
What they can get: One NL scout figured closer Felipe Vazquez would bring in a haul of young talent, given the demand for young, controllable relievers, but Vazquez is the kind of core player the Pirates won't move if they want to contend next season. Their most likely trade candidates are left fielder Corey Dickerson, catcher Francisco Cervelli (if healthy), starter Ivan Nova and infielders Josh Harrison, Jordy Mercer and David Freese. One scout figured Dickerson could bring in at least one organizational top-10-caliber prospect, and thought there would be interest in Harrison, Mercer and Freese as utility/role/bench players. Cervelli's concussions complicate his future, and while Nova is a reliable veteran, he isn't the kind of front-line arm most contenders are looking for this time of year.
REDS
What they need to do: The Reds' recent run has inspired some confidence in Cincinnati, and one NL executive pointed out that they have a lineup that could contend, as long as it's led by Joey Votto, Scooter Gennett and Eugenio Suarez. However, one NL scout said the Reds need to capitalize on their short-term assets and sell. The scout said Cincinnati could flip Matt Harvey to a contender and get back as much talent as possible, then market Billy Hamilton as a fourth outfielder who could change games with his speed and defense.
What they can get: One NL scout noted that this deadline will shed light on their overall plan. If they think they can contend as soon as next year, it might make sense to keep Gennett, closer Raisel Iglesias and reliever Jared Hughes. The scout credited Cincinnati as having a strong core of position players and "a chance to have a good 'pen if they stay where they are." One scout thought they could swap Hamilton, at least, to land some young pitching prospects to eventually bolster their unproven rotation.