What could happen in NL East at Deadline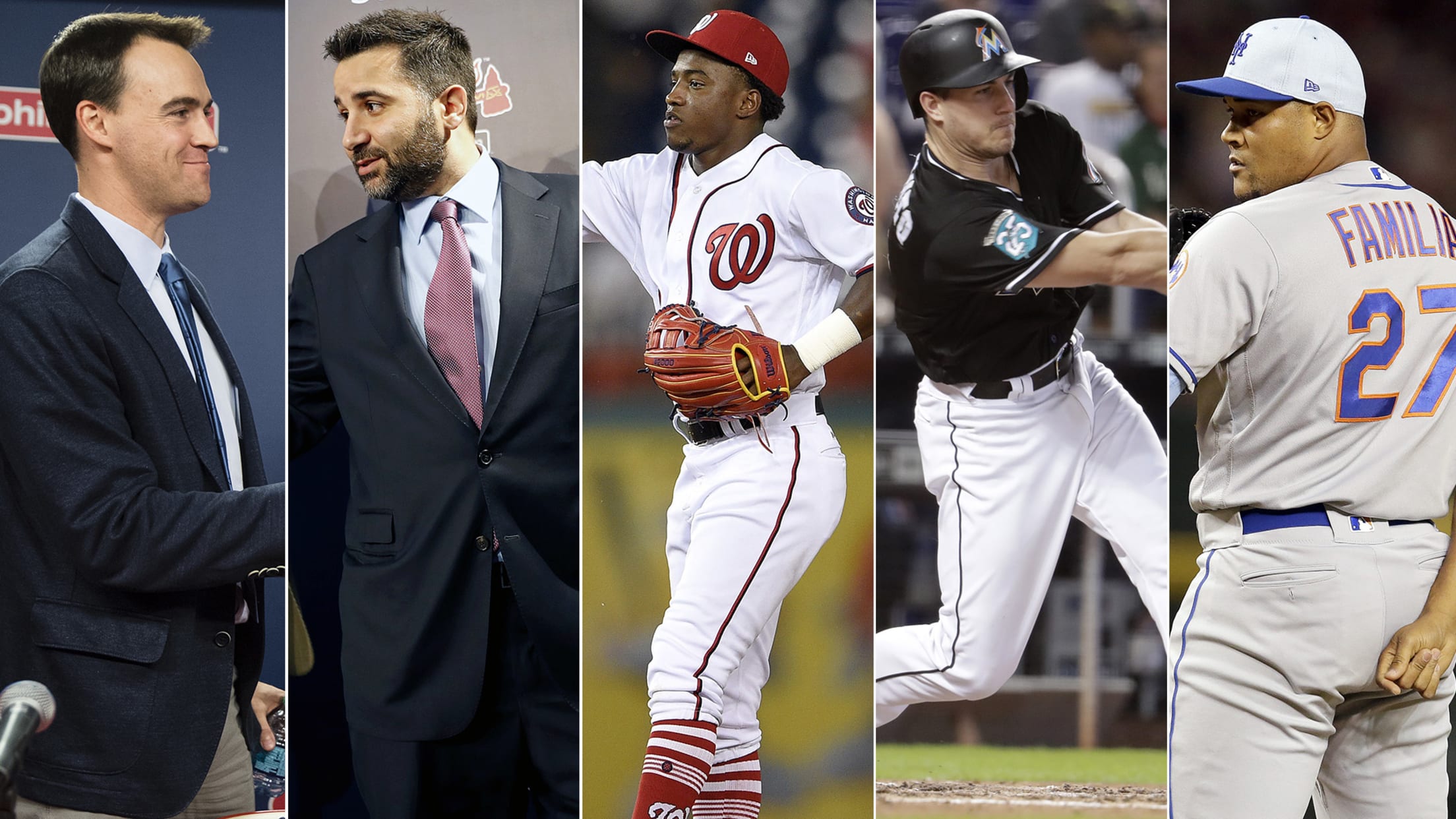 As the Nationals enter the second half attempting to live up to expectations and defend their National League East crown, they are looking up at the Phillies, who want to make a significant acquisition, and the Braves, who have the prospect currency necessary to make a big deal before the
As the Nationals enter the second half attempting to live up to expectations and defend their National League East crown, they are looking up at the Phillies, who want to make a significant acquisition, and the Braves, who have the prospect currency necessary to make a big deal before the July 31 non-waiver Trade Deadline.
The Phillies own a half-game lead over the Braves and a 5 1/2-game advantage over the Nats. So, what happens over the next two weeks might significantly impact the NL East race. This will also be a potentially impactful stretch for the Mets and Marlins, a pair of teams that have the significant pieces necessary to impact their respective futures with what would be among the year's biggest trades.
Here is a look at what each NL East club needs and wants approaching the Trade Deadline.
PHILLIES
What they need: Now that Manny Machado has gone to the Dodgers, Phillies general manager Matt Klentak must look elsewhere to satisfy his wish to improve offensively. Scouts have identified acquiring a bat as the team's biggest need. But the addition of a front-line starter could also enhance the team's bid to gain a postseason berth and progress through October.
"Machado would have been a huge get, but they will still be active players because it does not seem like money is an issue," an American League scout said. "The rotation lacks a true No. 1, but they have pitched better lately. So expect them to continue kicking the tires on some starting pitchers."
What they can get: As soon as it appeared Machado might head to the Dodgers, Mike Moustakas was mentioned as a candidate to land in Philadelphia. If Klentak does not land a middle-of-the-lineup bat, he may at least attempt to upgrade the team's offensive capability off the bench. Potential starter targets include J.A. Happ, Cole Hamels and Michael Fulmer, who is drawing interest from multiple NL East contenders.
"They will be willing to give up premium prospects, but they will not completely wreck what they have been doing," an AL scout said. "My expectation is they will target veteran-type starting pitchers. Without Machado, I just don't see a significant bat available that would be an upgrade."
BRAVES
What they need: There is a need to add veteran presence and depth in the bullpen. Some of the concerns about their 'pen could be lessened by adding a starter to the front of their rotation. Such an acquisition could lead to using one of their young pitchers to enhance their bullpen depth. The addition of a bat could also improve what is an offensively-thin bench.
"Fulmer makes a lot of sense here," an AL scout said. "Everybody is looking for a reliever. Getting a top starter would allow the Braves to take advantage of their depth by moving one of their young pitchers to the bullpen. Fulmer is 25 years old and has four years of control remaining. Those guys don't come cheap, but they aren't supposed to be cheap."
What they can get: Shortly after becoming the Braves' general manager this past winter, Alex Anthopoulos inquired about Fulmer. So it certainly makes sense for him to keep tabs on the former AL Rookie of the Year. Getting Jeurys Familia from the division-rival Mets seems like a long shot, but the Braves have the prospect pool necessary to pursue veteran relievers like Zach Britton or Joakim Soria. The club will also keep tabs on Kyle Barraclough and Craig Stammen, who have the ability to add depth to a young 'pen.
"The Braves are loaded with prospects and have the pieces necessary to get any deal done," an NL scout said. "They just have to determine which pitchers are a part of their future. They can't wait too long though, because once they start to struggle, they don't have value. But they all have value right now."
NATIONALS
What they need: There's no doubt the Nationals want to acquire a catcher. They have inquired about a reunion with currently injured Wilson Ramos, but their top target is J.T. Realmuto. To get the All-Star catcher from the Marlins, Washington would almost certainly have to part with top prospect Victor Robles, who may at least be more expendable now that Juan Soto has been successful at the Major League level. There may also be a desire to add a starter.
"Much of the prospect talent is at the lower levels right now," an AL scout said. "That's not a knock against the club. It's just how it goes with the process. So unless they are willing to move Robles, I can't see them making a significant trade."
What they can get: An AL scout who recently inquired about the possibility of Matt Harvey landing with the Nationals was told it would likely not happen. Still, Harvey, Happ and Nathan Eovaldi are among the starters who may draw interest from the reigning division champs. But it's no secret that the top target from both an immediate and long-range point of view is Realmuto.
"I talked to a scout whose team asked about Realmuto, and I can't believe how much teams are asking in return for some of these top players," an NL scout said. "I get it from the Marlins' perspective. But it makes it harder to believe a deal will get done."
METS
What they need: While rumors surrounding Jacob deGrom and Noah Syndergaard will continue to create a buzz, the most likely significant piece the Mets could end up dealing is Familia, who is arguably the best in what should be an active bullpen market. deGrom would net a significant return that would upgrade a thin farm system. But it seems unlikely teams will be willing to acquiesce a justifiably significant ask. So, Zack Wheeler may be used to at least get a decent piece for the pipeline.
"The whole deGrom buzz is overblown, because it's going to have to be a significant overpay for it to make sense to move him," an NL scout said. "It's a hard read with the new front-office guys. It's going to come down to what kind of returns they can get."
What they can get: The direction of the Mets might be determined this winter, when they may have a better opportunity to get a feel for the potential trade values of deGrom, Syndergaard and Yoenis Cespedes. But with Familia and Wheeler, the club at least has a chance to start enhancing its prospect pool.
"They would love to get a premium offensive prospect," an AL scout said. "Though Wheeler has pitched better lately, he's not going to get you that kind of player. But they could get a mid-level Double-A guy, or a young kid who is still in the early stages of his development."
MARLINS
What they need: As the Marlins progress through the early stages of their rebuild, they will focus on potential returns for Realmuto, Barraclough and reliever Brad Ziegler.
What they can get: Realmuto is the one big piece the Marlins still have to use to significantly strenghten their farm system. But it remains to be seen whether they will eventually get what they want in return for the All-Star, who arguably stands as the game's best catcher.
"Moving Realmuto before the end of this month seems like a long shot to me, unless somebody really steps up," an NL scout said. "They want a huge return, and that's exactly what they should be seeking. But I think it's more likely we'll see him moved this winter."
Mark Bowman has covered the Braves for MLB.com since 2001.