Around the Horn: Cards' catchers led by Molina
Veteran showing no signs of slowing down, but Pena ready as backup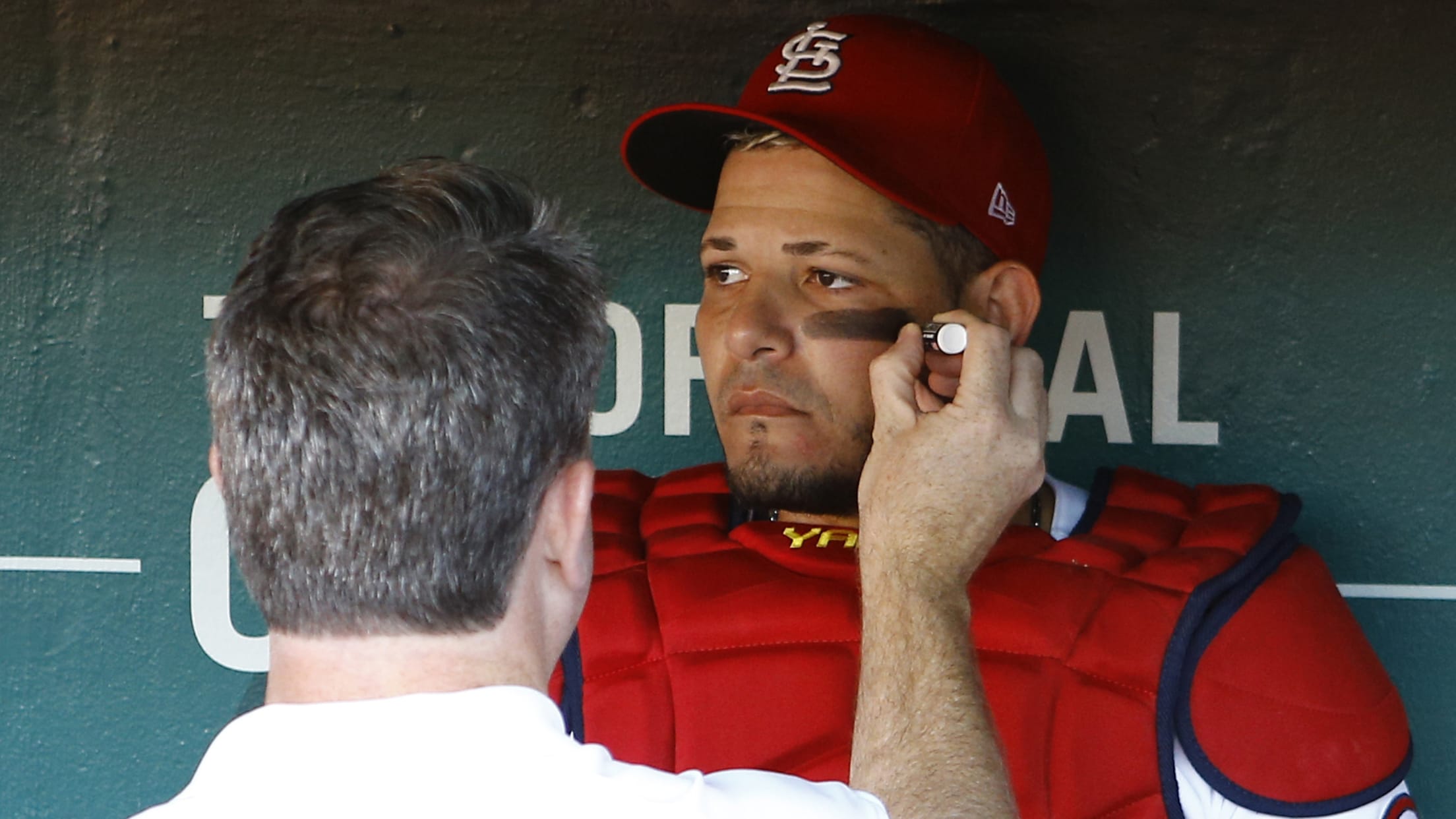 St. Louis Cardinals catcher Yadier Molina, right, has eye black applied by trainer Chris Conroy prior to a baseball game against the Los Angeles Dodgers Thursday, Sept. 13, 2018, in St. Louis. (AP Photo/Billy Hurst) (Billy Hurst/AP)
ST. LOUIS -- With pitchers and catchers scheduled to report to Spring Training in five weeks, we're kicking off a series of stories on Cardinals.com that will take a position-by-position look at the team's roster options and remaining questions. Up first: Catchers. Projected starter: Yadier MolinaWho else? Molina has been
ST. LOUIS -- With pitchers and catchers scheduled to report to Spring Training in five weeks, we're kicking off a series of stories on Cardinals.com that will take a position-by-position look at the team's roster options and remaining questions. Up first: Catchers.
Projected starter: Yadier Molina
Who else? Molina has been a constant behind the plate since 2005 and the most durable catcher in the Majors over the last decade. He enters the season with nine Gold Glove Awards and nine All-Star selections on his resume, and he has defied projections by hardly slowing down in his mid-30s. Molina has started at least 120 games behind the plate in nine of the past 10 seasons and ranked fourth in the Majors with 1017 2/3 innings caught last year despite missing a month while recovering from a groin injury.
Other candidates/reserves: Francisco Pena
Though he rejoined the club under a Minor League contract, Pena sits behind Molina on the depth chart. He beat out Carson Kelly to win the backup job last spring and impressed the Cardinals by how well he worked with the pitching staff. Pena's familiarity with the pitchers, as well as his willingness to fill a role in which starts come sparingly, drew the Cardinals back to him this winter.
Prospect to watch: Andrew Knizner
One of the reasons the Cardinals felt comfortable dealing Kelly to Arizona last month was because of the rise of Knizner, a seventh-round pick in the 2016 MLB Draft. Knizner, now ranked as the club's No. 5 prospect by MLB Pipeline, won't break camp with the Cardinals in March, but he'll be on the cusp. The Cardinals expect to use Knizner as their starting catcher in Triple-A Memphis one year after he hit .313/.365/.434 in 77 games with Double-A Springfield.
Biggest lingering question: Can Molina keep up this pace?
When Molina signed a three-year extension prior to the 2017 season, many expected his workload to gradually decrease as that contract played out. So far, he's needed no such adjustment. Keeping Molina healthy and productive will be critical for the Cards this season since they don't have Kelly as a ready backup and would prefer not to summon Knizner from the Minors just yet. While Pena can serve as a capable backup, his limitations would surface with too much exposure.
Notable number: 15
Assuming he's healthy, Molina will make his 15th Opening Day start for the Cardinals on March 28, matching the Major League record for most by a catcher with one team. He'll share that mark with Ray Schalk (1913-27) and Bill Dickey (1930-43, '46). Molina will also tie Lou Brock on the leaderboard for most consecutive Opening Day starts in franchise history. The only player with more? Stan Musial, who made 18 straight from 1946-63.
Statcast™ note: Molina's pop time had a noticeable drop in 2018. After ranking 18th in the Majors with a pop time of 1.98 seconds in '17, Molina fell to 46th among MLB catchers with an average pop time of 2.05 last season. It's a dip worth watching as Molina enters his age-36 season.