Around the horn: Sevy, Paxton anchor rotation
After trade with Mariners, Yankees starting depth sees boost for 2019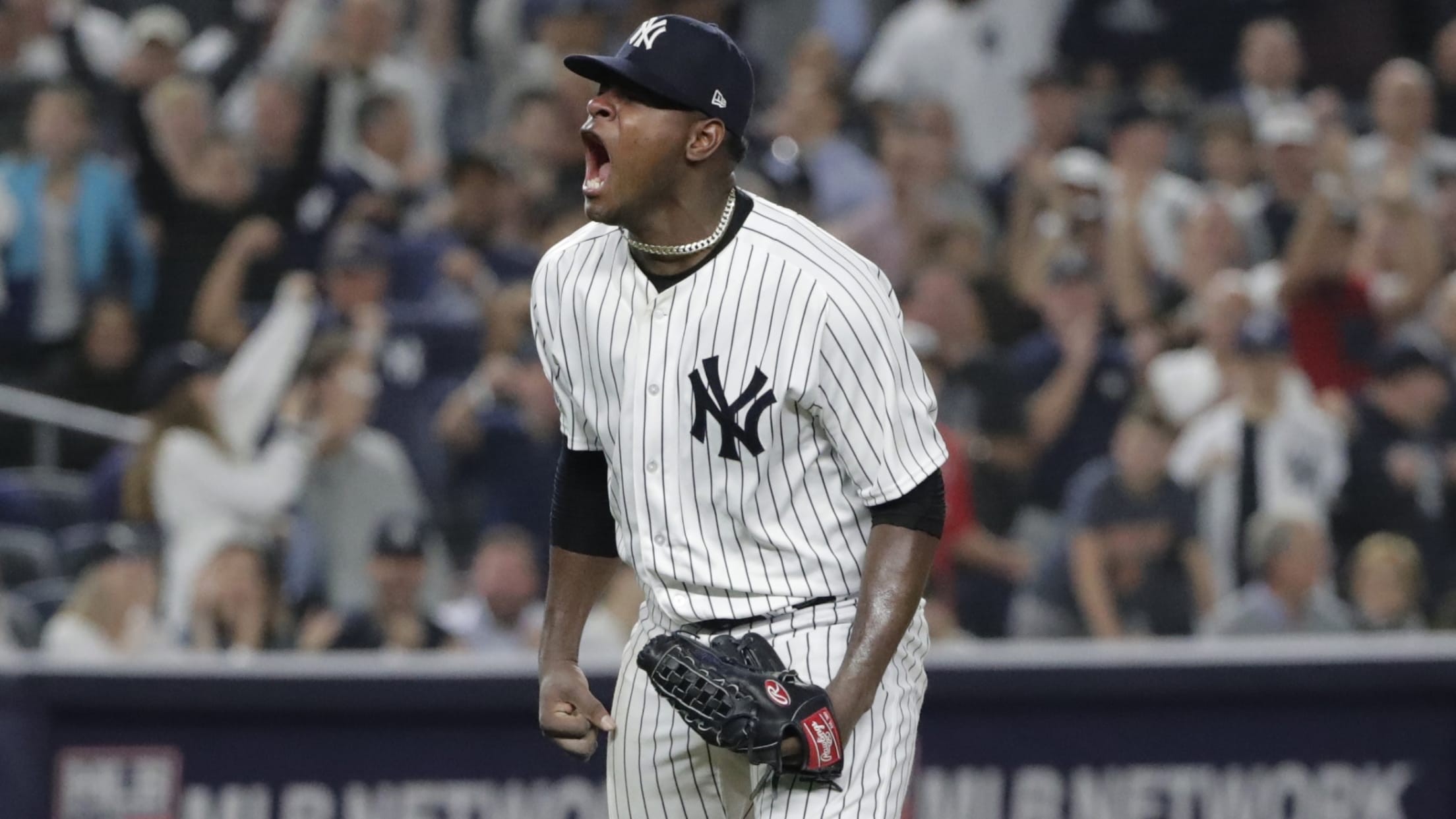 New York Yankees starting pitcher Luis Severino reacts after striking out Oakland Athletics' Marcus Semien with the bases loaded to end the top of the fourth inning of the American League wild-card playoff baseball game, Wednesday, Oct. 3, 2018, in New York. (AP Photo/Frank Franklin II) (Frank Franklin II/AP)
With the start of Spring Training approaching, anticipation is building for the 2019 season. MLB.com is going around the horn to break down each area of the Yankees' roster, beginning this week with the starting rotation.James Paxton enjoyed his finest career moment to date on May 8 of last season,
With the start of Spring Training approaching, anticipation is building for the 2019 season. MLB.com is going around the horn to break down each area of the Yankees' roster, beginning this week with the starting rotation.
James Paxton enjoyed his finest career moment to date on May 8 of last season, firing a 99-pitch no-hitter against the Blue Jays in Toronto. As he prepares to join the Yankees following a November trade, the Canadian-born left-hander is optimistic that he can continue establishing himself as one of the more formidable hurlers in today's game.
"I couldn't be more excited," Paxton said. "I've always enjoyed playing meaningful baseball. I enjoy the excitement in the stadium, the intensity. It's why you play the game. It's going to be a fantastic opportunity in New York, always expecting to win. I expect myself to win. I expect the best out of myself. I'm looking forward to being a part of such a fantastic team."
Acquired from the Mariners for a three-player package that included touted prospect Justus Sheffield, the 30-year-old Paxton projects to slide behind right-hander Luis Severino and stabilize a rotation that was viewed as a weakness entering 2018. Instead, Yankees starters set a franchise mark with a 9.2 K/9 IP ratio and allowed one or zero runs in 57 starts, the second-highest total in team history (58 in 1968).
Though the Yankees had been in the market for a splashier addition, including hosting free agent Patrick Corbin in the Bronx, their unwillingness to extend a sixth year pointed the lefty to the Nationals. As trade talks for the Indians' Corey Kluber led nowhere, New York renewed pacts with left-handers J.A. Happ and Carsten Sabathia, who will join right-hander Masahiro Tanaka in a formidable starting five.
Durability will be a focal point with Paxton, who set a career high with 160 1/3 innings while collecting his first 200-strikeout campaign in 2018. He has been to the disabled list five times in the past three seasons. Last year, "The Big Maple" was 11-6 with a 3.76 ERA in 28 starts, and he is not eligible for free agency until 2021.
"To get James Paxton to kick off our offseason was huge," manager Aaron Boone said. "We're so excited what he's going to bring to our club. We feel like for as good a pitcher as he's been, we feel like there's even more upside and feel like we have a chance to even get his best years out of him with us."
New York will be looking for a bounce back from Severino, who will turn 25 in February. Severino was part of the early Cy Young conversation, going 14-2 with a 2.31 ERA through 20 starts, but he went 5-6 with a 5.57 ERA through his final 12 regular-season starts. He recorded a loss to the Red Sox in the American League Division Series amid whispers of pitch-tipping.
"It's obviously an area of focus that we'll continue with and battle through," general manager Brian Cashman said. "No matter who you are, if you're as talented as him with the type of electric stuff he has, if they know what's coming then you're going to be very vulnerable. It's something we have to fix and get better at and contain."
Completing his fifth big league season, Tanaka was 12-6 with a 3.75 ERA, ranking seventh among American League pitchers with a 4.54 K/BB ratio (min. 150 IP) and ninth with a 2.02 BB/9 IP ratio. While there is always some concern about Tanaka's health, he led the AL and ranked third in the Majors with a 37.6 percent chase rate (min. 150 IP), per FanGraphs.
"Pax and Sevy have electric stuff, and Tanaka has a wicked split-finger that is really a difference-maker for him," Cashman said. "They're all capable of shutting down anyone's offense in a given outing."
Happ's experience over two-plus months in the Bronx exceeded expectations as he went 7-0 with a 2.69 ERA in 11 regular-season starts following his July 26 acquisition from Toronto. With a new two-year, $34 million contract in hand, Happ said that he felt instantly comfortable and appreciates the opportunity to continue pitching in New York.
"We're going to feel really good every day no matter who's out there, and I think that's a good feeling to have with the overall composition of our team," Happ said. "I think when you look at that, I think we're going to have a really good chance to win a lot of baseball games. I've got to think we're right up there [with the best rotations], no doubt."
Sabathia was also anxious to be back in pinstripes as he prepares for what is expected to be his final big league campaign, swiftly agreeing to a one-year, $8 million deal. The 38-year-old Sabathia was 9-7 with a 3.65 ERA in 29 starts, producing his lowest ERA since 2012 (3.38).
He will be coming into Spring Training as a rehabbing player -- first having undergone an arthroscopic clean-up surgery on his right knee, then enduring a health scare in December when doctors discovered a 90 percent blockage in an artery leading to his heart, requiring an angioplasty. He is expected to report with the rest of the pitchers and catchers on Feb. 13.
"For it to be my heart was scary, but having the procedure and getting out of the hospital, I feel like a brand new person," Sabathia recently said on his "R2C2" podcast. "For like three weeks, I wasn't sleeping. I couldn't eat. It was bad. So now I feel great."
Cashman has been candid about his intent to trade right-hander Sonny Gray, though those discussions were paused due to Sabathia's situation. Talks have now renewed, and at least 11 teams have expressed interest in the 29-year-old, who was 11-9 with a 4.90 ERA in 30 games (23 starts) and can be a free agent after 2019.
New York will have a cast of potential starters in camp, some of whom could compete for bullpen roles. Domingo German made 14 starts last season, while Luis Cessa, Jonathan Loaisiga and Chance Adams combined for 10 starts. Jordan Montgomery is expected to return from Tommy John surgery in the second half of the season, and Albert Abreu, Domingo Acevedo and Michael King are among the Minor Leaguers who could make a jump to the Majors in 2019.