A's host Pitch, Hit & Run event at Coliseum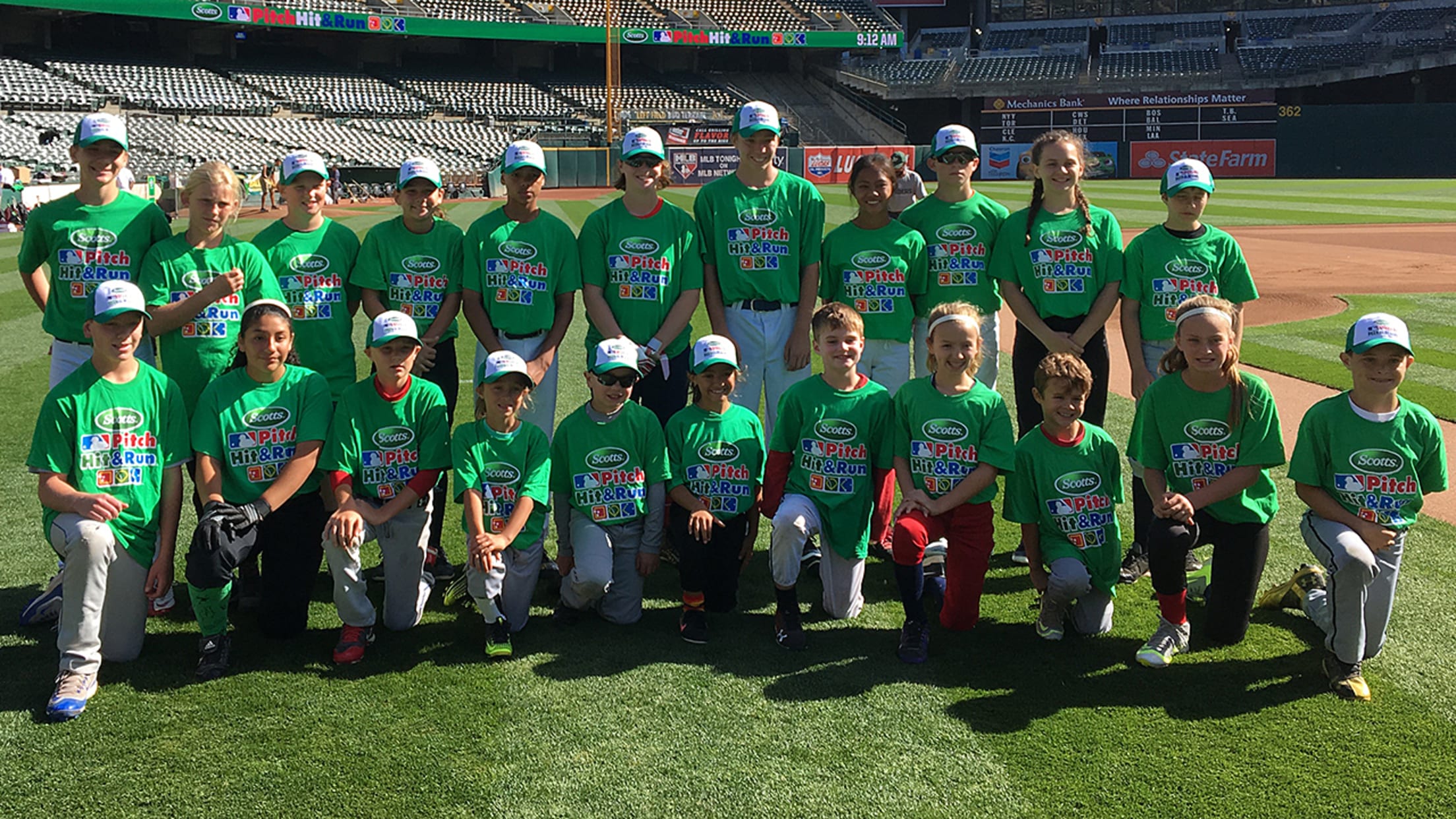 The A's Pitch, Hit & Run competition featured 22 sectional winners. (Alex Simon/MLB.com)
OAKLAND -- After earning a spot in the Scotts MLB Pitch, Hit & Run national championship representing the Giants last year, 10-year-old Mylia Perez got a different perspective this year."It's fun seeing what the A's team sees when they're looking up in the stands," Perez said.Perez was one of the
OAKLAND -- After earning a spot in the Scotts MLB Pitch, Hit & Run national championship representing the Giants last year, 10-year-old Mylia Perez got a different perspective this year.
"It's fun seeing what the A's team sees when they're looking up in the stands," Perez said.
Perez was one of the 22 Pitch, Hit & Run participants who played in the Coliseum on Sunday morning as part of Major League Baseball's Play Ball Weekend.
After winning at the local and sectional levels throughout Northern California and Nevada, Perez was one of eight first-place finishers at Sunday's event, taking the 9/10 softball division. She hopes she can add a trip to Miami to last year's second-place national finish in San Diego.
"It was really fun last year," Perez said. "It was a good experience. I'm very hopeful I make it back."
The other first-place finishers were Brianne Whiteside (age 7/8 softball), Karissa Avila (11/12 softball), Paris Alcarez (13/14 softball), Braeden Baldwin (7/8 baseball), Gavin Johnson (9/10 baseball), Cameron Boeckman (11/12 baseball) and Westley Baird (13/14 baseball). All eight winners were recognized in a pregame ceremony by the A's. Qualifiers for the national championship will be announced.

There was also a sibling duo at the event. 14-year-old Dylan Jackson finished third in the 13/14 baseball division while his little sister, 13-year-old Kambrya, took third in the 13/14 softball division. The family from Reno, Nev., felt it was extra special for both of them to be able to make it.
"It's really fun because you have someone to do it with," said Kambrya, who had also never attended a Major League game before Sunday. "It's not just complete strangers -- you have your brother here to do it with, too."
Pitch, Hit & Run, the "Official Youth Skills Competition of Major League Baseball," invites kids to demonstrate their pitching, hitting and running abilities in baseball and softball. The competition coincides with the Play Ball initiative between Major League Baseball, USA Baseball and USA Softball, which encourages widespread participation in all forms of baseball/softball activities among all age groups, especially youth. The baseball and softball players ranging from ages 7-14 were playing for a chance at a trip to the All-Star Game presented by MasterCard in Miami next month.
The second annual Play Ball Weekend features a variety of youth engagement activities by nearly 200 Major League and Minor League clubs to highlight the fun of youth baseball and softball. It is a complementary program of the Play Ball initiative, designed by MLB to celebrate youth baseball and softball participation. MLB has provided clubs with more than 300,000 youth plastic bat and ball sets to distribute in both ballparks and at community events.
Teams that are on the road Saturday and Sunday will host their Play Ball Weekend activities during another homestand.
Alex Simon covers the Athletics for MLB.com. Follow him on Twitter at @alexsimon99.