Back from injury, Smolinski vies for last roster spot
A's outfielder has been slowed by right shoulder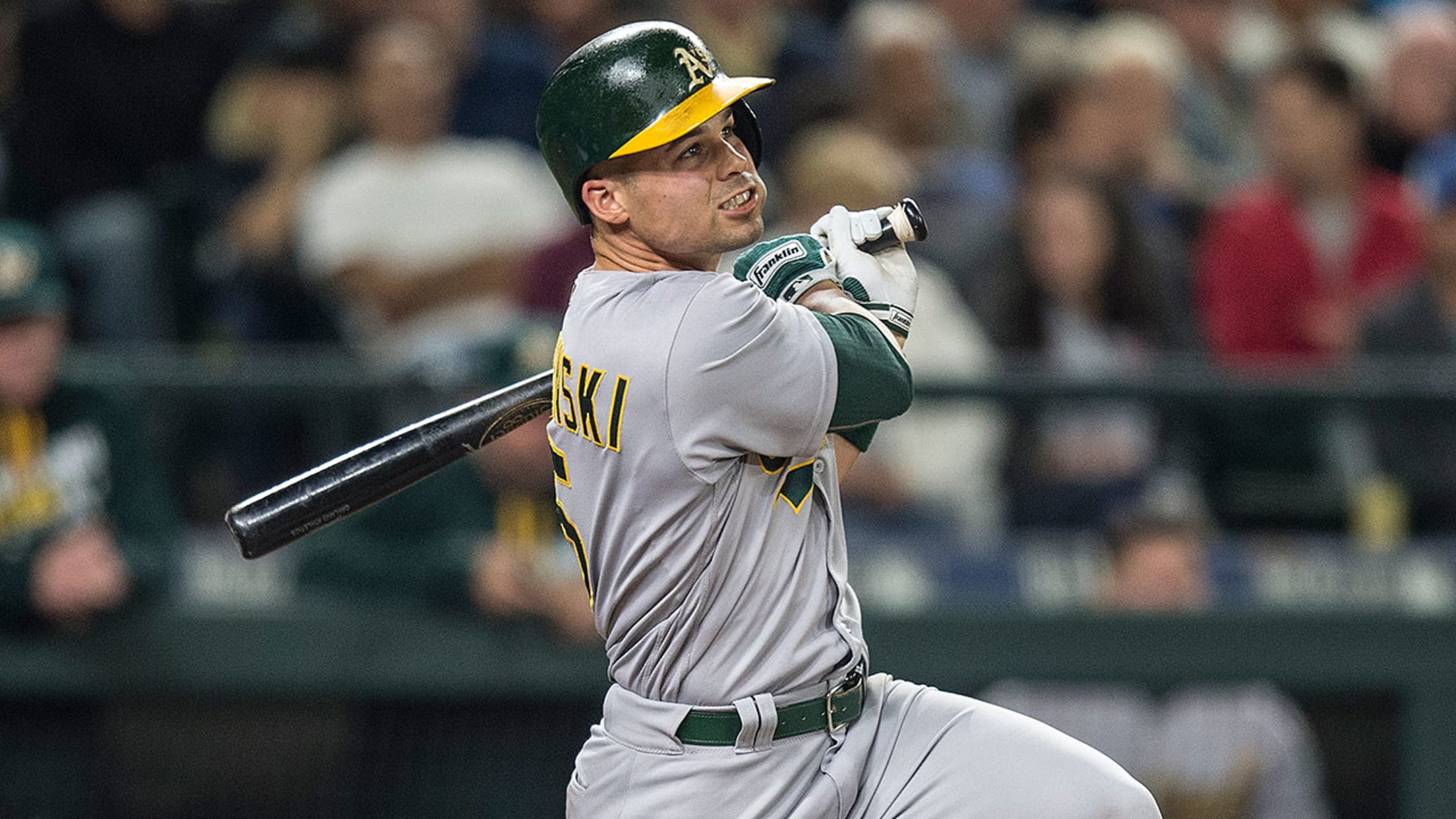 Jake Smolinski has hit .235 with 12 homers in two seasons with the A's. (Getty)
MESA, Ariz. -- A's outfielder Jake Smolinski, slowed by a right shoulder injury this spring, is set to appear in his first Cactus League game Sunday, albeit in a limited role.Smolinski is penciled in as the designated hitter for a road matchup with the Mariners, batting seventh. It's unclear when
MESA, Ariz. -- A's outfielder Jake Smolinski, slowed by a right shoulder injury this spring, is set to appear in his first Cactus League game Sunday, albeit in a limited role.
Smolinski is penciled in as the designated hitter for a road matchup with the Mariners, batting seventh. It's unclear when he'll return to the outfield.
"We're not quite there yet, but he's feeling good enough to DH, so he's obviously coming along," A's manager Bob Melvin said. "But when we can get him in the field, I'm not sure."
Smolinski, vying for the last roster spot as a fifth outfielder, has some catching up to do. Others competing for the same job have fared well in early game action, including non-roster outfielder Alejandro De Aza, who has four hits in nine at-bats.
Unlike De Aza, though, the 28-year-old Smolinski has the advantage of familiarity on his side, having been in the A's organization for nearly two years. In that span, he's hit .235 with 12 home runs in 140 games at the big league level.
Following his May 20 callup last year, Smolinski hit .301 in 36 games before the All-Star break, but stumbled down the stretch, compiling a meager .213 average in his final 63 games.
"He's in a position right now where he's trying to make the team, and he's kind of always been in that position," Melvin said. "I believe he has the ability to be a guy who could even be a regular at the big league level. He hasn't at this point. He's been a little bit streaky, where he's been really good and then gone through some struggles that have kept him out of the lineup and precluded him from maybe being an everyday guy. But I think he has the ability to. Unfortunately he's off to a little bit of a slow start because of the injury."
Because of the lengthier spring schedule to accommodate the World Baseball Classic, however, Melvin believes "there's plenty of time left for him to do what he wants to accomplish."
Worth noting
• Prospect Matt Chapman was originally in Saturday's lineup at third base, but was scratched after he stubbed his toe on a chair and cracked a nail. The move was precautionary.
• Right-hander Ryan Madson is scheduled to make his Cactus League debut in Tuesday's game against the D-backs.
• Per the official Twitter account of Team Dominican Republic, right-hander Santiago Casilla -- due to arrive in A's camp Sunday -- will not pitch in the first round of the World Baseball Classic, but will be available for the second round.
Jane Lee has covered the A's for MLB.com since 2010.