Even when away from kids, Madson cherishes bond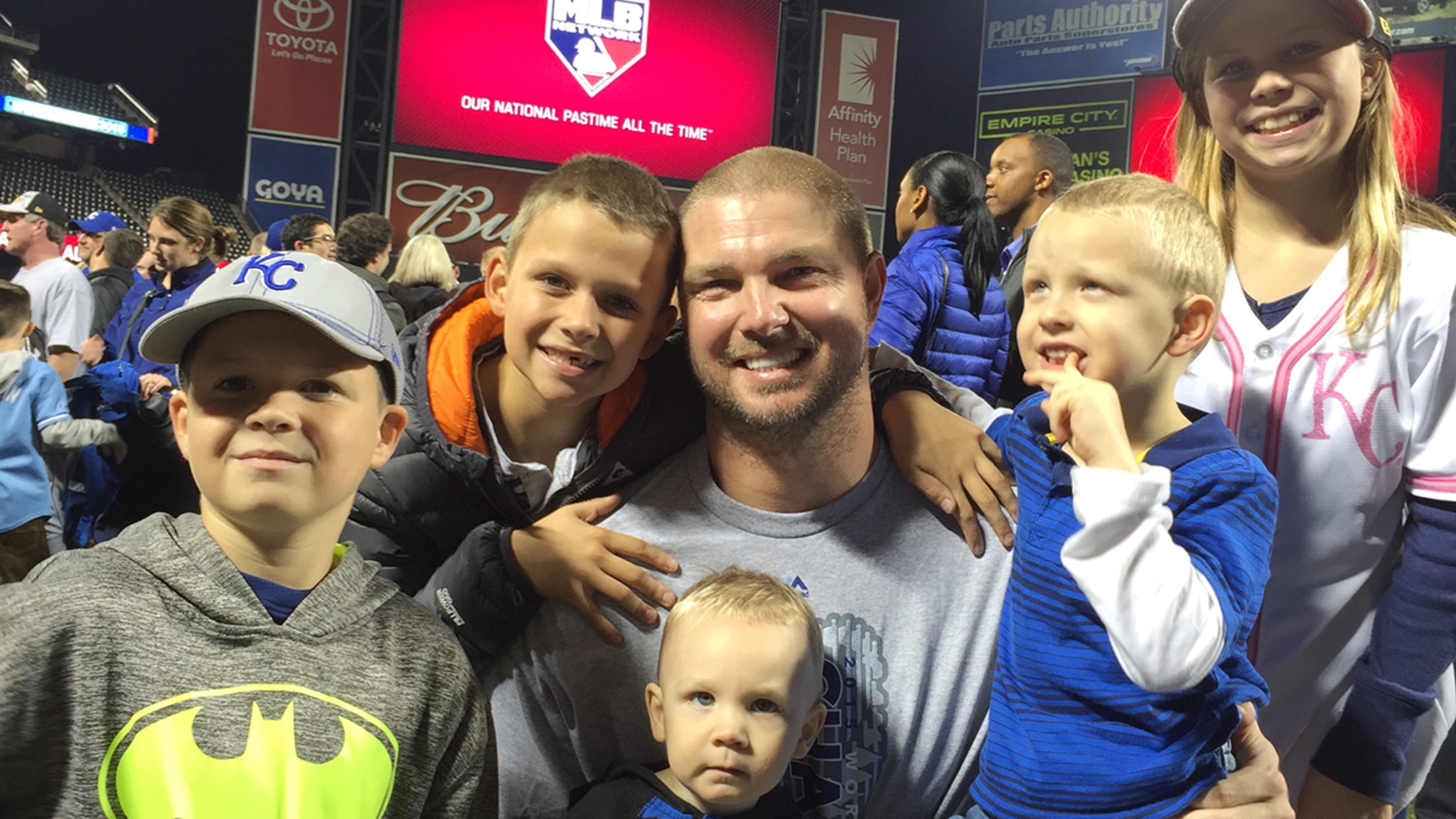 "I feel lucky to be able to miss them," Ryan Madson said of his five kids. "I'm lucky to have this problem." (Madsons)
OAKLAND -- Ryan Madson was weighed down by a bum elbow, and his zest for baseball was deserting him, too. He hadn't thrown a pitch that mattered in years since undergoing Tommy John surgery, and rehab had become wearing without results. So Madson walked away from the game at the
OAKLAND -- Ryan Madson was weighed down by a bum elbow, and his zest for baseball was deserting him, too. He hadn't thrown a pitch that mattered in years since undergoing Tommy John surgery, and rehab had become wearing without results. So Madson walked away from the game at the beginning of 2014, happily retreating into family life.
Madson's new role suited him well. As a father of five, including twin boys, he shuffled his older kids to school each day, playing with the younger ones to pass the time and free up a wife who for so many years had undertaken such responsibilities on her own.
:: Father's Day 2016 ::
"Such a short-term sacrifice," Sarah Madson said.
Ryan kept busy, immersed in daddy duties at the family's home in Temecula, Calif., and spending the kind of one-on-one time with each of his children that he couldn't during a playing career that spanned more than a decade, developing deeper relationships and routines together.
But the game had also left Madson feeling defeated, even if he didn't think he missed it.
Sarah is accustomed to her husband concealing the sweat and tears that have accompanied his career -- "He's just real quiet about what he needs to do in getting his job done," she said -- but sensed an uneasiness in Ryan.
"I could tell right away," Sarah said. "I knew right away."
"He was still kind of stunned. He tried so hard to rehab, but his arm really wasn't working right. He got frustrated beyond the point of return, so he just kind of came home. He was really wounded, as far as baseball is concerned. I was even like, 'Is this celebratory or are we mourning?' He was like, 'I'm just taking a break, and I guess we'll see where it goes from here.'
"As it turned out, he wasn't done. There was just a pause."
That was more than two years ago. Sarah, speaking from the Madsons' home in Temecula, is now preparing her family for a move to Arizona; the transfer was prompted by the three-year, $22 million deal the A's entrusted the 35-year-old right-hander with last offseason following his rousing comeback with the World Series champion Royals in 2015.
"I know it's small compared to some other contracts out there, but to me, it's more about where I was at, where I came from, what I lost and then what I got back," Ryan said. "That was as good as I could get. Whatever the best you can do is, that's the goal, and that's what I tell my kids."
Ryan's return to the game was triggered by a chance call in 2014 from Jim Fregosi Jr., the Royals executive responsible for signing Madson with the Phillies in 1998. Fregosi now wanted Ryan to tutor a local high school prospect, Johnny Morell.
In his own backyard, where Morell made near-daily visits, Ryan was inspired to take the mound after reconnecting with a sport that looked fun again. One morning, over the sound of running water, Sarah heard her husband yell, "I'm thinking I might have to try to play again."
"I wasn't sure if he was going to make it back," Sarah said, "but I also couldn't see him [deciding to] stay at home and not pitch again."
Ryan couldn't, either, as much as he enjoyed the perks of being a stay-at-home dad. He points to his own father, who worked in manufacturing his whole life, as the kind of example he wants to be to his own kids, all aged 10 or younger and with only so many memories of their dad on the job.
"Especially with the lifestyle they can have, where as long as they get good grades in school, they're fine, and they'll get a car, they'll get college paid for -- I knew I needed to try to instill in them the value of hard work," Madson said. "They were so young, they didn't know what I did all those years, and the work I put in. I also felt like I wasn't doing anything to provide. We were fine. I had already made enough, but I still felt like I needed to do something."
Ryan knew that the decision of whether to re-enter the game was his own to make, with Sarah supporting him regardless, but it was also important to him that his children, who had grown accustomed to his presence around the clock, were OK with it, too.
Ella, Luke, Sean, Tyler and Ben gave dad their blessing.
Ella would later tell Ryan, "It's crazy that you didn't play for that long, and now you're playing again."
"She realized that it got taken away from me for a little bit, but that I fought hard to get it back," Ryan said. "Just because you fail at something or something doesn't go your way doesn't mean you can't change that. You have the power to change that.
"Just squeeze everything you have out. Find out what you love and do that, put your head down and work because it's not going to come easy. Those are all the lessons to be learned from my situation."
Fatherhood always comes first for Ryan, whether he's home or on the road, performing well or not. Most days when he's not on the field, the A's closer can be found video chatting with his kids online. Ben, who is 2 years old, especially enjoys the chats.
"He thinks that I'm actually there, so if I'm eating, he thinks he can take a bite of what I'm eating," Ryan said, smiling. "So he never wants to hang up because he doesn't want me to leave.
"I feel lucky to be able to miss them. I'm lucky to have this problem."
Said Sarah: "Every day he wakes up and he's thinking, 'How can I be the person I need to be so that my kids see me as who I want them to see me as?'
"He's so impressive to me. He's super, super humble, even to all of us at home. I think he's doing what he's meant to do, and hopefully he inspires some people. He inspires the kids and I, for sure."
Jane Lee has covered the A's for MLB.com since 2010.