Doolittle improved, ready to get into games
Bassitt stays in after getting hit by comebacker; Chapman impresses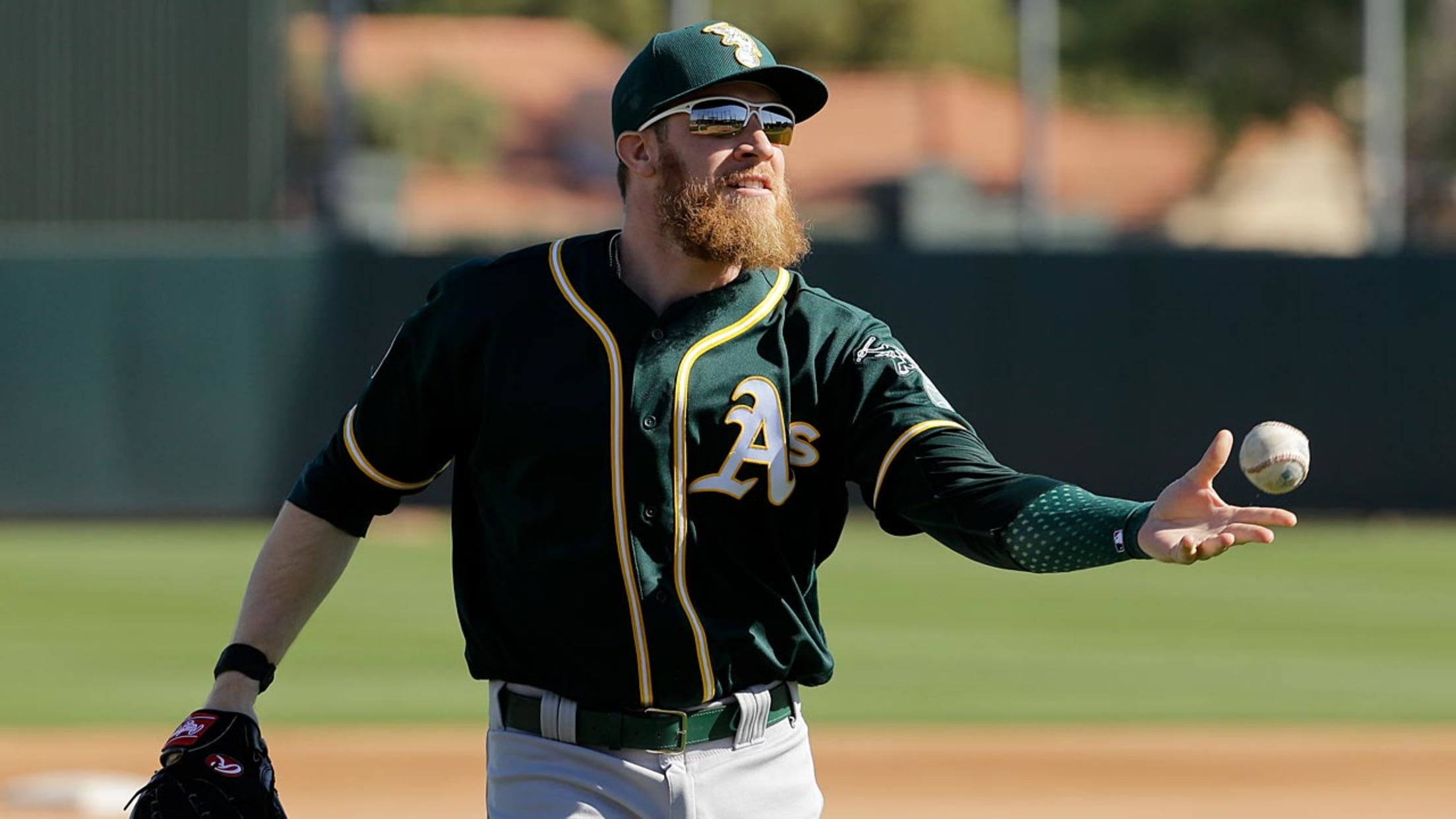 Sean Doolittle is expected to pitch in a Minor League game later this week. (AP)
SCOTTSDALE, Ariz. -- A's closer Sean Doolittle has been cleared for game activity after getting through a bullpen session Monday without any issues."He threw the ball good, threw all his pitches down there," A's manager Bob Melvin said.Doolittle, who nursed a slight triceps strain last week, is expected to pitch
SCOTTSDALE, Ariz. -- A's closer Sean Doolittle has been cleared for game activity after getting through a bullpen session Monday without any issues.
"He threw the ball good, threw all his pitches down there," A's manager Bob Melvin said.
Doolittle, who nursed a slight triceps strain last week, is expected to pitch in a Minor League game later this week before returning to Cactus League action.
The lefty is likely to be joined by a handful of bullpen mates, since the A's will attempt to keep several of their relievers from seeing American League West opponents this week. The club is scheduled to face the Angels on Tuesday and Friday, with matchups with the Mariners (Wednesday) and Rangers (Thursday) in between.
Bruised Bassitt stays in game: Starter Chris Bassitt took a line drive off his left hamstring in the second inning Monday but remained in the game to complete 5 1/3 innings in his third spring start.
"It's a little sore, but it's fine," Bassitt said. "You get hit that hard, you're definitely going to feel it, but as long as it wasn't cramping up or anything like that, it was fine, and it didn't. [The bruise] is a little bad, but that's OK."
Bassitt, penciled in as the A's No. 5 starter, allowed four runs on eight hits with one walk and four strikeouts on the day and said, "I feel great going into the season."
"That's the Chris Bassitt we've seen," Melvin said. "When he's throwing the ball over the plate, he's a tough guy to handle mixing his pitches."
Chapman goes yard again: A's third-base prospect Matt Chapman continues to wow teammates and coaches with his superb play, which on Monday included his fourth spring home run.
"I keep telling myself he's not on the roster yet," said Bassitt, smiling. "He's unbelievable, honestly. You see him at practice, games and everything else, his defense is there, his offense is there, his arm is a cannon, so it's like, he's forcing his hand, that's for sure."
"For a young guy that hasn't played over A-ball, it certainly appears like he has," Melvin said.