A's to mark 50 years of Coliseum with free game
Fans can sign up starting today for tickets to April 17 anniversary event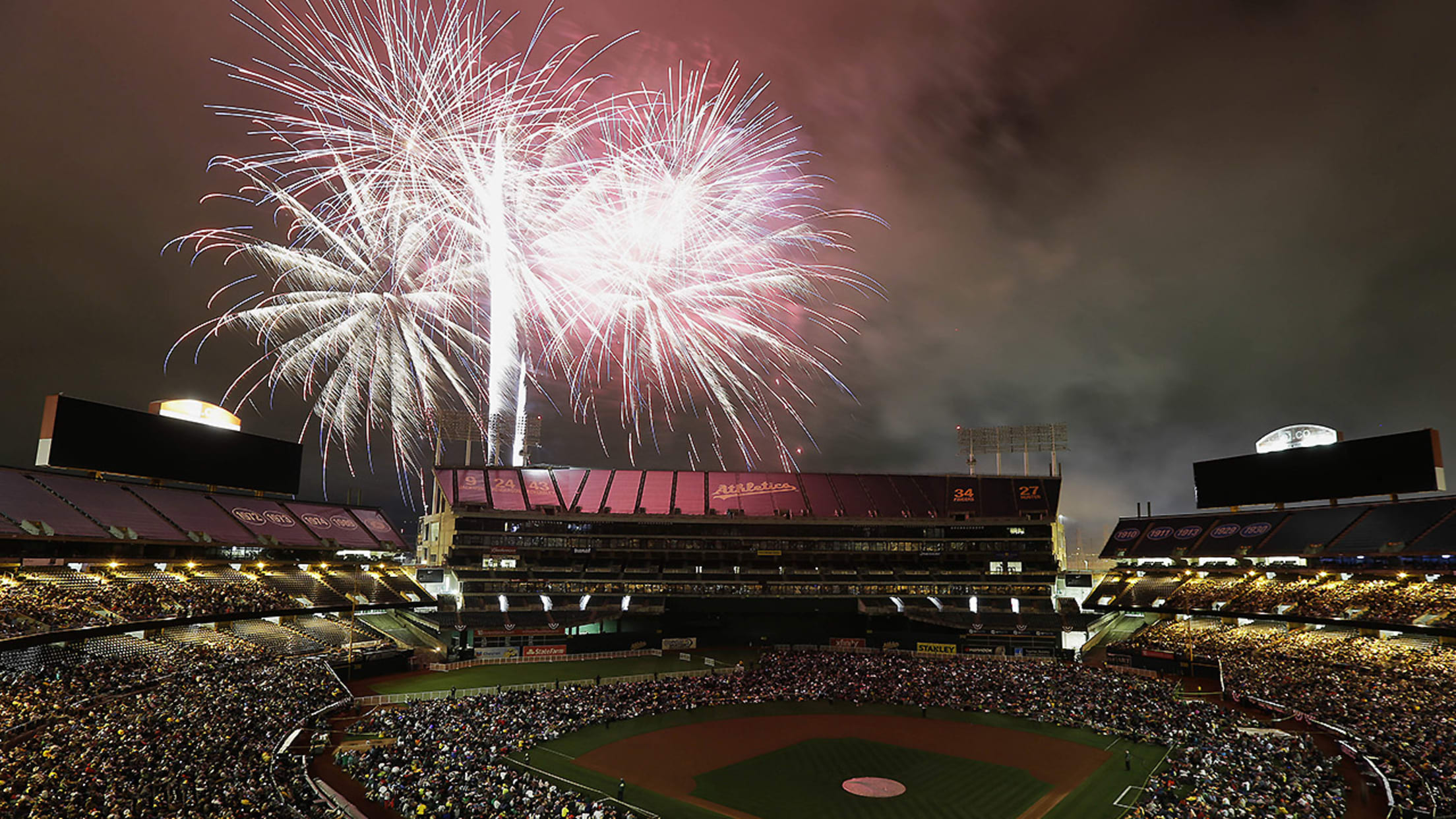 Fans at O.co Coliseum watch a fireworks show after a baseball game between the Oakland Athletics and the Seattle Mariners in Oakland, Calif., Friday, July 3, 2015. The Mariners won 9-5. (AP Photo/Jeff Chiu) (Jeff Chiu/AP)
A's fans have shared countless memories at the Oakland Coliseum through the decades. This April, they'll have a chance to add another one to the list.The A's will offer a completely free game to fans for their matchup against the White Sox on April 17, a date that marks 50
A's fans have shared countless memories at the Oakland Coliseum through the decades. This April, they'll have a chance to add another one to the list.
The A's will offer a completely free game to fans for their matchup against the White Sox on April 17, a date that marks 50 years to the day after the team's first game at the Coliseum in 1968. Fans can sign up for tickets to this 50th anniversary game beginning at 8 a.m. PT today by visiting athletics.com/50.
A's season-ticket holders do not need to sign up for tickets, as they'll be automatically uploaded onto their accounts.
"We are extremely excited to offer this gift to the city as we celebrate 50 years in Oakland," A's president Dave Kaval said in an official team statement. "The entire 2018 season will be a celebration of the A's rich history, and offering the first free MLB game is another unique way for us to celebrate our team and wonderful fans."
Fenway Park, Wrigley Field and Dodger Stadium are the only three current ballparks that have hosted Major League Baseball longer than the Coliseum. The A's have fielded four World Series champions during their tenure there, most recently in 1989.