How Yanks struck gold by taking a risk on Boone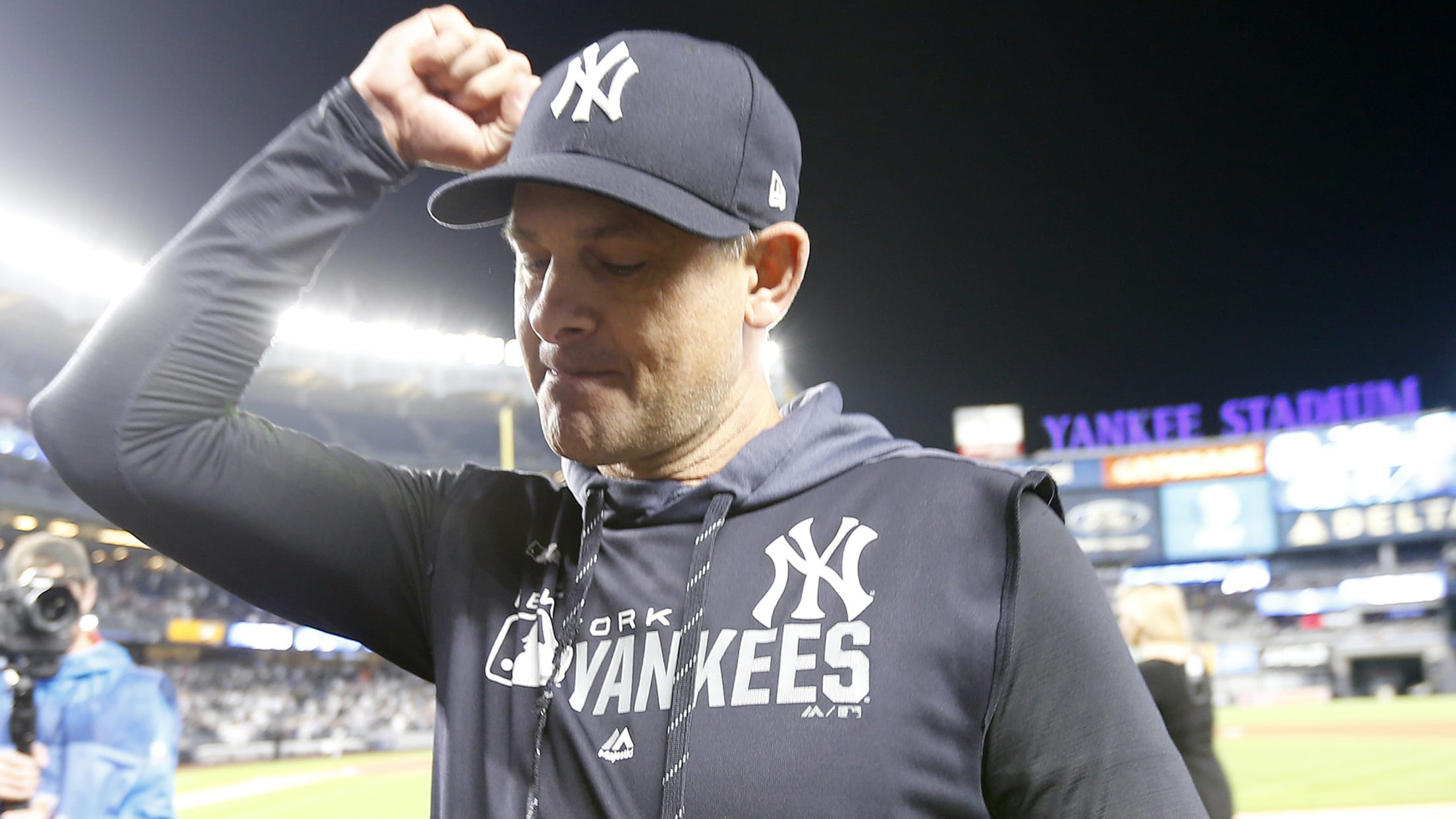 NEW YORK -- The name Aaron Boone was not on Brian Cashman's mind as a managerial candidate when he watched his Yankees trudge off the field at the conclusion of the 2017 American League Championship Series, their season having ended one victory shy of facing the Dodgers in the World
NEW YORK -- The name Aaron Boone was not on Brian Cashman's mind as a managerial candidate when he watched his Yankees trudge off the field at the conclusion of the 2017 American League Championship Series, their season having ended one victory shy of facing the Dodgers in the World Series.
When interviews began that autumn, Boone was not the first candidate invited to the Bronx, or the second or the third. At that time, Boone claimed a solid playing career that included one pennant-clinching swing and a second life in the media that had placed him -- interestingly enough -- in Joe Girardi's office prior to several postseason games.
Yet Boone's managerial and coaching resume was as blank as his 2004 stat line -- the season he missed, having voided his contract (opening the door to Alex Rodriguez wearing pinstripes) by injuring his left knee playing pick-up basketball. When Boone's name was mentioned to Cashman, the veteran general manager shrugged and essentially said, "Why not?"
"He was a dark-horse candidate," Cashman recalled this week. "He was introduced to me from people I respect in the game, so I threw him on the list of, 'OK, I'll at least look under the hood and see what's there.' And I was blown away."
Boone batted cleanup in a lineup of candidates that featured Rob Thomson, Eric Wedge and Hensley Meulens, to be followed by Chris Woodward and Carlos Beltrán. Each of the men was presented with a six-hour gauntlet to prove his readiness as the Yanks' 33rd manager, with Boone recalling that his favorite exercise was distilling real-life stats (names deleted) into batting orders.
His performance secured the vote of the analytics staffers, who believed that Boone would represent an open-minded fit for the new-school world in which they operate. Boone's decades of building a genial reputation as a player and with ESPN suggested that he could handle the twice-daily demands of fielding inquiries from the New York media contingent.
Boone also had the right life experience as a fourth-generation Major Leaguer whose father, Bob, managed the Royals and Reds in the late 1990s and early 2000s. But with no prior experience, it was fair to wonder how Boone would handle the challenges of serving as the head traffic cop in a clubhouse populated by so many different personalities.
"There was a lot of risk there," Cashman said. "But our process was designed to lead us to the best candidate."
Essentially handing Boone the keys to a Porsche of a roster and asking him to keep it between the dotted lines, Cashman believed that Boone would be a "plug and play" fit. Boone exceeded even the loftiest expectations, becoming the first manager in Major League history to log 100 or more victories in each of his first two seasons.
This year, on the strength of their big-swinging offense and flame-throwing bullpen, the Yankees posted 103 wins and secured the American League East title despite withstanding a historic number of injuries, placing a Major League record 30 players on the injured list.
New York's 100th victory secured the division crown; that night, Boone briefly addressed his players, telling them not to take the Yanks' first division title since 2012 for granted. It was only after that speech and a bubbly alcohol bath that Boone learned of his achievement, reading congratulatory text messages from friends and family members.
"It's a result of me being in an organization that's really, really good at what we do," Boone said. "We have really good players in that room, and especially this year, we've seen the depth players play a huge role. You are kind of humbled by it. I know it gets attached to me, but this is the result of an organization having two really good seasons. Now, hopefully we can take that next step."
CC Sabathia, a one-time Indians teammate who predicted that Boone would find success as a skipper, said that Boone has been an ideal fit to guide a team whose success hinged on "Baby Bombers" Aaron Judge, Gary Sánchez and Gleyber Torres developing into stars.
"He's been awesome, especially with this young group of guys," Sabathia said. "Being a young manager, just being able to relate to these guys, coming in every day -- no panic, no matter what's happening. It starts with him. We've been able to have a great year, despite a lot of injuries and a lot of things going wrong, but we still won 100 games, and that's because of him."
Brett Gardner, who has witnessed the clubhouse transition from Derek Jeter to Judge while earning the title of the team's longest-tenured player, agrees.
"I think it starts with our manager and trickles on down with the leadership we have in this room, guys coming in from other places and immediately buying in to what we're trying to do," Gardner said. "They're not trying to do too much, everybody just stepping up and doing their job when called upon. It's been a lot of fun to be a part of."
Of course, no summary of the 2019 Bombers would be complete without Boone's epic "Savages in the box" rant, a profanity-laced tirade directed at rookie umpire Brennan Miller on July 18. Though Boone seems embarrassed that it was caught on a live microphone, it gave his team an identity, spawning dozens of witty T-shirts -- many worn proudly to this day by Boone's players.
"Sometimes in the heat of battle," Boone said, almost sheepishly, "you utter some things."
Boone's wire-to-wire performance drew applause from managing general partner Hal Steinbrenner, who had bypassed the customary face-to-face interview and green-lighted Boone's hiring based solely upon enthusiastic recommendations from Cashman and his staff.
"We faced a significant amount of adversity this year," Steinbrenner said. "Boone and the coaching staff, and especially the players, they stayed positive throughout. They had each other's backs and never gave up. It's a winning mentality in that clubhouse. A long way to go, but we're going in strong."
And even Red Sox manager Alex Cora, whose 108-win performance in 2018 had the Yankees settling for a Wild Card berth and an early exit in the ALDS, said that Boone's first-year performance did not receive the credit it deserved.
"Aaron actually has more wins in the big leagues than me," Cora said. "He did an outstanding job last year. This guy, he knows the game. We're managing in two markets where every move is second-guessed or first-guessed, and we know it. We did it on TV."
Yet Boone refuses to celebrate prematurely. His commute to the Stadium from Greenwich, Conn., usually features a highway drive tuned to the mellow classic rock of SiriusXM's "The Bridge," but as late nights of preparation and planning accompany the push toward the Yankees' ultimate goal, the couch in his office has frequently substituted for a bed.
That shows no signs of abating, at least until the Yanks rattle off the 11 wins that separate them from a parade float through the Canyon of Heroes.
"You are living in the moment and in the day so much," Boone said. "That started from when I got hired into Spring Training, into the season and right away into the winter. It's just been this constant daily trying to get better, move the organization forward and trying to put ourselves in a position to win a championship. I try to work really hard to be a part of that."
Cashman, who once identified "communication and connectivity" as two reasons why the organization would not continue with Girardi, lauded Boone's skills as a factor in why the Yankees could be the last team standing. From low-level office staffers to rookie reporters or star infielders, Boone has displayed the ability to handle each with an expert touch.
"I think at his core, he's just a good person that treats everybody with respect, no matter who you are," Cashman said. "I feel like we got one of the better managers in the game, and we're lucky that we ran into him."