Judge back in NY: 'It's time to get things rolling'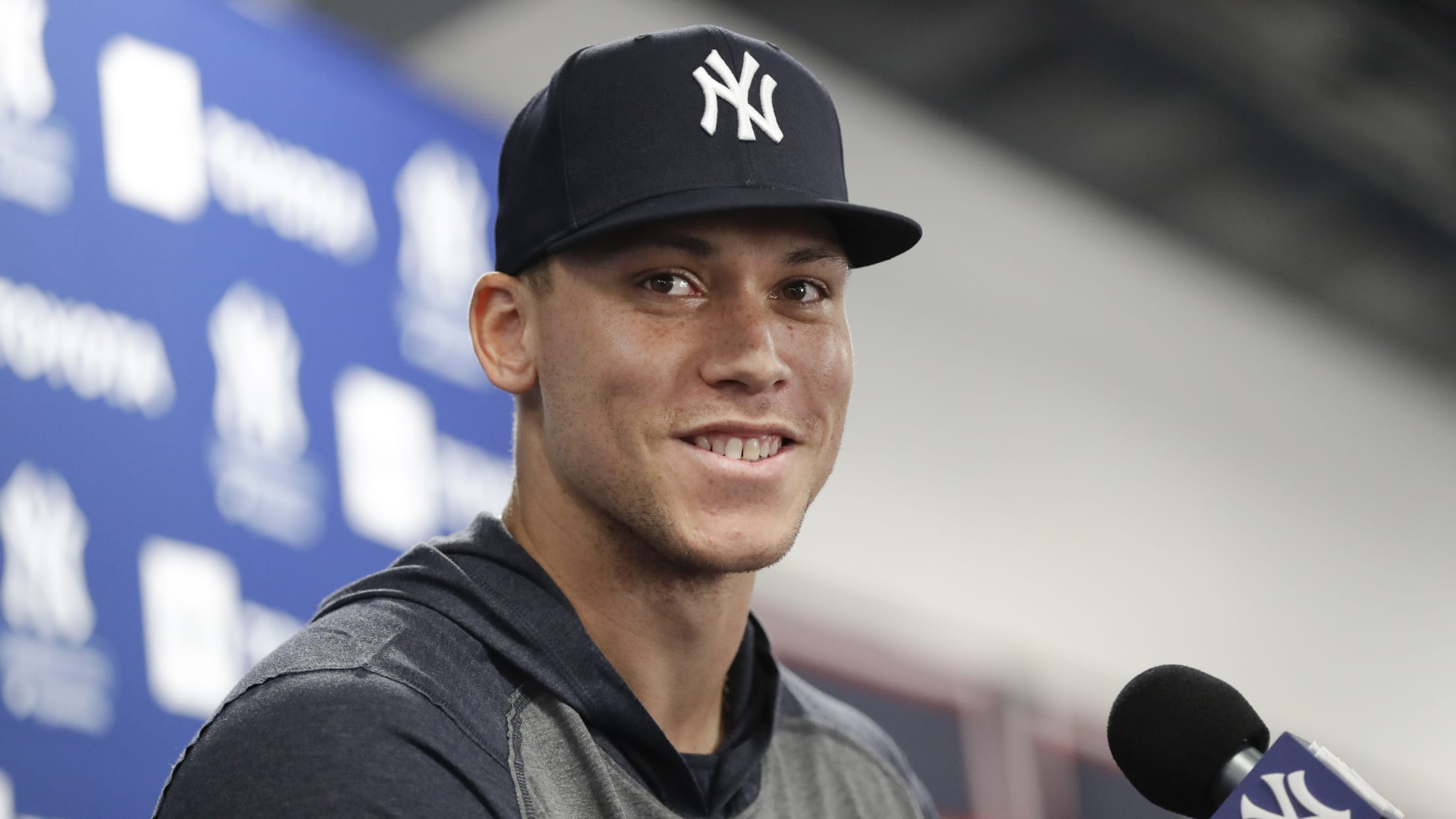 NEW YORK -- With baseball activities set to resume this week, Aaron Judge says that he has been able to "hit a little bit," an encouraging sign as the Yankees slugger prepares for the team's upcoming summer camp at Yankee Stadium. Judge had largely been restricted to weight-room exercises at
NEW YORK -- With baseball activities set to resume this week, Aaron Judge says that he has been able to "hit a little bit," an encouraging sign as the Yankees slugger prepares for the team's upcoming summer camp at Yankee Stadium.
Judge had largely been restricted to weight-room exercises at George M. Steinbrenner Field in Tampa, Fla., where he remained after Spring Training was halted on March 12. Judge used that additional time for healing, having been diagnosed with a right rib fracture and a punctured lung in late February.
"This break has allowed some of the players, including myself, to get healthy," Judge told Sports Illustrated. "Luckily, I've been able to go into our facility in Tampa Bay with five or six teammates to work out, get on the field and run around, and hit a little bit. For us, it's kind of been business as usual and has felt like an extended Spring Training."
Manager Aaron Boone has said that the break could be a "silver lining" of sorts for players like Judge, who may have sustained those injuries while attempting a diving outfield catch in September.
Frustrated by the Yankees' elimination in the American League Championship Series, Judge said that he resumed swinging in November, which did not allow him the necessary time for healing.
He was forced to suspend on-field hitting shortly after arriving in Tampa, and general manager Brian Cashman later acknowledged that the Yankees internally did not expect Judge to return to Major League games until "summertime."
"He never shares if something's bothering him," Cashman said on May 14, "so obviously when he did show up in the spring and said something has been bothering him, it was an 'uh-oh' moment, because he really does not ever complain about anything. He didn't complain in the wintertime, either. But once the testing came back, once they eventually found it, the timeframe looked like it was going to take us more likely into summer."
Judge returned to the New York City area on Saturday, flying from Florida on a private jet with teammates Mike Ford and Tyler Wade.
"I honestly can't wait to get back out there," Judge told SI. "It's going to be an exciting year. I've been telling my teammates that we have one of the best teams in the league, especially with the acquisition of Gerrit Cole in our rotation. It's going to be something special."
Judge added that adapting to playing baseball amid the COVID-19 pandemic will be "challenging," with new rules that bar sunflower seeds, spitting and high-fives, but he indicated that the players understand those safety protocols are necessary to get back on the field.
"Missing out on some sunflower seeds is going to be tough, but I'll take playing baseball over that aspect any day," Judge said. "It's time to get things rolling. The fans need baseball back."