Notes: Judge to IL; Jackie Robinson Day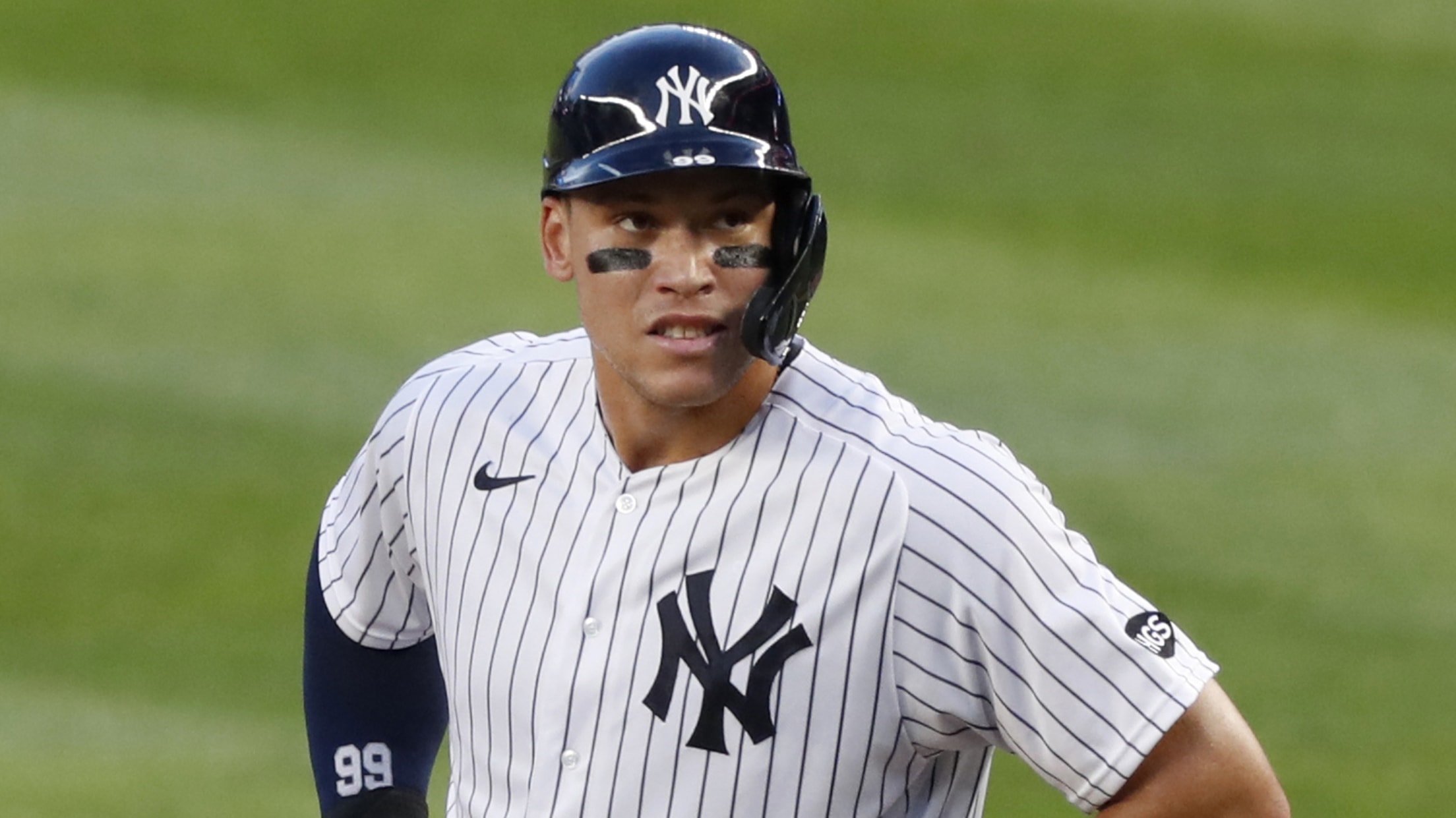 NEW YORK -- As Aaron Judge returned to the 10-day injured list due to a recurrence of his right calf strain, the Yankees promoted outfielder Estevan Florial, who made his Major League debut in the first game of Friday's doubleheader against the Mets. The 22-year-old Florial, a speedy left-handed hitter
NEW YORK -- As Aaron Judge returned to the 10-day injured list due to a recurrence of his right calf strain, the Yankees promoted outfielder Estevan Florial, who made his Major League debut in the first game of Friday's doubleheader against the Mets.
The 22-year-old Florial, a speedy left-handed hitter who throws right-handed, is rated as the club's No. 7 prospect by MLB Pipeline. Identified as the Yankees' 29th man for Friday's twin bill, Florial hit seventh and played center field.
"I'm looking forward to watching him play and get this opportunity," manager Aaron Boone said. "I know he's excited for it, and it wouldn't surprise me at all if he does something special."
One of the top prospects in the 2014 international signing class, injuries slowed Florial's trajectory toward the Bronx in each of the last two seasons. Florial played in 74 games for Class A Advanced Tampa last year, batting .237/.297/.383 with eight homers, 38 RBIs and nine stolen bases.
"He's a super-talented player and a guy with tremendous makeup," Boone said. "He's had some of his seasons cut short the last couple years with different injuries, but it hasn't deterred him. He's continued to work incredibly hard. He has the talent that warrants him going in and being able to do something in these games."
Judge is expected to be on the IL for at least two weeks after reinjuring his right calf while running the bases in the second game of Wednesday's doubleheader against the Braves in Atlanta. Judge was removed from an Aug. 11 game, also against Atlanta, due to the same injury.
"It's just a recurrence of the strain that he had suffered before," Boone said. "It's similar in that it's low grade and pretty minor, but enough that he had to go back on the IL. Hopefully it's not something that keeps him down too long, but it's definitely something that we've got to continue to work to get right."
Boone said that third baseman Gio Urshela is day to day with a bone spur in his right elbow, which prompted the organization to sign infielder Jordy Mercer to a Major League contract, selecting the veteran to the active roster.
Mercer, who played in three games for the Tigers this year, was working out at the alternate training site in Moosic, Pa. The 34-year-old Mercer owns a career slash line of .257/.315/.387 with 64 homers and 299 RBIs in nine seasons with the Pirates (2012-18) and Tigers (2019-20).
In a corresponding move, the club released left-hander Luis Avilán. Boone suggested that the Yankees will try to re-sign Avilán, who landed on the injured list with left shoulder inflammation after posting a 4.32 ERA in 10 appearances.
"I'm hopeful that maybe we can sign him back," Boone said. "With the roster crunch, we had to make a tough decision there to bring on Jordy."
Honoring Jackie
With Major League Baseball celebrating Jackie Robinson Day on Friday, all uniformed Yankees and Mets personnel will wear No. 42 for the second game of the doubleheader, with each team wearing commemorative hats and socks for both games.
"He was a giant in our culture, a giant in our nation's history, not just a tremendous athlete and baseball player," Boone said. "It's a day that I think a lot of people look forward to every year. I'm glad with the shortened season that we're still able to do it."
Major League Baseball chose to celebrate Jackie Robinson Day on Aug. 28 for two reasons. It's the anniversary of the March on Washington for Jobs and Freedom in 1963, which the Robinson Family attended, and it also is the date in 1945 when Robinson and Branch Rickey met to discuss his future as a member of the Brooklyn Dodgers.
In conjunction with the celebration, MLB announced a partnership extension with the JRF Scholarship Program, the Jackie Robinson Museum and the annual JRF ROBIE Awards. The extension is through 2023 and includes a $3.5 million commitment on behalf of MLB.
This date in Yankees history
Aug. 28, 1977: Ron Guidry recorded his third shutout of the season in a 1-0 victory over the Rangers. "Louisiana Lightning" permitted two hits, facing only one batter over the minimum. Graig Nettles tripled and scored on a Reggie Jackson single for the game's only run.