Blue Jays lose Sanchez, Gurriel for season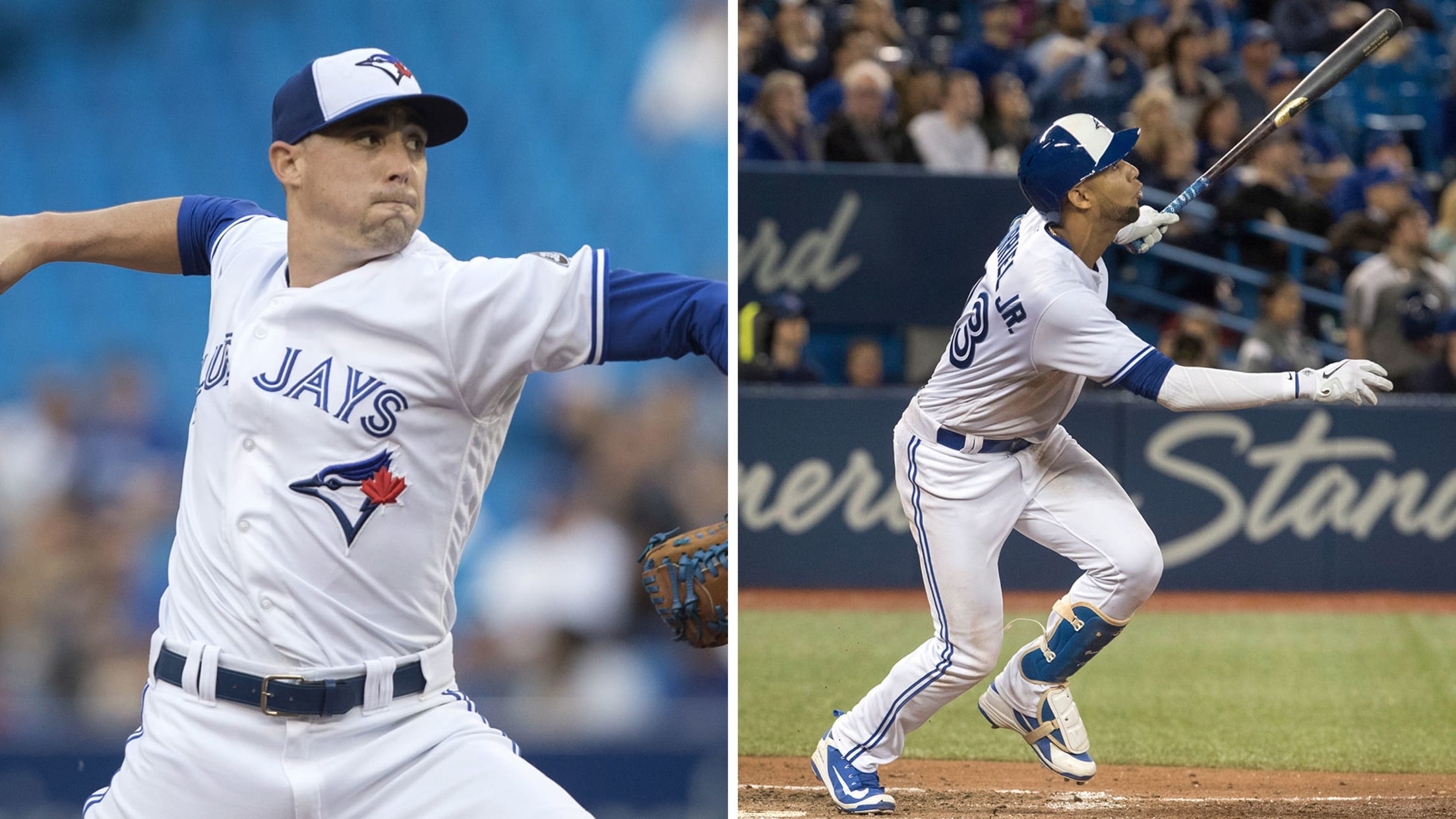 TORONTO -- Aaron Sanchez will be shut down for the remainder of the 2018 season after he underwent surgery on his right index finger Tuesday.Sanchez and the Blue Jays consulted three hand specialists in the United States before opting for surgery with Dr. Steven Shin in Los Angeles, according to
TORONTO -- Aaron Sanchez will be shut down for the remainder of the 2018 season after he underwent surgery on his right index finger Tuesday.
Sanchez and the Blue Jays consulted three hand specialists in the United States before opting for surgery with Dr. Steven Shin in Los Angeles, according to Blue Jays general manager Ross Atkins.
The surgery comes three months after Sanchez sustained the injury while dealing with his luggage prior to the team's June 21 game against the Angels. Sanchez attempted to pitch through the injury, but managed only one inning, allowing two runs in a 8-5 loss.
"Hopefully this clears it all up, because he's important to this team," Blue Jays manager John Gibbons said.
This season was another lost year for the 26-year-old right-hander. He managed only 105 innings pitched and posted a career-worst 4.89 ERA. His fastball velocity dropped approximately one mph from 2017, according to Statcast™.
"He was on top of the world a couple years ago and he's been knocked down," Gibbons said. "That's a big part of the frustration; he hasn't been able to do much the last two years."
Sanchez spent 151 days on the DL last season with blister and tendon issues in his right middle finger. He managed only 36 innings pitched in 2017.
Atkins says he's expecting Sanchez to be back and ready to go when Spring Training starts in 2019.
Gurriel Jr. shelved, too
The Blue Jays will also shut down infielder Lourdes Gurriel Jr. for the remainder of the season after the 24-year-old shortstop sustained a Grade 2 strain in his left hamstring while running to first base in the first inning of Monday night's game.
Gurriel struggled in his first Major League stint, hitting .206 in 20 games to start the year. But he turned it around after July 2, hitting .305 in his final 44 games.
"He's done a tremendous job," Gibbons said. "That first go-around he started struggling a little bit, we sent him down. Since he's come back, it's like more confidence ... He's done a lot of good things."
Gurriel finished his rookie season hitting .281 with 11 home runs and a .755 OPS. His defense was inconsistent early in the season, but he appeared to become more comfortable at shortstop as the season continued.
"I think I'm doing great," Gurriel said through a translator. "I wasn't expecting to be called up that fast to begin with. I'm just happy for everything I've accomplished so far. I'm pretty happy, but I know I have a long way to go."
While he proved that he could hit at the Major League level, Gurriel still needs to show he can take a walk. He managed only nine walks and posted a .309 OBP this season. He swung at 39.3 percent of the pitches he saw outside the strike zone, the 21st-highest rate in the Majors of players with at least 250 plate appearances.
"If there's one area that would help him, it's just a little more plate discipline," Gibbons said. "I think he puts himself into some holes sometimes by chasing balls that aren't strikes so early in the count, but he also gets hits doing that sometimes, too."
Gurriel may have competition at shortstop next season. Troy Tulowitzki expects to be healthy and playing shortstop next year and the 33-year-old could bump Gurriel out of the spot when 2019 rolls around.
"I knew the Blue Jays liked me not just because I can play shortstop, but also because I'm versatile. I can play everywhere," Gurriel said. "I'll be super glad and excited and happy to have a guy like Tulowitzki, not only for me, but for all the young kids in this organization to have him out there and to have him as a leader, so I'm ready for everything."
Aaron Rose is a reporter for MLB.com based in Toronto.