Sanchez impresses in first spring bullpen
Righty shows improved velocity, looking to get back on track after two injury-plagued years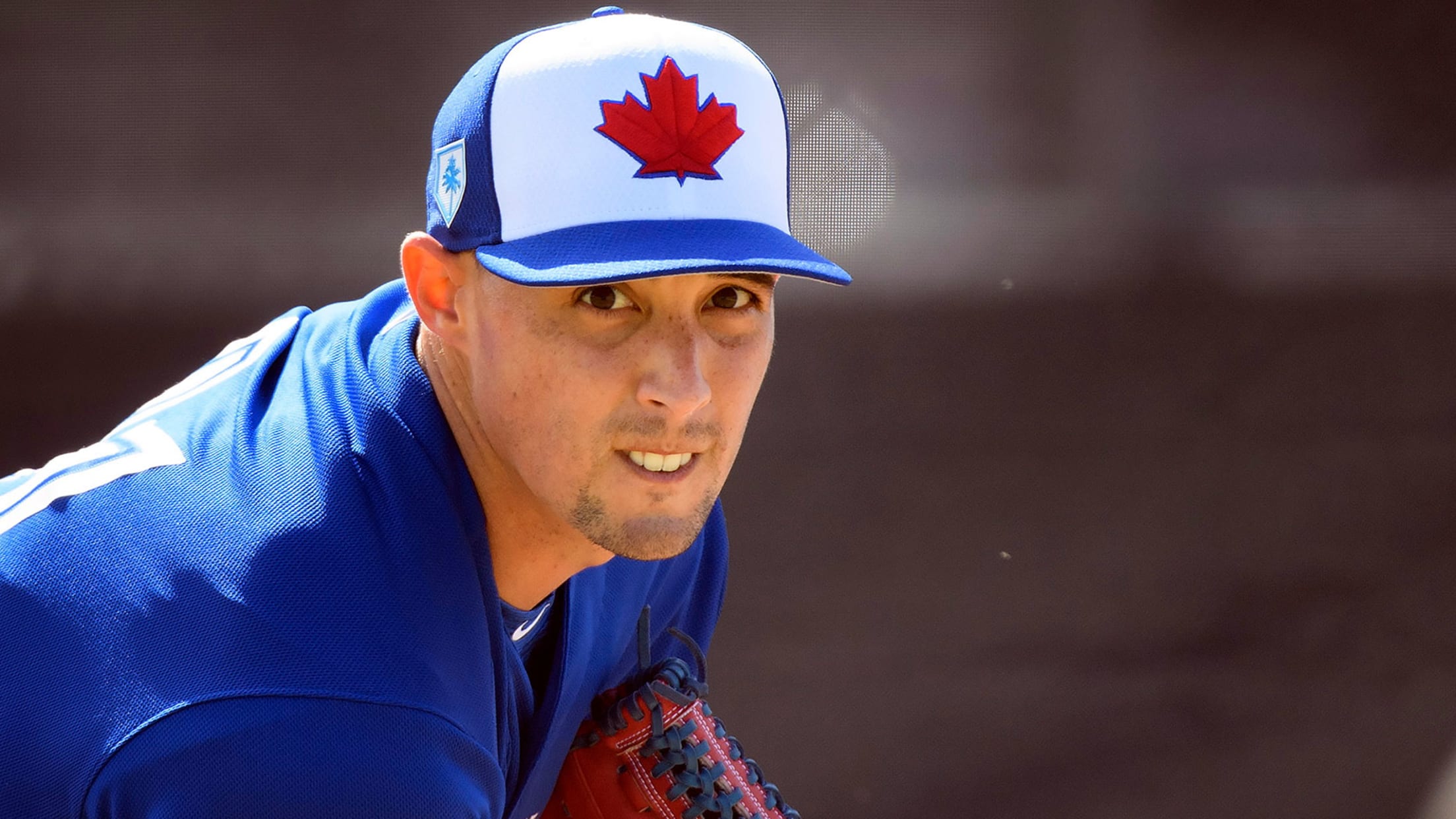 DUNEDIN, Fla. -- Blue Jays manager Charlie Montoyo was so impressed with Aaron Sanchez's first bullpen session of the spring that it would have been almost impossible to wipe the smile off his face afterwards.Montoyo was grinning from ear to ear at the start of his media availability on Friday
DUNEDIN, Fla. -- Blue Jays manager Charlie Montoyo was so impressed with Aaron Sanchez's first bullpen session of the spring that it would have been almost impossible to wipe the smile off his face afterwards.
Montoyo was grinning from ear to ear at the start of his media availability on Friday afternoon, and it didn't take long to figure out why. The first question from a local reporter was related to Sanchez's bullpen session, and the new Blue Jays skipper immediately started gushing about his potential ace.
:: Spring Training coverage presented by Camping World ::
"I can't stop smiling, just because of that," Montoyo said. "I told him after he finished with his bullpen, I saw the guy that he was two years ago. He looked really good."
Montoyo went on to praise Sanchez for the movement of his sinker and his overall velocity, even if he was unsure of the radar readings. The latest comments will set the bar high for a pitcher who had been considered questionable for the start of Spring Training as recently as last month, but who now won't face any restrictions in camp.
Sanchez didn't display the same type of enthusiasm as Montoyo, but his understated comments told a similar story. The California native feels like his old self after battling through two underwhelming seasons that were riddled with finger injuries. In 2017, it was the blister. Last year, it was a freak mishap with a piece of luggage that resulted in surgery on his right index finger.
The injuries prevented Sanchez from living up to the hype that followed his breakout 2016 season. Sanchez went 15-2 that year and led the American League with a 3.00 ERA over 30 starts. At age 24, Sanchez was being talked about as a candidate for the AL Cy Young Award -- and then all of the problems began. He hopes that's a thing of the past.
"I felt good," Sanchez said after his session. "For me, I feel like I'm back to normal. For a few years there, I was battling things with my hand that didn't allow me to be who I wanted to be. It's nice to finally feel like I'm back to who I am."
An early tell-tale sign for Sanchez will come at the start of the Grapefruit League season, when he gets on the mound for an official game. That's when the fans and media will get a look at the radar gun for the first time and get a sense of how close Sanchez is to the pitcher he was before.
In 2016, Sanchez averaged 95.8 mph on his sinker. Last September, that number dropped to just a tick above 93. Sanchez attributed part of his issues late in the year to changes he subconsciously made to his delivery to help deal with the pain in his finger. The mechanics are back on track now, and so too, apparently, is the velocity.
"I've got no concerns about that," Sanchez said. "Hey, I didn't leave -- I just had a setback. What you guys have seen, what you guys saw in the past, has not left, has not gone. It's just a matter of getting back to that. Getting my arm back into throwing shape, and we'll see how it all shakes out."