Worth the wait: Sanchez cruises in debut
Blue Jays righty delayed as precaution; Gurriel homers, bruised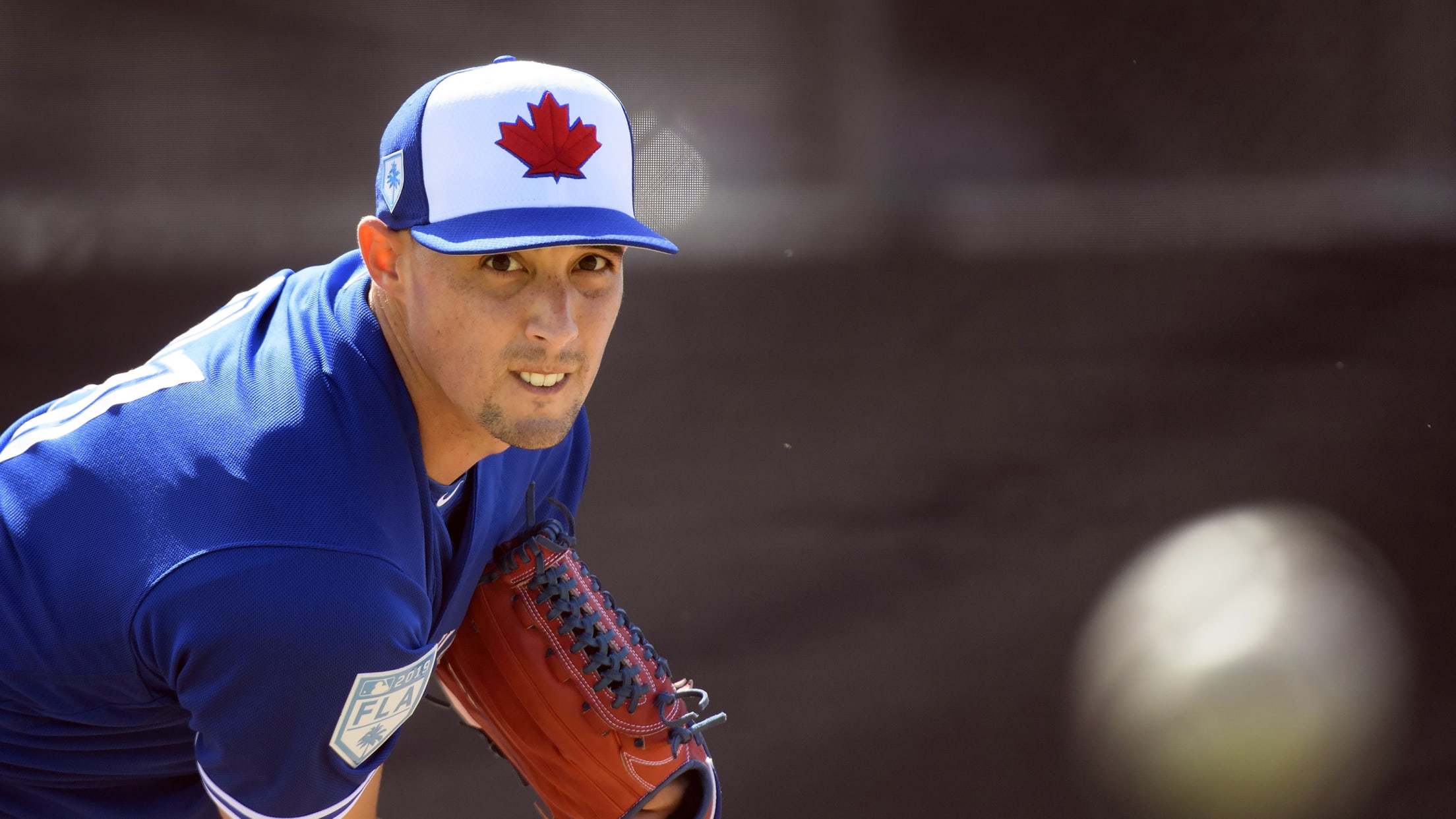 DUNEDIN, Fla. -- The Blue Jays' front office likely breathed a collective sigh of relief on Friday afternoon, when right-hander Aaron Sanchez made an impressive spring debut. Sanchez was throwing free and easy during his first appearance of the year in a 1-1 tie with the Pirates. He faced the
DUNEDIN, Fla. -- The Blue Jays' front office likely breathed a collective sigh of relief on Friday afternoon, when right-hander Aaron Sanchez made an impressive spring debut.
Sanchez was throwing free and easy during his first appearance of the year in a 1-1 tie with the Pirates. He faced the minimum over a pair of scoreless innings while consistently hitting 94-95 mph on the radar gun with his fastball.
The appearance went so well that Sanchez continued his outing in the bullpen after he was removed from the game. Sanchez threw approximately 20 more pitches in the side session to get a bit more work in and start his routine of throwing every five days.
"Just going out there and feeling healthy, really," Sanchez said. "Letting some balls eat, letting some balls spin, felt good on some changeups. The main thing was going out there and throwing strikes. Today's one of those days about getting engaged with where you're at. I think I'm in good shape."
Sanchez had a slightly delayed start to the spring as the Blue Jays wanted to take a cautious approach to his preparation for the start of the year. Sanchez has missed most of the last two seasons because of finger issues, and Toronto will be keeping a close eye on his workload early in the year.
The results were about as good as possible, but this is a lot more about the process than the finished product.
"I think I'm in good shape," Sanchez said. "Obviously, there's things to be working on. I'm happy with today, happy with where I'm at. It was a long offseason. To be able to go have an outing like that, a lot of things paid off this winter.
"It gives you a gauge of where you're at, see what you need to work on. Seeing what you need to get better at. Today I went out and attacked and threw strikes, and see where you're at."
Gurriel homers before exiting with bruised forearm
Blue Jays infielder Lourdes Gurriel Jr. has been diagnosed with a left forearm contusion after he was struck by a pitch during Friday's 4-3 loss to the Braves.
Gurriel homered in his first at-bat -- as part of a back-to-back effort with leadoff man Jonathan Davis to open the game -- singled in his second and was struck on the forearm by a pitch from Darren O'Day in the top of the fifth. He was removed from the game and later diagnosed with the contusion.
MRI results were negative, and a fracture has been ruled out. Gurriel is considered day to day, and the Blue Jays are expected to provide a further update Saturday morning.
Gurriel is competing for playing time at shortstop alongside Freddy Galvis. Gurriel is also expected to see time at second and third base, and he might even get some playing time in a corner outfield spot by the end of the year.
Quotable
"We're kind of sticking to our areas, but when we meet in the morning, or at the end of the day, we talk about what we've seen. This Spring Training, we're getting to know each other, too. I don't think any of us have worked together before, so just a matter of getting to know one another's personalities, strengths and weaknesses. We've got a really good staff. A lot of fun working with [them], really knowledgeable, very organized, really dedicated guys that just want to work hard." -- Blue Jays bench coach Dave Hudgens, on life for a new coaching staff
Up next
Right-hander Marcus Stroman will take the mound when the Blue Jays host the Rays on Saturday afternoon, with first pitch scheduled for 1:07 p.m. ET at Dunedin Stadium. It will be Stroman's second Grapefruit League start.