Jones holds fifth annual tailgate charity event
Proceeds to support Boys & Girls Club doubled 2016 efforts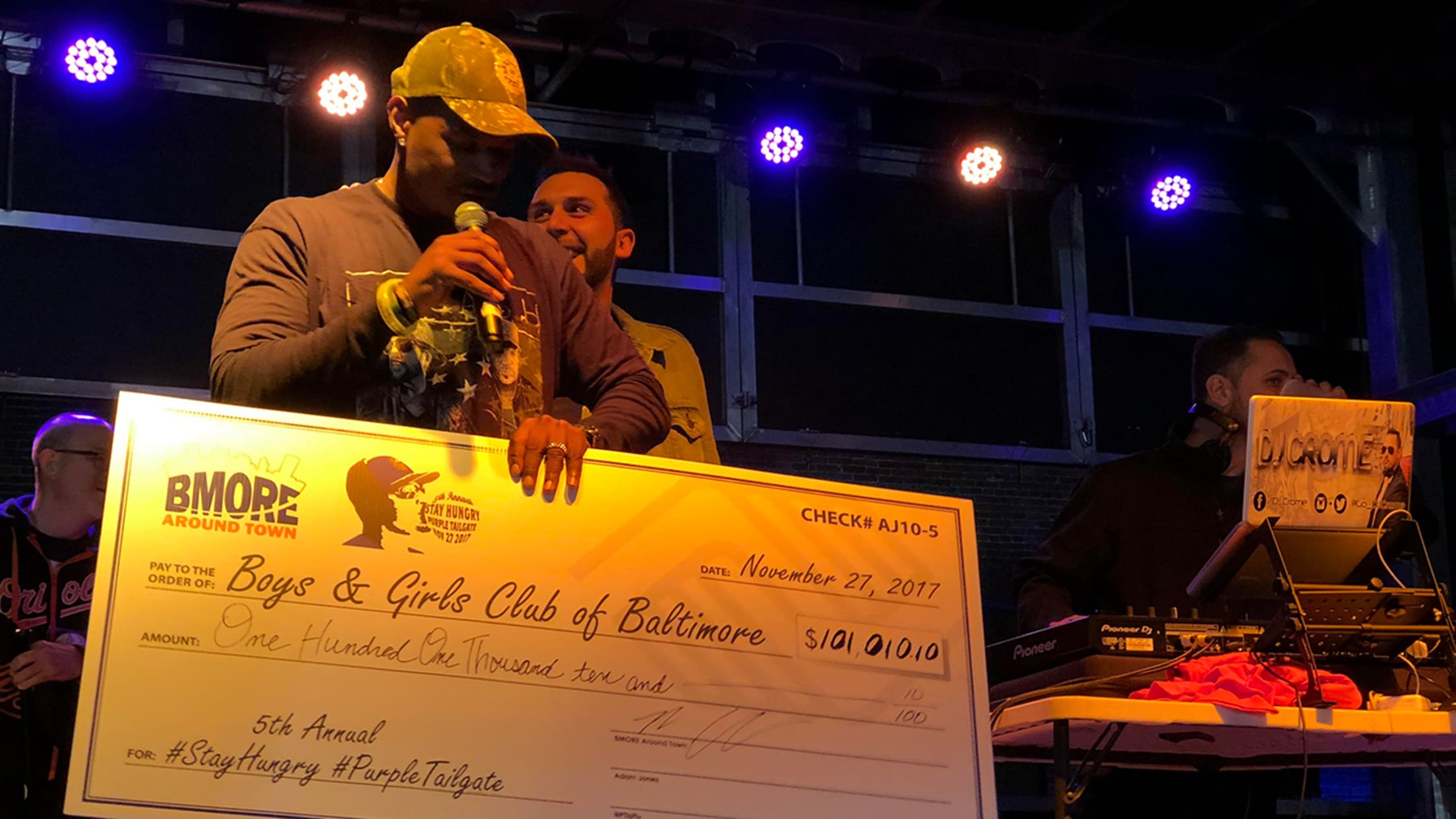 BALTIMORE -- Adam Jones continues to make a significant impact in the Baltimore community. The Orioles center fielder held his fifth annual #Stay Hungry #Purple Tailgate prior to the Ravens game Monday night and doubled last year's charitable efforts for the Boys & Girls Club.Jones, who combines his well-chronicled love
BALTIMORE -- Adam Jones continues to make a significant impact in the Baltimore community. The Orioles center fielder held his fifth annual #Stay Hungry #Purple Tailgate prior to the Ravens game Monday night and doubled last year's charitable efforts for the Boys & Girls Club.
Jones, who combines his well-chronicled love for food with the tailgate, took to the stage to proudly pose with a check for more than $100,000. The large sum was more than the previous four years combined, as the annual event continues to grow.
A big part of the tailgate's recent success, country duo LoCash, performed for the second year in a row as Baltimore sports fans were treated to hours of entertainment, an open bar and food from some of the city's best restaurants in a four-hour all-inclusive tailgate.

Participants also had the option of buying VIP passes, which included signed Jones memorabilia and a picture with the outfielder at the event.
Jones -- who in October pinned a tweet from last year's tailgate atop his Twitter profile -- has said the event is "Baltimore helping Baltimore," and in that regard, the support has been impressive. Jones, who participated in a Boys & Girls Club while growing up in San Diego, has prioritized giving back to the organization.
Baltimore Helping Baltimore!!!!!!! Our Great Motto!!! pic.twitter.com/z99nhQjOyq

— 10 (@SimplyAJ10) October 20, 2017
Jones and his wife, Audie, frequently donate their time and money, and the former All-Star, who often shies away from speaking about his charitable endeavors, has been named the O's Oriole Way recipient (2008 & '13) as well as the organization's Roberto Clemente Award nominee in years past.
Jones is also a three-time Orioles recipient of the Heart & Hustle Award by the Major League Baseball Players Alumni Association.
Jones is entering the final season of his contract in 2018, after signing a six-year, $85.5 million extension in '13.