Ottavino throws 'pen session; CarGo scratched
Rockies call up prospect Howard; Estevez, Rosscup throw bullpen sessions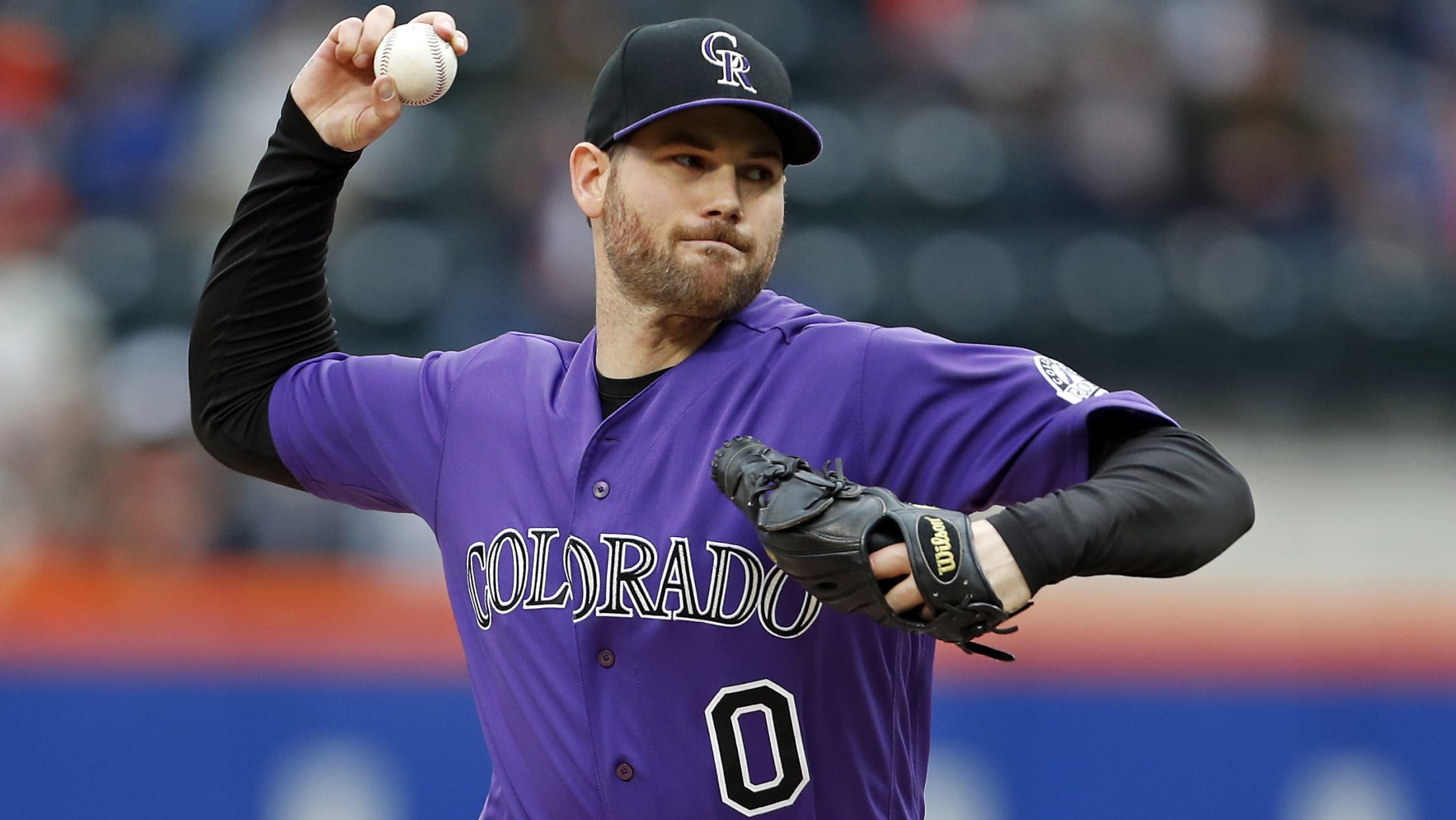 Colorado Rockies relief pitcher Adam Ottavino delivers a pitch during the ninth inning of a baseball game against the New York Mets on Sunday, May 6, 2018, in New York. The Rockies won 3-2. (AP Photo/Adam Hunger) (Adam Hunger/AP)
DENVER -- Rockies right-handed pitcher Adam Ottavino mixed his pitches during a 20-pitch bullpen session on Saturday and felt no problems in his left oblique.It's not clear when Ottavino -- who missed his 11th game on Saturday -- will return. Ottavino said how he feels Sunday could determine his next
DENVER -- Rockies right-handed pitcher Adam Ottavino mixed his pitches during a 20-pitch bullpen session on Saturday and felt no problems in his left oblique.
It's not clear when Ottavino -- who missed his 11th game on Saturday -- will return. Ottavino said how he feels Sunday could determine his next step. At any rate, the mid-afternoon session in an empty Coors Field might be the best news for a Rockies bullpen that has struggled since he has been out. In fact, the Rockies' 7.36 ERA and .395 weighted on-base average (wOBA) were MLB worst over the first 10 Rockies games that Ottavino missed.
"I told [Rockies manager Bud Black] I put as much effort as I can without having any adrenaline," Ottavino said. "A lot is dependent on how I wake up tomorrow. If everything turns out good, as we expect it to, then the next time I throw there's some talk of facing hitters, which would be on Tuesday [in Philadelphia].
"Then we'll make a determination from there. Either they'll send me out [for injury rehab] or they'll activate me, or I won't feel good and we'll back up."
Ottavino (3-0, 0.95 ERA in 27 games) has 45 strikeouts in 28 1/3 innings, has the lowest hits per nine innings rate in the National League (2.54), is second in the league in hits per nine innings (0.64) and is fourth in strikeouts per nine innings (14.29).
Ottavino, who possesses a devastating slider with action and has been throwing his fastball with precision, mixed pitches Saturday the way he would in a game in hopes of promoting his sharpness.
"I'm always concerned about that -- that's my No. 1 concern," Ottavino said. "My body feels pretty good. That's going to be in a good spot but my biggest concerns are the ability to get ahead in the count, throw my pitches for strikes and be as good as I want to be."
CarGo scratched
Rockies right fielder Carlos Gonzalez, who had hit .400 (18 for 45) with two home runs, three doubles, a triple and 10 RBIs over his previous 11 games, was scratched from Saturday's starting lineup with back spasms. Noel Cuevas took his place in right field.
After Saturday's 12-7 loss to the D-backs, Black said Gonzalez was "better, but we'll see about tomorrow -- a little doubtful for tomorrow."
In his postgame press conference, #Rockies manager Bud Black said RF Carlos Gonzalez's back spasms that led to his being scratched from the lineup were "better but we'll see about tomorrow -- a little doubtful for tomorrow."

— Thomas Harding (@harding_at_mlb) June 10, 2018
Howard called up, Musgrave placed on bereavement leave
Lefty Harrison Musgrave, who pitched two relief innings Friday night, left the club on bereavement leave to mourn the death of his grandfather. MLB allows 3-7 days of bereavement leave, and Black said Musgrave is scheduled to return Wednesday night in Philadelphia.
The Rockies called up lefty pitcher Sam Howard, the organization's No. 14 prospect according to MLB Pipeline, from Triple-A Albuquerque for what could potentially be his Major League debut. A starter-type, Howard joins righty Jeff Hoffman -- called up Friday -- for multiple-inning coverage out of the bullpen.
After a mostly solid Spring Training, Howard started slowly but is on an upward path. He is 3-4 with a 4.68 ERA in nine starts covering 42 1/3 innings at Albuquerque.
"It's gone all right. I haven't found my groove yet, cashing in quality starts week after week," Howard said. "But it's been a good learning experience, because I faced some adversity early. There were a couple of things in my delivery with [Triple-A pitching coach Brandon Emanuel] in Triple-A, but I feel stronger now."
More pitching updates
Righty Carlos Estevez, currently out with a left elbow strain, threw a 20-pitch bullpen session on Saturday and said he would need more before being a candidate to face hitters or game action.
Lefty Zachary Rosscup, who has not pitched this season because of a wart on his left middle finger that required surgery and multiple treatment strategies, faced hitters for 20 pitches on Saturday. Rosscup was limited to fastballs and changeups. The key is comfort throwing his slider -- his main pitch -- but the Rockies did not want him throwing that pitch immediately.
Both are on the 60-day disabled list.