Prospect Alzolay preparing for '19 during rehab
Right-hander strained right lat in late May, then received PRP shot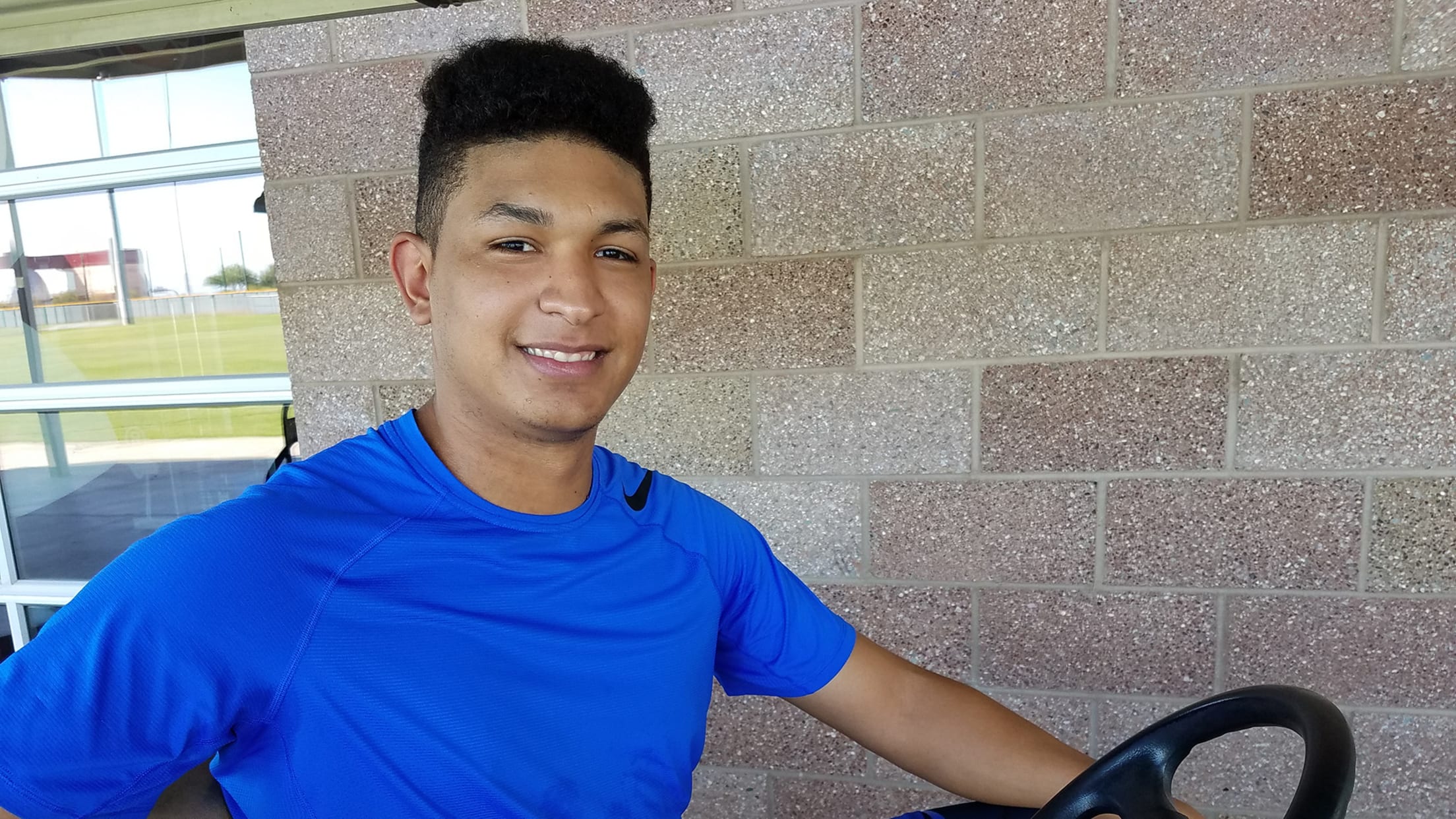 MESA, Ariz. -- It was 100 degrees at the Cubs' complex early Monday when Adbert Alzolay played catch. If the season had gone the way the right-hander wanted, he would've been preparing for the Cubs' series opener against the D-backs at Chase Field in downtown Phoenix.Ranked No. 2 on MLB
MESA, Ariz. -- It was 100 degrees at the Cubs' complex early Monday when Adbert Alzolay played catch. If the season had gone the way the right-hander wanted, he would've been preparing for the Cubs' series opener against the D-backs at Chase Field in downtown Phoenix.
Ranked No. 2 on MLB Pipeline's list of the Cubs' top 30 prospects, Alzolay has not been on a mound since May 29 when he threw four perfect innings for Triple-A Iowa.
"That was the craziest thing ever," Alzolay said Monday. "I was warming up and everything was great. My first pitch [in the fourth] was a fastball, and I felt like my velo wasn't there -- it was 90, 91 [mph]. I was like, 'OK, something is wrong.' I didn't feel pain in my arm, no pain. I threw another fastball, and I think it was a ground ball to second base, first out. The next guy, I threw a changeup and I felt something, something weird. I was like, 'OK, this is not normal.'"
Alzolay didn't throw another breaking pitch, but he was able to retire the next two batters. When he got to the dugout, he told the athletic trainer that he couldn't throw any more.
"It's so weird because I was perfect during the whole game, but in that inning, just two or three pitches I felt it," Alzolay said. "I was so frustrated. I thought maybe I didn't work hard enough to take care of my arm."
The 23-year-old couldn't raise his arm over his head. The Cubs decided in mid-June to shut Alzolay down because of a strained right lat. In his eight starts at Iowa, he struck out 27 over 39 2/3 innings.
Alzolay received a PRP (platelet-rich plasma) shot and was told not to use his right arm for a month and a half. For three months, all he could do was wear ice packs and ride an exercise bike for about 20 minutes a day.
"When I got the green light to start doing all my things, I was feeling better," Alzolay said. "Right now, I feel stronger than at the beginning. The plan is working; everything's perfect."
Two weeks ago, Alzolay began playing catch.
"The first day, it felt really, really, really bad because I didn't know where I was throwing the ball," Alzolay said. "Everybody was laughing -- they said, 'It's OK if you throw the ball over the [batting] cages.' The first five balls were all over the place, but then I was hitting my target. I almost cried."
Alzolay, who went 7-1 with a 2.98 ERA at Class A Advanced Myrtle Beach in 2017, has been on a fast track. He knew there was a chance he could've pitched for the Cubs this year. Yu Darvish was hurt. Tyler Chatwood struggled.
"I've never been in this position before," Alzolay said about being sidelined for an extended period. "In the regular season, you have some tightness, but it's tough for a couple weeks. This time, losing the whole season and being that close to making it to the big leagues and getting this setback, all the emotions came together -- the frustrations, all of that. I realized that everything happens for a reason. I have the support of all the guys from the Cubs, and my family is always behind me. My dad calls me every day and tells me, 'You're going to be OK, everything will be OK.'"
Alzolay's taking advantage of the time off and doing his homework, too. He has been watching games to study how pitchers approach hitters.
"I'm learning how they work in the big leagues," Alzolay said. "I'm not doing anything on the field, but I'm preparing my mind for the next step.
"Even my girlfriend, sometimes she gets mad at me," he said, laughing. "She says, 'You spend the whole day on baseball.' I said, 'When you have a dream, you have to do it.'"
Alzolay has started thinking about 2019.
"I've been preparing for next year all this time," Alzolay said. "I know my season is done. There's nothing I can do to be back on the mound this year, but I can prepare myself and my mind and my body to be ready for next year and Spring Training."
Alzolay has let his hair grow while rehabbing. He has a reason for that, too.
2K19 I'm getting ready for you #everybodyin .. pic.twitter.com/FZ9PFKGmPQ

— Adbert Alzolay (@adbert29) August 8, 2018
"When I'm 100 percent ready, like 100 percent healthy, I will shave it off," Alzolay said, smiling.
He can't wait.