Hechavarria DFA'd as Rays add Pham to roster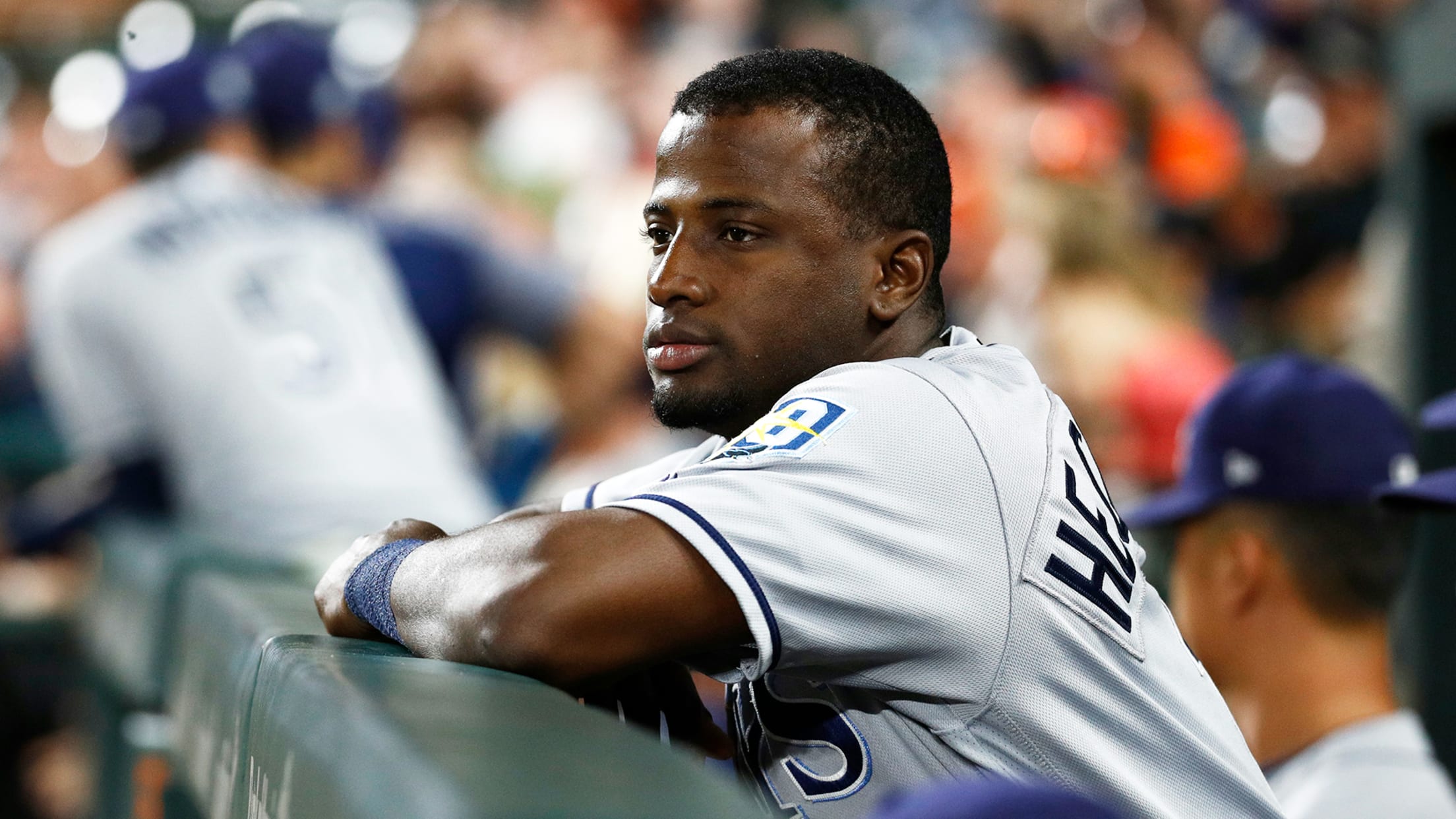 ST. PETERSBURG -- The Rays designated shortstop Adeiny Hechavarria for assignment on Wednesday."Tough decision, obviously," manager Kevin Cash said. "But I think the move had to be made] in fairness to Hech, and what has taken place here. We talked about creating a little better lane for Willy [Adames] when
ST. PETERSBURG -- The Rays designated shortstop Adeiny Hechavarria for assignment on Wednesday.
"Tough decision, obviously," manager Kevin Cash said. "But I think [the move had to be made] in fairness to Hech, and what has taken place here. We talked about creating a little better lane for Willy [Adames] when he got back up here. I think our guys did everything they could to find a [trade] match [for Hechavarria before] the Deadline. Maybe it just wasn't there.
"But Hech is deserving of being a Major League shortstop and an everyday player. He's got the track record that's proven that. So, wish him all the best. He was a lot of fun to watch for all of us over the last year."
When a player's contract is designated for assignment -- often abbreviated "DFA" -- that player is immediately removed from his club's 40-man roster, and 25-man roster if he was on that as well. Within seven days of the transaction (it was previously 10 days), the player must either be traded, released or placed on irrevocable outright waivers.
Hechavarria, who was hitting .258 with three home runs and 26 RBIs, had started just once since July 21, when he left in the seventh inning with a sore oblique. He was used three times as a defensive replacement after that. His .990 fielding percentage (minimum 200 innings) at shortstop ranked him fourth in the Major Leagues and second in the American League behind Houston's Carlos Correa (.992).
The Rays want Adames, the organization's top prospect according to MLB Pipeline, to start getting needed reps at the Major League level.
Adames immediately made the most of his opportunity, going 2-for-4 (including a homer) in Wednesday's 7-2 win over the Angels.
"I don't want to speak for Willy, but there's no doubt there's some challenges to having a really, really good player that you're taking over for," Cash said. "And I can't say enough about the way Adeiny went about his business helping Willy.
"But it had to have been somewhat awkward, knowing that we have this defender who we consider as very elite, and Willy's a young player, he's got to get his career going. ... We feel like that situation has opened up now for Willy to go play and have some peace of mind while doing so."
In addition to designating Hechavarria, the Rays activated right-hander Jake Faria off the disabled list, added outfielder Tommy Pham to the active roster and optioned Andrew Kittredge to Triple-A Durham.
Worth noting
• Blake Snell (fatigued left shoulder) threw a bullpen session on Wednesday, and all went well.
• Vidal Nuno (strained right hamstring) has "kind of plateaued" according to Cash. "We're trying to get him strengthened up," he said. "Probably a couple of days of not doing anything, then get him back out there so his arm can stay in shape."
• Chaz Roe (torn left meniscus) threw a bullpen session on Tuesday. "All felt good. Being a knee issue, that's the biggest concern, his knee felt well," said Cash. "His arm felt good all year. So make sure we're smart with the arm. ... We don't want anything with the knee affecting his mechanics. And I think he's gotten to that point for him to be throwing off the mound, that we're confident now that it's a gradual buildup."
Bill Chastain has covered the Rays for MLB.com since 2005.