AL Notebook: Twins could seek arms on market
Trout solidifying AL MVP bid; Maybin enjoys breakout stretch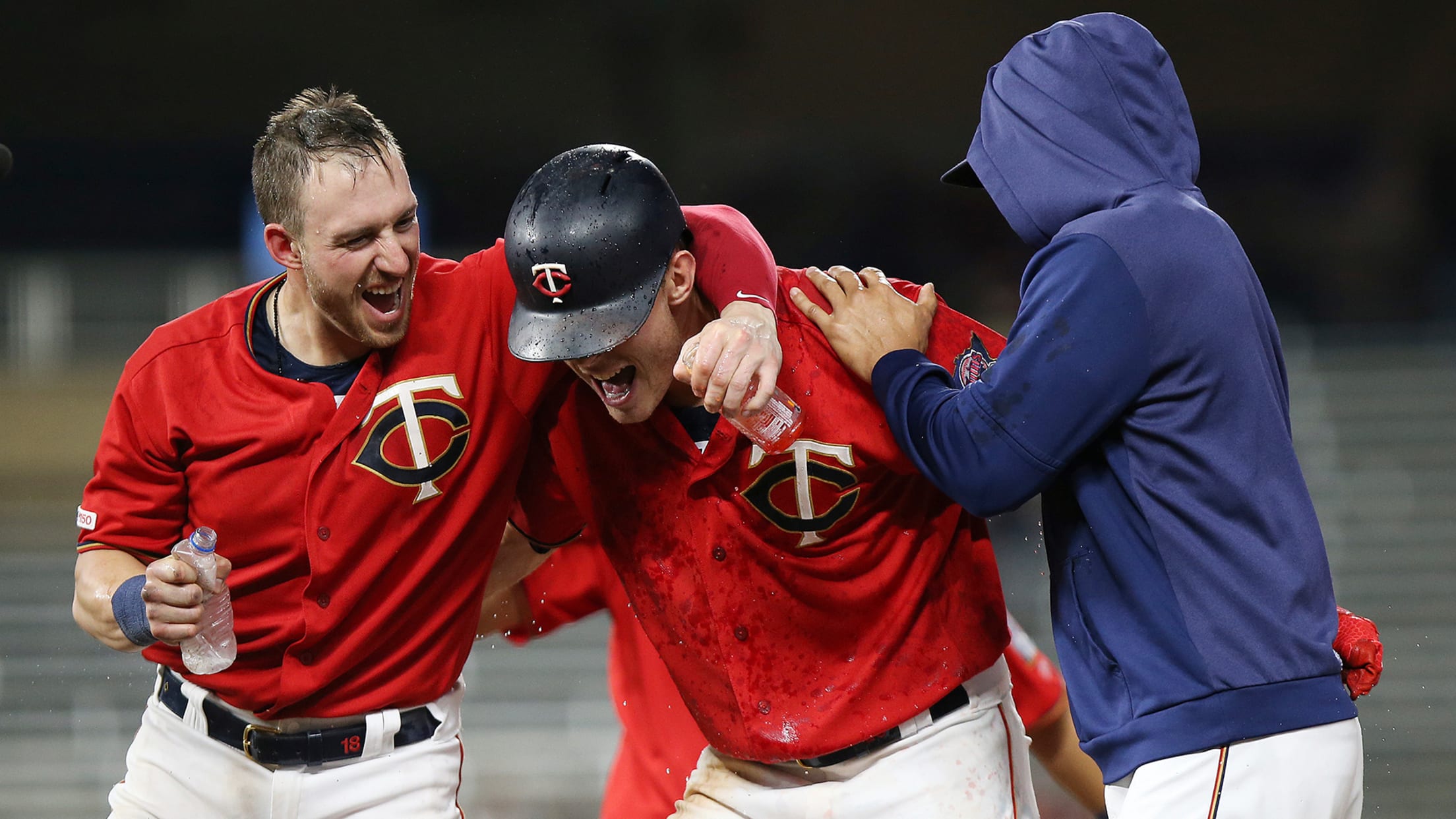 The Twins have built themselves a nine-game lead in the American League Central, and while they might currently have enough firepower to hold off the Indians for the division title, virtually nobody expects Minnesota to stand pat between now and the July 31 non-waiver Trade Deadline. Scoring runs hasn't been
The Twins have built themselves a nine-game lead in the American League Central, and while they might currently have enough firepower to hold off the Indians for the division title, virtually nobody expects Minnesota to stand pat between now and the July 31 non-waiver Trade Deadline.
Scoring runs hasn't been a problem for the Twins, who lead the Majors in runs scored and home runs entering the weekend. Seven players have already reached double digits in homers, contributing to the club's AL-best +107 run differential.
The pitching staff? That's a little more complicated.
Minnesota's staff owns a 3.94 ERA, ranking fourth in the AL, but the rotation has been top-heavy, getting stellar performances from Jake Odorizzi and José Berríos. Martin Perez was 7-1 with a 2.95 ERA on May 23, but he's 0-2 with a 7.58 ERA over his past four starts. Then there's Michael Pineda, who brushed aside a poor first month to post a 3.86 ERA over his past eight starts, holding opponents to three earned runs or fewer in each outing.
"Their rotation is good, but can you trust Perez and Pineda to keep it up all season?" one talent evaluator said. "If I was them, I would be looking to add a starter."
Similarly, the Twins' bullpen could use a boost, something the front office tried to address by taking a run at Craig Kimbrel before he signed with the Cubs. The bullpen's 4.58 ERA ranks 10th in the AL despite outstanding seasons by Taylor Rogers, Ryne Harper and Mike Morin, leading one rival executive to predict a bullpen buy or two by the Twins in the coming weeks.
"They need a reliever or two if they want to compete with the Astros and Yankees," the executive said. "If they can get the right guys, they have a legitimate shot to play deep into October."
Among the relievers expected to be available are the Tigers' Shane Greene, the Giants' Will Smith and Tony Watson, the Blue Jays' Ken Giles, Alex Colomé of the White Sox and possibly the Padres' Kirby Yates.
Not everybody is sold on the Twins being big buyers next month, however.
"I don't think big buyers; I think they'll continue to be pragmatic," an AL general manager said. "I do expect them to make acquisitions, but not with the same aggressiveness that Houston or New York will show."
Awards watch
The Angels are hovering around .500 and are in the heart of the AL Wild Card race, so no matter how well players such as Alex Bregman and Jorge Polanco have performed this season for first-place clubs, Mike Trout is well on his way to a third AL Most Valuable Player Award.
Trout leads the league or is tied for the lead in a variety of categories including runs scored (60), RBIs (56), walks (66), on-base percentage (.464), slugging (.653) and total bases (160). His 5.0 bWAR also tops all AL players.
"He's the best player in the game," one scout said. "And it's not even close."
Trout reached the 20-homer mark before the All-Star break for the fourth time in his career, and he's just the seventh player in history to have eight 20-homer seasons before his 28th birthday. The other six? Hall of Famers Frank Robinson, Eddie Mathews, Mickey Mantle and Mel Ott, plus Alex Rodriguez and Giancarlo Stanton.
Series to watch: Astros at Yankees
These two AL powerhouses renewed acquaintances Thursday night to begin a four-game series, as the Yankees look to avenge a three-game sweep at the hands of the Astros in Houston back in early April. New York slugged its way to a win Thursday night, but there's plenty of intrigue coming this weekend. Masahiro Tanaka looks to carry the momentum from his brilliant shutout against the Rays with a start on Saturday, while Justin Verlander starts Sunday for the Astros. Oh yeah, the Yankees will also welcome Aaron Judge back from the injured list Friday night and hold their annual Old Timer's Day on Sunday.
Stealth star of the week
It's difficult to call Trout stealth, so he doesn't qualify for this honor. We'll go with Cameron Maybin, whose future with the Yankees has been a topic of discussion as New York welcomes injured stars Stanton and Judge back from the injured list. In five games from Saturday to Wednesday this week, Maybin hit .474 (9-for-19) with home runs in four consecutive contests.
He had a 1.605 OPS during that stretch, helping the Yankees to a 5-0 record that included a three-game sweep of the division-rival Rays.
Mark Feinsand, an executive reporter, originally joined MLB.com as a reporter in 2001.