AL notes: Which teams could be first sellers?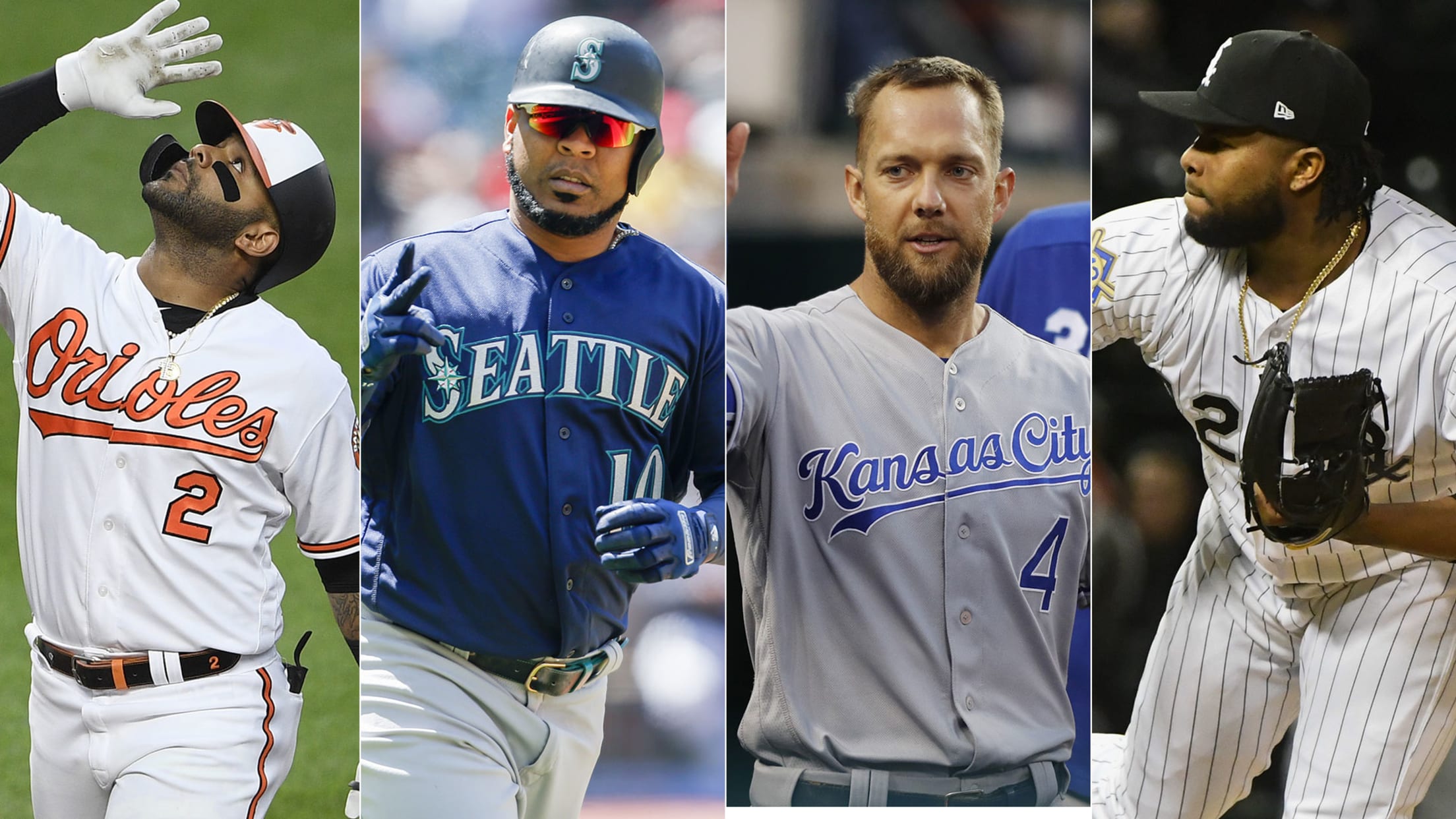 Only six of the American League's 15 teams entered Saturday with a winning record, and if the trend continues, we could see some clubs begin shopping some of their assets well in advance of the July 31 Trade Deadline. Remember, the elimination of post-waiver trades in August makes the July
Only six of the American League's 15 teams entered Saturday with a winning record, and if the trend continues, we could see some clubs begin shopping some of their assets well in advance of the July 31 Trade Deadline.
Remember, the elimination of post-waiver trades in August makes the July 31 deadline far more meaningful, giving teams a firm date by which they must decide whether they'll be buyers, sellers or stand pat.
"Your team is your team after that," an AL executive said. "There's not as much time to figure out if you're still in it; you can no longer be an August seller."
Could that result in an earlier start to the trade season? Are there advantages to selling players in May or June rather than waiting until July?
"The benefit is that you have less of a supply at that time, so if you can find a team that feels that piece you're selling is critical, doing it earlier may put you in a better position," the exec said. "The problem with that is that deadlines often motivate people more. Are you getting enough return if you're going early? You have to set your ask to a level, and if you get that price, you can't worry about whether you would have done better later."
As teams emerge as sellers closer to the deadline, more players will also become available, creating more of a buyer's market. It's simple supply and demand.
So which teams could become the first sellers of the season? Let's examine the contenders:
Blue Jays
Toronto would seem to be the team with the most to gain between now and July 31, with several notable players who could wind up on the trading block. Justin Smoak and Eric Sogard are slated to become free agents at the end of the season, while Marcus Stroman, Ken Giles and Aaron Sanchez all have one more year of club control.
"They're in a tough division, and the way they've behaved, it feels like they're in a rebuild," one AL executive said. "They cut payroll significantly, they're not great on paper and they went with bargain-bin type guys this winter. It seems they're setting themselves up to make trades. I wouldn't be surprised if they were fairly aggressive."
One common concern for potential sellers is drawing fans to the ballpark during the second half of the season, but the promotion of Vladimir Guerrero Jr. to the Majors should keep fans in Toronto interested in the Blue Jays regardless of their final record.
Orioles
Baltimore is clearly in the beginning stages of a rebuild, but first-year general manager Mike Elias doesn't have a whole lot to sell to contending teams. Mychal Givens is inexpensive ($2.15 million this season) and has two years of arbitration eligibility remaining, while Jonathan Villar (free agent after 2020) could be a useful piece for a team.
"I think they would move Villar tomorrow," an AL exec said. "They'd move Givens in the right deal. Relievers fetch a lot in return, but everyday players sometimes don't. Look at what J.D. Martinez brought back (to the Tigers in his 2017 trade), and he's a superstar."
Trey Mancini is off to a terrific start, and although he won't even be arbitration-eligible until next offseason, his three years of club control might not be enough to keep him in an Orioles uniform by the time the team is ready to contend. "Their win cycle isn't close," the exec said.
Mariners
April's early surprise team, the Mariners have come back to earth, entering Saturday at 20-21 after starting out 13-2. GM Jerry Dipoto is the most aggressive trader in the game, so it would not surprise anybody to see him get aggressive during the next couple months.
"Seattle has corrected quite a bit," an AL executive said. "They'll wait another month to see where they are and then make a decision."
Edwin Encarnacion is having a superb season, potentially offering a big power bat to a contender. Encarnacion is making $20 million this season and has a $20 million team option for 2020 with a $5 million buyout. Jay Bruce has also gotten off to a solid start, though he's owed $14 million next season after earning the same salary in '19.
Athletics
Billy Beane and David Forst have historically been a "seize the moment" tandem, becoming buyers when the opportunity to make a run at a postseason spot presents itself. Currently in last place in the AL West, the Athletics still have time to turn things around, but if they are languishing near the basement come late June, they could become sellers.
As noted earlier, relievers often bring back sizeable returns come June and July, so Blake Treinen (free agent after 2020) and Joakim Soria ($6.5 million this season and $8.5 million in '20) could become attractive trade chips. Ditto for infielder Marcus Semien, who has one more year of club control after '19.
Royals
Kansas City owned the second-worst record in the AL entering Saturday, but the cupboard is relatively bare when it comes to summer trade chips. Chris Owings, Martin Maldonado, Lucas Duda and Brad Boxberger are the only impending free agents, but none of whom figure to bring back a hefty return. Wily Peralta would help a lot of bullpens, and he has a mutual $7 million option for 2020.
Jorge Soler ($4.6 million in 2020) could be interesting, but his salary isn't one the Royals are itching to move. Ian Kennedy has taken to his bullpen role, but he makes a ton of money (he's owed about $30 million through next season), so Kansas City would have to eat a big chunk of that to move him.
One name to watch: Alex Gordon. During our recent poll of 25 big league executives, one named Gordon as the biggest name that will be moved before July 31. Gordon, 35, has been a lifelong Royal and owns 10-and-5 rights, meaning he can reject any trade.
Angels
The Angels are off to another disappointing start, though the return of Shohei Ohtani -- at least his bat, anyway -- could help jump-start their lineup. Matt Harvey, Trevor Cahill, Cody Allen and Jonathan Lucroy are all in their walk years, though none of them are having good years to date.
Whether the Angels would want to sell early is also in question, as one executive noted, "They seem stubborn and should be more open to selling than they might be." The Halos' best trade chip might be Kole Calhoun, who has a $14 million option ($1 million buyout) for next season.
Tigers
Like so many others in the AL, Detroit is lingering in the .500 area, which could make it pause when it comes to selling. Despite his subpar start, Nicholas Castellanos is the most obvious name to watch, as he's slated to hit the free-agent market this offseason and recently made an agent change, hiring Scott Boras. Closer Shane Greene, who has one more year of club control, could be one of the many relievers made available in the coming weeks and months. "He's been put out there a bunch of times," an AL exec said.
White Sox
Chicago was supposed to be coming out of its rebuild by 2019, but the White Sox have started out the season in uninspiring fashion. Jose Abreu is headed for free agency this offseason and could be one of the biggest bats out there come July. Yonder Alonso, Welington Castillo and Nate Jones all have options for '20.
But the biggest asset the White Sox have in terms of potential trades is closer Alex Colome, who is making about $7.3 million this season and has one year of arbitration eligibility remaining.
Socking it to 'em
The Red Sox have turned things around since their dreadful 6-13 start, improving their record to 20-19 heading into Saturday. Several players have bounced back from a poor first few weeks, but one executive believes that Michael Chavis' arrival – which came after Boston was 7-13 – has been key for the veteran ballclub and its resurgence.
Chavis seems to have invigorated Boston's lineup and clubhouse, posting a 1.060 OPS with six home runs in his first 17 games while filling in at second base for the injured Dustin Pedroia.
"Chavis coming up and performing has been huge; second base has been such a black hole while Pedroia has been hurt," the executive said. "For him to come up and play a respectable second base, he's been better than expected. There's probably some correction coming, but he's been important for them."
The 23-year-old's plate discipline has caught the eyes of many around the league; he entered Friday with a .423 on-base percentage and he's making good decisions on an at-bat by at-bat basis. In an age where teams have so much scouting information on players before they even reach the Majors, Chavis has burst onto the scene with the poise of a veteran.
"He's been so good; the quality of his at-bats, the power output," the executive said. "Teams know a lot more about a player when he comes up, so to watch him spit on good pitches out of the zone, look for his pitch to drive, he's had a veteran approach. It's impressive."
Series to watch: Angels-Twins
The Twins entered the weekend with the best record in baseball, but next week, Target Field will get its first and only look at the best player in the game. Mike Trout and the Angels visit Minnesota for three games, though the two teams will see each other again next week when the Twins head west. In 19 career games in the ballpark, Trout has a .280/.382/.533 slash line (his career line is .306/.418/.573) with four homers in 89 plate appearances.
Stealth star of the week
Hunter Pence might be a part-time player for the Rangers, but the 36-year-old has made the most of his opportunities. During a four-game stretch this week, Pence went 6-for-9 with three home runs, 10 RBIs and an eye-popping .667/.769/1.889 slash line -- and it would have been better had Josh Reddick not robbed him of a three-run homer Thursday. Pence, who signed a Minor League contract with Texas before making the club this spring (and earning a $2 million salary) is hitting .343/.416/.687 with six homers and 23 RBIs in 77 plate appearances this season.
Mark Feinsand, an executive reporter, originally joined MLB.com as a reporter in 2001.