Top takeaways from first week in AL West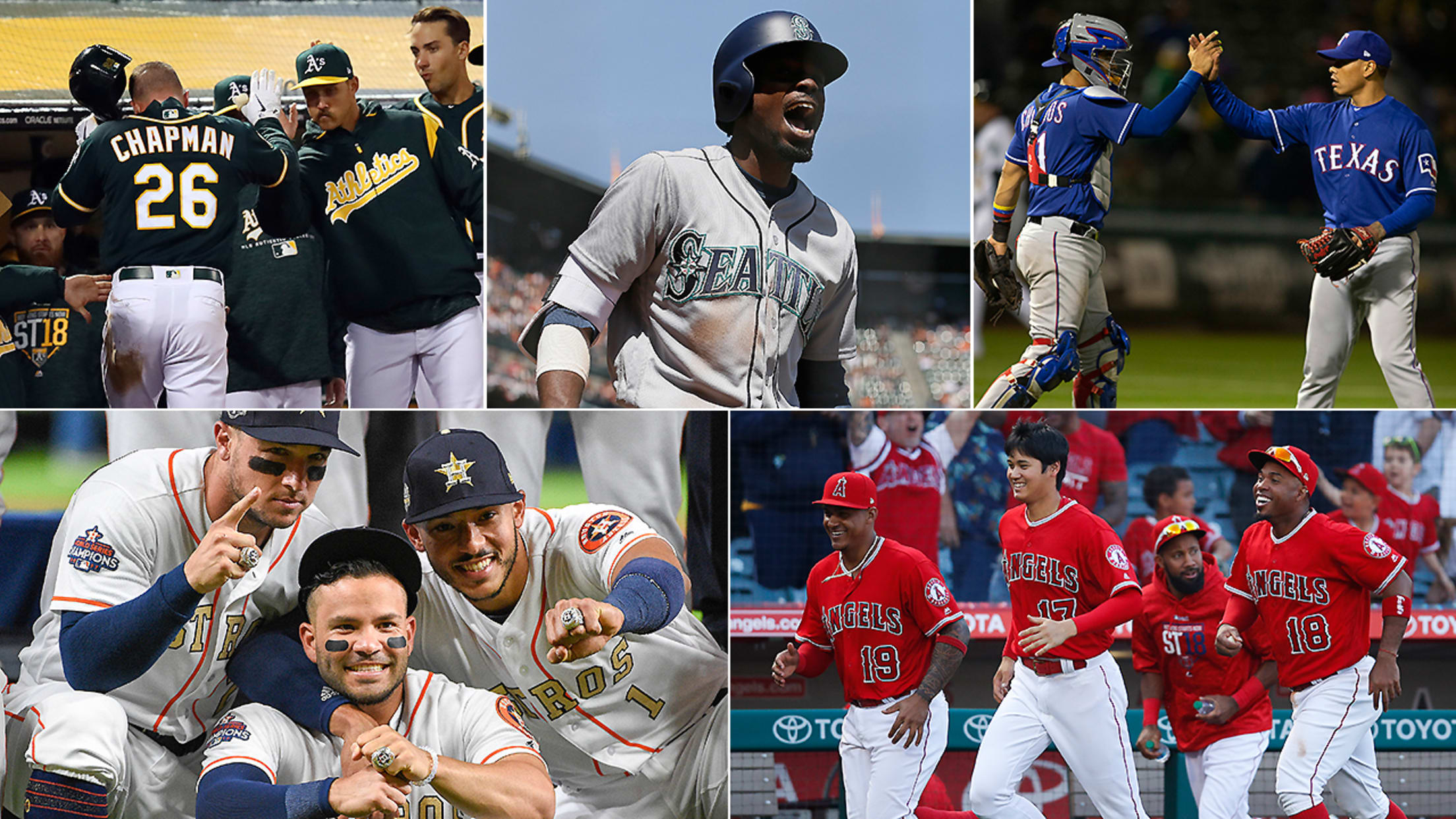 The Astros are rolling, the Angels and Mariners are holding their own despite some injury issues, the young A's are battling and the Rangers are struggling. A week into the season, the American League West is playing out the way many people figured it would.The defending World Series champion Astros
The Astros are rolling, the Angels and Mariners are holding their own despite some injury issues, the young A's are battling and the Rangers are struggling. A week into the season, the American League West is playing out the way many people figured it would.
The defending World Series champion Astros have blasted their way to a 6-1 record, taking three of four games from the Rangers and sweeping the Orioles. Their starting pitching has been as good as advertised and they're scoring runs in bunches.
The Angels, with Shohei Ohtani living up to expectations, and Mariners figured to be in the playoff chase and have gotten off to solid starts. Sean Manaea has been the bright spot in a thin A's rotation. As for the Rangers? A suspect staring pitching rotation could use the offense finding a way to score some runs.
Astros
What we know now: Coming off a World Series title, the Astros have shown no signs of complacency. The Astros, who a year ago were wondering if they could beat the Rangers, ran roughshod over them in Arlington last week. Even without Yuli Gurriel (disabled list), the offense is averaging six runs per game and they've giving up only 3.3 behind the best rotation in baseball. The bullpen has even been solid early on.
What we still don't know: Lefty Dallas Keuchel hasn't pitched poorly in his two starts, but he's certainly not as sharp as he was to begin last season. In two starts, he's allowed 12 hits, five walks and four earned runs in 11 innings. It will be interesting to see how manager AJ Hinch handles his bullpen going forward. Brad Peacock pitched the final three innings Wednesday to get the win, with Hinch sticking with the hot hand instead of using closer Ken Giles in the ninth. We saw in the postseason last year how unconventional Hinch can be with his relievers, but how will his bullpen usage evolve?
The bottom line: Things couldn't have gone much better for the Astros in the first seven games. Yes, they could have won the only game they lost -- a 5-1 defeat to Doug Fister and the Rangers last Friday -- but they'll take six of out seven every time. It's hard to imagine this team, if it stays healthy, not running away with the division once again.
Mariners
What we know now:Dee Gordon is indeed going to be a spark at the top of a potent lineup that has seen Gordon, Robinson Cano, Jean Segura and Mitch Haniger all come out swinging well. The Mariners have hit .271 in going 3-3 to start the year, but injuries have already chipped away at their bullpen and lineup and this is a team that will need to hit on all cylinders to win consistently. The Mariners dropped their last two while going 3-for-29 with runners in scoring position.
What we still don't know:Felix Hernandez remains a big question as the long-time ace looked very good with 5 1/3 scoreless innings in his debut vs. Cleveland, then gave up eight runs in four innings in a bad loss to the Giants. The Mariners need starting pitching to step up and while James Paxton, Mike Leake and Marco Gonzeles have been solid, Hernandez could be a difference-maker one way or the other.
The bottom line: The Mariners have the potential to compete for a playoff spot if all goes well, but they don't have the depth to survive another wave of injuries. Having three starters -- designated hitter Nelson Cruz, catcher Mike Zunino and left fielder Ben Gamel -- on the disabled list to start the year has already put pressure on the lineup, and the bullpen has lost some key members as well. This club needs to get healthy and stay healthy to stay in it.
Angels
What we know now: Ohtani is the real deal. The Japanese star, whose disappointing spring made some wonder if he was ready for the big leagues, is hitting .429 with two homers and five RBIs in three games at designated hitter. He even has a quality start on the mound. Not a bad week for the Japanese Babe Ruth. The Angels are carefully monitoring Ohtani's workload to make sure he doesn't overextend himself this season.
What we still don't know: It will be interesting to see what kind of workload Ohtani will handle going forward. He didn't play the day before or after he started on the mound. Of course, health remains an issue for the Angels. Pitchers Andrew Heaney and Matthew Shoemaker are on the shelf, testing the pitching depth. Manager Mike Scioscia hasn't named a closer, but that was a revolving door last season.
The bottom line: Considering the injuries they have -- that includes newcomer Ian Kinsler -- the Angels have to like where they're at. Ohtani looks like an impact player and figures to only get better. The schedule remains favorable for the next couple of weeks, which could allow them to get healthy.
Rangers
What we know now: The Rangers are going with Keone Kela as their closer and their bullpen roles are starting to fall into place. They have a set rotation, but their starters are not yet giving at least six innings and taking some pressure off the bullpen. The Rangers are without center fielder Delino DeShields for four to six weeks because of surgery on his left hand and that's going to hurt their offense. It forces them to move Shin-Soo Choo to the top of the lineup instead of the middle of the order, where he could protect the hitters in front of him and set up the bottom of the order as a second leadoff hitter.
What we still don't know: What is exactly in store for Bartolo Colon. The Rangers want to keep him to protect their depth, but it's unclear how they will do that and what his role will be. Also unknown is how Drew Robinson and Carlos Tocci will handle the daily offensive and defensive demands in center field. The Rangers' outfield defense is still an area of concern, and the club is still waiting for Rougned Odor to figure things out offensively.
The bottom line: The Rangers had the unenviable task of starting the season against the Astros and lost three of four. But they also stumbled in two of their first three games against the Athletics as their offense has yet to break out. The Rangers are working overtime to sort out their pitching, but they need more offense. After seven games, they rank in the bottom five in the American League in batting average, on-base percentage and slugging percentage. To be a contender, this team needs to be an offensive powerhouse.
Athletics
What we know now: A revamped bullpen has been fantastic. So has Manaea, who yielded just one run in each of his first two starts across 15 2/3 innings. The defense, though dreadful in a four-game series against the Angels, has been better of late, while the offense is learning to get by when the long ball isn't there.
What we still don't know: How the A's rotation will fare over time -- or even how it will look by month's end. The A's will do some roster shuffling in the coming weeks while working around three off-days in an 11-day span, and veteran right-hander Trevor Cahill -- building his innings at Triple-A -- could be in the mix when they need a fifth starter again.
The bottom line: The offense needs to kick it up a notch to keep these A's afloat. Questions still remain within the rotation, and the bullpen will quickly tire if continually asked to pick up so many innings.