Almora's time as everyday player 'on the horizon'
Bryant robs home run during batting practice; Tazawa to report Monday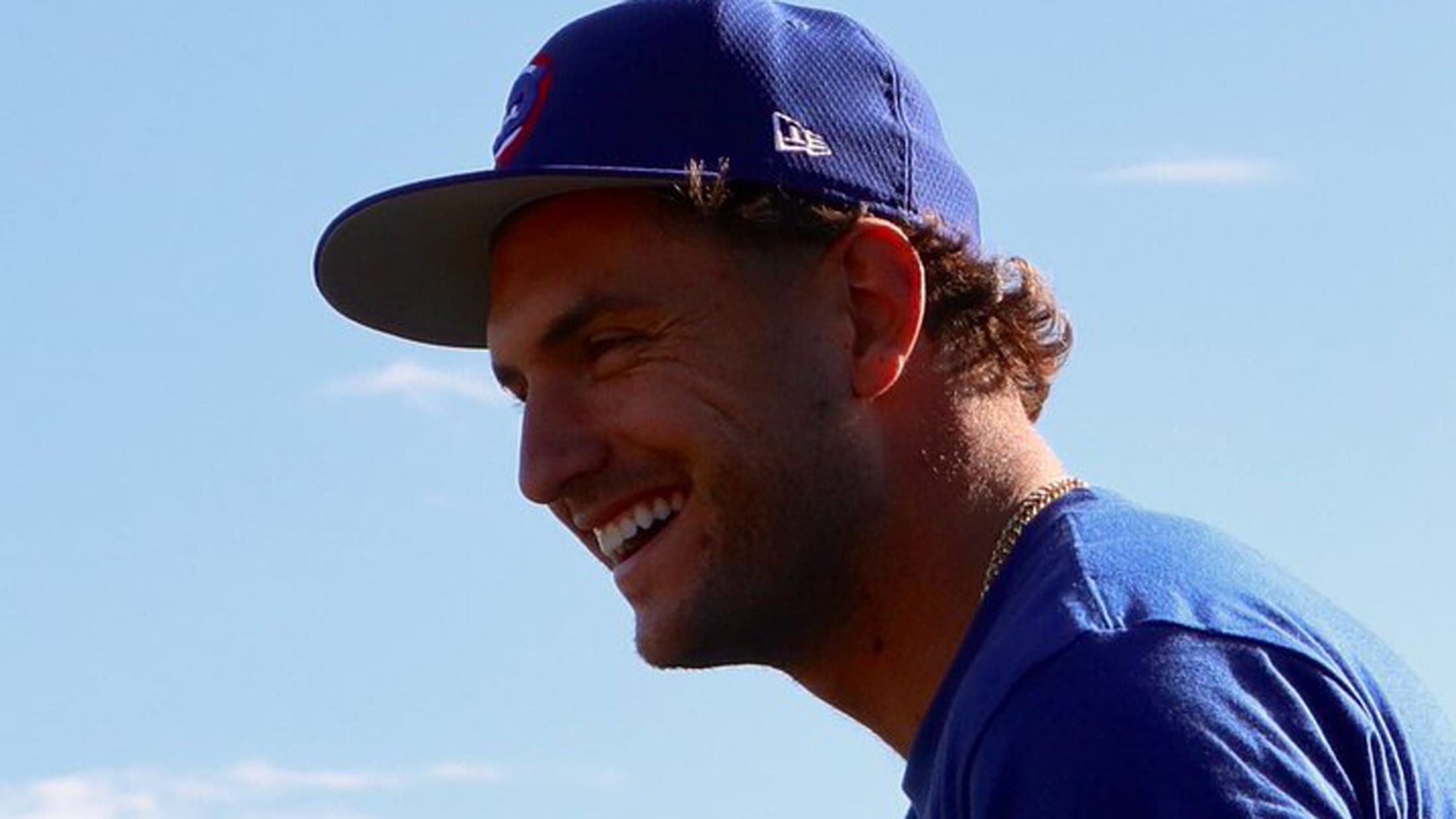 MESA, Ariz. -- Cubs manager Joe Maddon believes center fielder Albert Almora Jr. will soon grow into being an everyday player. That, however, is not likely to be the case when the regular season begins.The 24-year-old Almora, who was in camp on Friday ahead of Sunday's reporting date for position
MESA, Ariz. -- Cubs manager Joe Maddon believes center fielder Albert Almora Jr. will soon grow into being an everyday player. That, however, is not likely to be the case when the regular season begins.
The 24-year-old Almora, who was in camp on Friday ahead of Sunday's reporting date for position players, will be one piece of Chicago's outfield puzzle. Maddon said he plans on taking a similar approach as last season, meaning the playing time will be managed based on matchups, planned rest and ensuring that the handful of outfield options are each getting enough plate appearances.
:: Spring Training coverage presented by Camping World ::
"He's still young," Maddon said. "And I know, when you are young, impatience, being impetuous, is really a part of that age bracket. His time to be an everyday player is probably on the horizon. But among the mix that we have right now, and if everybody is well, you're going to still see a lot of what we did last year, trying to put them in there against their best matchups and making sure that everybody is being taken care of and developed."
Maddon said the goal is to have Almora continue to show improvement against right-handed pitching in order to earn more days in the starting lineup. Last season, the center fielder's strong start (.332 average and .830 OPS through June) was followed by a second-half slide (.232 average and .548 OPS from July 1 through the end of the year). For the season, Almora had a .684 OPS and 84 wRC+ against righties, compared to a .742 OPS and 101 wRC+ against lefties.
Overall, Almora hit .286 with five homers, 30 extra-base hits, 41 RBIs and a .701 OPS in 152 games in 2018.
"Every year, every offseason is different and you learn a lot about yourself every year," Almora said. "Especially myself, I'm still considered young. I'm 24 years old and I'm learning a lot about myself. But, I feel great. I worked at every aspect."
Back to baseball
Much of the first week of Cubs camp has been dominated by off-field issues. Atop the list has been the situation surrounding shortstop Addison Russell, who spoke with the media on Friday for the first time since being suspended last year for violating MLB's Domestic Violence Policy.
Maddon admitted that the week has been draining.
"Absolutely," Maddon said. "We are here to play baseball. I know we're part of the social fabric of this country and people watch us all the time, and we're very popular as baseball players. But I would prefer to get back to just talking about baseball. That's what we're here for. We're here to entertain."
The manager said he was "impressed and proud" of how Russell handled the press conference.
"Not easy for him to do," Maddon said. "I thought he held up really well. I talked to him afterwards. I talked to him again today. I gave him a big ol' hug, because I know that's probably the most difficult thing he's ever done publicly, or maybe ever done period. So I give him a lot of credit for that. I thought his answers really addressed the situation well. I also believe a moment like that can be a tremendous growth moment for a human being."
Bryant robs Almora
With his last swing of batting practice today, Almora drove a pitch to deep left-center field on one of the Cubs' spring diamonds. As the ball left Almora's bat, he yelled out, "You better catch that!"
Kris Bryant was roaming the outfield at the time and broke back to the fence, where he made a leaping catch to rob a would-be home run. His teammates erupted in cheers and Almora greeted him with a fist bump at the edge of the infield.
"Did you get that on camera?" Bryant quipped to reporters.
Worth noting
• Mike Montgomery is dealing with stiffness in his throwing shoulder, according to Maddon. The lefty threw long toss during Friday morning's workout and could be back on a mound within the next few days.
• Right-hander Junichi Tazawa, who was signed to a Minor League contract with an invitation to Spring Training, has not been in camp yet due to visa issues. He is expected to arrive on Monday.