Pujols confident he'll be able to play 1st in '19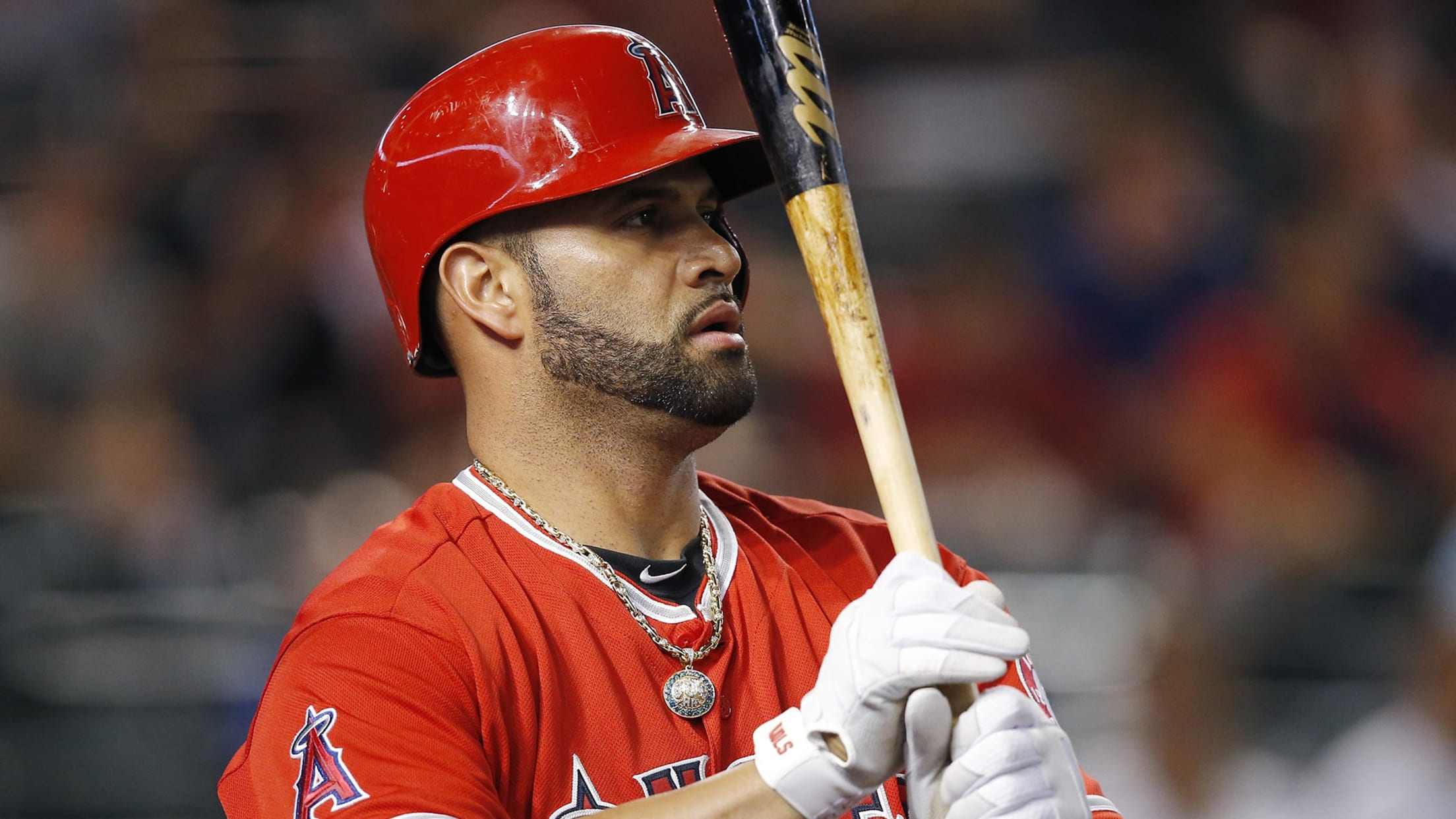 Los Angeles Angels' Albert Pujols steps in to bat against the Arizona Diamondbacks during the first inning of a baseball game Tuesday, Aug. 21, 2018, in Phoenix. (AP Photo/Ross D. Franklin) (Ross D. Franklin/AP)
ANAHEIM -- The Machine is in the shop.Jose Pujols, who underwent season-ending surgery on his left knee less than two weeks ago, is scheduled to undergo a second procedure on Wednesday to remove a bone spur from his left elbow. The 38-year-old slugger also received an injection on Friday to
ANAHEIM -- The Machine is in the shop.
Jose Pujols, who underwent season-ending surgery on his left knee less than two weeks ago, is scheduled to undergo a second procedure on Wednesday to remove a bone spur from his left elbow. The 38-year-old slugger also received an injection on Friday to help relieve tendinitis in his right elbow.
While several weeks of physical therapy loom for Pujols, he said he's hoping to be cleared to begin his normal offseason regimen by late November. The desire for a mostly unrestricted winter led Pujols to have the knee surgery on Aug. 29 rather than wait until the end of the season to address the issue.
"I could have easily played the rest of the season, but I felt that it was just getting a little bit worse and worse, and we had to take care of it," Pujols said Monday. "It wasn't too much the pain, it was just uncomfortable. There were several times when I had to get it drained. It was just time to shut it down, and we made that decision. You have to look at the long run. I have to be able to get myself ready for next year. On top of that, I have to take care of my elbow and little things that were bothering me, too."
Pujols has been hampered by lower-body injuries since signing a 10-year, $240 million contract with the Angels in December 2011. He underwent right knee surgery after the 2012 season and missed the final two months of the 2013 campaign after tearing the plantar fascia in his left foot. Pujols also required surgeries on his right foot after the 2015 and '16 seasons.
He finally enjoyed a rehab-less offseason last year, allowing him to focus on his conditioning and prepare to play more first base to free up at-bats for Shohei Ohtani at designated hitter. While Pujols managed to make 70 starts at first base in 2018 -- more than his previous two seasons combined -- he also had to manage discomfort in his knee throughout the season and received a platelet-rich plasma injection after landing on the disabled list in July with left knee inflammation.
"He played first base a lot this year," manager Mike Scioscia said. "I think he played well at first base. I think, if anything, you're worried about the impact it had on his knee playing first base."
Despite the physical toll that the heavier workload at first base might have taken on his body, Pujols said his goal is to try to play as many games there as he can next year. The Angels will need him to, as Ohtani is expected to undergo Tommy John surgery and will likely be limited to hitting in 2019. Unless Ohtani learns a defensive position, Pujols will have to play first base for both of their bats to be in the Angels' lineup on a regular basis.
"Nobody expected me to play 70-plus games this year, and I did it," Pujols said. "I could have played more. If I'm healthy, I expect myself to play 162 games. That's who I am. I want to be on the field. I love to be on the field. I think I'm a Gold Glove first baseman. I showed that I can still do it out there, and I love that.
"Whether we got Shohei this year or not, every year I get myself ready to play first base because that's my position."
Pujols, who is owed $87 million over the final three years of his contract, finished the 2018 season batting .245 with a .700 OPS, 19 home runs and 64 RBIs in 117 games for the Angels.
Worth noting
• Tyler Skaggs (left adductor strain) is inching closer to returning to the Angels' rotation. He is scheduled to throw a simulated game in Arizona in the next couple of days and is "feeling much better," according to Scioscia. Nick Tropeano's rehab from right shoulder inflammation, meanwhile, has stalled.
"Right now, he's not close to returning," Scioscia said.
• The Angels are expecting to call up right-hander Parker Bridwell from Triple-A Salt Lake. Bridwell went 10-3 with a 3.64 ERA for the club last season, but he was limited to only seven starts between the Majors and the Minors in 2018 due to injury. The 27-year-old underwent arthroscopic surgery to remove loose bodies from his right elbow and received a stem-cell injection earlier this season.