Cobb slated for Friday start against Twins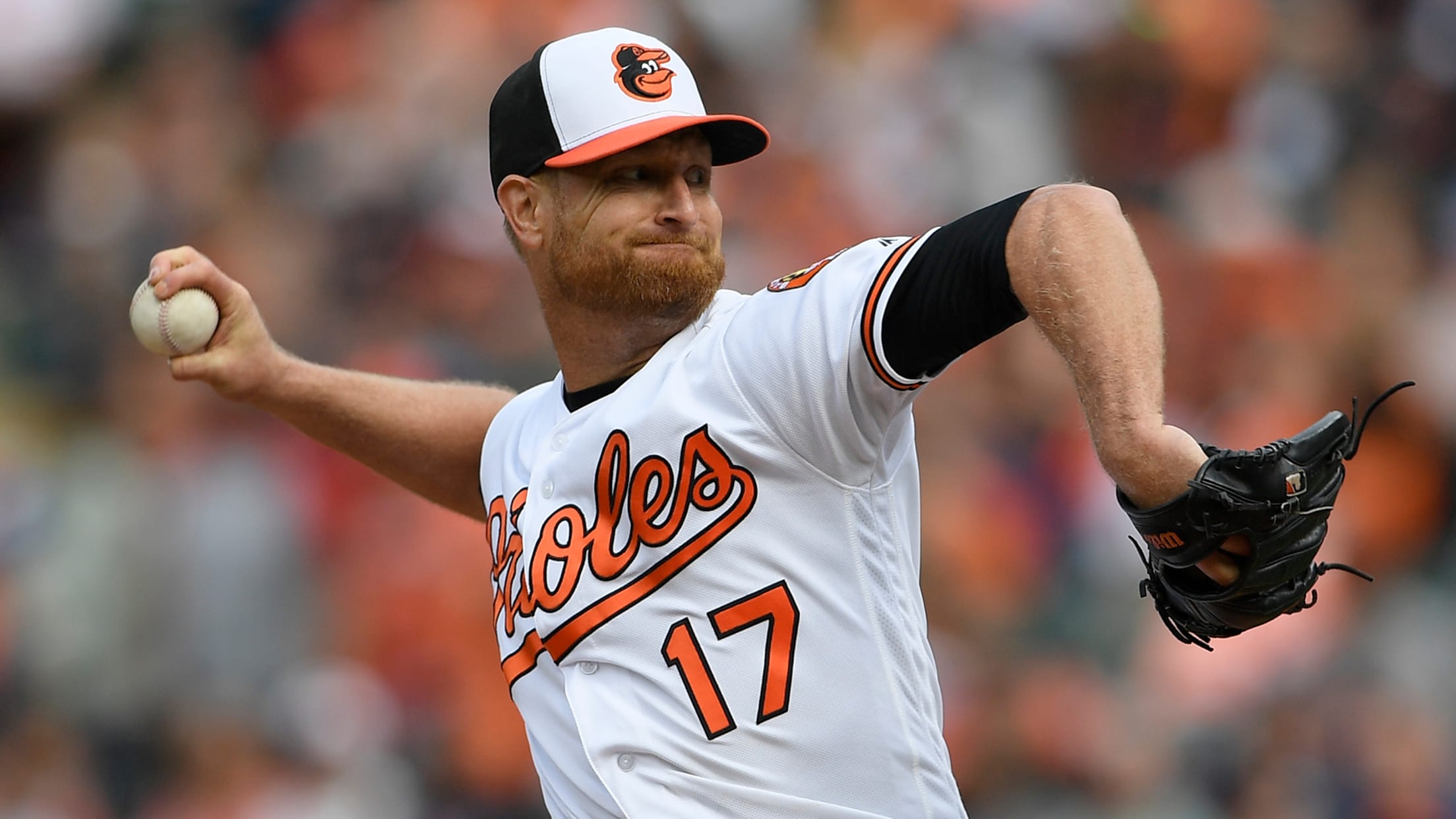 ST. PETERSBURG -- The Orioles are getting one of their top starters back just about as quickly as they'd hoped. After throwing around 50 pitches Tuesday afternoon, Alex Cobb is on track to come off the injured list to start Friday against the Twins. Baltimore manager Brandon Hyde confirmed the
ST. PETERSBURG -- The Orioles are getting one of their top starters back just about as quickly as they'd hoped. After throwing around 50 pitches Tuesday afternoon, Alex Cobb is on track to come off the injured list to start Friday against the Twins.
Baltimore manager Brandon Hyde confirmed the plan after Cobb threw between 25-30 pitches of a simulated game at Tropicana Field and finished with a bullpen session. The veteran righty has been inactive since April 9 with a lumbar strain.
"Alex felt really good," Hyde said. "He should be ready to go. No problem with the back and he looked really sharp."
Cobb's return will likely bump from the rotation rookie John Means, who was impressive during two spot starts, posting a 2.25 ERA over the eight innings. Baltimore plans to keep right-hander Dan Straily in the No. 5 slot, lining Dylan Bundy, Andrew Cashner, Cobb, and David Hess in front of him.
Cobb has made just one start in 2019 -- a 5 2/3-inning, two-run outing in the club's home opener against the Yankees.
Those were the days
The walls of the visiting manager's office at Tropicana Field are lined with framed photos of each current Major League skipper. Hyde's photo is very recent -- a snapshot of him arguing after receiving his first career ejection Monday during the club's 8-1 win at Boston.
This is Hyde's first visit to St. Pete as a first-year skipper but his managerial debut actually came at Tropicana Field when he was acting manager for the Marlins in 2011. Hyde held the title for one day, June 19, after Edwin Rodriguez resigned amid a nine-game losing streak. Hyde was Rodriguez's bench coach and returned to the role under Jack McKeon later in the week.
But for one "strange" day, Hyde was at the helm for the first time.
"Pretty vivid," Hyde said. "We lost 2-1 to [former Rays manager] Joe Maddon. James Shields vs. Chris Volstad. That's a pretty cool memory I have."
Rodriguez was on the job less than a year when he quit unexpectedly; the Marlins had lost 18 of their past 19 games at the time when Hyde walked into the manager's office that day to find it empty. Two hours before first pitch, the lineup card was his.
"Edwin decided without telling anybody," Hyde said. "Next thing you know, we find out he wasn't here. He'd taken off. We had a little coaching staff meeting, and here we go.
"Whenever we're here," Hyde said. "I definitely think about that day."
From the trainer's room
• Richard Bleier resumed throwing after receiving an injection meant to mollify the tendinitis in his left shoulder, which he'll continue to test in a scheduled bullpen Wednesday. The left-hander went on the IL Thursday and must graduate to extended spring training games before embarking on an official rehab assignment. Bleier had struggled to rediscover the shape of his sinker in the early going, coming off June 2018 lat surgery.
• Nate Karns (right forearm strain) appears on track to come off the IL as early as this weekend after throwing a successful bullpen Sunday. Karns has another session scheduled for Wednesday. After two years plagued by arm injuries, the diminished velocity on Karns' fastball qualified as a cause for concern last week, prompting the precautionary IL stint.
"I wasn't overly concerned at the beginning. It wasn't anything we were really scared of," he said. "If everything keeps trending the way it is, we should be right on schedule."
• Mark Trumbo is hopeful to begin baseball activities soon after spending several weeks building strength in his surgically repaired right knee. Trumbo appeared in six Spring Training games but ultimately began the season on the 60-day IL. Trumbo, 33, is in the final season of a three-year, $37.5 million contract.
"I'm making good progress," he said. "I've been throwing a lot, but I haven't really started hitting yet. I think that'll come at some point down the road, but I think we really want to get on top of some of those weaknesses that kinda were holding me back."
Worth noting
Chris Davis was a late scratch from the Orioles lineup on Tuesday due to illness. Trey Mancini started at first base and Joey Rickard got the start in right field, hitting sixth in Davis' place.
Summer is here
Two days after the acclaimed series' much-anticipated finale is scheduled to air, fans will be able to get their Game of Thrones fix at Camden Yards. The Orioles released details for their upcoming Westeros-themed Game of Thrones Night, set for May 21 against the Yankees.
The event is one of several theme nights scheduled throughout 2019, including Star Wars Night, A League of Their Own Movie Night, Yoga at The Yard, LGBTQ Pride Night, Bark at Oriole Park, Father's Day Catch on the Field and more.