Colome to open season as White Sox closer
Rodon ready for Opening Day start; Burger encouraged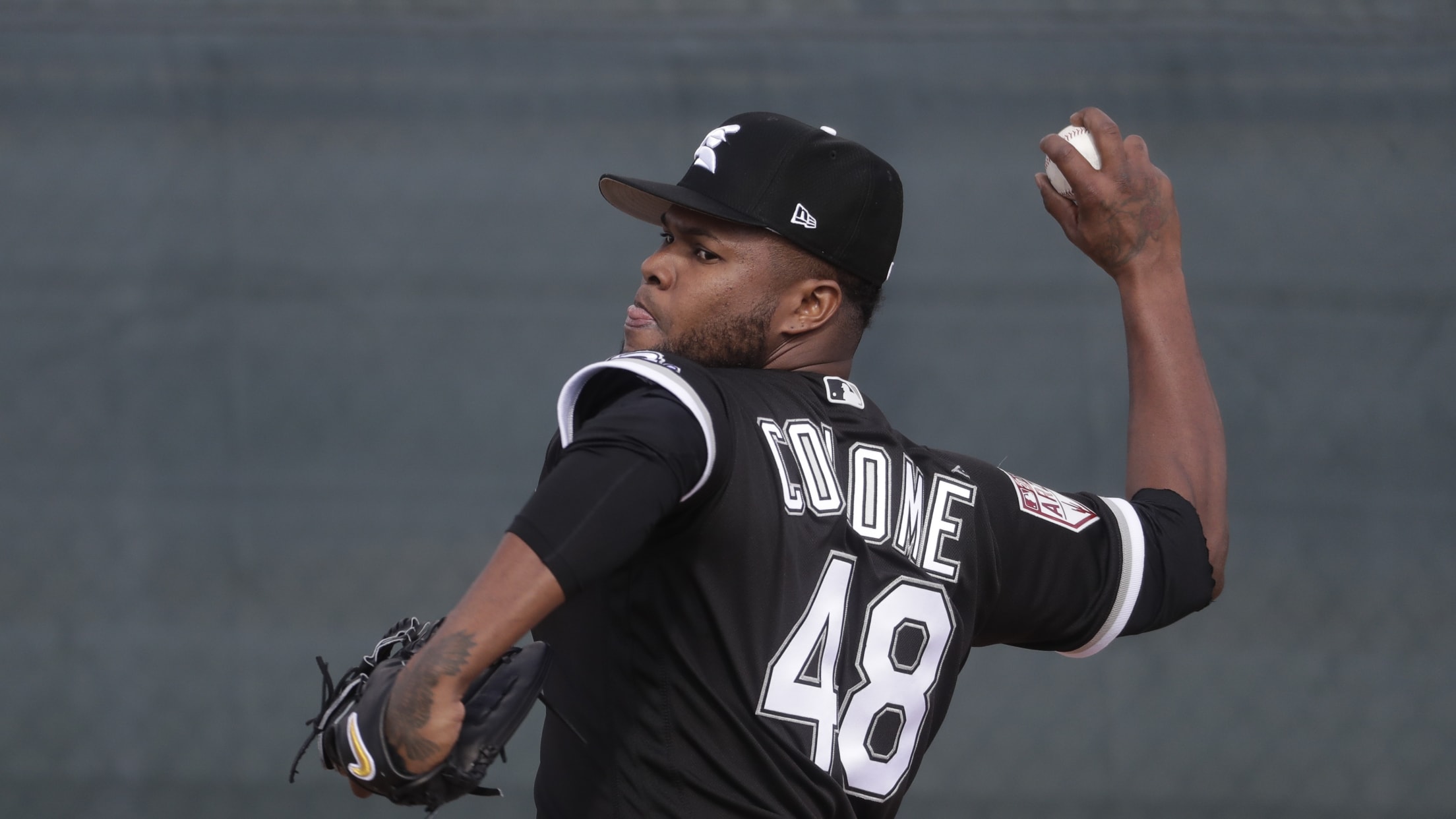 TEMPE, Ariz. -- Alex Colomé will open the 2019 season as the White Sox closer, as announced by manager Rick Renteria prior to Friday's 5-4 Cactus League loss to the Angels at Tempe Diablo Stadium. "It does suit him pretty well," said Renteria. "He's done a nice job."
TEMPE, Ariz. -- Alex Colomé will open the 2019 season as the White Sox closer, as announced by manager Rick Renteria prior to Friday's 5-4 Cactus League loss to the Angels at Tempe Diablo Stadium.
"It does suit him pretty well," said Renteria. "He's done a nice job."
Colome, 30, topped the American League with 47 saves for the Rays in 2017. He served primarily as a setup man in 2018 after being traded to the Mariners, but he prefers the ninth-inning adrenaline rush with the game on the line.
The main late-inning White Sox core figures to be Kelvin Herrera, Nate Jones and Jace Fry setting up for Colome. Herrera has been working his way back from a Lisfranc ligament tear in his left foot, which ended his '18 season on Aug. 26. The White Sox are happy with where Herrera is at -- with his velocity inching up, and Renteria mentioning they know he has more.
Jones, the longest-tenured White Sox player on the roster, has struggled during Spring Training with eight runs allowed over 5 2/3 innings on 12 hits and four walks. The right-hander pitched a scoreless fifth inning Friday, yielding a Kole Calhoun double but retiring Mike Trout and Albert Pujols on groundouts. While Renteria expects more from Jones, it doesn't sound as if his bullpen spot is in jeopardy.
"He has a history of being very effective," Renteria said. "The down time last year put him in a situation where we're trying to clean up his delivery. These next couple days are going to be really important for him. Right now, we see him on our roster, absolutely."
Rodon Opening Day-ready
Carlos Rodón was set to throw three innings Friday in his final tuneup before his first career Opening Day start on Thursday in Kansas City. A high pitch count during a three-run first, marked by Trout's three-run home run, reduced that workload to two innings, but Rodon feels ready to go.
"We are all ready to get this thing going," said Rodon, who struck out three and walked two. "Love Arizona, but I think it's time to head to Kansas City now."
Rodon views Thursday's trip to the mound as an honor, but just another day in the long run. Nonetheless, his wife, Ashley, who is expecting the couple's first child, will be in Kansas City to watch Rodon in action. It's the first step toward a bigger goal of staying healthy all season and topping 200 innings.
"Yeah, a 200-inning load would be nice," Rodon said. "But I mean, once again, you can only control what you can control. Try to prevent the injuries, and show up every day and pitch every five days."
Burger on the mend
It was difficult for Jake Burger to contain his excitement after receiving clearance to take grounders during his recovery from tearing his left Achilles twice last year. Burger tweeted the video of his work at third on Thursday.
👀👀👀.... #StayWoke pic.twitter.com/bU3OpueXI2

— Jake Burger (@Burgatron13) March 22, 2019
"Oh, incredible," said Burger about how he feels adding defense to his hitting, which has been taking place since November. "You feel normal again. It's almost like instincts take over. You don't even think about the injury. It's kind of like second nature."
Burger visited Dr. Robert Anderson in Green Bay this past Sunday, and he received an excellent report from the man who performed the surgeries.
"It was really good mentally more than anything," Burger said. "I knew I was there physically, but mentally getting the words from him, knowing that I can do stuff like this. ... It's been a really good week so far."
Roster moves
The White Sox released outfielder Brandon Guyer on Friday, reducing the number of players in camp to 36. Guyer, a 33-year-old non-roster invite, dealt with a sore right elbow during camp, but there ultimately wasn't a spot for the veteran with a career .824 OPS against left-handed pitching.
"We are still looking at some of our other guys, and the roster makeup put him in an odd situation," said Renteria. "We love the kid. He has a history, been in the big leagues for a while, done some good things. And it just didn't work out right now."
Veteran infielder Alcides Escobar agreed to a Minor League deal with the White Sox. He will report to Minor League camp Monday, serving as depth for the organization at Triple-A Charlotte.
They said it
"It's one of those things where, yeah, you are going to have self-doubts going through it, but you know as long as you keep pushing and as long as you keep working hard, you are going to ultimately get back to that spot." -- Burger
Up next
Manny Banuelos gets the start in the second-to-last Cactus League contest for the White Sox when they face the Dodgers on Saturday afternoon at Camelback Ranch. First pitch is scheduled for 2:05 p.m. CT and marks the final webcast on whitesox.com. Dylan Covey, Caleb Frare, Jose Ruiz and Ryan Burr are scheduled to work in relief.