Cora thrilled to represent Latinos, PR in MLB
Manager balances commitment to community, focus on winning as Red Sox manager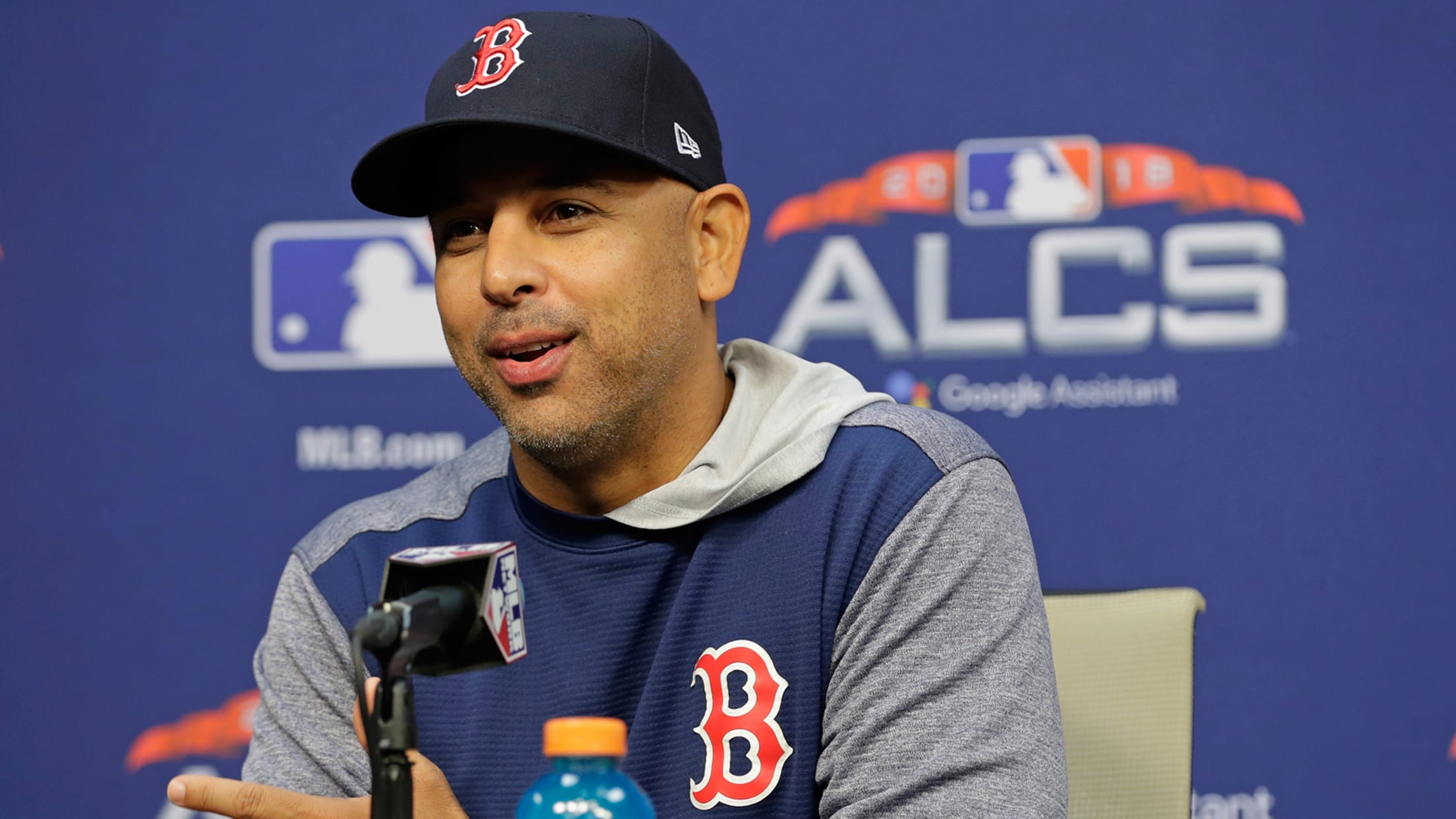 HOUSTON -- On the eve of the American League Championship Series opener, Red Sox skipper Alex Cora sat in his office at Fenway Park and reflected on his position as a Latin-born Major League manager.The Puerto Rican native is well aware that he is in a position to touch many
HOUSTON -- On the eve of the American League Championship Series opener, Red Sox skipper Alex Cora sat in his office at Fenway Park and reflected on his position as a Latin-born Major League manager.
The Puerto Rican native is well aware that he is in a position to touch many lives -- and of the responsibility that such a position entails.
"I represent Latinos. I represent Puerto Ricans. I know this is a huge platform," said Cora in Spanish. "People see me as someone who gives them the hope that, 'If that kid can be a big league manager, I can achieve something or get somewhere.'"
:: ALCS schedule and results ::
Cora has already leveraged his position for the greater good. When he was hired as the 47th manager in Red Sox history -- he's the first member of a minority to hold the job -- Cora asked the team for the resources to deliver supplies to the victims of Hurricanes Irma and Maria, which ravaged Puerto Rico in September 2017. The Red Sox obliged, and at the end of January, Boston mayor Marty Walsh, team president Sam Kennedy and other members of the front office and several Boston players accompanied Cora on a charter flight to deliver aid to his hometown of Caguas.
But while Cora doesn't lose sight of his community, he also believes it's vital for him to stay focused on his day-to-day tasks to not feel overwhelmed by the social commitment he's taken on.
"In order to stay focused and do things the right way, sometimes I try to block all of that out because it's an enormous responsibility," said Cora. "I know it's part of what I do. I understand the platform. But at the same time, I try to keep things simple so that we can continue to be successful."
Under Cora, the Red Sox won a franchise-record 108 regular-season games this year -- the most in the big leagues -- and are three wins away from advancing to the World Series for the first time since their 2013 title run.
Cora, 42, emerged as a sought-after managerial candidate last fall. Though he had never managed in the big leagues prior to this year, he had done so in Puerto Rico's winter league, where he also gained experience as a general manager. Cora was also the GM of Team Puerto Rico, which got to the final of the 2017 World Baseball Classic. Last year, he served as the bench coach for an Astros team that won its first World Series title in franchise history. And after a 14-year playing career that ended in '11 and included a stint with the Red Sox, he worked as an analyst with ESPN.
Prior to signing on as manager of the Red Sox, Cora also interviewed with the Tigers and Mets. He made it a point to stand out for his qualifications, not just because of his roots.
"I wanted organizations to see me as someone who was capable of being a big league manager," said Cora. "The Red Sox saw that I was capable."
Yet Cora also hopes that his success helps pave the way for other Latinos.
There were 254 foreign players on 2018 Opening Day 25-man rosters and inactive lists, and the majority of them from Latin America. Cora, however, is currently just one of three Latin-born MLB managers. Rick Renteria of the White Sox and Dave Martinez of the Nationals are the others. Ozzie Guillen of Venezuela, who led the 2005 White Sox to a championship, remains the only Latin-born skipper who has won a World Series.
In an effort to increase diversity in dugouts and front offices, in 1999, then Commissioner Bud Selig established what has become known as the Selig Rule, which requires clubs to consider minority candidates for vacancies.
Cora yearns for a day when such a rule is no longer necessary. He hopes that "the positives of the Red Sox season make people think, 'If the kid from Caguas did it, I think the kid from Santo Domingo or La Guaira in Venezuela can also do it.'"
Nathalie Alonso is an editorial producer for LasMayores.com, the Spanish-language website for MLB.com.