In grueling stretch, Cora trying to rest players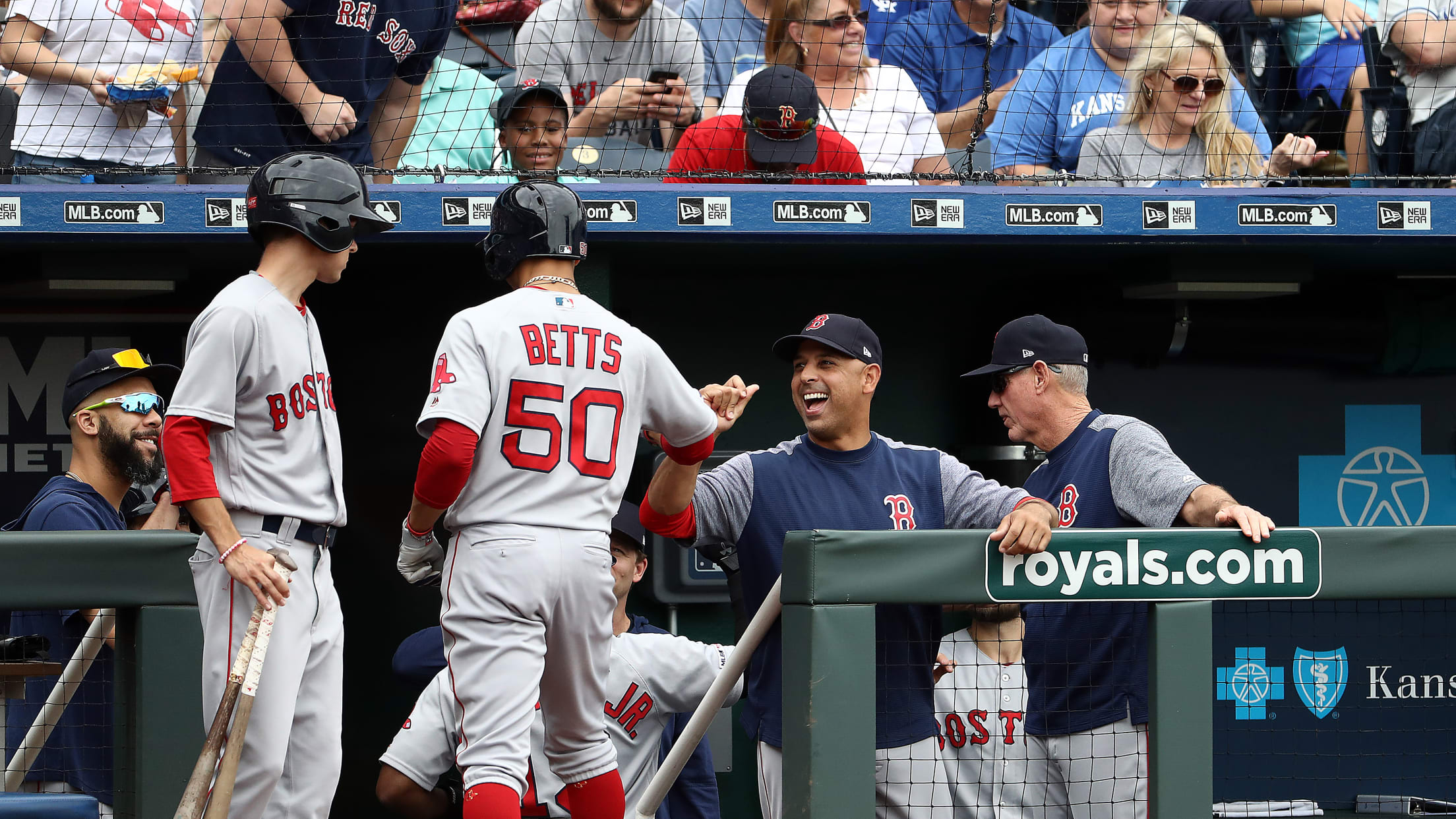 MINNEAPOLIS -- In the middle of a challenging portion of the season in which the Red Sox have already had a doubleheader, numerous marathon-length games (by time and innings) and will soon travel to London, manager Alex Cora is doing all he can to keep his players as fresh as
MINNEAPOLIS -- In the middle of a challenging portion of the season in which the Red Sox have already had a doubleheader, numerous marathon-length games (by time and innings) and will soon travel to London, manager Alex Cora is doing all he can to keep his players as fresh as possible.
Thursday will mark Boston's first day off after playing 17 games in 16 days.
Following Tuesday's loss in 17 innings, Mookie Betts was the designated hitter on Wednesday. And for the seventh straight game, the Red Sox did not take outdoor batting practice.
"Today, Mookie, we're keeping him off his feet," said Cora. "He has the [true] off-day tomorrow, so that should benefit him. I would love to give Xander [Bogaerts] a day. But this morning I texted him and he said, 'No, I'm good.' He hates the back-to-back days. But so far, you see the energy of the players. That's the most important thing, and so far, so good."
Cora was part of a similar stretch as a player for the Red Sox in 2008. The team started the season in Tokyo with games against the Oakland Athletics, then returned to the United States for exhibition games against the Dodgers. They then resumed the regular season in Oakland, and went to Toronto for a weekend series before opening the home portion of their season.
"Sometimes I go back to '08, when we went through the whole thing, with Japan, and the traveling and all that stuff," Cora said. "Tito [Terry Francona] called a meeting after April, I think, or two months into the season, and we were playing like .500 baseball. And he was like, 'Hey, good job, guys.' We were like, 'What? What are you talking about?' He was like, 'Yeah, that was a tough stretch.'
"That was tough to do with schedule and traveling and everything that went on. You saw what happened. I'm not saying this is a similar group. Obviously it's a different team, but it feels that the last few days you can see it. You feel it. We are trying to avoid the field during batting practice and try to push the buses as late as possible.
"I think all those things help them out, and we've got one more game. We've got an off-day [Thursday]. Obviously we've got the off-days before London. And after London, that's going to be another tough stretch. I think as far as energy and the way we played the last five or six days, we're in a good place."
As for the London aspect of the season, Cora has been planning for that for months.
"It started in Spring Training. I've been telling people it's not a vacation either," Cora said. "For everything that we have to do -- and obviously the league wants us to be part of -- it's two important games. And we knew that as soon as they scheduled it. We're doing everything possible to avoid being tired and to be on time, I guess, and not be slow and tired. There's a lot of stuff going on."
Velazquez back on injured list
Hector Velázquez came up big for the Red Sox in his return from the injured list on Tuesday, firing four strong innings. However, Velazquez's back tweaked on him again at the end of the outing and he had to go back to the IL prior to Wednesday's game.
The Red Sox called Josh A. Smith back up from Triple-A Pawtucket to take his place on the roster.
"I think he had two more [warmup] pitches, he stopped, then he slammed the ball. He was very upset," Cora said. "He threw the ball well. He was not rushed, but he went from one inning to four. There was nothing else he could do. That's the tough part of this. But he did a good job. Hopefully it's just kind of the same thing and he's going to be back sooner rather than later."
Worth noting
• Righty Nathan Eovaldi played catch for a third straight day in his comeback from a recent bout of biceps tendinitis. Eovaldi, who had right elbow surgery in April, could be close to throwing off a mound again.
• Cora reported some improvement in key reliever Heath Hembree (right elbow extensor strain), who is eligible to be activated from the injured list on Saturday but is more likely to return at some point next week.
"He played catch today again," Cora said. "It seems like he's still a little bit sore, but not as much as he felt a few days ago. He's progressing. The off-day tomorrow, we'll take advantage of that one, too. Hopefully it feels better throughout the weekend and then we'll plan accordingly."
• First baseman Steve Pearce, who is coming back from a lower back strain, continued his rehab assignment with Triple-A Pawtucket on Wednesday and went 0-for-3. There's a chance Pearce will be activated this weekend. Knuckleballer Steven Wright, who is eligible to return from his 80-game suspension on Tuesday, threw a scoreless inning in that game.
• The Red Sox released reliever Carson Smith from his Minor League contract on Saturday. The side-winder has been unable to rebound from a right shoulder subluxation suffered when he threw his glove after an inning last season.