Prospect Faedo stands out in star-studded Erie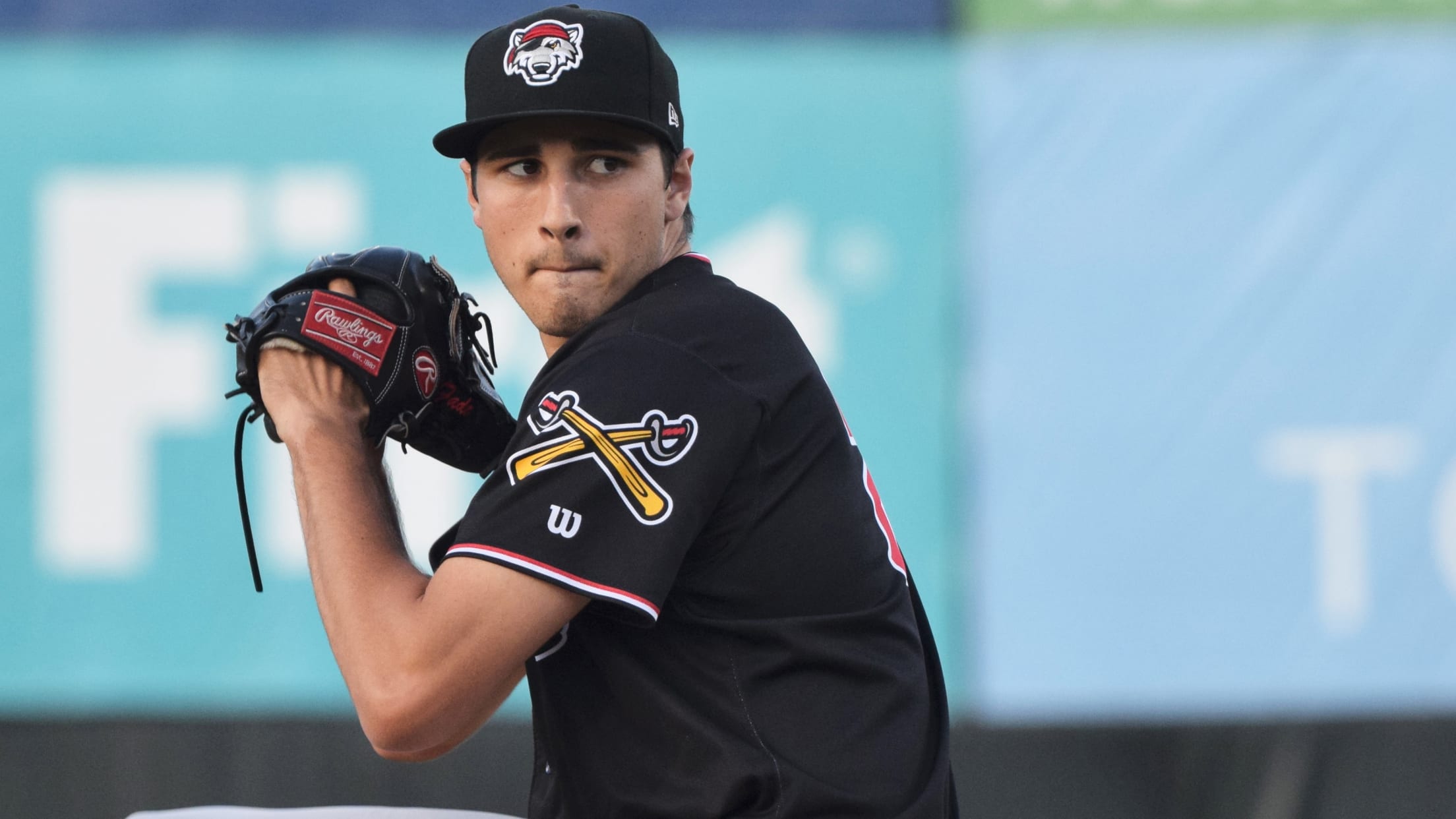 ERIE, Pa. -- The stands were empty at UPMC Park, the stadium nearly quiet, as the Tigers' Double-A pitchers played catch in the left-field corner on Wednesday morning. The pop of ball hitting glove could be heard well down the line, the one-liners from pitcher to pitcher slightly less so,
ERIE, Pa. -- The stands were empty at UPMC Park, the stadium nearly quiet, as the Tigers' Double-A pitchers played catch in the left-field corner on Wednesday morning. The pop of ball hitting glove could be heard well down the line, the one-liners from pitcher to pitcher slightly less so, but Alex Faedo and Matt Manning have a dialogue going.
"It's always fun when we play catch. It's the highlight of our day if we're not throwing [in a game that day]," Manning said. "We like to take it seriously and not just roll through it."
Faedo threw 5 2/3 scoreless innings against Portland Tuesday night, keeping the SeaWolves in a pitching duel. Manning doesn't pitch until Friday on the road in Akron. But they play catch with some intensity, right up until a flying chest bump at the end.
For all the analytical work and pitch tracking, a good throwing partner can mean the world to a pitcher. Manning and Faedo fit, for reasons that go well beyond being fellow first-round picks in a star-studded rotation.
"Matt's my throwing partner. He's one of my roommates. We do pretty much everything together," Faedo said. "He does so many things right with his mechanics. When I throw with him, it's just like a nice reminder, not necessarily that I'm ever going to be able to throw exactly like Matt, but just being able to watch how he does this very well, he gets his body in this position when he's throwing, he does this. So, I can just kind of have little reminders how he's staying on top of the ball well, and I've got to keep doing that. And then we do a good job of feeding back and forth: 'Hey, that was good, stay on there. You got a good spin on that one.'"
In that respect, Manning has had an up-close look at the pitches that have reminded people why Faedo, like Manning and top prospect Casey Mize, was a first-round pick two years ago.
"I think his fastball plays up more," Manning said. "He's got his velo back. He's got a lot of true spin now. We've been trying to focus on staying behind the ball and getting that nice backspin on it. That's probably the main part of our catch play."
If it's possible for a Double-A rotation with three former first-round picks to overachieve, Faedo would be the big reason this one has. While Mize and Manning were rated first and second among Tigers prospects by MLB Pipeline for a reason, Faedo was more of a mystery. His first full pro season last year was an enigma, from early-season questions about his velocity to midseason concerns about his home-run rate, culminating in a 4.95 ERA over 12 starts and 60 innings in Erie. Faedo dropped from 59th on MLB Pipeline's top 100 list entering last year to 10th in Detroit's pitching-rich farm system entering this season. (He's now back up to ninth.)
The Tigers put Faedo through evaluation last year, last offseason and into Spring Training, including work with the University of Michigan's Exercise and Sport Science Initiative. One big change was to stand more upright through his delivery, creating a better angle for his arm and keeping on top of his pitches.
"I think it was just a good eye-opener," Faedo said. "We tried a few different things to work on mechanically. I think you just have to do whatever works for you, but I think at the same time it's good. I got a lot of information [about] where my body should be at different times, stuff like that. Any information helps. I'm just trying to get as good as I can be."
Faedo worked on his pitches this spring with the help of a Rapsodo machine to measure, along with other things, his spin rate. Like Mize, he used the data from the machine to hone his pitches and try to enhance deception.
"It's a really good tool for us," Faedo said. "I feel like the longer we use it, the more info we get, and then we start to be able to dissect what we do better. Maybe when you get this kind of spin on the ball, it's a little bit better. Let's see how that feels, and let's keep working on it, stuff like that."
But just as important, Faedo has seemingly become more comfortable and more confident overall with experience about who he is and what he can do as a pitcher.
"A lot of times we lose track that his first full season, [when] he [had] a bullseye on his back with that No. 1 pick," said Erie manager Mike Rabelo, who managed Faedo early last season at Class A Advanced Lakeland. "He'd never pitched on four days' rest, and it's tough, it's real tough. He had a little speed bump last year and now he's a lot more comfortable and you can tell he's figuring stuff out."
The buzz about Faedo began in Spring Training, when reports from the back fields at Tigertown had him throwing in the mid-90s and attacking hitters. The momentum has built ever since.
Faedo's seven no-hit innings on April 24 made a statement. His recent work, including Tuesday's scoreless outing against a lineup of Red Sox prospects he hadn't seen this year, continued it. His fastball sat at 94-95 mph, according to an evaluator in attendance, and was at its peak as he worked out of potential trouble near the end.
Faedo has become a high-strikeout hurler again. Just two Eastern League pitchers had more strikeouts than Faedo entering Thursday, and one of them was Manning. Faedo has variations of his slider depending on whether he's trying to pinpoint it for a strike or tempt hitters into a bad swing.
"Just maybe toying with it a little bit," Faedo said.
And yet, despite just eight swinging strikes over 94 pitches Tuesday, Faedo was not only effective, but shutout caliber.
"Each game's different," Faedo said. "So, it's just trying to attack with what I have that day."
And that's something Rabelo appreciates.
"He still competes the same way," Rabelo said. "He's a competitor, man. He's a great teammate. He's always cheering guys on, and he really, really cares about the people in this clubhouse. That hasn't changed. But his pitches got better."