Reds activate Alex Wood, utility man Farmer
Romano optioned to Triple-A; Lavarnway designated for assignment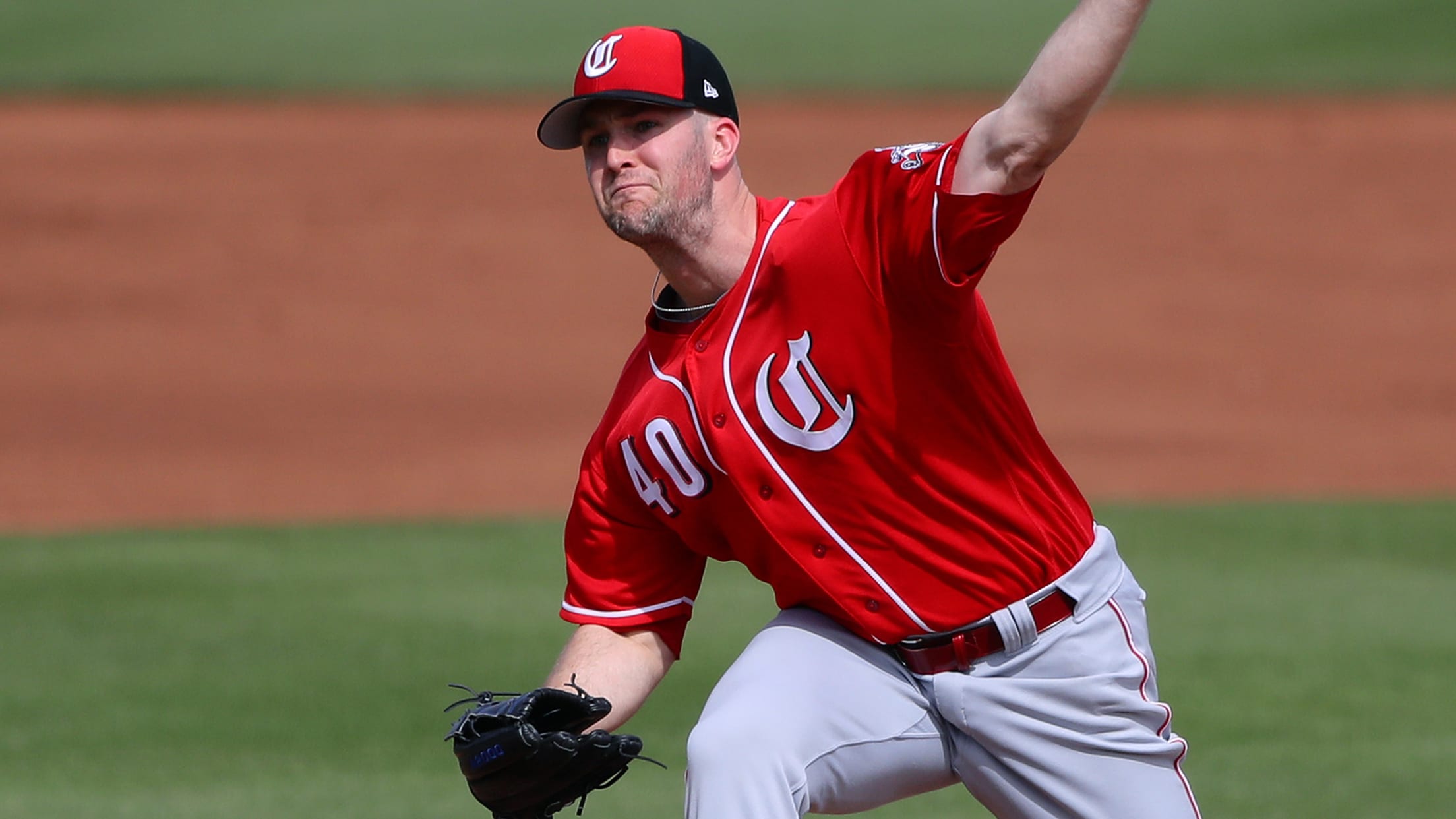 CINCINNATI -- In a pair of transactions ahead of Sunday's game vs. the Rockies, the Reds activated starting pitcher Alex Wood from the 60-day injured list and utility player Kyle Farmer from the seven-day concussion list. To make room for them on the roster, Cincinnati optioned pitcher Sal Romano to
CINCINNATI -- In a pair of transactions ahead of Sunday's game vs. the Rockies, the Reds activated starting pitcher Alex Wood from the 60-day injured list and utility player Kyle Farmer from the seven-day concussion list.
To make room for them on the roster, Cincinnati optioned pitcher Sal Romano to Triple-A Louisville, while catcher Ryan Lavarnway was designated for assignment.
When a player's contract is designated for assignment -- often abbreviated "DFA" -- that player is immediately removed from his club's 40-man roster, and 25-man roster if he was on that as well. Within seven days of the transaction (it was previously 10 days), the player must either be traded, released or placed on irrevocable outright waivers.
Farmer played two rehab assignment games behind the plate for Class A Dayton and Louisville. He sustained his concussion during a July 16 game vs. the Cubs when he took two hard foul balls off his catcher's mask. He will be the No. 2 catcher behind Tucker Barnhart, who just returned from the IL on Friday.
Manager David Bell was previously able to use Farmer at several spots around the field, but will now have a little less flexibility since he can't use his only backup catcher early in games to pinch-hit.
"He can still play other positions during a game and come in [to catch]," Bell pointed out. "It's just more important to keep him in the game. We can still utilize his versatility."
Romano was called up Monday for the first time this season. In his 2019 debut Tuesday, he pitched the final three innings, allowing one earned run and three hits en route to earning his first career save during a 14-6 win over the Brewers.
After being with the big league club for parts of 2017 and '18, Romano struggled much of the season for Louisville and is 4-7 with a 4.70 ERA in 35 games -- mostly out of the bullpen. But once he was moved into the rotation, he went 2-0 with a 1.59 ERA over his last four games (three starts).
Romano is expected to resume starting when he gets to Louisville.
"The good thing for him is not only what he did in the outing here, he's been progressing," Bell said. "It was a little bit of a slow start, but he was able to get going and was pitching well in Triple-A. He's going to get another opportunity. Obviously, there are no guarantees, but he's in a good spot in our organization. He did everything he could to be considered for another opportunity here."
Lavarnway was signed on July 18 when the Reds had lost all three of their catchers, including Farmer, to injuries. On July 19, he started and hit a pair of home runs with six RBIs in a loss to the Cardinals, becoming the first player in Reds history to hit two homers and have more than three RBIs in his debut for the team.
Overall, Lavarnway batted .278 in five games for Cincinnati. The club is hoping that he can clear waivers so that he can join Louisville.
"For us, it's great to have him in the organization," Bell said. "He stepped in and did a really good job. He's in a really good position, even though this is always a tough day. Catching is so tough to come by. He has a good reputation and he has experience. It showed up the couple of weeks he was with us. A guy like that can play for a long time. It is so valuable. Something good will happen for him if he does end up in our organization. We'll be glad to have him."
Injury report
Catcher Curt Casali, who went on the IL on July 18 with a right knee injury, has been making progress.
"He's getting better. It seems like the report each day gets more and more encouraging. He's right on track," Bell said.
Casali, who was expected to miss up to a month, has yet to resume baseball activity.
"He's getting close to that point," Bell said.
Iglesias works at dazzling
During the eighth inning of the Reds' 3-1 win over the Rockies on Saturday, shortstop Jose Iglesias fielded a one-out ground ball from Nolan Arenado. Iglesias made a no-look glove flip of the ball to Jose Peraza at second base and started an inning-ending double play.
During a 12-11 loss to the Cardinals on July 19, a similar play in the sixth inning backfired on Iglesias when his glove flip was off line and left everybody safe. The Reds blew a 7-0 lead as St. Louis rallied for 10 runs in the inning.
"You have to play this game with a certain sense of fearlessness and be aggressive," Bell said. "If you stop to think for a second, it's going to be too late. He practices that play every day. Some people may not like it when it doesn't work out.
"But when someone practices like that, is in the flow of the game and willing to try and make the play and be fearless and not to stop to think of the repercussions, you don't know what would have happened right there if he took the conservative route and got one out. With where [the Rockies] were in the lineup, it could have been a totally different outcome."
Mark Sheldon has covered the Reds for MLB.com since 2006, and previously covered the Twins from 2001-05. Follow him on Twitter @m_sheldon and Facebook.