All-Star concert series opens with first of three
OneRepublic headlines show, with NEEDTOBREATHE as special guest in San Diego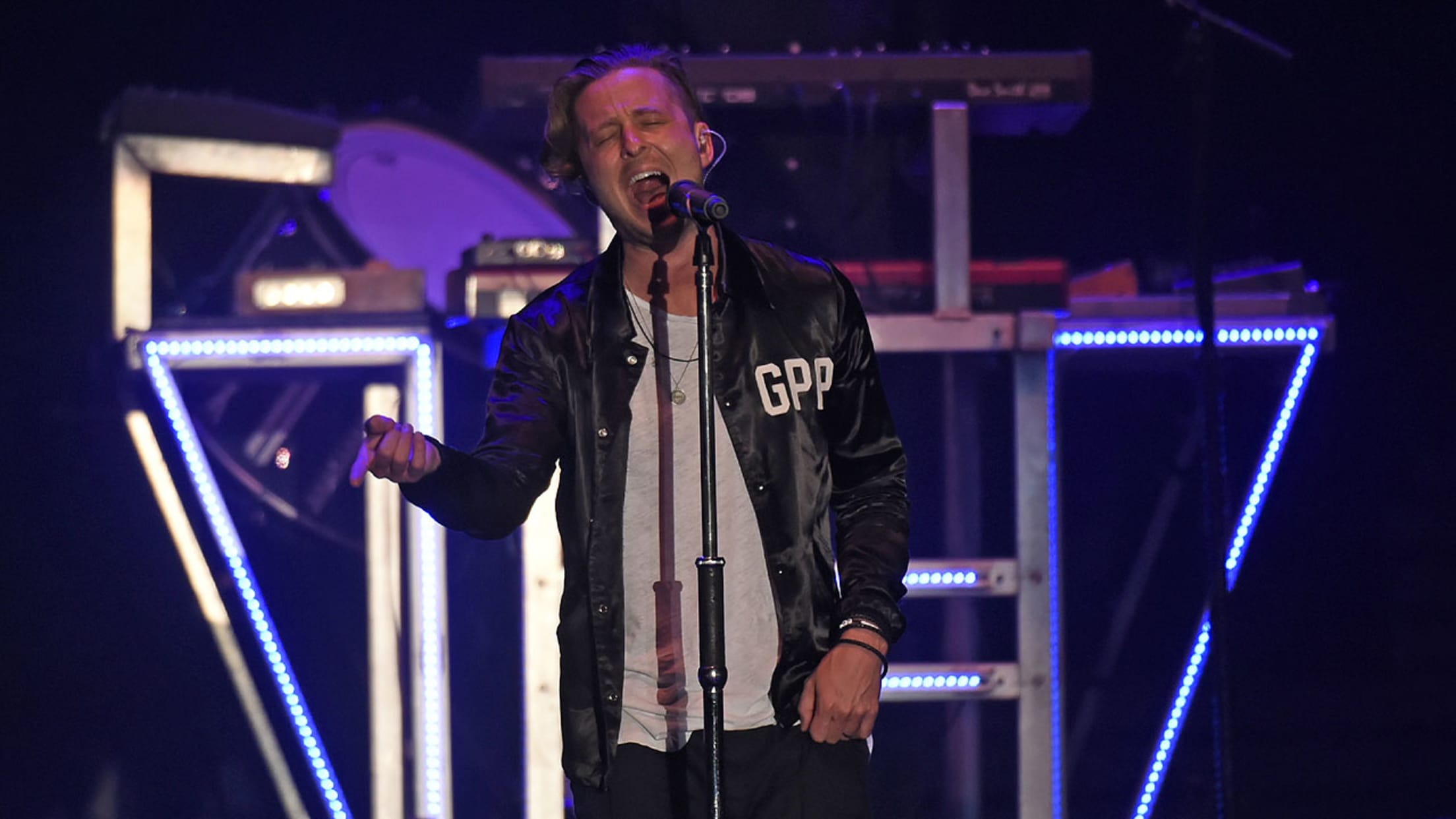 OneRepublic performs during the Budweiser All-Star Concert in San Diego. (LG Patterson/MLB Photos via Getty Images)
SAN DIEGO -- Concerts have become synonymous with the yearly All-Star festivities, and perhaps because of how successful these shows have been in the past, Major League Baseball decided thrice is nice.This year's Budweiser MLB All-Star Concerts, part of the Pepsi Music Series, features three shows, the first of which
SAN DIEGO -- Concerts have become synonymous with the yearly All-Star festivities, and perhaps because of how successful these shows have been in the past, Major League Baseball decided thrice is nice.
This year's Budweiser MLB All-Star Concerts, part of the Pepsi Music Series, features three shows, the first of which took place Friday night at the Embarcadero Marina Park South, not far from Petco Park. OneRepublic headlined the show, with NEEDTOBREATHE contributing as the special guest.
Coverage of the All-Star Game presented by MasterCard begins Tuesday, July 12, at 7:30 p.m. ET on FOX.
:: Complete All-Star Game coverage ::
"This is by far the most beautiful city we play in -- San Diego," said OneRepublic lead vocalist Ryan Tedder.
He had a point. The concert announcement came with the standard "rain or shine" caveat, but there are few worries about the former in this part of the country, this time of year. In terms of location, the concert setting at this San Diego landmark couldn't have been more ideal. Located right by the water, the Embarcadero Marina Park South contains a sprawling lawn that fits about 7,000 patrons -- the amount of free mostly standing-room-only tickets Major League Baseball distributed for each show.
Speaking on behalf of OneRepublic, Tedder said they were all "super stoked" for this performance, a symbolic jump-start to what will be a jam-packed five days of All-Star activities.
"We've had a relatively lengthy four- or five-year history with MLB," Tedder said. "We love baseball, grew up playing baseball. I still have 7,500 baseball cards."
And they're worth something, Tedder said, joking, "Technically, MLB is my retirement plan. There is no 401(k) in music."
The group was formed nearly 15 years ago in Colorado Springs and still extends its baseball allegiance to the Rockies, but for at least a couple of band members, their fandom doesn't solely rest in the Centennial State. Tedder, who grew up in Oklahoma, didn't have a local Major League team to root for, so he picked players to root for instead. But he did have a soft spot for the Cubs, who, when he was a kid, "lost all the time. So I loved rooting for them. I am a huge Cubs fan."
OneRepublic performed all of their most recognizable hits, including "Secrets," "Counting Stars," "I Lived," and, toward the end of the show, "Love Runs Out." They also performed "Apologize," for which they received a GRAMMY nomination in 2009 for Best Pop Performance by a Duo or Group with Vocal.
NEEDTOBREATHE, a GRAMMY-nominated rock band hailing from South Carolina, is comprised of brothers Bear Rinehart (vocals, guitar) and Bo Rinehart (guitar, vocals), Seth Bolt (bass, vocals), and Josh Lovelace (keys, vocals).
Unsurprisingly (given where they grew up), this crew is comprised largely of Braves fans. The Rinehart brothers played baseball quite a bit as kids, too, a passion stoked by their dad.
"We actually had a pitching machine in our backyard," Bear said. "So it wasn't just us who had that dream, it was our dad as well. We loved it. Both of us would switch-hit and try to hit the curve. We didn't quite make it. Music got in the way."
It was a wise decision. The group, which will release its new album H A R D L O V E on July 15, has won 10 Gospel Music awards and was nominated for a GRAMMY Award in 2015 as Best Contemporary Christian Music Performance for their song "Multiplied."
In August, they'll begin a tour that they've titled "Tour de Compadres."
"It's us with our friends, essentially," Bear said. "A traveling festival."
The concert series will continue Saturday at noon PT, with Tori Kelly and special guest All Time Low, and will conclude that night at 7 p.m. PT with Gwen Stefani and special guest Eve.