Mets toying with giving Rosario time in CF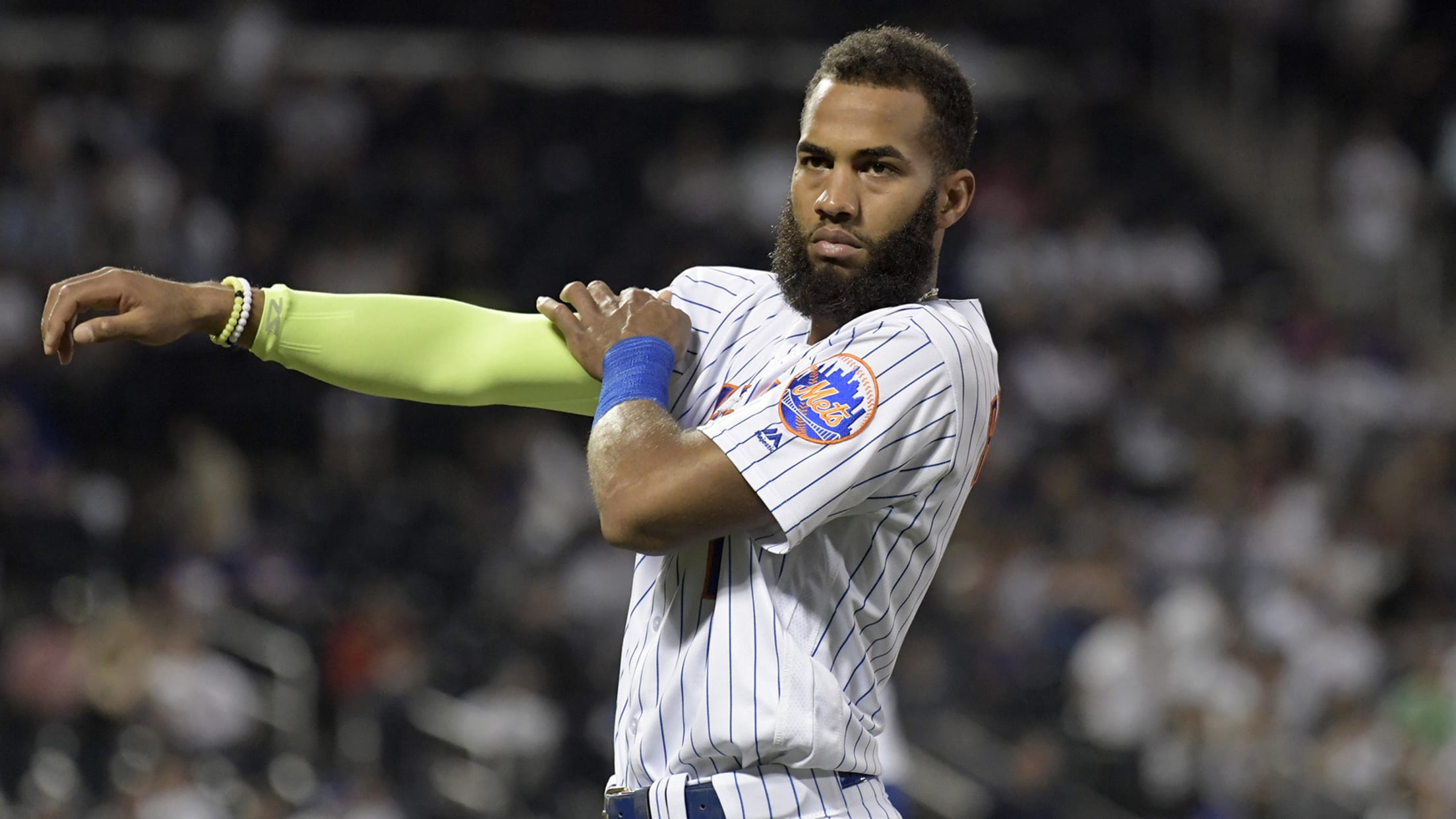 CHICAGO -- The Mets' positional depth with players like Jeff McNeil, J.D. Davis and Dominic Smith has allowed Mickey Callaway to be more creative with his lineups. Callaway hinted prior to Sunday's series finale vs. the Cubs that the team may add another player to that list by potentially using
CHICAGO -- The Mets' positional depth with players like Jeff McNeil, J.D. Davis and Dominic Smith has allowed Mickey Callaway to be more creative with his lineups.
Callaway hinted prior to Sunday's series finale vs. the Cubs that the team may add another player to that list by potentially using shortstop Amed Rosario in center field.
"He's still our starting shortstop. There's nothing imminent," Callaway said. "It's just something we're thinking about and maybe preparing for.
"I think diversity is big. It's shown up with Davis. It's shown up with Dom. Our players being able to move around as much as possible has made us a better team. We're not going to rule anything out that could help us be the team we want to be."
Rosario potentially getting time in center field would give the Mets an additional player to plug into the outfield to go along with Michael Conforto, Davis and McNeil. The move, if it ever comes to pass, would likely signal a steep decrease in Juan Lagares' playing time.
While Lagares is the team's best defensive outfielder, the 2014 National League Gold Glove Award winner is hitting just .182 with a .506 OPS in 67 games this season and has already begun to see his time in center being cut.
The idea of a positional change for Rosario comes with positives and negatives. Rosario has more than enough speed and athleticism to play center field. He entered Sunday tied for 20th in MLB (96th percentile) with a 29.3 ft/sec average sprint speed (30+ ft/sec is considered MLB elite). He also recorded 55 bolts (runs of 30+ ft/sec on the bases) last season, ranking 10th in MLB.
On the flip side, Rosario hasn't been the best defensive player at his natural position. After a solid showing in his rookie season, he has ranked in the bottom two of qualified shortstops in both defensive runs saved and UZR in each of the past two seasons. His -13 DRS and -6.5 UZR both rank last among qualified shortstops in 2019.
Although this idea is still very early in the process, the Mets' shortstop doesn't think a transition to the outfield would be a huge jump for him.
"In terms of playing the outfield, I'm a player here. Wherever they need me to play, I'll play," Rosario said through interpreter Alan Suriel. "It happened a few days ago, when I was [taking reps] in the outfield. Yesterday, [Callaway] brought up the idea about it.
"I'm a natural shortstop. That's what I've been my whole life, but if that's something that the team needs me to do. I'm willing to do it."
Rosario said moving to the outfield wouldn't be completely new to him, since he played there some before becoming a pro. The Arizona Diamondbacks have experimented with an infielder splitting time in the outfield, playing breakout star Ketel Marte in center field as well as his primary positions of shortstop and second base.
"I don't know if there would be that much of a difference, since it is a position that's played up the middle," Rosario said. "It's something that I'll have to talk to my teammates and coaches about to see if there would be any major adjustments."
Syndergaard trending up, but not quite ready
Starter Noah Syndergaard has begun to ramp up his workload since landing on the injured list on June 16 with a right hamstring strain.
Syndergaard threw a bullpen on Saturday and, despite feeling good, the Mets are still being cautious with him. Callaway said the team will not remove Syndergaard from the injured list when he is eligible to come off on Thursday.
"We're still trying to figure that out," Callaway said. "We're going to talk to [Noah] and see exactly what we want to do next. It will happen at some point today."