Taking stock of NL Central at quarter mark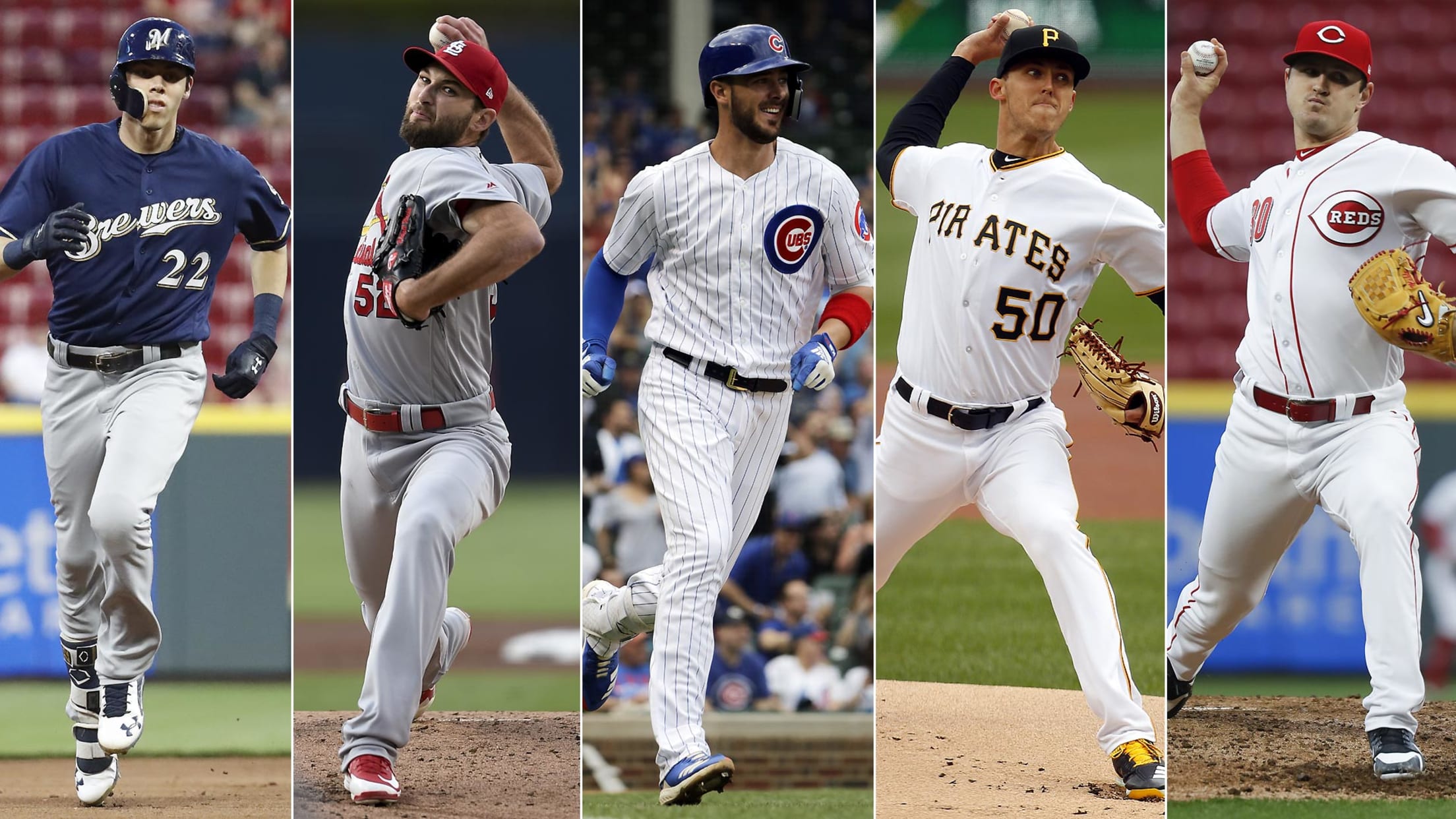 With one-fourth of the 2018 season in the books, the National League has been equal parts wide open and upside down. And that's particularly true in the NL Central.Four teams are separated by all of two games, and none of them looks like a fluke. Even the fifth-place Reds, who
With one-fourth of the 2018 season in the books, the National League has been equal parts wide open and upside down. And that's particularly true in the NL Central.
Four teams are separated by all of two games, and none of them looks like a fluke. Even the fifth-place Reds, who started so slowly that they dismissed their manager, have at least become a tough out lately.
And the top four? Not only are they all on pace to win at least 89 games, they all have the kinds of run differentials that suggest they might keep it up. This looks like both a fun division and a good one.
Brewers
One thing we learned in the first quarter
Milwaukee was, in fact, prepared to withstand the loss of Corey Knebel. A feel-good story early in the year, it looked like the Brewers might have trouble keeping up that success with Knebel on the disabled list. No such problem. Josh Hader emerged as perhaps the most dominant reliever in the NL, and he has plenty of help. This was an excellent 'pen even without Knebel. It could be brilliant with him.
One thing we'll be watching in the second quarter
Can they withstand the loss of Eric Thames as well as they did Knebel? The Brewers are ninth in the NL in runs scored and 11th in on-base percentage. New acquisitions Christian Yelich and Lorenzo Cain have been as expected, but they haven't gotten much help. Much of the rest of the offense has underachieved.
Key stretch: June 8-24
Almost all of June looks tough, but let's narrow it down just a bit. Starting with a trip to Philadelphia, Milwaukee plays five straight series against teams very much in the NL postseason race: at Philly, home for the Cubs and Phillies, at Pittsburgh and home for St. Louis.
Stock watch: Up
They're not a surprise within their own clubhouse, but not a lot of people outside of Milwaukee figured the Brewers could lose their closer and one of their top sluggers and still be in first place.
Cardinals
One thing we learned in the first quarter
The rotation is good enough. Carlos Martinez has pitched like a No. 1 again, Miles Mikolas has been a revelation and Michael Wacha is back to his old form. Jack Flaherty looks ready. Alex Reyes is on the way. Even with Adam Wainwright searching for health and effectiveness, they have the starters to compete night in and night out.
One thing we'll be watching in the second quarter
With apologies to Cardinals fans agonizing over the offense, the bullpen is the bigger question. Marcell Ozuna, Matt Carpenter and William Fowler will all be better than this. It will be shocking if they're not. Greg Holland, Luke Gregerson and Matt Bowman? That's less clear. Bud Norris and Jordan Hicks have been excellent, but there's a ton of uncertainty in the relief corps and it needs to get sorted out.
Key stretch: May 25-June 3
It's not a given, but it seems likely the Cubs will be there at the end of the year. So it's essential that the Cards take care of business against Pittsburgh and Milwaukee. This stretch starts with a trip to PNC Park, then three games at Miller Park, before four at home against the Bucs.
Stock watch: Steady
It seems like there's an awful lot of drama around this team, yet the Cardinals are on pace for 93 wins. They're doing just fine.
Cubs
One thing we learned in the first quarter
They can hit. The Cubs are third in the NL in runs and third in OBP, and that's even with Anthony Rizzo uncharacteristically scuffling. Kristopher Bryant is hitting like an MVP. Javier Baez has even more extra-base hits than Bryant. Willson Contreras is a star. Kyle Schwarber is hitting dingers and drawing walks.
One thing we'll be watching in the second quarter
The Cubs have made two major pitching acquisitions in the past 12 months: Yu Darvish and Jose Quintana. They both have ERAs in the 5's. They've combined for 39 walks in 75 1/3 innings. The rest of the rotation has been good enough to cover for them, but for the Cubs to get where they want to go, they need Darvish and Quintana to pitch better.
Key stretch: June 8-17
Three straight series against the teams they're battling: home for the Pirates, at Milwaukee, at St. Louis. It's the last time they see any of those teams until after the All-Star break.
Stock watch: Down, slightly
You could almost just cut and paste the Cardinals comment here. There's been some worry about the Cubs, but they're on pace to win 89 games, and more tellingly they have the second-best run differential in the league. They may not be the marauding force some folks forecasted in March, but it says here they're still the team to beat in the division.
Pirates
One thing we learned in the first quarter
There was more left in the cupboard than folks thought. Spring acquisition Corey Dickerson has been sensational. Colin Moran, acquired in the Gerrit Cole trade, has shown a big time bat as well. Meanwhile holdovers like Starling Marte, Francisco Cervelli and Josh Bell have helped round out a high-OBP offense that's second in the NL in runs.
One thing we'll be watching in the second quarter
There was a lot of hype over Jameson Taillon entering the year, and he started out looking like he'd justify it. But a 7.45 ERA over his past five starts brought questions. Taillon has ace ability; whether he pitches to that level will go as far as anything toward determining what this team accomplishes.
Key stretch: July 6-15
The Bucs have been swept twice this year, going a combined 0-8 against the Phillies and Nationals (which means they're 25-9 against everyone else!). They go into the All-Star break with a 10-game homestand that features chances for redemption against those two NL East contenders plus four against the Brewers.
Stock watch: Up
Simply one of the most pleasant surprises in baseball this year.
Reds
One thing we learned in the first quarter
The young starters weren't quite ready. Tyler Mahle has been good at times, but Luis Castillo, Sal Romano and Brandon Finnegan have had a rough go of it. So rough that the Reds went out and got Matt Harvey.
One thing we'll be watching in the second quarter
Box scores at Triple-A Louisville. Sure, it will be intriguing to see what the Reds do with their four-man outfield rotation, and to see whether any of those four outfielders get hot, but the future is the story here, and Nick Senzel is the future. Currently sidelined with vertigo, Senzel, the Reds' No. 1 prospect, held his own early in the year at Louisville, and once he's healthy, the watch will be on to see when he arrives in Cincinnati.
Key stretch: May 25-June 3
The Reds seemed to find themselves the last time they went west. It's not ridiculous to think that for a team having a tumultuous year, getting out on the road could help clear some minds. They rack up the air miles again soon, with a three-city trip to Denver, Phoenix and San Diego.
Stock watch: Down
They didn't look like world-beaters coming into the year, but this level of struggle has been surprising.
Matthew Leach is the National League executive editor for MLB.com.