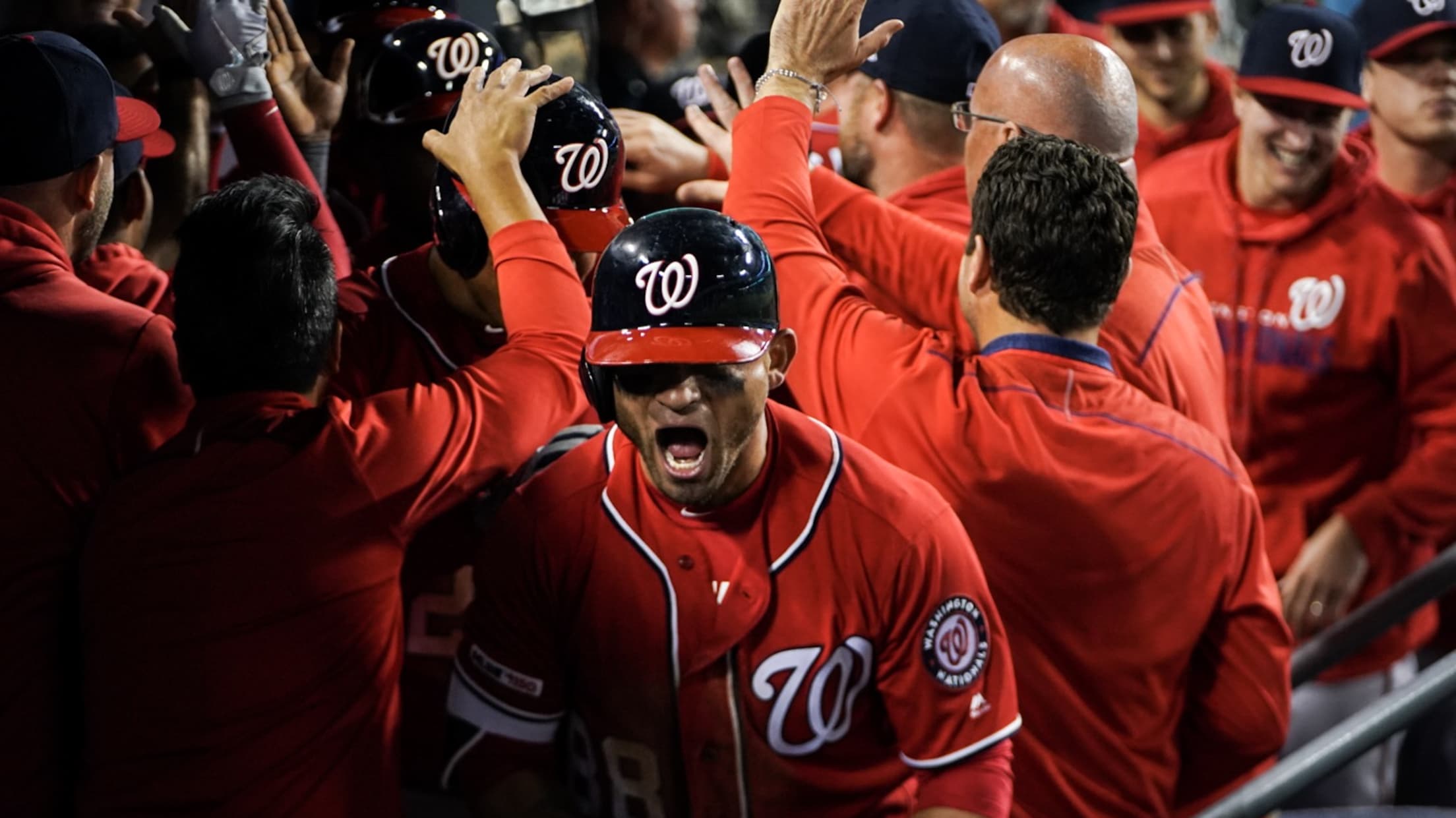 (Campbell Dunn)
Gerardo Parra's Grand Slam May 11 at Los Angeles Dodgers The talent had always been there, but something was just missing. While the Nats looked and felt and acted and at times played like a team capable of making a run deep into October, somehow the results just weren't there
Gerardo Parra's Grand Slam
May 11 at Los Angeles Dodgers
The talent had always been there, but something was just missing. While the Nats looked and felt and acted and at times played like a team capable of making a run deep into October, somehow the results just weren't there early in the season.
And then, on a sunny afternoon on the West Coast, a seismic shift changed everything and left the Nats smelling blood in the water.
Veteran outfielder Gerardo Parra had been let go by the Giants after a slow start to the 2019 season. The Nats scooped him up and added him to the roster on May 9. Two days later, Parra stepped to the plate looking for his first hit with the club. The Dodgers led 2-1 with two outs in the top of the eighth.
He dispatched the 2-2 pitch into the abyss with a massive go-ahead grand slam. The homer cemented the Nats' second win in three games at Dodger Stadium. Through the end of June, only two other teams had managed to best the Dodgers in LA more than once.
The attack before the shark.

When they thought we were dead in the water, Gerardo Parra pulled out the jaws of life.#STAYINTHEFIGHT // #OnePursuit pic.twitter.com/NBAoL4qXQr

— Washington Nationals (@Nationals) September 29, 2019
More than that, though, it ushered in a new outlook for 2019. The team was having fun. The team was beginning to live up to expectations. The team was dancing in the dugout? Months later, as Baby Shark echoes through the innards of Nats Park and we've all gotten to witness Anthony Rendon do _The Sprinkler_, Ryan Zimmerman do _The Walker_, and Big City get a piggyback ride from batting practice pitcher Ali Modami, it's easy to point to this singular moment as the point of origin.