Heaney (elbow) to have MRI; Ohtani takes BP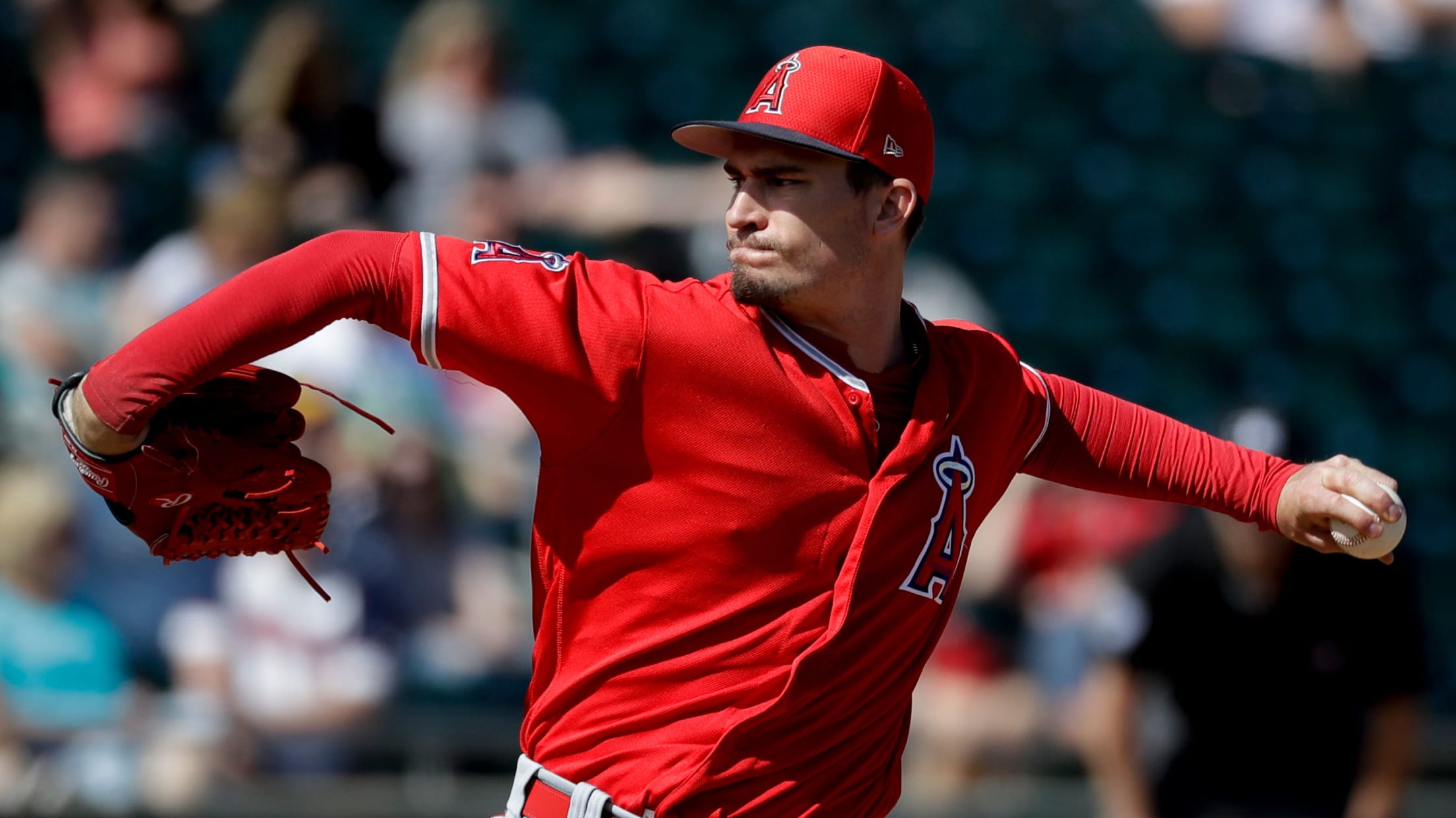 OAKLAND -- The Angels announced both bad and good injury news on Opening Day, as lefty Andrew Heaney sustained a setback with his left elbow after throwing off a mound earlier this week, while Shohei Ohtani progressed to taking batting practice on the field on Wednesday. Heaney, who is opening
OAKLAND -- The Angels announced both bad and good injury news on Opening Day, as lefty Andrew Heaney sustained a setback with his left elbow after throwing off a mound earlier this week, while Shohei Ohtani progressed to taking batting practice on the field on Wednesday.
Heaney, who is opening the season on the injured list with left elbow inflammation, will meet with a doctor on Monday to undergo further testing, including an MRI.
"He had a little elbow discomfort the other day," general manager Billy Eppler said on Thursday. "He's going to get evaluated. We'll see what comes from it."
Heaney, 27, already underwent Tommy John surgery in 2016 and missed time early last season with elbow inflammation, only to return on April 13 and lead the team with 30 starts. With Heaney on the IL, right-hander Felix Pena is replacing him in the rotation and starts Saturday against the A's.
"I'm a little concerned, but the most important thing is to get him back healthy so when he returns to the rotation he's there for the remainder of the season," manager Brad Ausmus said. "I'd much rather have him, obviously."
Ohtani, meanwhile, took another meaningful step in his recovery from his Tommy John surgery on Oct. 1, hitting on the field at Angel Stadium. Ohtani had been taking batting practice in the cages since March 17. He remains on track to return as a designated hitter in May and is continuing to throw three times a week even though he won't return as a pitcher until 2020.
Eppler said he's encouraged with Ohtani's progress, with no setbacks this spring. The next step will be to face live pitching in batting practice, but the Angels haven't decided whether he'll go on a Minor League rehab assignment before he returns.
"He's moving along," Eppler said. "A lot of the plan is derived off of him. It's not made in a back room somewhere. It's more of how he feels as he goes through each kind of new layer of progression."
Goodwin, Stratton join Angels
Outfielder Brian Goodwin and right-hander Chris Stratton both joined the Angels on Thursday after Goodwin was claimed on waivers from the Royals on Wednesday and Stratton was acquired in a trade with the Giants late Tuesday.
Goodwin will split time with Peter Bourjos in left field, with Justin Upton on the IL with left turf toe after colliding with the outfield wall at Angel Stadium on Sunday. Goodwin, 28, is a career .250/.315/.454 hitter in 171 games over three seasons with the Nationals and Royals.
"I'm excited," Goodwin said. "Anytime you got a locker room to call home, you got somewhere to play, a uniform to suit up in, I mean you can't you can't feel any other way."
Stratton, 28, will be the club's No. 5 starter, as right-hander Jaime Barria was optioned to Triple-A Salt Lake. Stratton has a career 4.63 ERA in 213 2/3 innings with San Francisco, making 36 starts and 12 relief appearances. He was stretched out to start this spring, so there shouldn't be any restrictions on him when he takes the mound on Monday in Seattle.
"I was a little shocked because I played with the Giants for seven years," Stratton said of the trade that included lefty William Jerez going to the Giants. "So it's a long time and a lot of your life there. You always want to play your whole career with the team you got drafted by, but not many people get to do that. So I'm thankful for the opportunity and hopefully I can contribute."
La Stella, Fletcher to split time at second
The Angels plan to mix and match Tommy La Stella and David Fletcher at second base, although it's not a strict platoon, Ausmus said. La Stella, though, is more likely to see time against right-handers, while Fletcher will get a majority of starts against lefties.
"They're going to share time," Ausmus said. "The performances early on will determine the bulk of the playing time."