Heaneys give back with trips to Honduras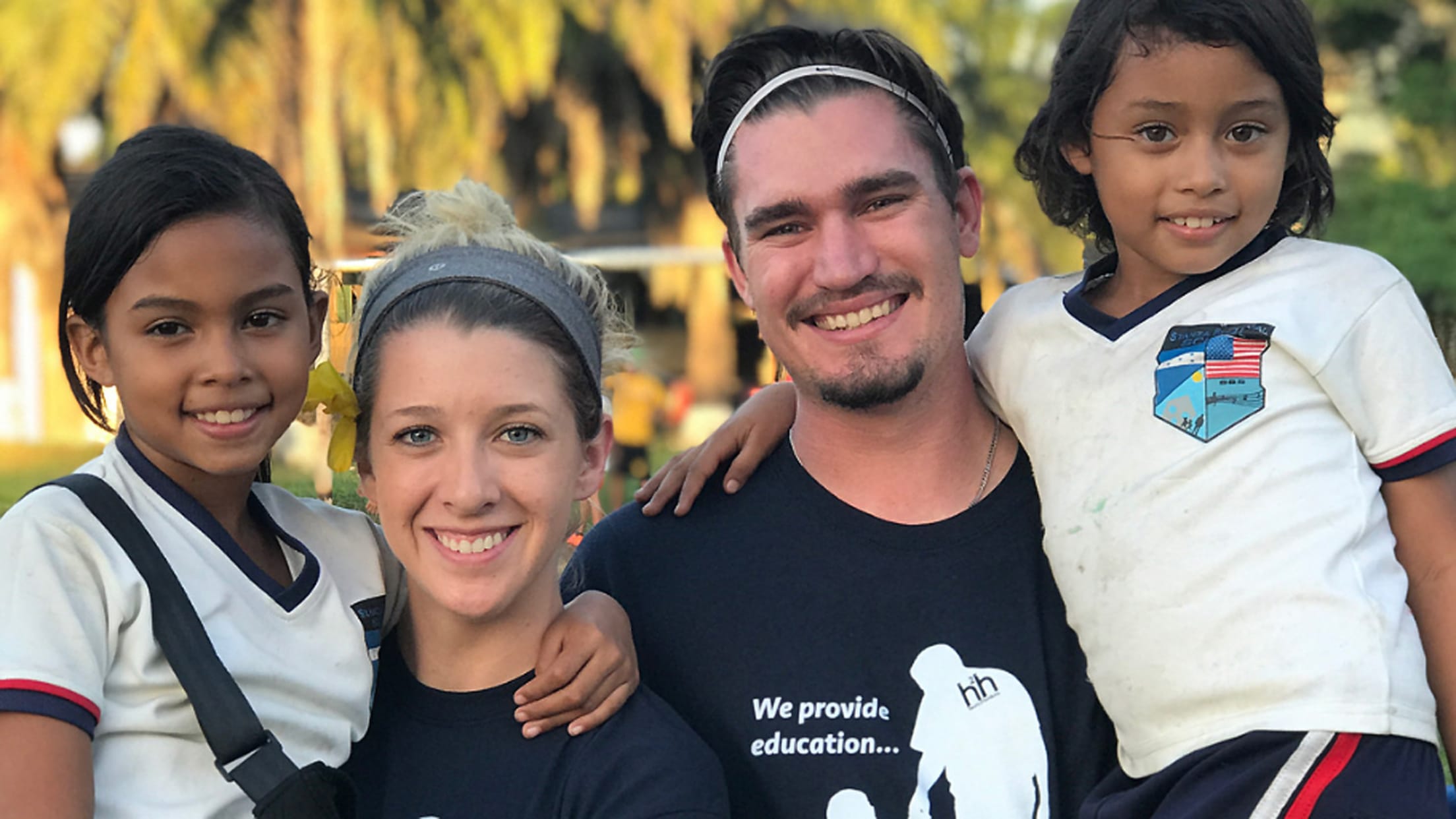 Andrew and Jordan Heaney help children in need on their mission trips to Honduras. (Jordan Heaney Instagram)
Three years ago, Angels left-hander Andrew Heaney approached his agent, Rob Martin, with an idea."I was talking to him one day, and I was just like, 'Man, with the number of guys that we have -- most of them have the time, most of them have the money, we should
Three years ago, Angels left-hander Andrew Heaney approached his agent, Rob Martin, with an idea.
"I was talking to him one day, and I was just like, 'Man, with the number of guys that we have -- most of them have the time, most of them have the money, we should be doing something as a group," Heaney said earlier this year. "We should all try to put a mission trip together."
• Angels in the community
In November 2014, Heaney and several other players traveled to Honduras for the first time as part of a partnership between their agency, ICON Sports Management, and the non-profit organization Hearts2Honduras. They spent five days in the Central American country, concentrating their efforts on helping to pour the foundation for a three-room learning center that would serve local impoverished children in Suyapa, a barrio near the city of El Progreso.
The facility has long since been completed, but Heaney continues to return to Honduras, which is one of the poorest countries in Latin America and has one of the world's highest murder rates. He made his fourth mission trip last week, along with a group that included his wife, Jordan, right-hander Daniel Wright, who made five appearances for the Angels this past season before electing free agency last month, and Angels physical therapist and strength and conditioning coach Sean Johnson.
This year, the contingent focused on interacting with local children at the learning center in Suyapa, which hosts English classes and other educational programs, and the nutrition center in El Progreso, which cares for kids with illnesses often caused by malnutrition or neglect.
They spent much of their time reading with the children, helping to prepare lunch and staging baseball and soccer games. In the spirit of the holidays, they also strung up lights, hung stars and decorated Christmas trees at both locations.
In addition to his annual trips, Heaney also supported Hearts2Honduras' mission by launching a Pledge It fund that allowed fans to pledge a donation for every Angels win this season, which was matched by the 26-year-old southpaw.
Each Angels win is a win for children in Honduras. I pledge to match all donations made so we can build a future for these amazing kids. pic.twitter.com/jOKJd8Q3uZ

— Andrew Heaney (@Heandog8) April 4, 2017
"They want you there," Heaney said. "They want your help. They appreciate it. They love you for it, and the same for us. It's fun to go down there and have set the foundation, the roots for some of those kids, seeing them grow up and seeing the kids that are getting to go to school now and how much better they're doing."