Miller nearing return to Tribe's bullpen
Lefty tosses shutout inning at Triple-A; Encarnacion rests hand after HBP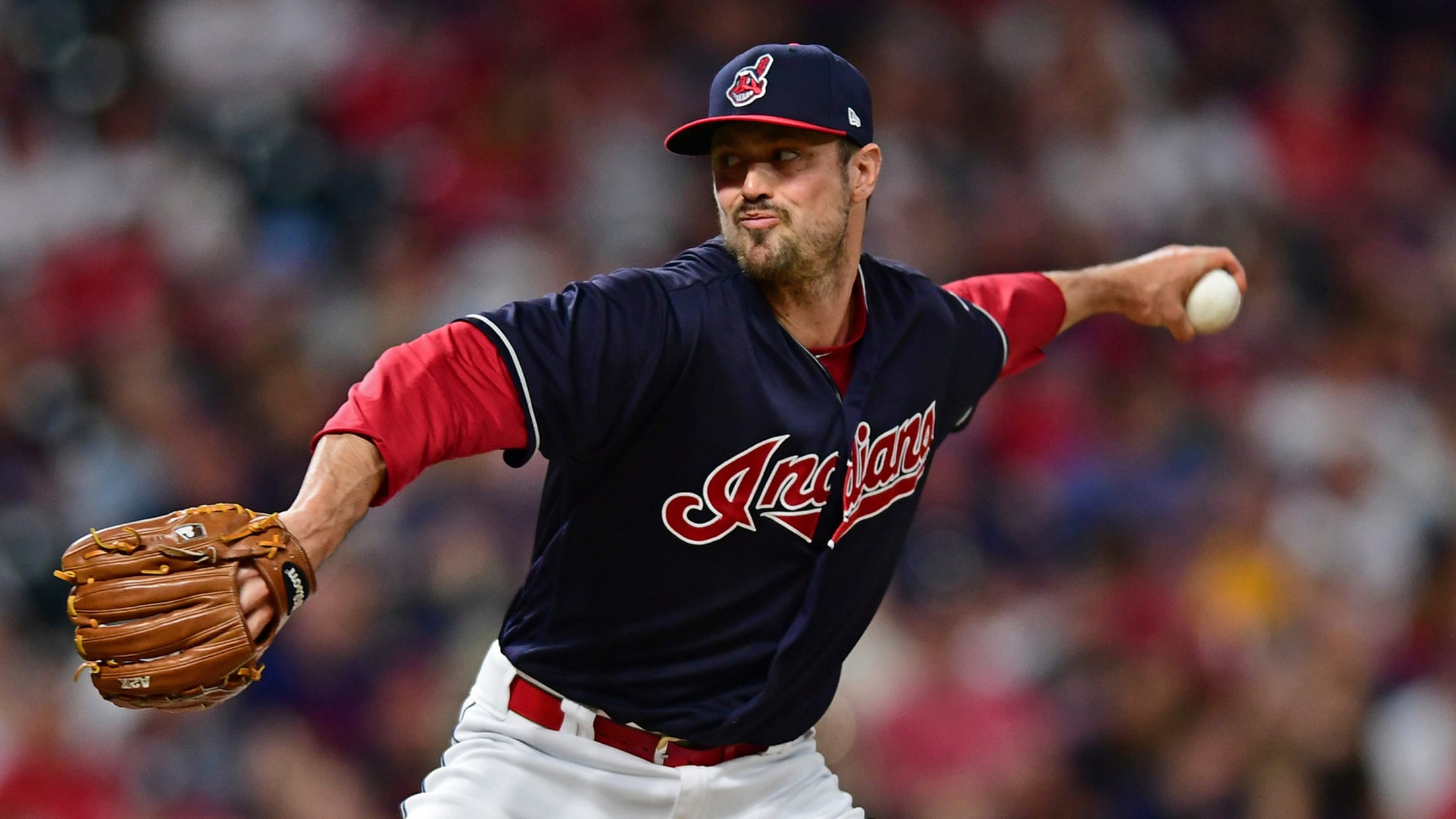 CLEVELAND -- Relief ace Andrew Miller continues to make progress with his Minor League rehab assignment as his return to the Indians approaches.The left-hander allowed a hit and struck out one during one shutout inning for Triple-A Columbus on Sunday, and he will throw again Tuesday, Indians manager Terry Francona
CLEVELAND -- Relief ace Andrew Miller continues to make progress with his Minor League rehab assignment as his return to the Indians approaches.
The left-hander allowed a hit and struck out one during one shutout inning for Triple-A Columbus on Sunday, and he will throw again Tuesday, Indians manager Terry Francona said. Francona said the plan is to pitch Miller on alternating days, with the hope that he'll throw in consecutive games by the end of the week. If all goes to plan, Francona said Miller will be evaluated and return to Cleveland's bullpen.
"He's going to pitch [Tuesday] in [Double-A] Akron," Francona said, ahead of the Tribe's three-game homestand with the Pirates on Monday. "Toward the end of the week, into the weekend, he'll go back-to-back, and then we'll see maybe he's ready to join us."
Miller was placed on the 10-day disabled list on May 26 with right knee inflammation, and he began the rehab assignment Tuesday. In those three relief appearances, Miller has allowed one run -- a home run -- and two hits in three innings. He's also struck out four without issuing a walk.
Francona said as Miller begins to work toward midseason form, the results are becoming favorable. However, should the reliever experience any setbacks, Francona said he wouldn't hesitate to prolong the rehab stint.
"He's doing good," Francona said. "I think he's feeling good about things, and we're excited about that.
"You hate to wait two months to build somebody up and then think, 'Well, we could have waited another week.'"
Miller's pending return will further bolster the Tribe's bullpen, which acquired two-time All-Star Brad Hand and right-handed specialist Adam Cimber from the Padres in exchange for top catching prospect Francisco Mejia on Thursday. Hand had a 3.05 ERA, 24 saves and 65 strikeouts in 44 1/3 innings with San Diego. The left-hander allowed a home run in his Cleveland debut Friday, and hasn't pitched since. Cimber (3.12 ERA, 51 strikeouts in 49 innings) also pitched against the Rangers on Friday, allowing one hit over two-thirds of an inning.
"Believe me, we'll make it said," Francona said, smiling. "If we ever have too many good pitchers, if that's ever a problem, we'll deal with it."
Worth noting
• Edwin Encarnacion remained out of the lineup against the Pirates on Monday as he battled what Francona called a "deep bone bruise" on his right hand after he was hit by a pitch from Yankees reliever Chad Green on July 15.
Encarnacion, who's slashing .233/.318/.473, played the first two games over the weekend out of the All-Star break and went 5-for-10 with a pair of doubles. The move, Francona said, is just precautionary. It also gives Yandy Diaz, a Triple-A callup, a chance to get more Major League at-bats.
"I think [team doctors] assured him that he'll be OK," Francona said, of Encarnacion. "He'll be back in there [Tuesday]. He kinda wanted to play tonight, and I said, 'Ya know what? We've got Yandy here. Let's give it another day.' So, he's in a good spot."
Casey Harrison is a reporter for MLB.com based in Cleveland. You can follow him on Twitter @Casey_Harrison1.